Urban balls : Set of asymmetrical earrings and pendant in wire mesh [Eng-Esp]

Greetings to all the artisans who make life in this community! It is the first time I publish one of my creations here, so I decided to introduce myself with a work I did a few days ago to give as a gift, it is a set of asymmetrical earrings and a pendant in wire wrap which I called: 𝖀𝖗𝖇𝖆𝖓 𝕭𝖆𝖑𝖑𝖘.
¡Saludos a todos los artesanos que hacen vida en esta comunidad! Es la primera vez que publico una de mis creaciones por aquí, así que decidí presentarme con un trabajo que hice hace unos días para dar de regalo, se trata de un juego de aretes asimétricos y un colgante en alambrismo al que llamé: 𝕭𝖔𝖑𝖆𝖘 𝖀𝖗𝖇𝖆𝖓𝖆𝖘.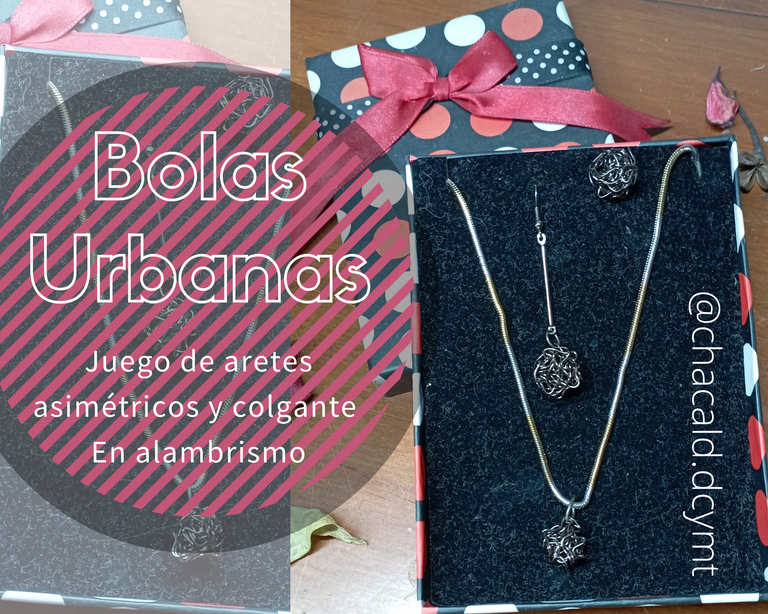 For the realization of this project we will use:
-3 pieces of 60 centimeters long zig-zag jewelry wire
-2 rings
-1 base for earring with silicone stopper
-1 earring hook for dangle earring
-1 piece of extension for earring
-Hot silicone
-pliers
-Small paddle screwdriver
Para la realización de este proyecto utilizaremos:

-3 trozos de alambre de bisutería en Zig-zag de 60 centímetros de largo
-2 argollas
-1 base para arete con tapón de silicona
-1 enganche de arete colgante
-1 pieza de extensión para arete
-Silicón caliente
-alicate
-destornillador de paleta pequeño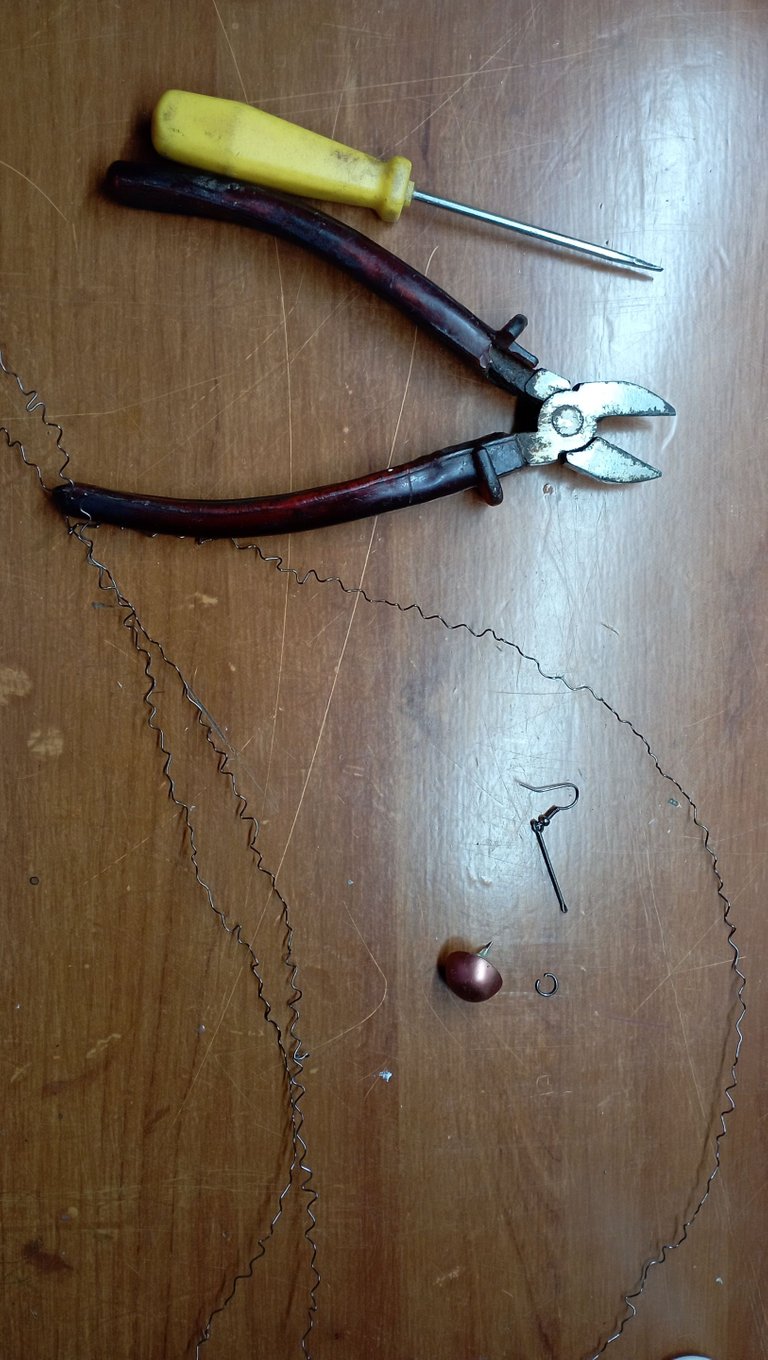 Elaboration
The process of making this beautiful set of urban balls is really very simple.
With each of the pieces of wire we are going to make a ball. If we can't get the zig-zag wire, we can do it at home with the same pliers or with a jaw lathe.
We take the pliers and bend the tip of one of the pieces of wire inwards to prevent the earring from hurting someone. And we start winding. With our fingers we shape it into a ball.
Elaboración

Realmente el proceso de elaboración de este bello juego de bolas urbanas es muy sencillo.

Con cada uno de los trozos de alambre vamos a hacer una bola. Si no podemos conseguir el alambre en zig-zag, podemos hacerlo en casa con el mismo alicate o con un torno de mandíbula.

Tomamos el alicate y doblamos la punta de uno de los trozos de alambre hacia adentro para evitar que el arete pueda lastimar a alguien. Y comenzamos a enrollar. Con los dedos vamos dando forma de bola.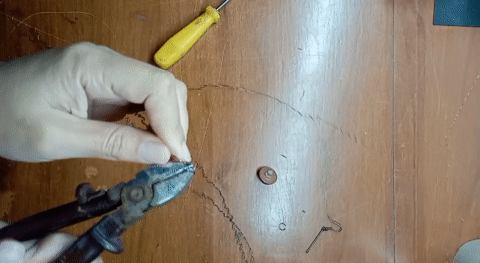 Once we have the 3 balls assembled, we will proceed to assemble the set.
Una vez que tenemos las 3 bolitas armadas, vamos a proceder a armar el conjuntos.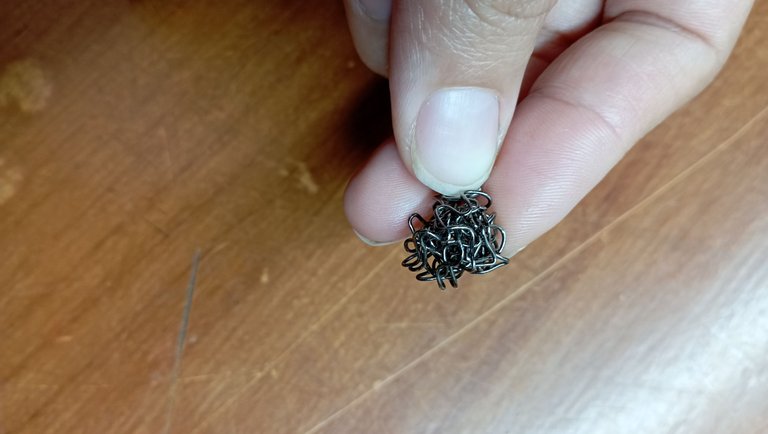 Short earring
We take the base of the short earring and attach it with silicone to one of the balls.
Arete corto

Tomamos la base del arete corto y vamos apegar con silicón a una de las bolas.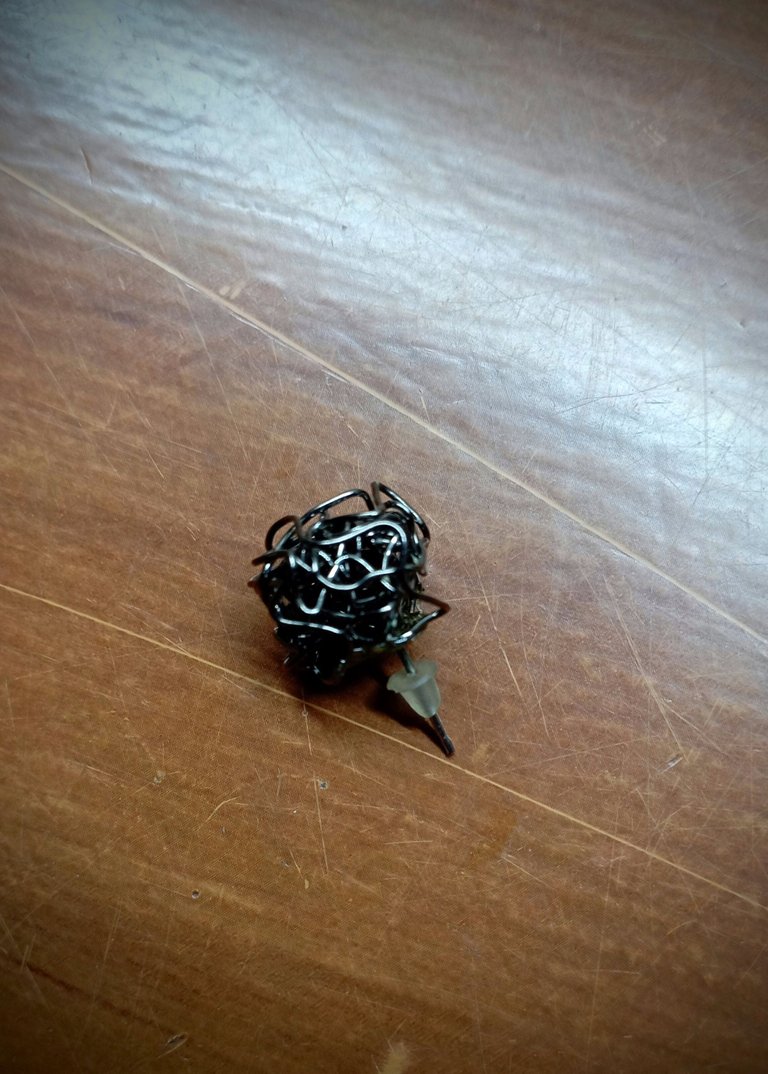 Long earring
For the long earring we take the hook and the extension piece and join them together, we place a ring to one of the balls and join it to the extension piece.
Arete largo

Para el arete largo tomamos el enganche y la pieza de extensión y las unimos, colocamos una argolla a una de las bolas y la unimos a la pieza de extensión.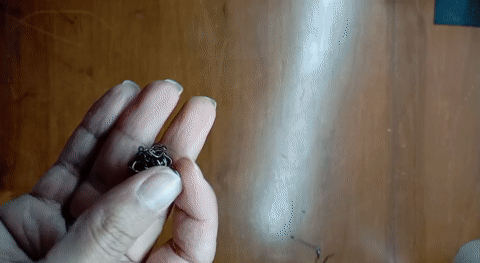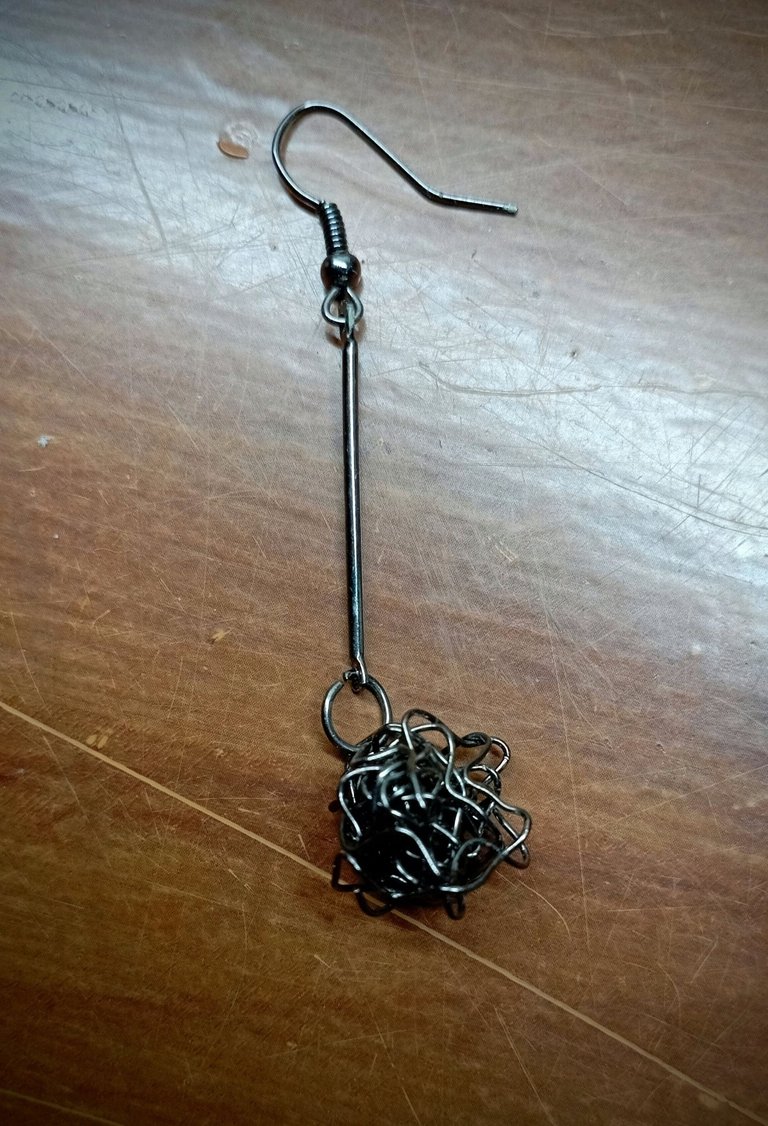 Pendant
We take the last ball and attach a ring to it with the help of the pliers. Then we put it on a chain and our set of urban balls is ready.
Colgante

Tomamos la última bola y le colocamos una argolla con ayuda del alicate. Luego ponemos en una cadena y está listo nuestro juego de bolas urbanas.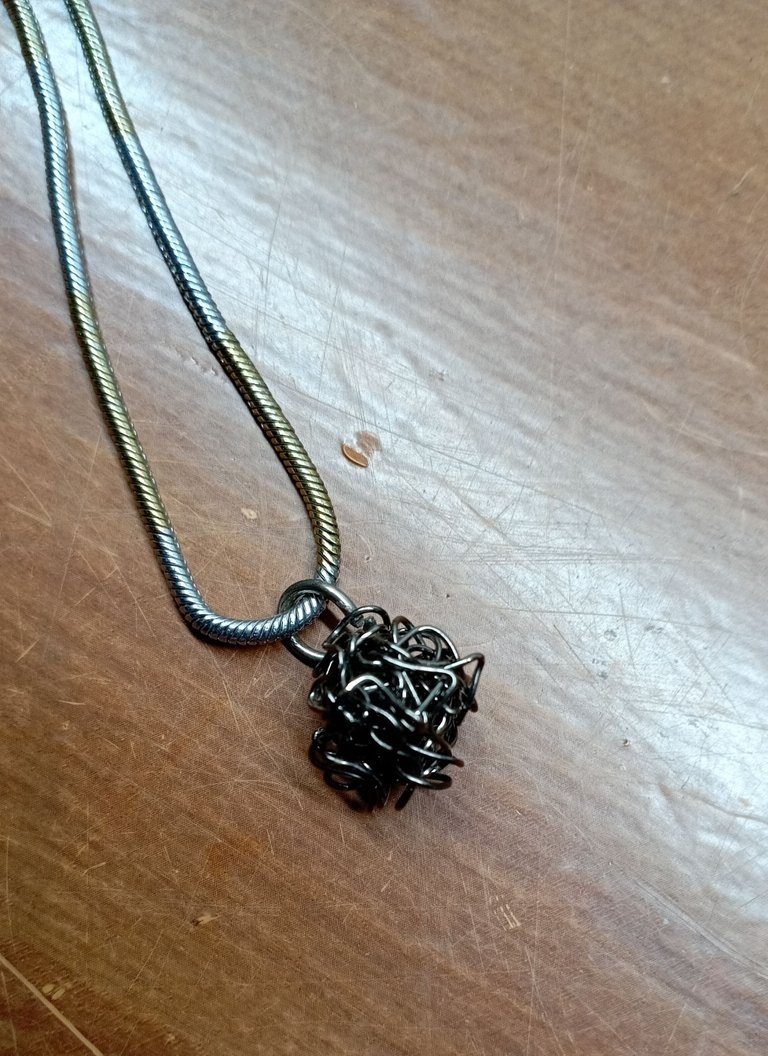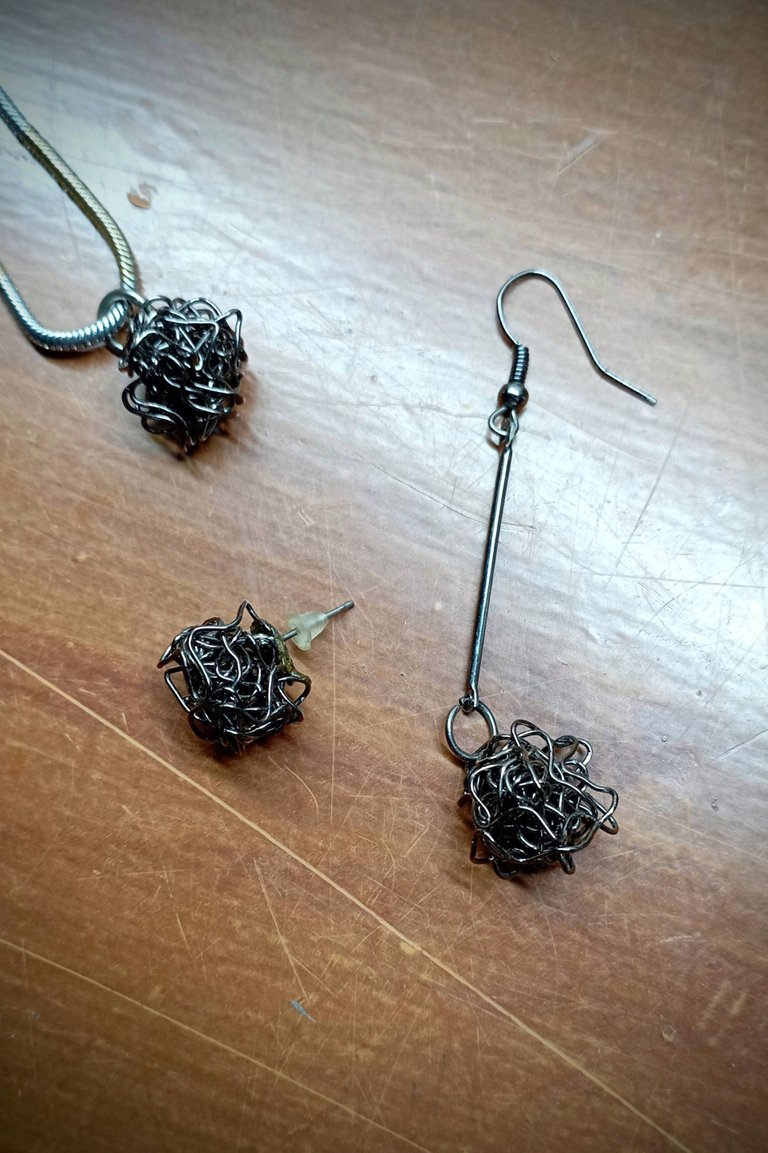 This project has a difficulty level of 1. It takes 30 minutes to assemble. And the materials have an approximate cost of 5$. So it is ideal to give a gift, a self gift or to sell, as it looks very nice and is eye catching. I hope you like my work, thanks for visiting my publication and see you next time. Greetings!
Este proyecto tiene una dificultad de nivel 1. Toma un tiempo de armado de 30 minutos. Y los materiales tienen un costo aproximado de 5$. Así que es ideal para dar un regalo, un autoregalo o para vender, ya que queda muy bonito y es llamativo. Espero les guste mi trabajo, gracias por visitar mi publicación y nos vemos en una próxima oportunidad. Saludos!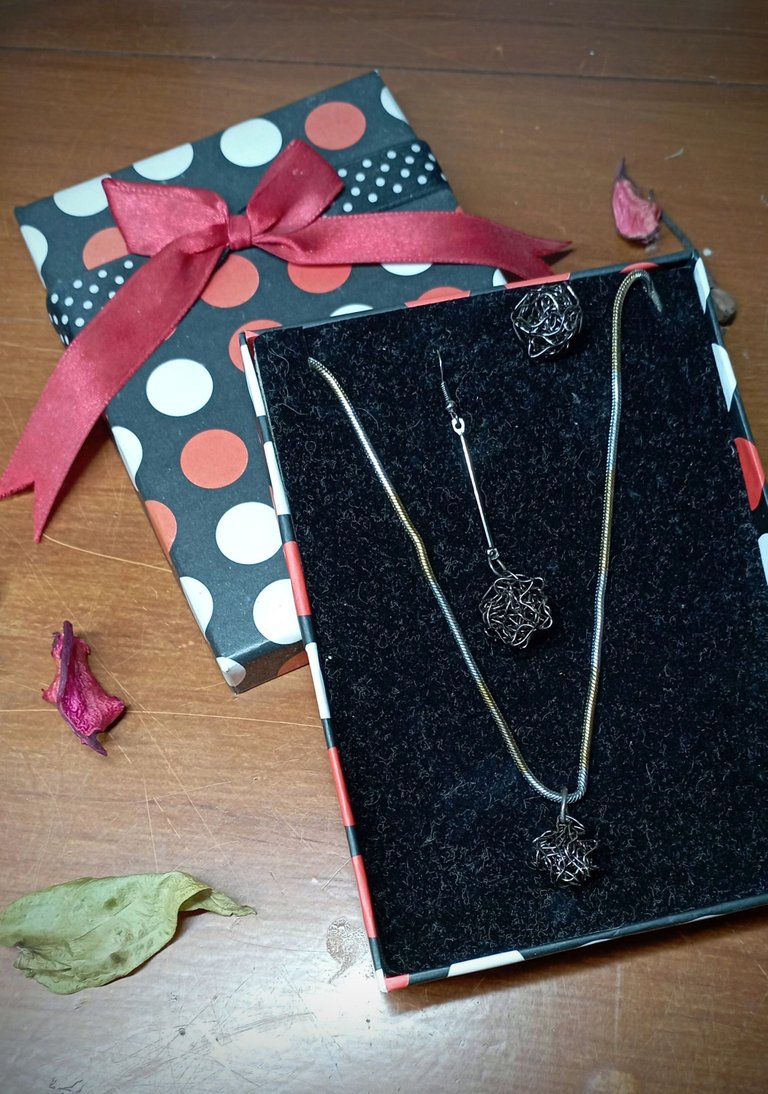 𝕾𝖔𝖒𝖊 𝖈𝖔𝖓𝖈𝖊𝖕𝖙𝖘 𝖔𝖋 𝖙𝖍𝖊 𝖜𝖎𝖗𝖊 𝖜𝖗𝖆𝖕
Wire wrap technique: It consists of taking a thin and moldable wire to make pieces of jewelry.
Jewelry wire: Jewelry wire is a fine wire that can be made of copper, aluminum or stainless steel and varies in gauge between 0.30mm and 1.60mm. To select the correct wire we must first have in mind the piece we are going to make and then take into account the firmness of the wire, the gauge and the material.
Additional materials: Stones can be used to enrich the pieces and give them additional value and beauty.
Tools***: To work the wire it is necessary to have some kind of pliers, tweezers or pincers that allow a better handling of the material and give us a finer finish. Although the bijouterie wire is very manageable even with the fingers.
The wire wrap is a very diverse technique, from flat figures to 3-dimensional figures that we can adapt to jewelry, we just have to have imagination and the desire to create different pieces. I hope these concepts can help all those who are starting in this beautiful technique.
𝕬𝖑𝖌𝖚𝖓𝖔𝖘 𝖈𝖔𝖓𝖈𝖊𝖕𝖙𝖔𝖘 𝖉𝖊𝖑 𝖆𝖑𝖆𝖒𝖇𝖗𝖎𝖘𝖒𝖔

Técnica del alambrismo: Consiste en tomar un alambre fino y moldeable para hacer piezas de joyería.

Alambre de joyería: El alambre de joyería es un alambre fino que puede ser de cobre, aluminio o de acero inoxidable y varían el calibre entre 0.30mm y 1.60mm. para seleccionar el alambre correcto debemos primero tener en mente la pieza que vamos a elaborar y luego tomar en cuenta la firmeza del alambre, el calibre y el material.
Materiales adicionales: Se pueden utilizar piedras para enriquecer las piezas y darles un valor y belleza adicional.

*Herramientas: Para trabajar el alambre es preciso contar con algún tipo de alicate, pinza o tenaza que nos permita un mejor manejo del material y nos de un acabado más fino. Aunque el alambre de bisutería es muy manejable incluso con los dedos.

El alambrismo es una técnica muy diversa que desde figuras planas hasta figuras en 3 dimensiones que podemos adaptar a la joyería, solamente tenemos que tener imaginación y las ganas de crear piezas diversas. Espero que estos conceptos puedan ayudar a todos aquellos que se están iniciando en esta bonita técnica.
---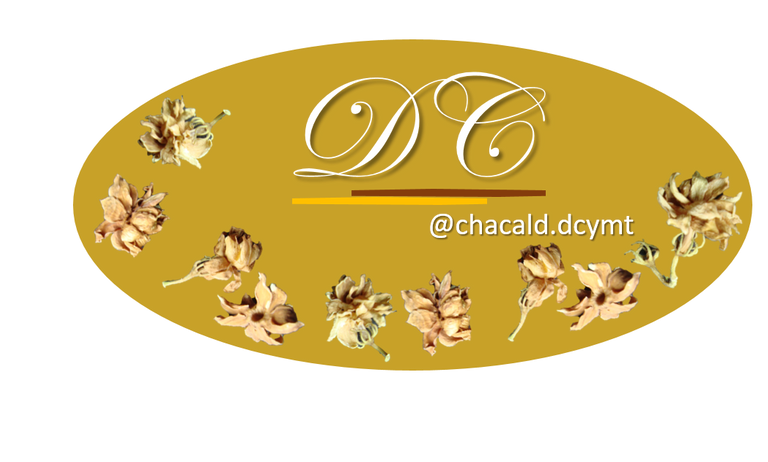 Original content by the author.
Resources: App: Canva / Giphy / Inshot
Lettering stencils
📷 Redmi 10 Smartphone
Translation done with Deepl.com
✿ All Rights Reserved || © @chacald.dcymt // 2020-2022 ✿
💌 Discord: chacald.dcymt#3549
_
Contenido original del autor.
Recursos: App: Canva / Giphy / Inshot
Plantillas de letras||
📷 Redmi 10 Smartphone
Traducido con Deepl.com
✿ Todos los Derechos Reservados || © @chacald.dcymt // 2020-2022 ✿
💌 Discord: chacald.dcymt#3549
---
---