A journey to forgiveness: 14 jours 12 nuits (Film Review) / [ENG/SPA]
Closing cycles are the best way to heal many wounds. It is why Isabelle embarks on a "14 days and 12 nights" travel to Vietnam to find answers and some peace.
Cerrar ciclos es la mejor manera de sanar de muchas heridas, es por esto que Isabelle emprende un viaje de "14 días y 12 ncoches" a Vietnam para encontrar respuestas y un poco de paz.
---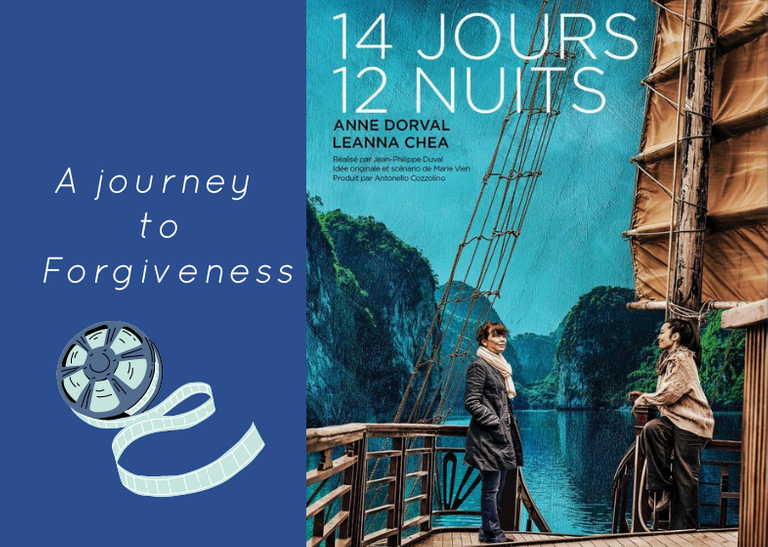 Source / Fuente
Edited with Canva
---
If you still don't have plans for this weekend, a fabulous option is to enjoy a good movie. For this weekend I recommend "14 jours 12 nuits".
I invite you to continue reading my post to fall in love with this plot.
Si aún no cuentas con planes para este fin de semana una fabulosa opción es disfrutar de una buena película. Para este fin de semana te recomiendo "14 jours 12 nuits"


Te invito a seguir leyendo mi post para que te enamores de esta trama.

"14 jours 12 nuits" is a 2019 Canadian production nominated Best Foreign Film at the ninety-third edition of the Academy Awards (April 2021). This drama genre film explores guilt, nostalgia, and forgiveness through two different cultural prisms. It was filmed in Canada and Vietnam. Dialogues are in French and Vietnamese, with English subtitles.
"14 jours 12 nuits" es una producción canadiense del año 2019 nominada como mejor película extrangera en la nonagésima tercera edición de los premios de la Academia (Abril 2021). Esta película del género de drama explora la culpa, nostalgia y perdón a través de dos prismas culturales diferentes. Fue filmada en Canadá y Vietnam. Es una película con diálogos en francés y vietnamita, pero tiene subtítulos en inglés.

The Plot / La trama
Isabelle (Anne Dorval) is a Canadian woman who, together with her husband (François Papineau), seventeen years ago to Hanoi to adopt a Vietnamese girl, Clara. However, of those fatalities of fate, Clara dies in an accident, leaving her adoptive parents devastated.
Isabelle (Anne Dorval) es una mujer canadiense que junto a su esposo (François Papineau), diecisieta años atrás viajan a Hanoi a adoptar una niña vietnamita a la cual llamaron Clara. No obstante por esas fatalidades del destino Clara fallece en un accidente dejando desolados a sus padres adoptivos.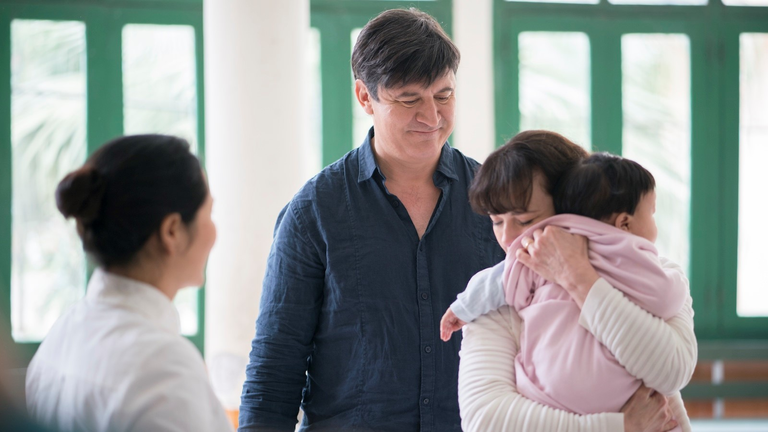 Source / Fuente
Isabelle travels to Vietnam to find the biological mother of her deceased daughter and learn a little more about why she was abandoned. She meets and hires a tour guide named Thuy, who will take her for a couple of weeks to the most beautiful places Vietnam has to offer, from the rice terraces to Ha-long Bay.
Isabelle viaja a Vietnam para tratar de encontrar a la madre biológica de su hija fallecida y conocer un poco más del por qué esa niña fue abandonada. Es así donde conoce y contrata a una guía turística llamada Thuy, quien la llevará por un par de semanas a los lugares más hermosos que Vietnam puede ofrecer desde las terrazas de cultivo de arroz hasta la Bahía de Ha-long.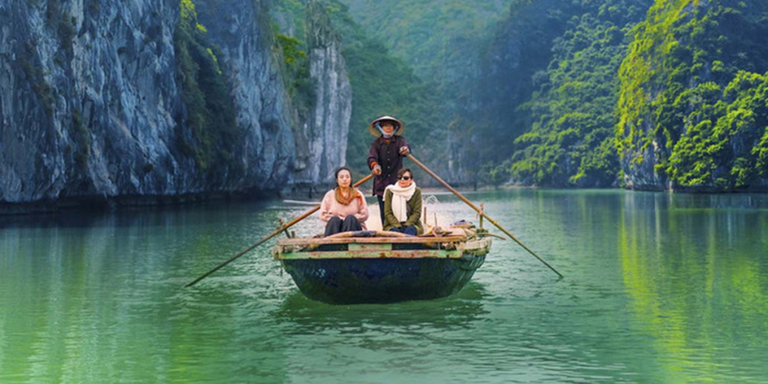 Source / Fuente
Thuy (Leanna Chea) feels a lot of compassion for Isabelle as she senses her great sadness but does not know why. Thuy develops empathy with his client by being kind and forming a bond of friendship with this tourist in a short time (something very rare to achieve in Orientals). However, this tour guide is not just any woman. She is the biological mother of Isabelle's adopted daughter. Isabelle must decide whether to reveal who she is and whether to tell Thuy that Clara is dead.
Thuy (Leanna Chea) siente mucha compasión por Isabelle ya que percibe su enorme tristeza pero no sabe el por qué de ésta. Thuy desarrolla empatía con su cliente siendo amable y estrechando un lazo de amistad con esta turista en poco tiempo (algo muy raro de conseguir en los orientales). No obstante esta guía turística no es cualquier mujer. Ella es la madre biológica de la hija adoptiva de Isabelle. Isabelle debe decidir si revela quíén es ella en realidad y si será oportuno decirle a Thuy que Clara ha fallecido.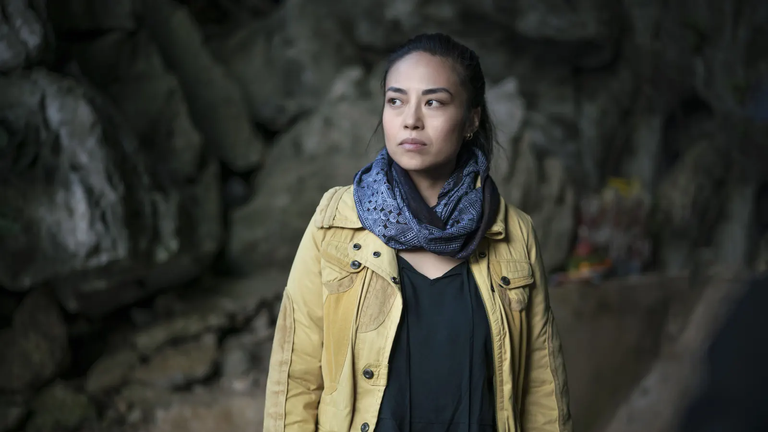 Source / Fuente

My impressions and reflections / Mis reflexiones
The magic of a film like "14 jours 12 nuits" is that it is based on universally human circumstances such as loss, nostalgia, guilt, and very common feelings but dealt with in different ways depending on the culture. For Asians it is very difficult to express their emotions. The silence is sometimes deafening when faced with emotional conflicts. However, the film makes it clear that despite cultural differences, we are all capable of feeling emotions, but we express them in different ways.
"14 jours 12 nuits" leads you to reflect on whether it is worth digging into the past? Would the present be any different when learning about events in a person's past? Why search for the biological mother of your adopted child? These and many more questions are a way to find a bit of closure, close cycles, and move on. I was fascinated with the handling of emotions in this film. I would watch it a second time.
I invite you to discover how this emotional journey of these two women united by a daughter in common, with diverse feelings, explores concepts of life, death, family, friendship, loyalty, and forgiveness.
La magia de un film como "14 jours 12 nuits" es que se basa en circunstancias universalmente humanas como la pérdida, nostalgia, culpa, sentimientos muy comunes pero afrontados de diferentes formas según la cultura. Para los asiáticos es muy difícil expresar sus emociones, el silencio es a veces ensordecedor cuando se enfrentan a conflictos emocionales. No obstante la película nos deja claro que a pesar de las diferencias culturales todos somos capaces de sentir emociones pero las manifestamos de formas variadas.


"14 jours 12 nuits" te lleva a reflexionar sobre si ¿vale la pena escarbar en el pasado? ¿El presente sería diferente al conocer eventos del pasado de una persona? ¿Por qué buscar a la madre biológica de tu hijo adoptivo? Estas y muchas más interrogantes más son una vía de encontrar un poco de sociego, cerrar ciclos y así poder seguir adelante. Quedé fascinada con el manejo de las emociones en este film, lo volvería a ver por segunda vez.


Te invito a descubrir cómo se desarrolla y culmina este viaje emocional de estas dos mujeres unidas por una hija en común, con sentimientos diversos, explorando conceptos sobre la vida, muerte, familia, amistad, lealtad y perdón.

Thanks for reading. See you in a future post!


---
---