El entusiasmo por la vida / Enthusiasm for life
‌
No conozco seres que mejor puedan representar lo que el entusiasmo significa que los niños. Estos se emocionan, saltan, gesticulan y no paran de hablar del tema que los tiene en ese estado. Generalmente, cuando estoy con ellos se me contagia esa euforia y deseo complacerles.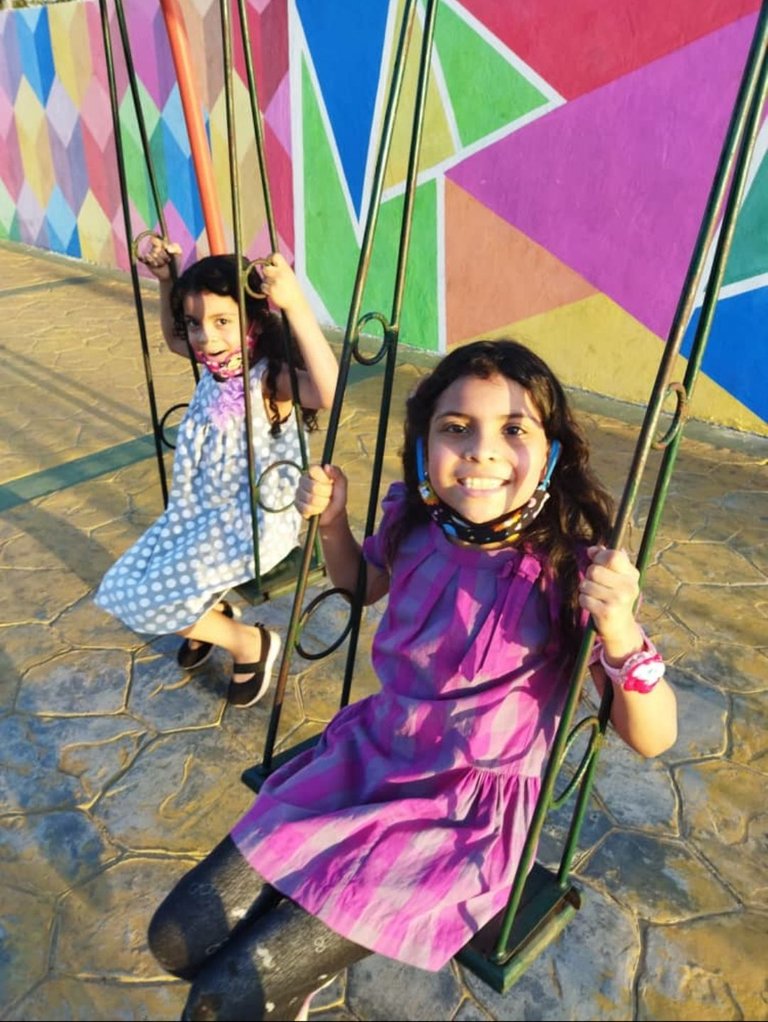 Me entusiasma salir a pasear con mis nietas
A veces puede ser querer comer helados, visitar una tía, salir al parque o simplemente querer pintar a mi lado. Soy feliz en esos momentos porque no hay nada que me guste más que estar con mis nietos y disfrutar sus ocurrencias.
A medida que nos vamos volviendo adultos las manifestaciones van cambiando, ya no saltamos, aunque podríamos aplaudir una buena noticia y seguramente no faltará la sonrisa. Pienso que el entusiasmo se nota fácilmente y el desinterés también. Por ejemplo, cuando hay una invitación a ver una película, teatro o concierto, la postura corporal de quien está entusiasmado es evidente, mientras el que no, podrá apoyar la mejilla en el puño o cruzar los brazos durante la exhibición que nos dará una clara muestra de que no está a gusto.
A mí me gusta que las personas que están a mi lado se sientan contentas, salvo que tengan una molestia física, yo trataré de crearles las condiciones para que estén agradados: un café o refrigerio, música, conversación o compañía.
Creo que es de mala educación demostrar abiertamente nuestra falta de entusiasmo ante una actividad, creo que siempre puede buscársele el lado bueno a las situaciones para que eventualmente terminen entusiasmándonos.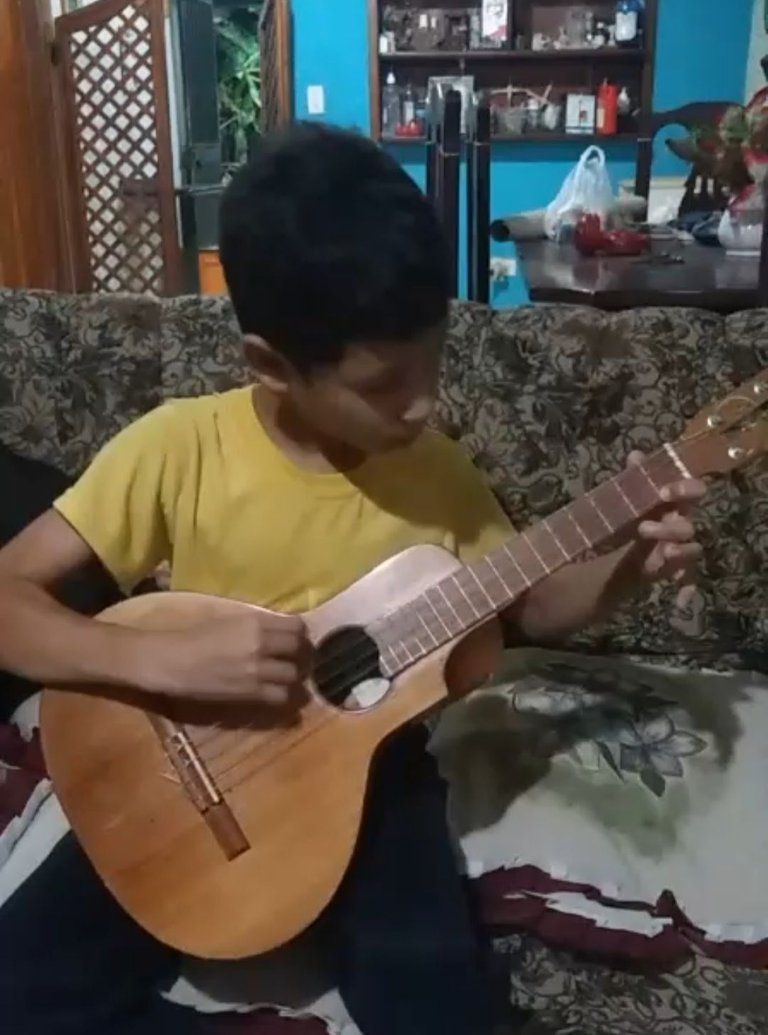 Me entusiasma ver el progreso de mi nieto con la bandola.
En lo particular me entusiasman muchas cosas: las salidas a caminar en compañía de hijos, pareja o amistades; los viajes a la playa con toda la preparación que amerita; escuchar música en vivo, sobre todo cuando mi hijo y nietos ejecutan algún instrumento musical o cantan; preparar un alimento especial para algún agasajo; ir a un vivero, esto es algo que me fascina; celebrar un cumpleaños; tener una nueva mascota y más.
Creo que el entusiasmo se debe sentir desde el mismo momento en que nos levantamos de la cama en la mañana, decirnos: «hoy será un gran día» y hacer todo lo pertinente para que así sea. Agarrarnos de cualquier detalle que nos dé satisfacción para alegrar el día.
El entusiasmo da salud, es una energía muy bonita la que se siente cuando se vive de esa manera, muy contrario al pesimismo que pone gris y pesado todo el entorno. Vivir emocionado por lo que se espera o se proyecta, por la vida misma, hacerse planes a corto plazo y disfrutar esos logros mantiene el cuerpo y pensamiento activo y eso es muy edificante.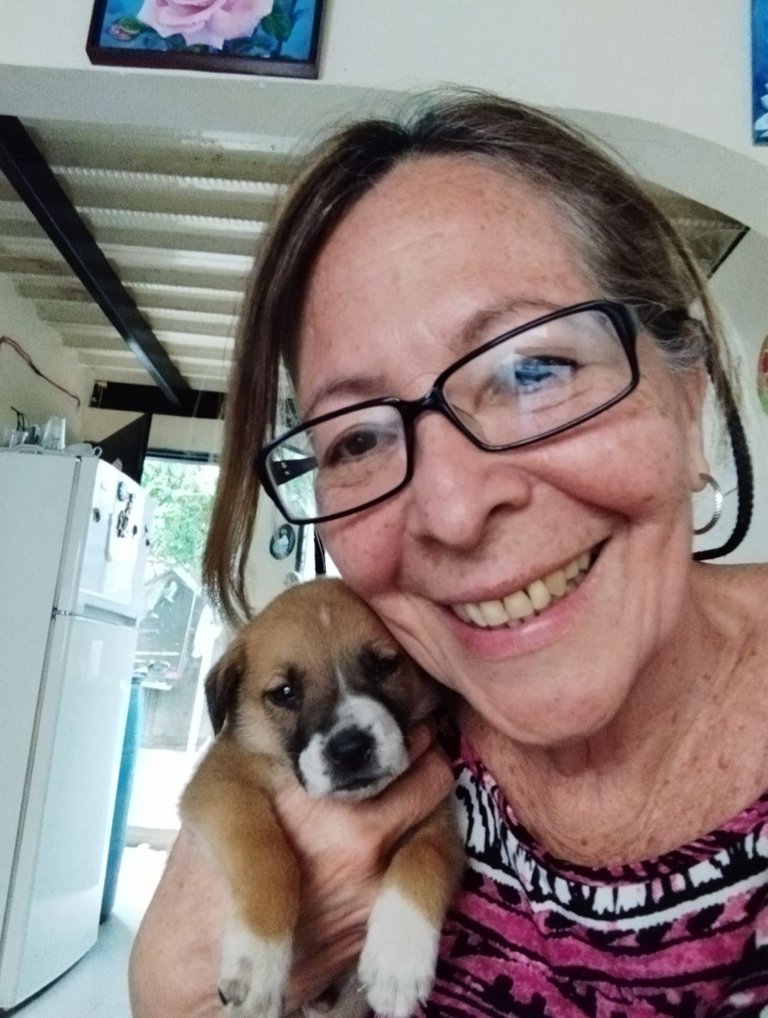 Aquí muy feliz conociendo a mi nueva mascota.
La expresión «a mal tiempo buena cara» es un ejemplo importante de cómo mantener una buena actitud aún cuando hayan situaciones adversas. Los venezolanos hemos sido ejemplo de ello por mucho tiempo, no perder nunca la buena disposición parece ser nuestra consigna.
Una forma de mantener el entusiasmo es pensar que eso que nos aflige podría ser peor, siempre hay algo más fuerte de lo que nos estamos quejando. Entonces solo queda agradecer y cuando eso se hace con fe y esperanza, el entusiasmo se renueva.
Gracias por tu amable lectura
Mi contenido es original
He usado imágenes de mi archivo personal.

I know of no beings that can better represent what enthusiasm means than children. They get excited, jump up and down, gesticulate and go on and on about the topic that has them in that state. Generally, when I am with them, that euphoria rubs off on me and I want to please them.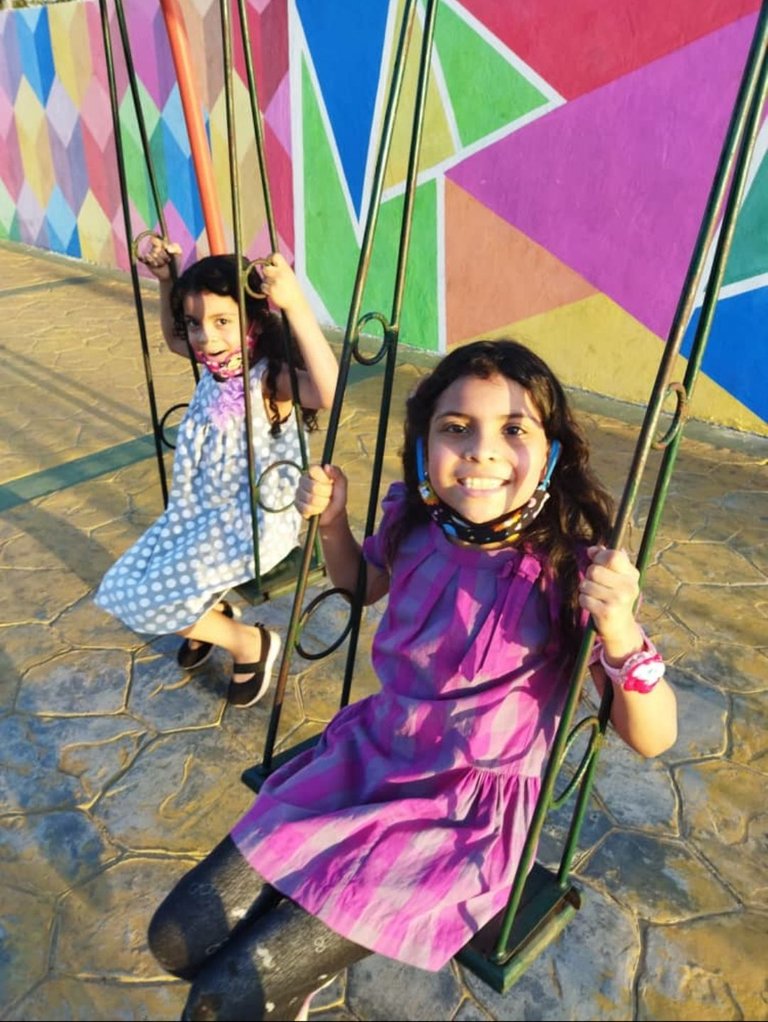 I am excited to go for a walk with my granddaughters.
Sometimes it can be wanting to eat ice cream, visit an aunt, go out to the park or just want to paint next to me. I am happy in those moments because there is nothing I love more than to be with my grandchildren and enjoy their antics.
As we become adults, the manifestations change, we don't jump anymore, although we might applaud good news and surely there will be a smile. I think that enthusiasm is easily noticed and so is disinterest. For example, when there is an invitation to see a movie, theater or concert, the body posture of those who are enthusiastic is evident, while those who are not, may rest their cheek on their fist or cross their arms during the exhibition, which will give us a clear sign that they are not at ease.
I like the people who are next to me to feel happy, unless they have a physical discomfort, I will try to create the conditions for them to be pleased: a coffee or snack, music, conversation or company.
I think it is impolite to openly show our lack of enthusiasm for an activity, I think we can always look for the good side of situations so that eventually we end up being enthusiastic.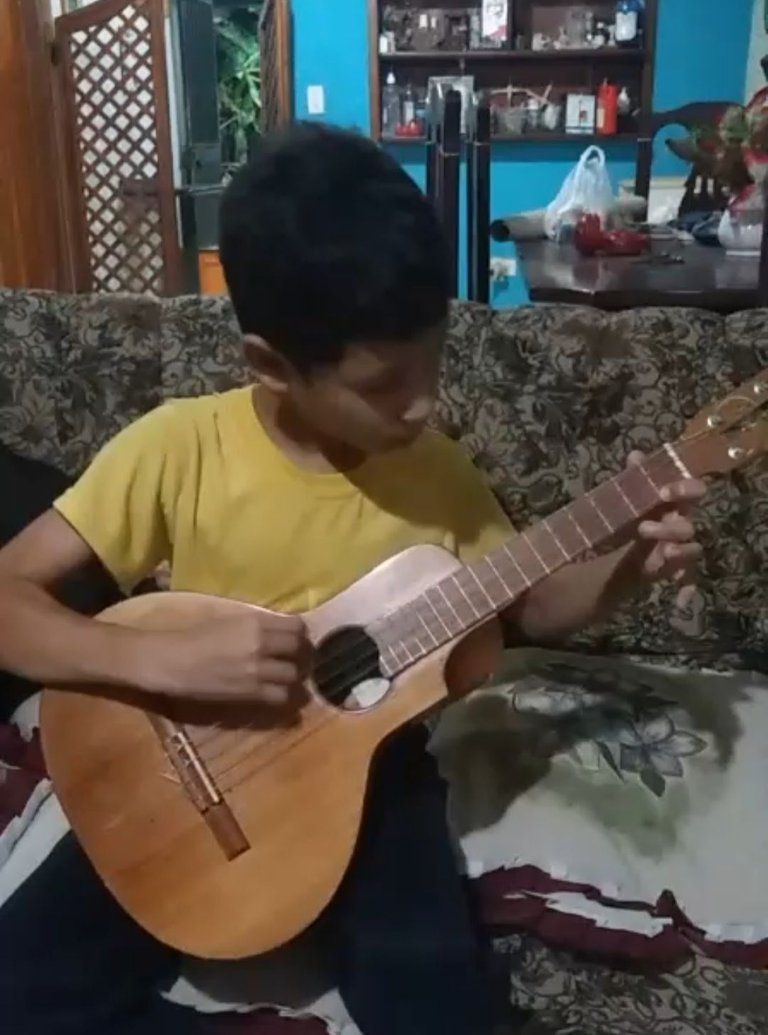 Watching my grandson play the musical instrument the bandola thrills me.
In particular, I am enthusiastic about many things: going for a walk with my children, my partner or friends; trips to the beach with all the preparation it deserves; listening to live music, especially when my son and grandchildren play a musical instrument or sing; preparing a special food for a special occasion; going to a nursery, this is something that fascinates me; celebrating a birthday and more.
I believe that enthusiasm should be felt from the very moment we get out of bed in the morning, tell ourselves: "today will be a great day" and do everything to make it so. To take hold of any detail that gives us satisfaction to brighten up the day.
Enthusiasm gives health, it is a very nice energy that you feel when you live that way, very contrary to the pessimism that makes everything around us gray and heavy. Living excited about what is expected or projected, about life itself, making short-term plans and enjoying those achievements keeps the body and thinking active and that is very uplifting.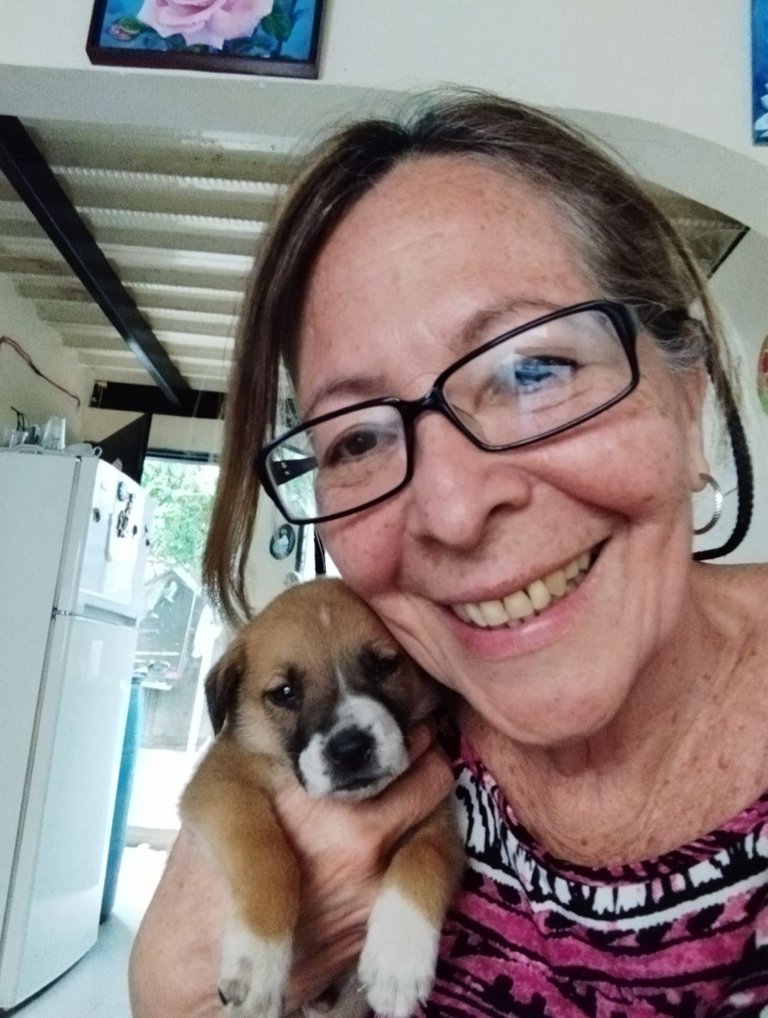 Here I am very happy to meet my new pet.
The expression "a bad time a good time a good face" is an important example of how to maintain a good attitude even when there are adverse situations. We Venezuelans have been an example of this for a long time, never losing our good disposition seems to be our motto.
One way to maintain enthusiasm is to think that what afflicts us could be worse, there is always something stronger than what we are complaining about. Then the only thing left to do is to be grateful and when this is done with faith and hope, enthusiasm is renewed.
Thank you for your kind reading
My content is original I have used images from my personal archive I have used the translator DeepL
Agradecida con la comunidad Emotions and Feelings por propiciar este tipo de intercambio en su tema del mes de enero.
---
---