Architecture+Design Community Contest: World Architecture Day | THE BRIDGE OVER THE LAKE IN ZULIA STATE, VENEZUELA [ENG-ESP]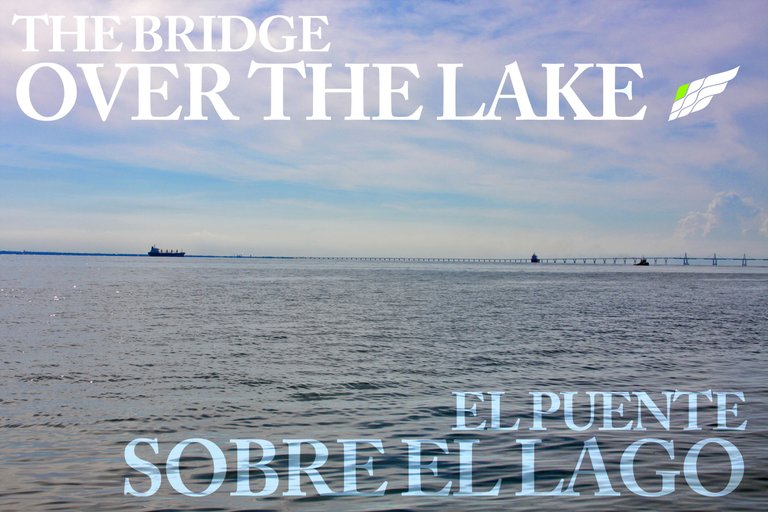 ENGLISH

In the northwest of Venezuela, in the middle of four states, lies the largest lake in Latin America, Lake Maracaibo. This large body of water kept the state of Zulia practically separated from the rest of the country until 1962. In that year, one of the most important engineering and architectural works of the 20th century in Venezuela was inaugurated, the Bridge over the Lake, the name by which the General Rafael Urdaneta Bridge is commonly known.
ESPAÑOL

Al noroccidente de Venezuela, en medio de cuatro estados, se encuentra el lago más grande de América Latina, el Lago de Maracaibo. Esta gran masa de agua mantuvo prácticamente separada al estado Zulia con el resto del país hasta el año 1962. En ese año se inauguró la que sería una de las obras de ingeniería y arquitectura más importantes del siglo XX en Venezuela, el Puente Sobre el Lago, nombre con el que se le conoce comúnmente al puente General Rafael Urdaneta.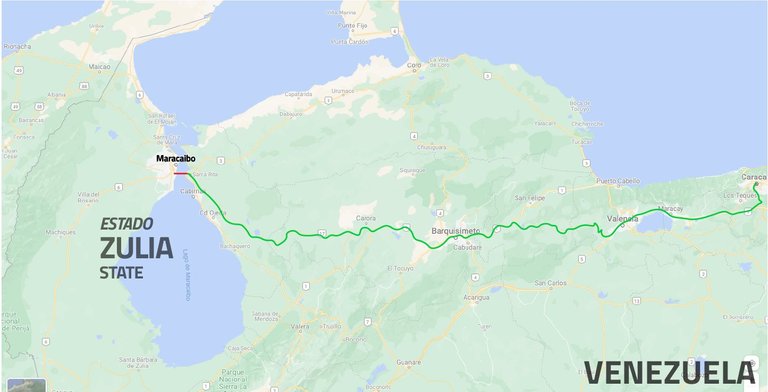 The map shows the 700 km trip I had to make from Caracas, the city where I currently live, to the bridge over the lake.
En el mapa se puede observar el recorrido de 700 km que tuve que realizar desde Caracas, la ciudad donde resido actualmente, hasta llegar al puente Sobre el Lago.
Photo by @jomarbym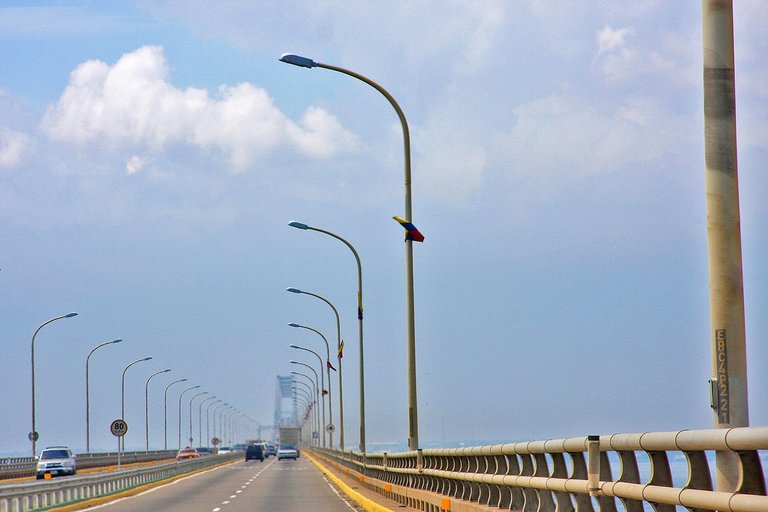 Although this construction is probably not as beautiful as others, its cultural, historical and architectural significance transcends even outside my country. Culturally speaking, this bridge is an emblem and pride of the inhabitants of the state of Zulia. So much so that songs have been written that have been immortalized in hymns full of feeling and love for the zulianidad, kind of ethnonym of the zulian people, something that all Venezuelans know even if we do not live in that part of the country. That's why, when I was crossing this bridge for the first time, in 2010, I could not contain myself and it was almost instinctive that I started humming:
Si bien, esta construcción probablemente no se vea tan bella como otras, su significado cultural, histórico y arquitéctonico trasciende incluso fuera de mi país. Culturalmente hablando, este puente es emblema y orgullo del pueblo zuliano, gentilicio de los habitantes del estado Zulia. Tanto es así que se han escrito canciones que se han inmortalizado en himnos llenos de sentimiento y amor por la zulianidad, algo que todos los venezolanos conocemos aunque no vivamos en esa parte del país. Por eso, cuando estaba cruzando por primera vez este puente, en el año 2010, no pude contenerme y fue casi instintivo que empecé a tararear:
Photo by @jomarbym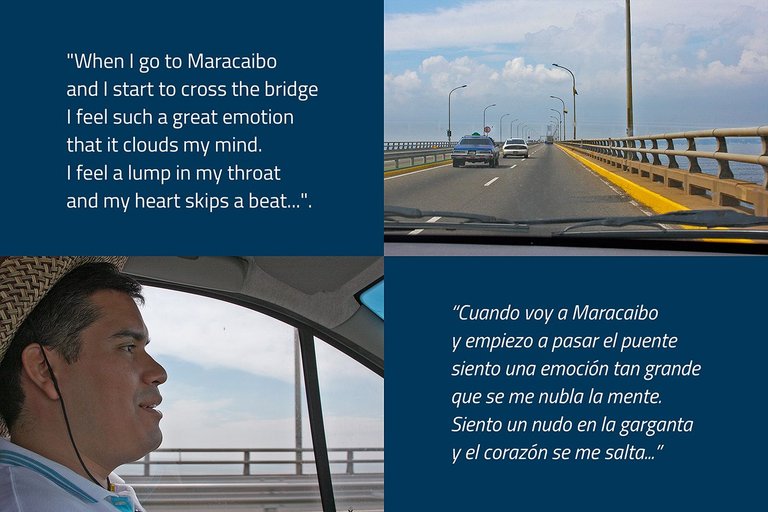 😂 I don't sing at all, but crossing this bridge singing these songs was really exciting to do. It's something I can't explain, but I guess it's because all Venezuelans know the cultural, sentimental, commercial and touristic significance it represents. Besides being the longest bridge in my country, it is the second longest in Latin America and holds the 65th position of the longest bridges in the world. It is something to be proud of.
😂 Yo no canto para nada, pero atravesar este puente cantando estas canciones fue realmente muy emocionante de hacer. Es algo que no sabría explicar, pero supongo que es porque todos los venezolanos conocemos el significado cultural, sentimental, comercial y turístico que representa. Además de ser el puente más largo de mi país, es el segundo más largo en América Latina y ostenta el puesto 65 de los puentes más largos del mundo. Es para estar orgullosos.
Photo by @jomarbym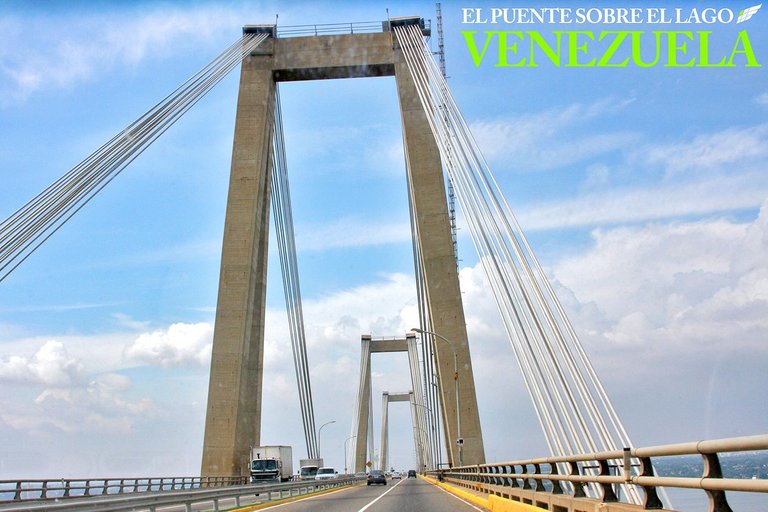 In the image you can see that on the right side of the pillar there is a structure where specialists can climb to check the tensioning of the cables and perform maintenance.
En la imagen se puede ver que al lado derecho del pilar hay una estructura por donde los especialistas pueden subir para chequear el tensado de los cables y realizar el mantenimiento.


Photo by @charsdesign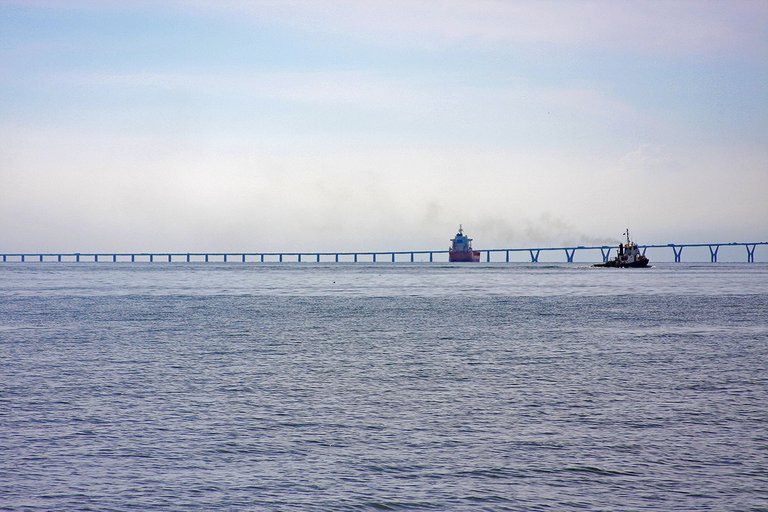 In spite of being built in the narrowest part of the lake, this bridge has an extension of almost nine kilometers (8,678 m long). It is 17 m wide and allows the transit of four lanes of cars. Two in each direction, similar to an average highway.
A pesar de haberse construido en la parte más angosta del lago, este puente tiene una extensión de casi nueve kilómetros (8.678 m de largo). Su anchura es de 17 m y permite el tránsito de cuatro carriles de autos. Dos en cada dirección, similar a una autopista promedio.
Photo by @jomarbym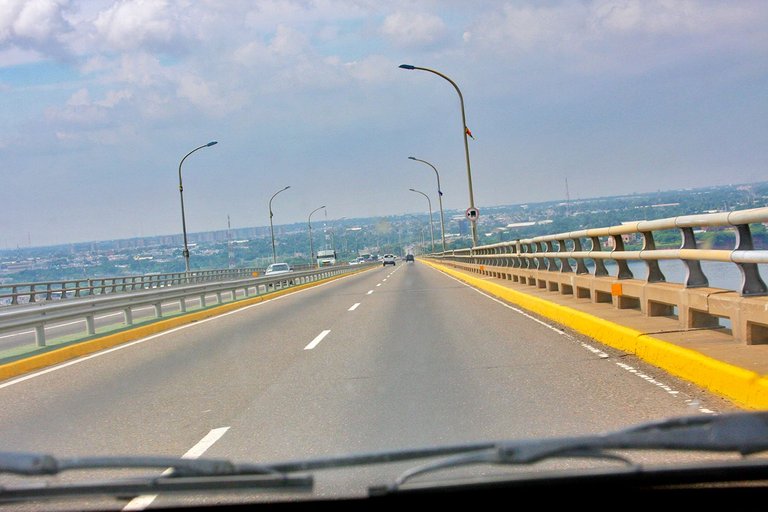 If we take into account that most of the first 10 largest bridges in the world were built during the 21st century and the oldest of this small select group dates back to 1969, it means that the vast majority of the world's long bridges already have rethought and proven technology, while the Bridge over the Lake required technology that did not exist at the time and the use of materials resistant to the environmental conditions of the lake.
Si tomamos en cuenta que gran parte de los primeros 10 puentes más grandes del mundo fueron construidos durante el siglo XXI y el más longevo de este pequeño grupo selecto data de 1969, significa entonces que la gran mayoría de puentes largos del mundo ya cuentan con tecnología repensada y probada, mientras que el Puente sobre el Lago requirió tecnología que no existía para ese entonces y la utilización de materiales resistentes a las condiciones medioambientales del lago.


Photo by @jomarbym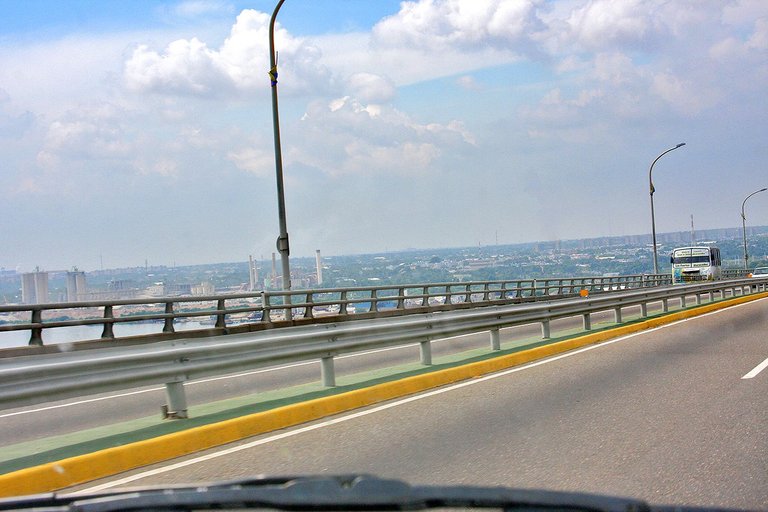 Nearly 2,600 workers participated in the project and cement was used instead of steel because, in addition to not corroding, it was more economical and could withstand the required aesthetic conditions. Built in reinforced and prestressed concrete, about 19,000 tons of reinforcing bars and 5,000 tons of prestressing cable were required. These are impressive data, especially because the technology that was devised was carried out by the Venezuelans themselves.
En la obra participaron cerca de 2.600 trabajadores y se usó el cemento en vez del acero porque además de no corroerse, era mas económico y podría soportar las condiciones estéticas requeridas. Construido en hormigón armado y pretensado, se requirieron cerca de 19.000 toneladas de cabillas y 5.000 toneladas de cable de pretensado. Son datos impresionantes, sobretodo porque la tecnología que se ideó fue llevada a cabo por los mismos venezolanos.
Photo by @charsdesign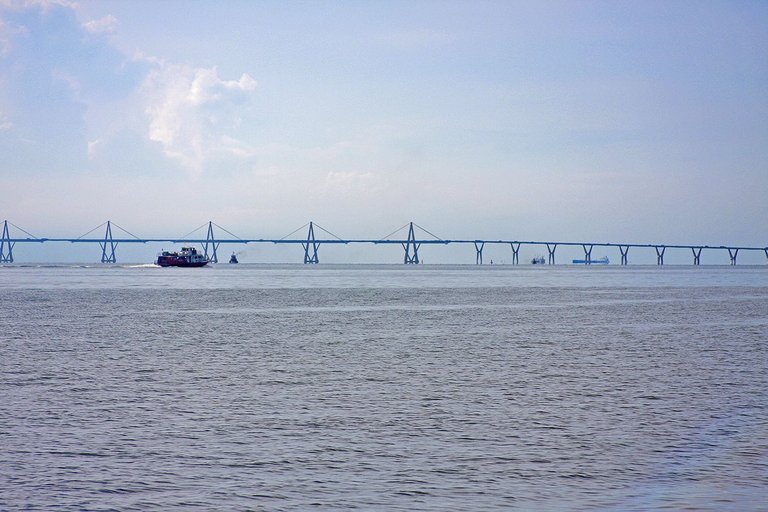 The bridge is supported by 134 pillars. In the photo above you can see the largest piers which are almost in the middle of the bridge and where you can also see that it becomes a cable-stayed bridge. Here the foundations are buried at a depth of 60 m, the bridge becomes higher and the area underneath between pillars widens to 235 m. Sufficient space for the transit of vessels up to 45 m high. An incredible fact is that the bridge supports a traffic of about 45 thousand cars per day.
El puente está soportado por 134 pilares. En la foto de arriba se pueden ver los pilares más grandes que se encuentran casi en su parte central y donde se puede apreciar también que allí se transforma en un puente del tipo atirantado. En ese lugar las bases se encuentran enterradas a 60 m de profundidad, el puente se hace más alto y el área debajo entre pilar y pilar se ensancha hasta 235 m. Espacio suficiente para el tránsito de embarcaciones de hasta 45 m de altura. Un dato increíble es que el puente soporta un tránsito de alrededor de 45 mil autos diarios.
Photo by @jomarbym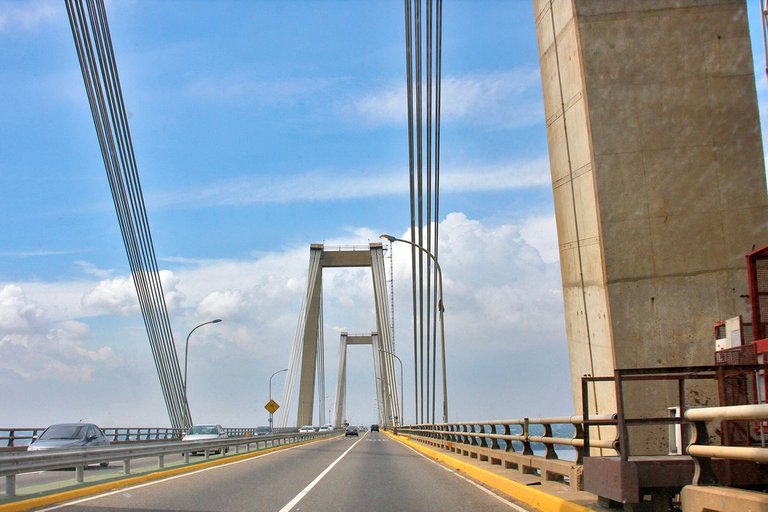 In this other image you can see on the right side part of the lifting structure on the pillars and the large prestressed steel cables that support each small part of the structure.
En esta otra imagen se puede ver al lado derecho parte de la estructura de elevación en los pilares y los grandes cables de acero pretensado que soportan cada pequeña parte de la estructura.
Photo by @charsdesign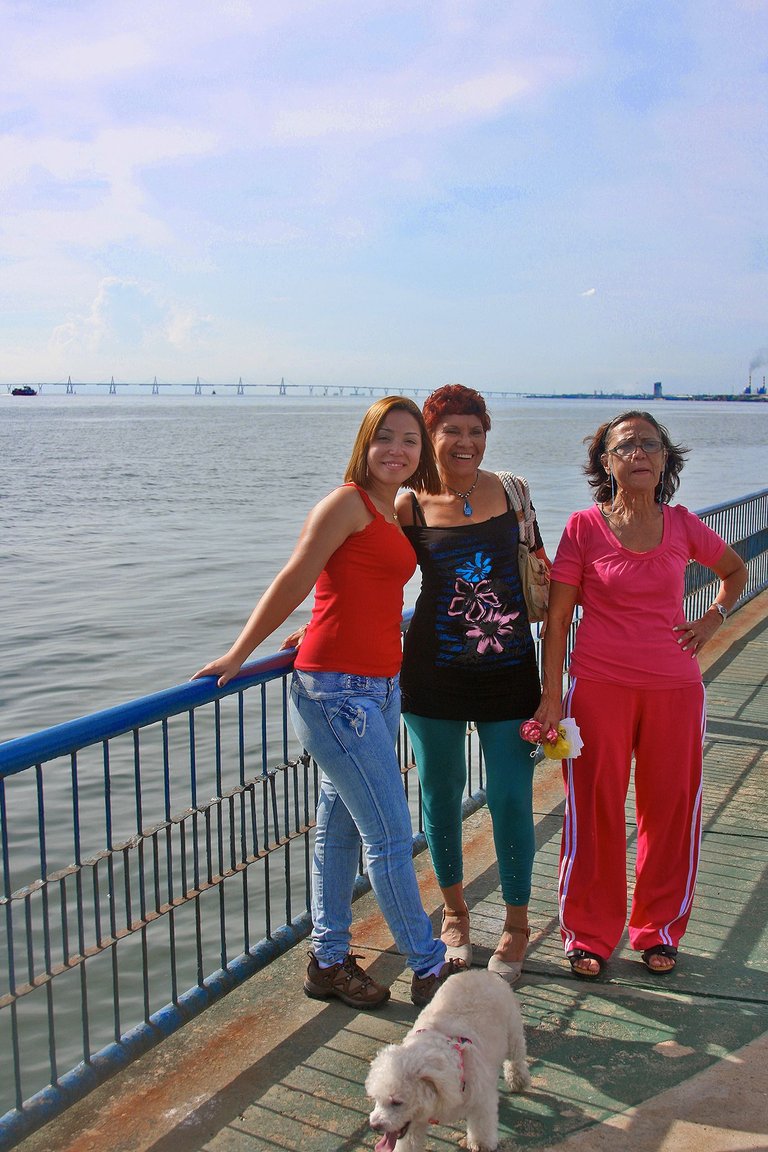 I was in the company of the woman who would become my wife a year later, my mother and my mother-in-law. We had embarked on a trip that included visiting several states in the western part of the country and of course Maracaibo, the land of the beloved sun, was one of them. We had already passed through the states of Miranda, Aragua, Lara and Falcon. After Zulia, we would head to the state of Trujillo, then to Merida and finally to the state of Tachira to visit my family and spend Christmas together. But I had an additional and secret reason of this trip, on Christmas night I would propose to my then beautiful girlfriend.
Estaba en compañía de la mujer que sería un año más tarde mi esposa, mi madre y mi suegra. Habíamos emprendido un viaje que comprendía visitar varios estados del occidente del país y Maracaibo, la tierra del sol amada, era una de ellas. Ya habíamos pasado por los estados, Miranda, Aragua, Lara y Falcón. Luego del Zulia, nos dirigiríamos al estado Trujillo, posteriormente a Mérida y, por último, al estado Táchira para visitar mi familia y pasar navidad juntos. Pero yo tenía un motivo adicional y secreto sobre este viaje, en la noche de Navidad le propondría matrimonio a mi entonces, bella novia.
Photo by @jomarbym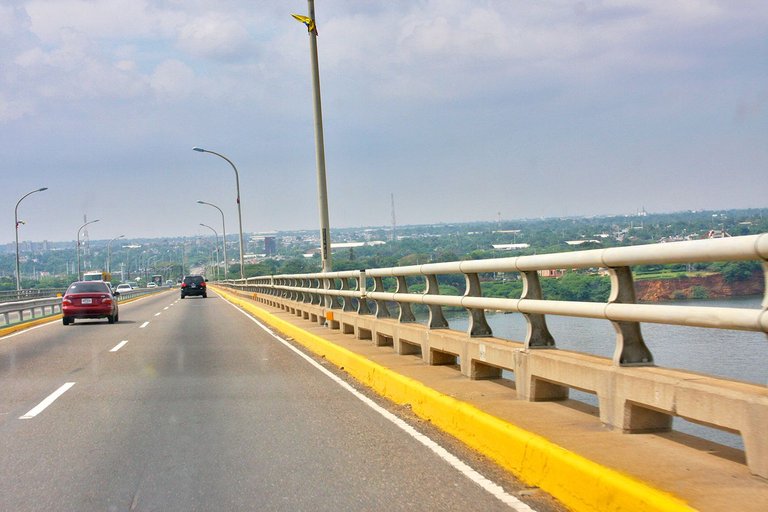 On the final stretch, we had almost crossed the bridge.
En la recta final, ya casi habíamos atravesado el puente.
Photo by @jomarbym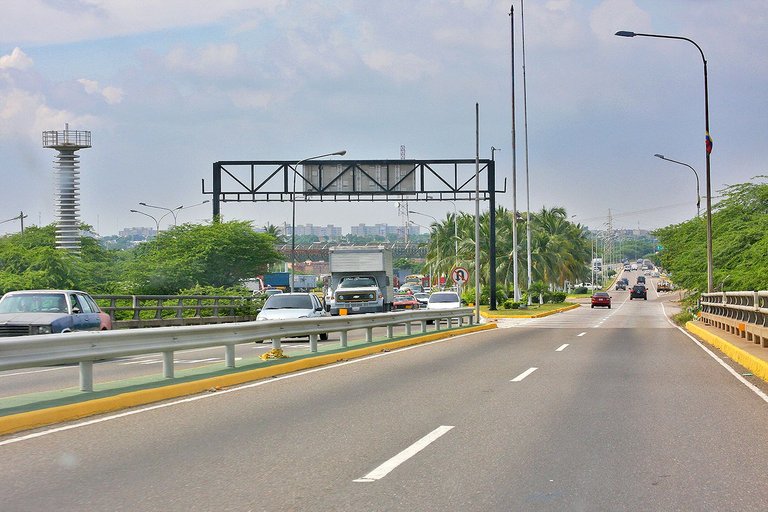 End of the General Rafael Urdaneta Bridge and entrance to the city of Maracaibo.
Final del puente General Rafael Urdaneta y entrada a la Ciudad de Maracaibo.
Photo by Isabel, my mother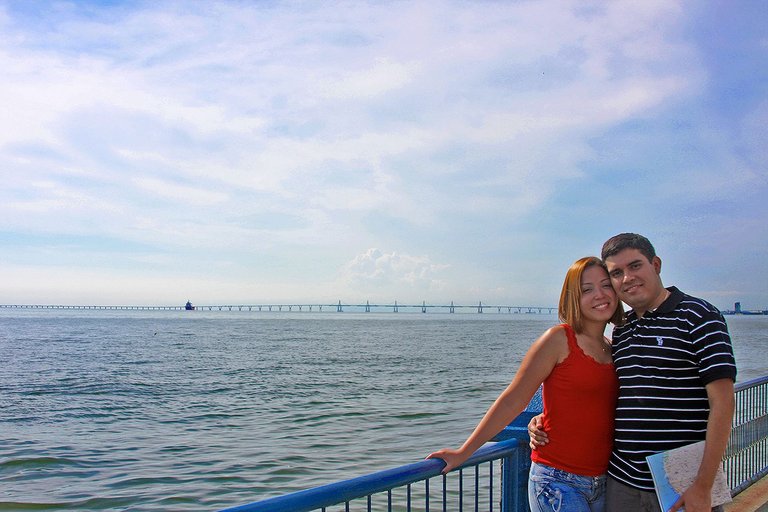 Vereda del Lago Park, Maracaibo, Zulia State, Venezuela. Next to my wife and in the background you can see almost the entire bridge over the lake.
Parque Vereda del Lago, Maracaibo, estado Zulia, Venezuela. Junto a mi esposa y al fondo se observa casi en su totalidad el puente Sobre el Lago.


Pinmapple code: [//]:# (!pinmapple 10.574676 lat -71.574923 long d3scr)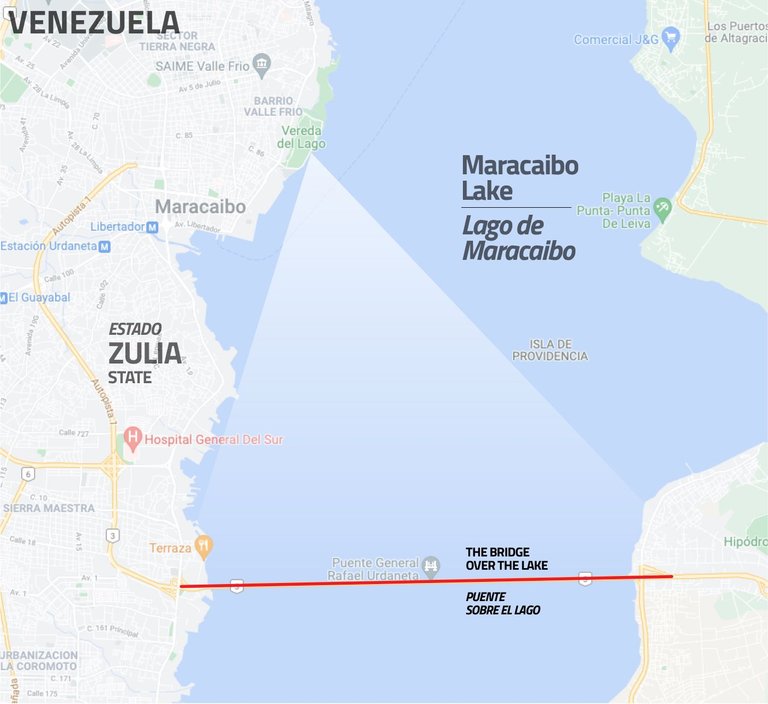 In the map you can see the view I had to take the photos towards the bridge over the lake from the Vereda del Lago Park in Maracaibo.
En el mapa se puede se puede observar la visual que tenía para tomar las fotos hacia el puente Sobre el Lago desde el Parque Vereda del Lago en Maracaibo.
I hope you liked this post and see you in the next architecture and design piece!
¡Espero les haya gustado este post y nos vemos en la próxima obra de arquitectura y diseño!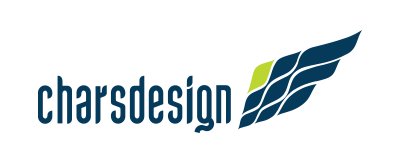 Todas las fotos son propias.
Fotógrafos: @jomarbym, mi madre y yo mismo
Cámara: Canon EOS 40D
Edición: Adobe Photoshop
Fuente: Wikipedia, GoogleMaps e IngeoExpert
Mapa: Creado por mí con Adobe Illustrator
Imagen de marca de agua del mapa: Google Maps
Traducción: DeepL
---
---