TRAVERSING THE BREATHTAKING CANADIAN ROCKY MOUNTAINS • PART #4 / TRAVESÍA POR LAS MONTAÑAS ROCOSAS • PARTE 4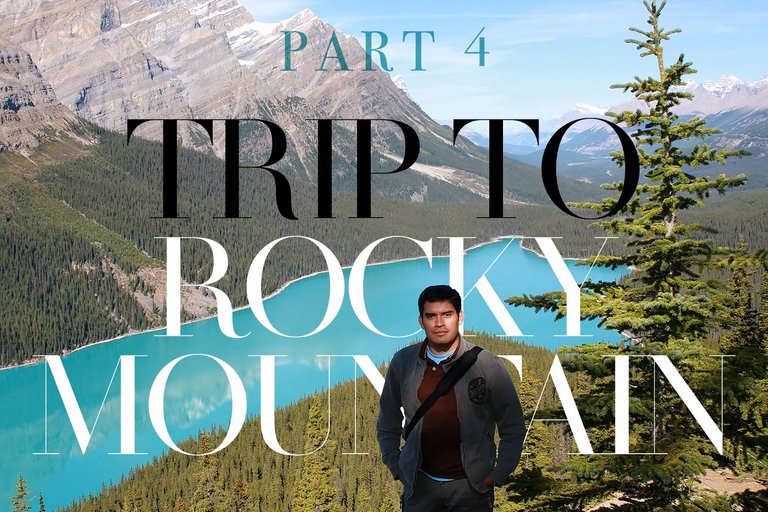 Pinmapple code: [//]:# (!pinmapple 51.714123 lat -116.509052 long d3scr)




ENGLISH
Continuing this marathon's third day of travel among Canada's breathtaking peaks, the next three stops would serve as hors d'oeuvres for what would come later in the afternoon. But by hors d'oeuvre, I don't mean that these places are without their charm. Not at all. The truth is that every nook and cranny of this vast mountain range leaves you speechless.
ESPAÑOL
Continuando con este maratónico tercer día de viaje por entre las cumbres impresionantes de Canadá, las siguientes tres paradas servirían de entremés para lo que llegaría al final de la tarde. Pero al decir entremés, no significa que estos sitios no tengan su encanto. Para nada. La verdad es que cada rincón y paraje de esta vasta cordillera te deja sin palabras.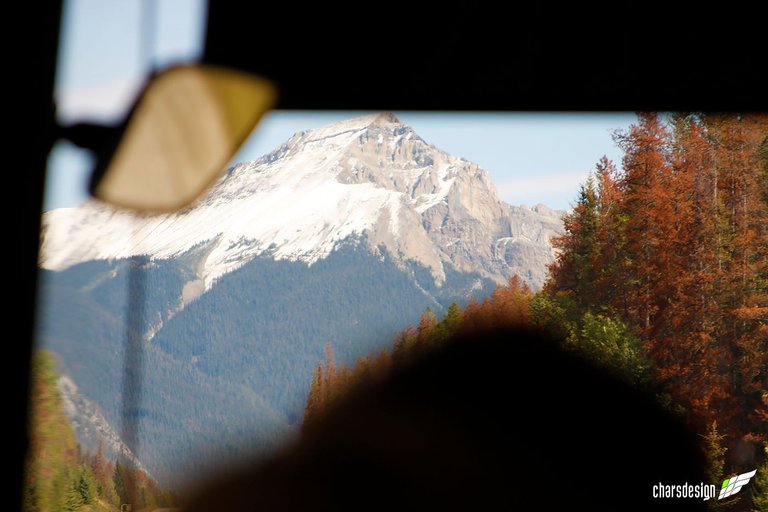 ON THE WAY
ICEFIELDS PARKWAY
Recall that I was on the road and we were heading northwest, first on the Trans Canada Highway and then we took the Icefields Parkway. By the way, Canada is a country with two official languages, English and French. So everything is translated into those languages. In French Icefields Parkway is written Promenade des Glaciers. But also, officially that road has also given the name Highway 93. So there is no loss.




EN LA VÍA
ICEFIELDS PARKWAY
Recordemos que estaba en carretera y que nos dirigíamos hacia el noroeste, primero por la Autopista Trans Canadá y después tomamos la Icefields Parkway. Por cierto, Canadá es un país con dos idiomas oficiales, el inglés y el francés. Así que todo está traducido a esos idiomas. Icefields Parkway en francés se escribe "Promenade des Glaciers" que a su vez en español significa Carretera de Campos de Hielo. Pero es que además, oficialmente esa carretera también se le dio el nombre de Highway 93. Así que no hay perdida.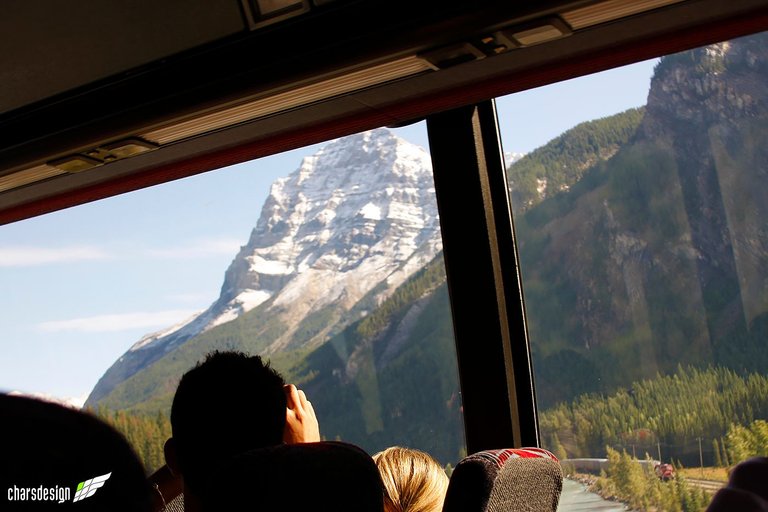 Everywhere you looked from the bus you could see extraordinary landscapes like this one or the one in the previous photo. /
Por donde se mirara desde el autobús se veían extraordinarios paisajes como este o el de la foto anterior.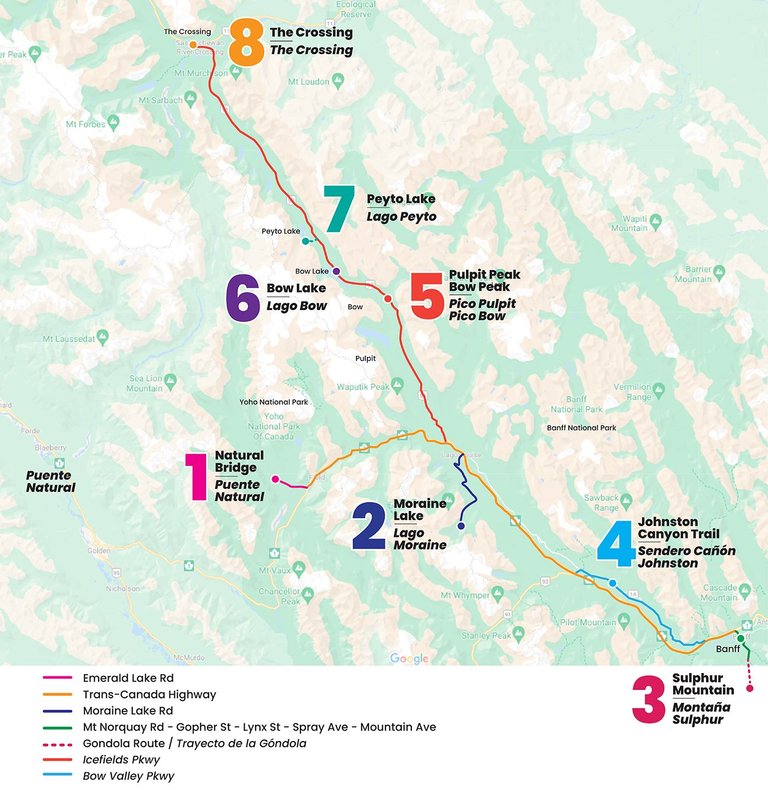 To give you an idea about the tour, we went from point 6 to point 8. That is, we visited Bow Lake, Peyto Lake and The Crossing respectively.
Para que tengan una idea sobre el recorrido, fuimos desde el punto 6 al punto 8. Es decir, visitamos el Lago Bow, Lago Peyto y The Crossing respectivamente.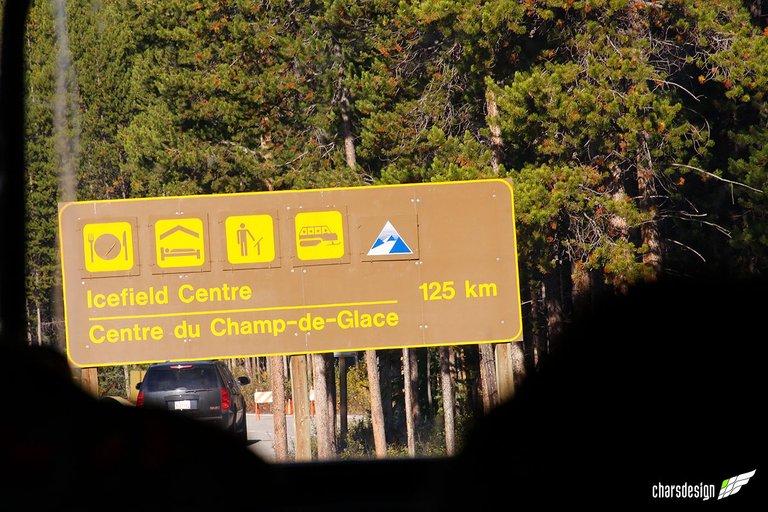 From here we still had to travel 125 km to our final destination for the day, the Icefield Centre or in French, Centre du Champ-de-Glace.
Desde aquí aún debíamos recorrer 125 km hasta nuestro destino final del día, el Icefield Centre o Centro del Campo de Hielo en español.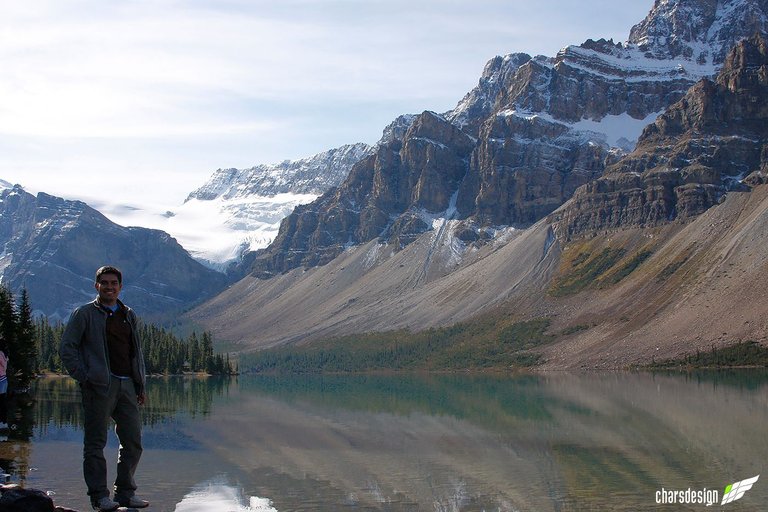 TOURIST SITE
MAP POINT #6
BOW LAKE
Returning to the road, we were heading northwest into the Rockies. The idea was to go deeper and deeper into the heart of this mountain range, but we were still in Banff National Park. After 70km of travel from the Johnston Canyon Trail, we arrived at pristine Bow Lake on the roadside.
SITIO TURÍSTICO
PUNTO DEL MAPA #6
LAGO BOW
Regresando a la carretera, íbamos en dirección noroeste entre las Rocallosas. La idea era adentrarnos cada vez más hacia el corazón de esta cordillera, pero aún nos encontrábamos en el Parque Nacional Banff. Luego de 70km de recorrido desde el Sendero del Cañón Johnston, llegamos al prístino Lago Bow que está a orilla de carretera.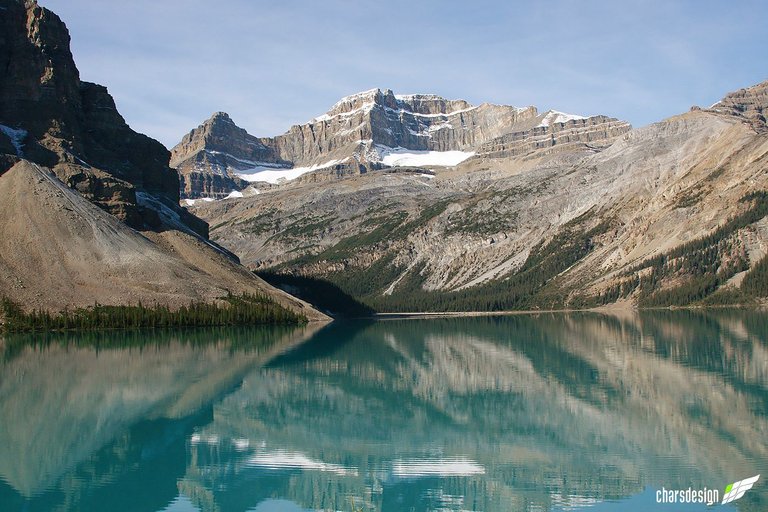 The view here again involves a lake with a large turquoise body of water, a mountain with grayish tones, pine trees everywhere, and a glimpse of the majestic and shimmering Bow Glacier. For adventurers and hikers, there is also a trail to Bow Glacier Falls. It must be quite an adventure to hike it, but because of the itinerary, we again had to be on our way.
La vista de este lugar nuevamente involucra un lago con una gran masa de agua turquesa, una montaña con tonos grisáceos, pinos por doquier y una mirada al majestuoso y resplandeciente Glaciar Bow. Para los aventureros y senderistas también hay una ruta hacia las Cataratas del Glaciar Bow. Debe ser toda una aventura recorrerla, pero por el itinerario, nuevamente debimos seguir nuestro camino.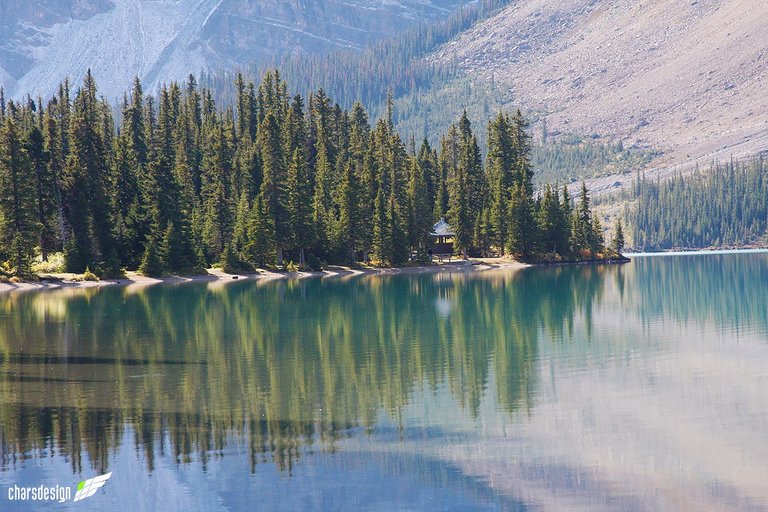 Zooming to the left side of the lake. In the middle of giant pines a cabin.
Haciendo zoom al lado izquierdo del lago. En medio de pinos gigantes una cabaña.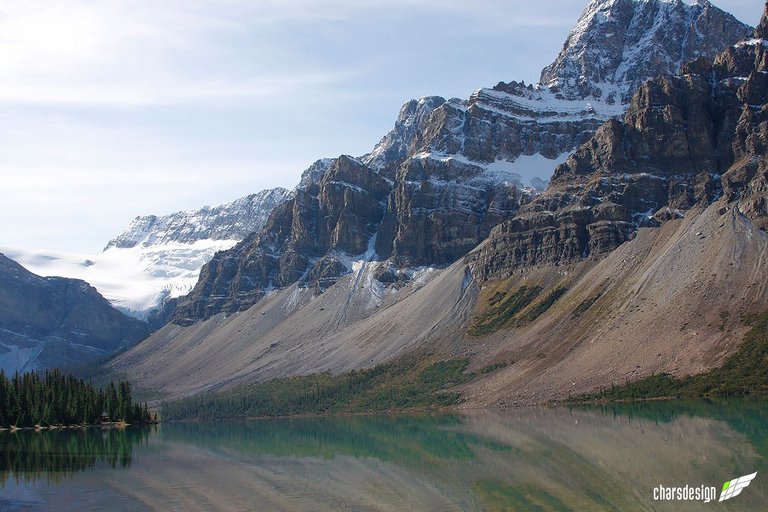 Enlarged view. Bow and BowCrow peaks in the background.
Vista ampliada. Al fondo los picos Bow y BowCrow.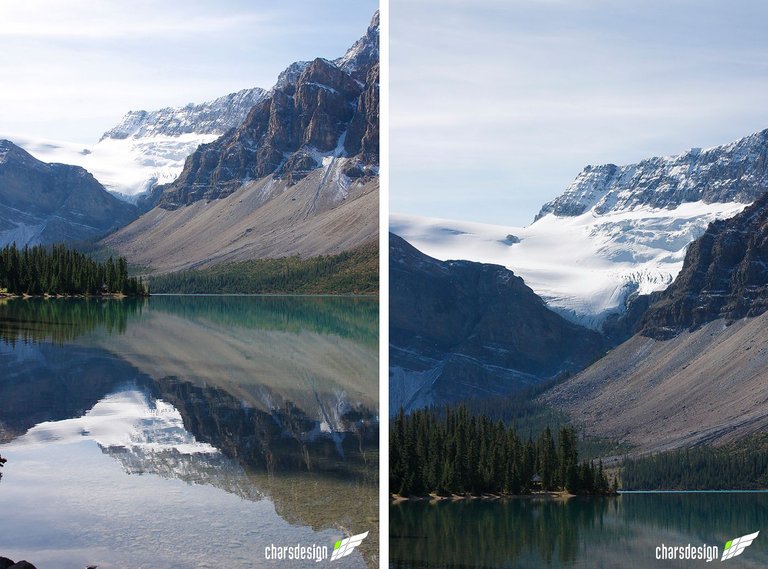 This place offers the following services: a large parking lot, hotel, souvenir store and refreshments.
Este lugar ofrece los siguientes servicios: gran estacionamiento, hotel, tienda de souvenirs y refrigerios.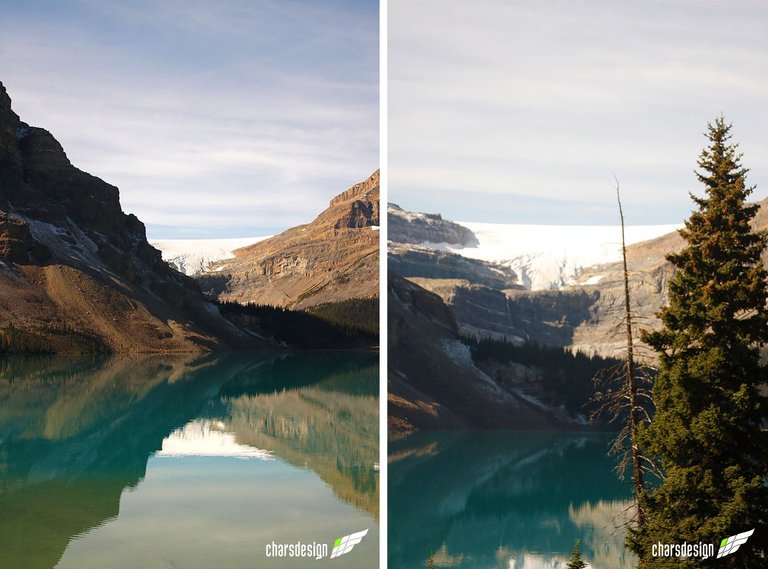 On the left, the Bow Glacier can be seen in the distance. On the right, approaching the glacier falls, from where the waters that feed lake flow down.
A la izquierda se puede observar a lo lejos el Glaciar Bow. A la derecha, acercamiento hacia las cataratas del glaciar, desde donde bajan las aguas que alimentan el lago.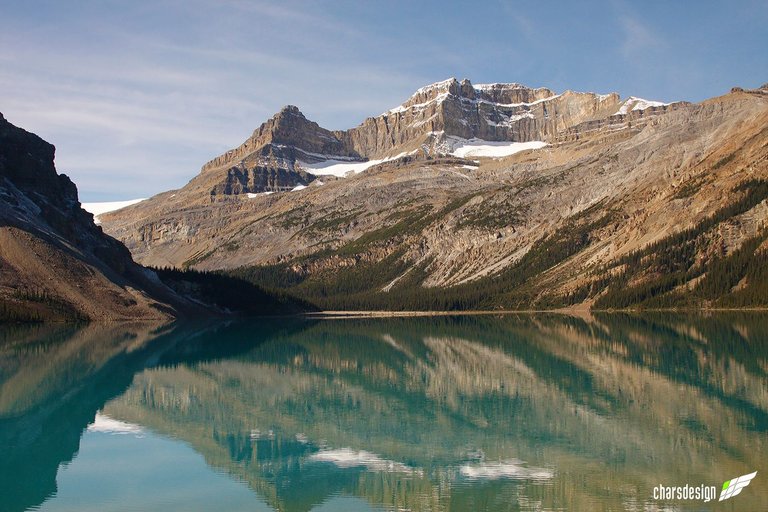 As I said before, the waters are so clear that the bottom is effortless to see. If it weren't for the cold, I'm sure many people would enjoy a nice dip.
Como dije anteriormente, las aguas son tan claras que el fondo se ve sin esfuerzo. Si no fuera por el frío, seguro mucha gente disfrutaría de un buen chapuzón.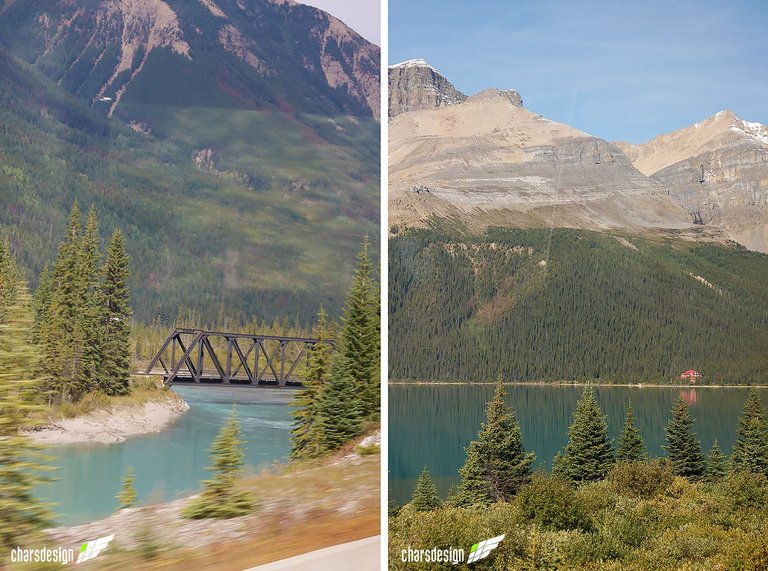 We could not stay, so we continued on our way again.
No podíamos quedarnos, así que nuevamente seguimos rumbo.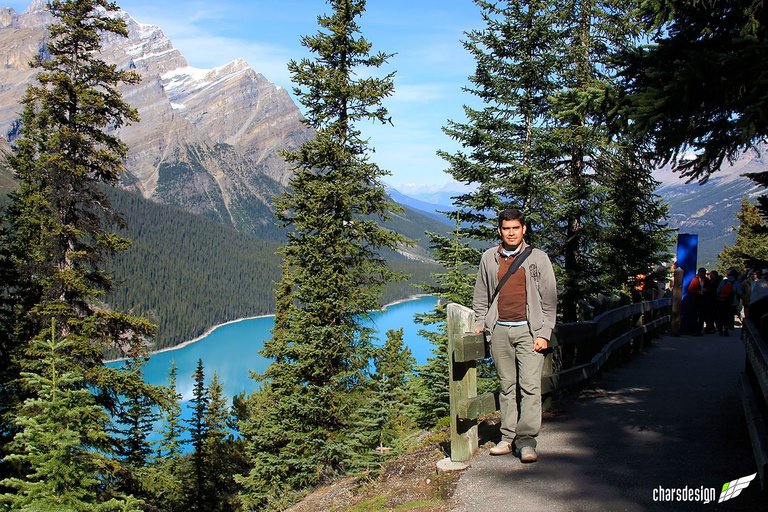 VIEWPOINT
MAP POINT #7
PEYTO LAKE
After a few minutes of marveling at the scenery of Bow Lake, we returned to the bus and in less than 10 minutes we were off again. We were at the Peyto Lake tourist parking lot. From there we took a short walk of about 15 minutes to go up to the lookout point, where we were able to enjoy one of the most beautiful views in the Rockies. The turquoise blue color of Peyto Lake is extraordinary. From this point you can see almost the entire lake and part of the mountains in the distance.
MIRADOR
PUNTO DEL MAPA #7
LAGO PEYTO
Después de algunos minutos maravillándonos con el paisaje del Lago Bow, regresamos al autobús y en menos de 10 minutos nos bajábamos nuevamente. Estábamos en el estacionamiento turístico del Lago Peyto. Desde allí realizamos una pequeña caminata de alrededor de 15 minutos para subir al mirador, donde pudimos recrearnos con una de las vistas más hermosas que hay en las Rocosas. El color azul turquesa del Lago Peyto es extraordinario. Desde este punto se puede observar a lo lejos casi todo el lago y parte de las montañas.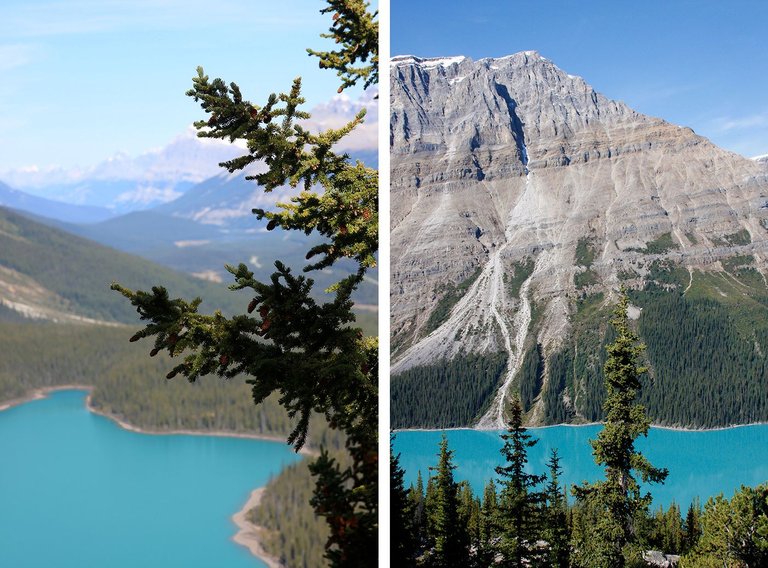 Left: in the foreground are the branches of a pine tree and in the background part of the lake and the mountain range.
Right: Partial view of Caldron Peak and part of the lake which has a stunning turquoise color.
Izquierda: en primer plano las ramas de un pino y en el fondo parte del lago y la cordillera.
Derecha: vista parcial del Pico Caldron y parte del lago que tiene un impresionante color turquesa.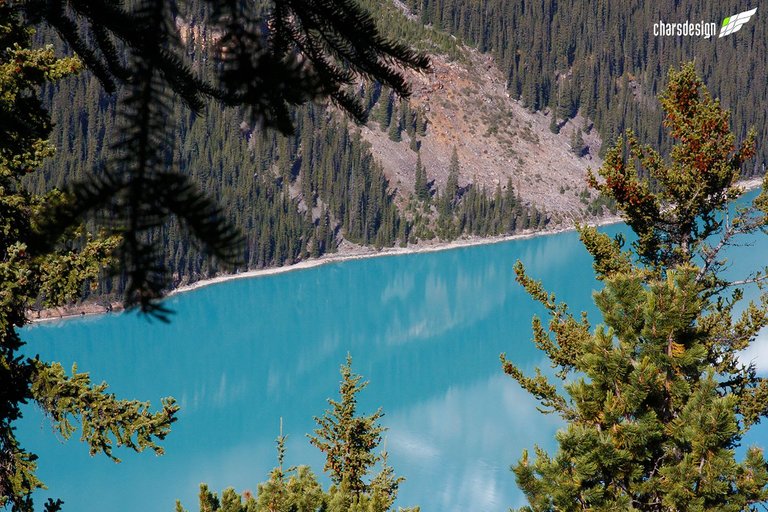 The turquoise color seen from this viewpoint is dazzling.
El color turquesa visto desde este mirador es deslumbrante.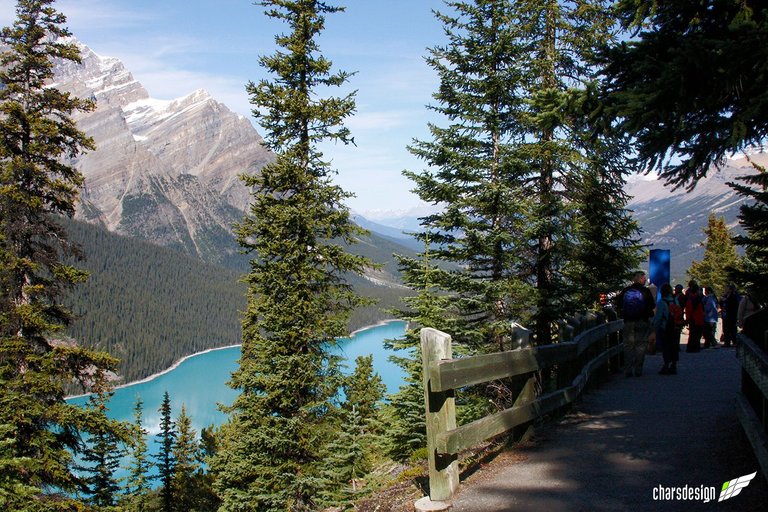 This is the viewpoint to see Peyto Lake and Caldron Peak.
Caminería del mirador para ver el Lago Peyto y el Pico Caldron.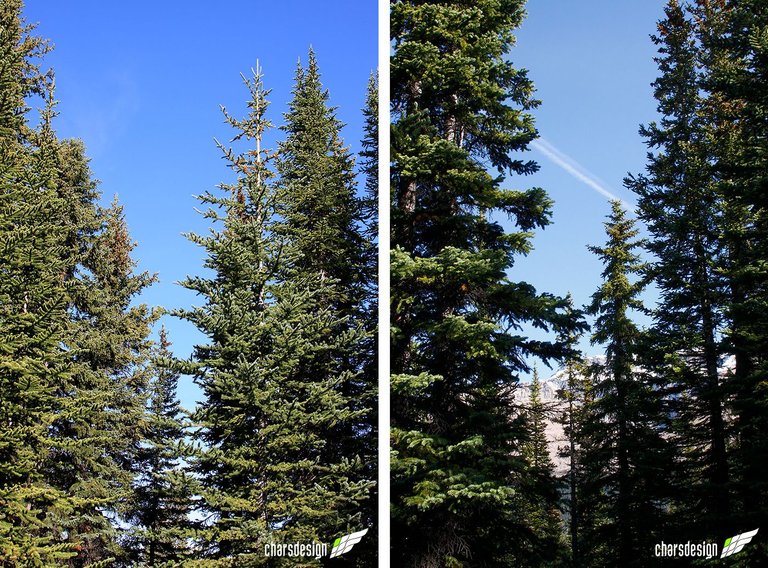 The nature surrounding the viewpoint is beautiful and full of lush pine trees.
La naturaleza que rodea el mirador es preciosa y llena de pinos frondosos.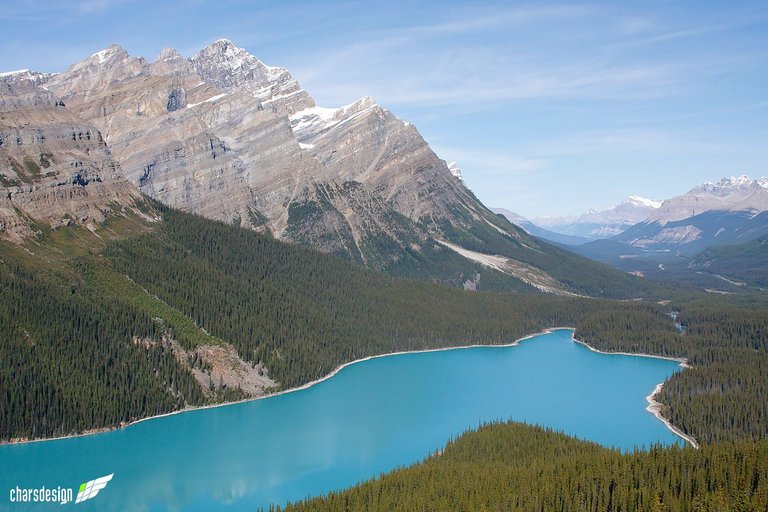 It is for this kind of image that it is worth getting out of the house and walking around the world.
Caldron Peak gloriously adorns the idyllic landscape of Peyto Lake. If you stop a little to detail each of these geographic elevations, we can notice its ragged shape. I'm no geologist, but there you can see different stages of formation. The different layers and layers of earth and rock generate these magnificent formations that invite us to see and climb them.
Por este tipo de imagen es que vale la pena salir de casa y pasear por el mundo.
El Pico Caldron adorna gloriosamente el paisaje idílico del Lago Peyto. Si se detienen un poco a detallar cada una de estas elevaciones geográficas, podemos notar su forma rasgada. No soy geólogo, pero allí se pueden apreciar distintas etapas de formación. Las distintas capas y capas de tierra y roca generan estas magníficas formaciones que nos invitan a verlas y a escalarlas.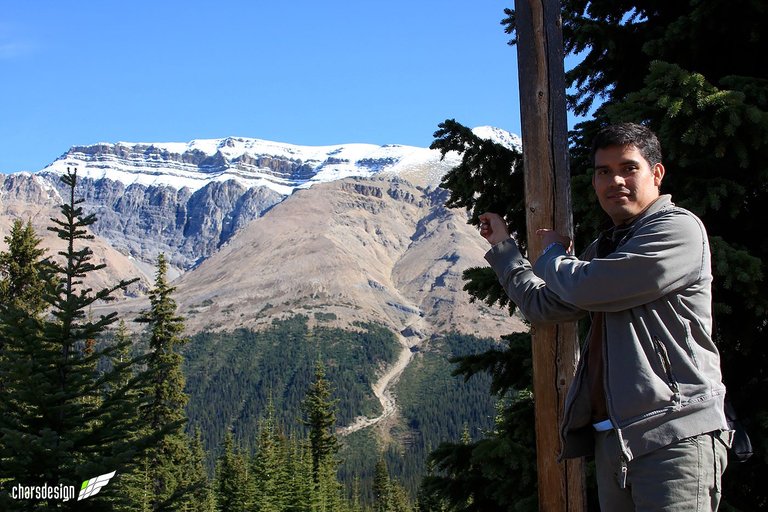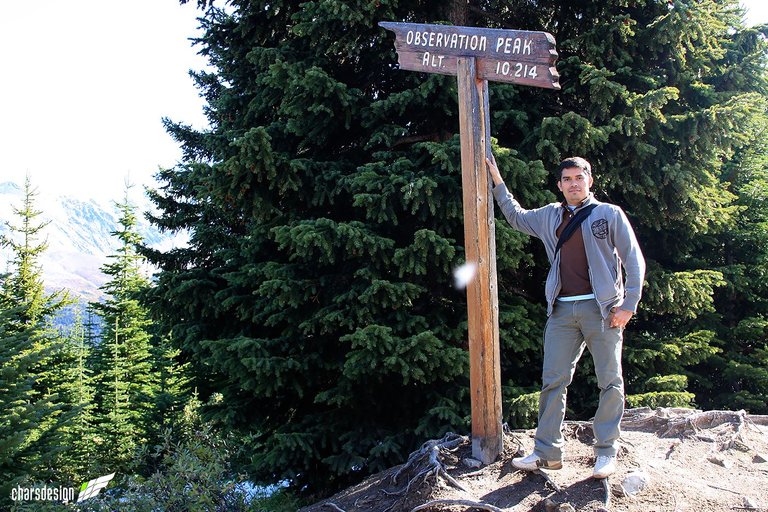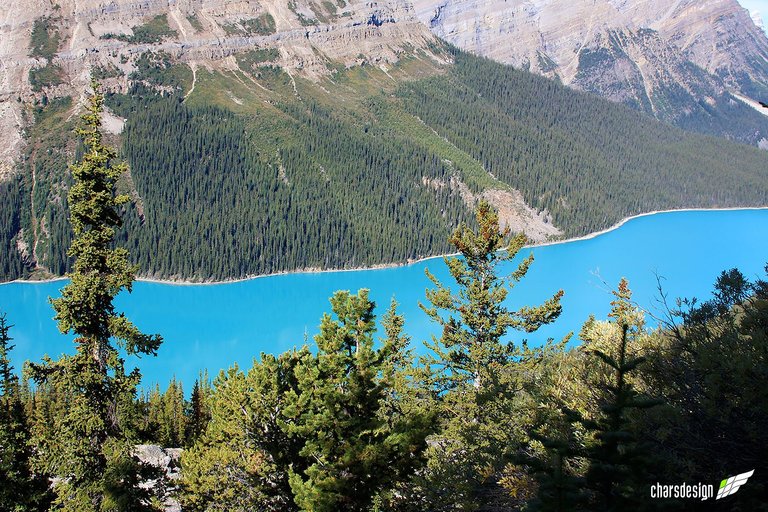 Here I must make an aside. I don't know if it is my perception, hopefully someone with more knowledge on the subject can shed some more light on this, but I have seen with amazement that some of the lakes and glaciers I visited might be smaller nowadays. If so, I guess global warming is what is affecting these fabulous sites. It is unfortunate that such beautiful ecosystems are changing because of this.
Aquí debo hacer un inciso. No sé si es mi percepción, ojalá alguien con más conocimiento sobre el tema pueda darnos un poco de más luces al respecto, pero he visto con asombro que algunos de los lagos y glaciares que visité podrían ser más pequeños actualmente. Si es así, supongo que el calentamiento global es lo que está afectando estos fabulosos sitios. Es lamentable que ecosistemas tan bellos cambien debido a esto.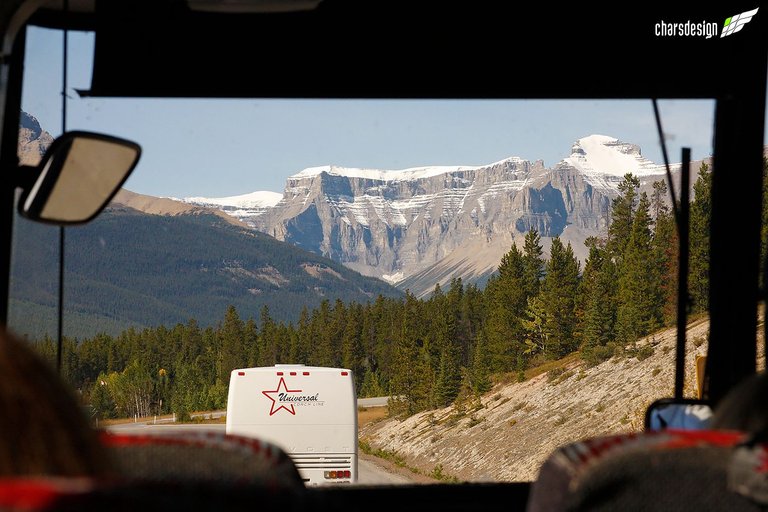 And we continue our way along the Icefields Parkway or Highway 93.
Y seguimos nuestro camino por la Icefields Parkway o Autopista 93.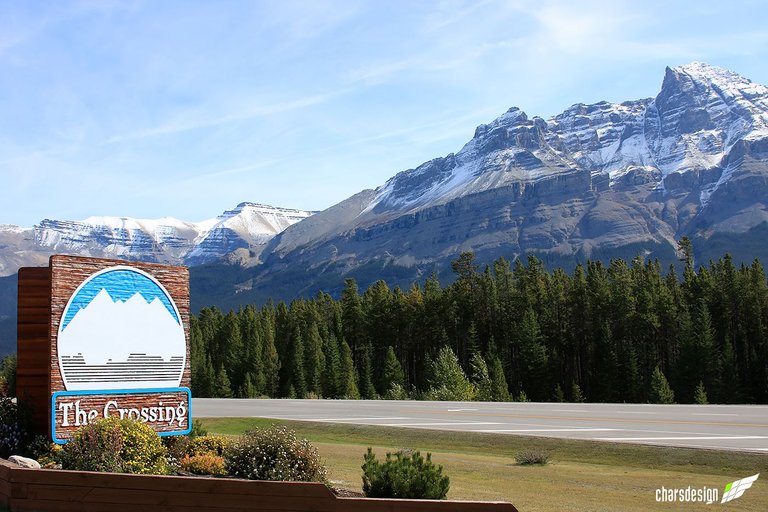 ISLAND ON THE ROAD
MAP POINT #8
THE CROSSING
GAS STATION AND STORE
After a journey of approximately 37km and half an hour later, a little before noon we stopped for lunch at The Crossing. A kind of island on the road where travelers stop to refuel their vehicles have a snack or rest from a tiring trip.


BOHÍO
PUNTO DEL MAPA #8
LA GASOLINERA Y LA TIENDA DE THE CROSSING
Luego de un recorrido de aproximadamente 37km y media hora después, un poco antes del mediodía nos detuvimos para almorzar en The Crossing. Una especie de bohío donde los viajeros se detienen a surtir de gasolina sus vehículos, tomar un refrigerio o para descansar de un agotador viaje.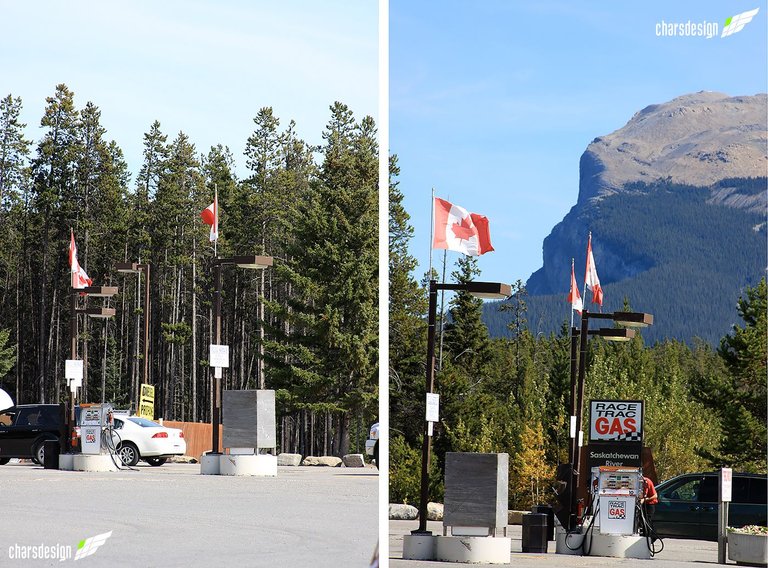 The site is an almost obligatory stop for all tourists. When we arrived there were a lot of people and we stayed for about an hour and a half while we had lunch and stretched our legs.
El sitio es una parada casi obligada para todos los turistas. Cuando llegamos había mucha gente y estuvimos por alrededor de una hora y media mientras almorzamos y estiramos las piernas.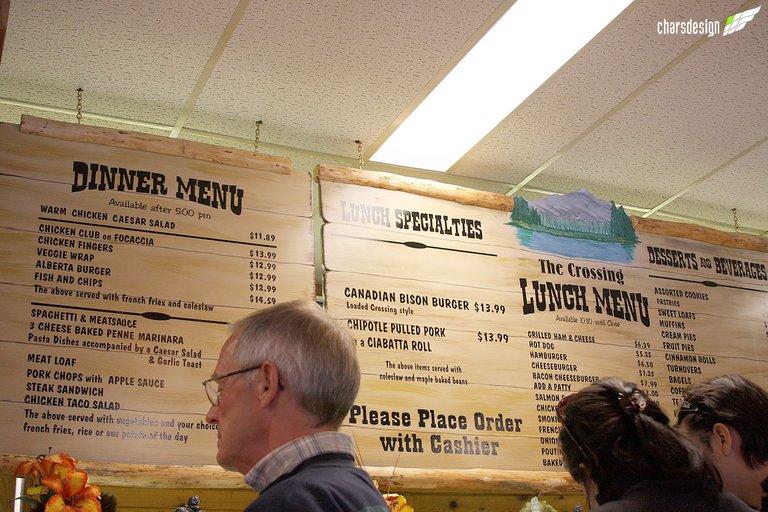 Finally, it was time for lunch. Fortunately, the restaurant offers many different options for all tastes. The place was full, so we had to wait in line to order.
Por fin la hora del almuerzo. Menos mal, el restaurant ofrece muchas opciones distintas para todos los gustos. El sitio estaba full, por lo que tuvimos que hacer cola para poder ordenar.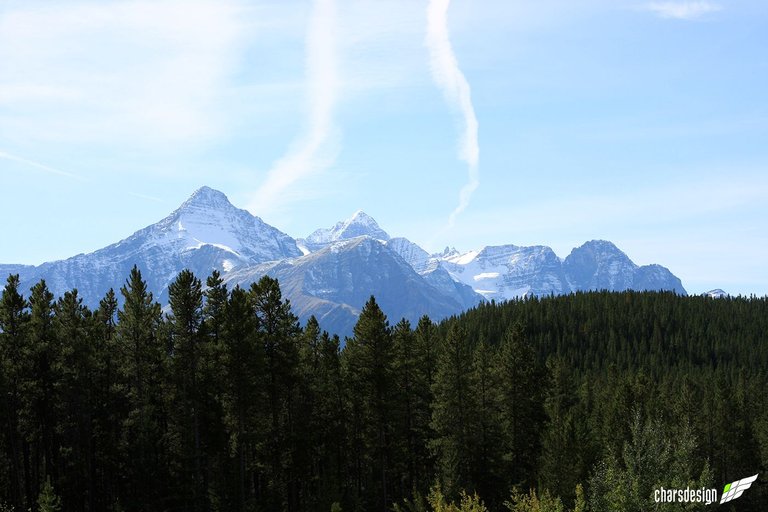 Unsurprisingly, I took a few minutes to record the site with my camera. View of mountains in the distance from The Crossing.
Como no es de extrañar, algunos minutos los dediqué para dejar constancia del sitio con mi cámara. Vista de montañas a lo lejos desde The Crossing.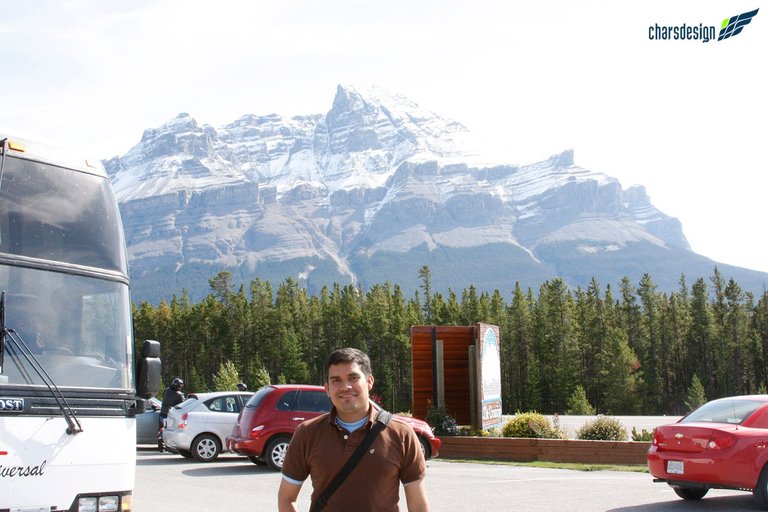 The peak you see in the background is Mount Murchison. Like several of the other great mountains with its steep and ragged edges with snow on its ridges.
El pico que ven al fondo es el Monte Murchison. Como varias de las otras grandes montañas con sus bordes escarpados y rasgados con nieve en sus alicientes.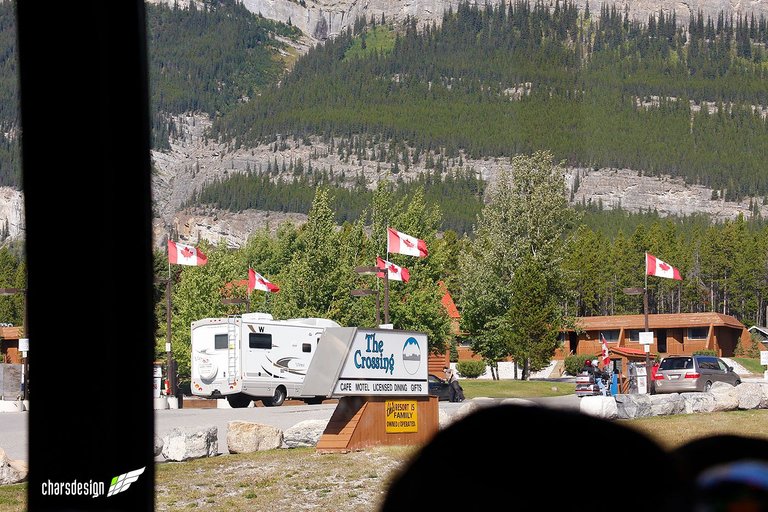 But The Crossing is much more than just a gas station and a store as I said at the beginning. For travelers wishing to stay overnight, you can also stay at The Crossing Resort. On the other hand, I observed many families in their caravans, which shows how active tourism is in the area.
Pero The Crossing es mucho más que una gasolinera y una tienda como había dicho al principio. Para los viajeros que desean pernoctar, también se pueden hospedar en The Crossing Resort. Por otro lado, observé muchas familias en sus caravanas lo que da cuenta de lo activo que es el turismo en la zona.
---
Recommendations for visiting the Rockies
The tour I took was through a tour company that offers transfer, lodging, and tour guide services. If you are visiting Canada I advise you to pay for this type of service, because they will take you to the best places and you will forget about having to deal with complex logistics.
Take appropriate warm clothes and gloves, even if it is summer. The cold is extreme, especially at night. I remember the first night in Banff I had to walk about eight blocks back to the hotel and the temperature had dropped to 0˚C. It really was very difficult to walk in those conditions and only in the sweater I have in the pictures.
Forget about heels or casual shoes. Wear comfortable shoes and if they are for hiking even better.
Take your camera. It is indispensable. Also, remember to recharge the batteries the night before and, if you can, take two or more memory cards. You don't want to run out of space to take pictures or run out of battery at the most important moment of the trip.
Recomendaciones para visitar las Rocallosas
El tour que realicé fue a través de una compañía turística que ofrece el servicio de traslado, hospedaje y guía turístico. Si están de visita en Canadá les aconsejo que paguen por este tipo de servicios, porque los llevarán a los mejores lugares y se olvidarán de tener que lidiar con complejas logísticas.
Lleva abrigo y guantes apropiados, aunque sea verano. El frío es extremo sobretodo en las noches. Recuerdo que la primera noche en Banff tuve que caminar como ocho cuadras de regreso al hotel y la temperatura había bajado a 0˚C. Realmente fue muy difícil caminar en esas condiciones y sólo con el sweater que tengo en las fotografías.
Olvídate de los tacones o zapatos casuales. Lleva zapatos cómodos y si son para hacer senderismo mejor.
Lleva tu cámara. Es indispensable. Además recuerda recargar las baterías la noche anterior y, si puedes, lleva dos o más tarjetas de memoria. No querrás quedarte sin espacio para tomar fotos o sin batería en el momento más importante del viaje.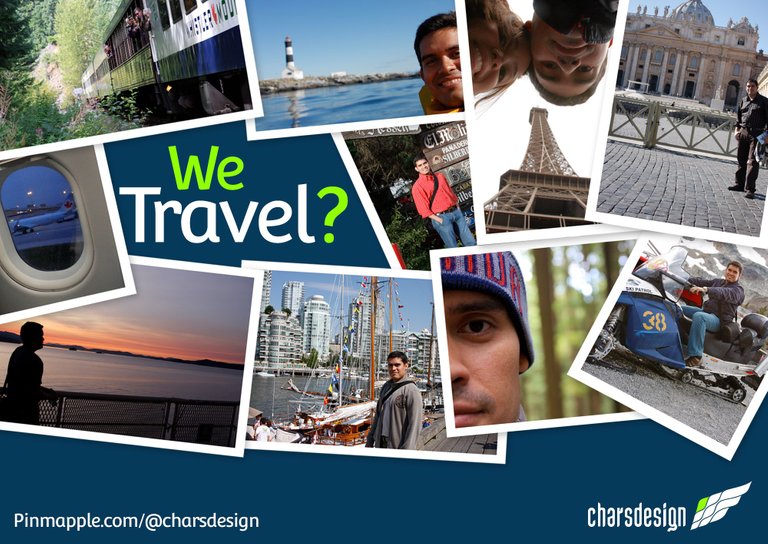 If you read me and found it interesting, then I invite you to follow me, because I have yet to show other sites of this incredible mountain range in Canada and other parts of the world that I have had the privilege to visit.
You can see my previous posts by clicking from here to pinmapple.com


Until next time and happy trip, fellow travelers!
Si me leíste y te pareció interesante, entonces te invito a seguirme, porque aún falta por mostrar otros sitios de esta increíble cordillera en Canadá y de otras partes del mundo que he tenido el privilegio de visitar.
Puedes ver mis posts anteriores pinchando desde aquí a pinmapple.com


¡Hasta la próxima y feliz travesía, amigos viajeros!

All photos are of my authorship except for the ones where I appear. Those were taken by my companions of that trip and guided by me.
Camera: Canon EOS 40D
Edition: Adobe Photoshop
Source: GoogleMaps
Map: Creado por mí con Adobe Illustrator.
Map watermark image: Google Maps
Translation: DeepL
Todas las fotos son de mi autoría a excepción de las que aparezco. Esas fueron tomadas por mis compañero de ese viaje y guiados por mí.
Cámara: Canon EOS 40D
Edición: Adobe Photoshop
Fuente: GoogleMaps
Mapa: Creado por mí con Adobe Illustrator.
Imagen de marca de agua del mapa: Google Maps
Traducción: DeepL
---
---