Jagannath Hall, University of Dhaka.
A speech goes that Kasmir is the heaven if the earth.Because it is so beautiful and full of many kinds of charming and beautiful flowers and tastey fruits.
So today I am gonna show you the heaven of our city.
"Jagannath Hall, University of Dhaka."
---
Everyone has a dream to get higher education. I had also. And my dream comes to the reality by admitted into Dhaka University and got the residence in Jagannath Hall, Dhaka university.
---
The place, when I entired First, I thought that it might be a heaven. I was amused to see the environment, the beauty, the internal atmosphere of the whole area of the hall. There is a big watery place and tow ghat (the place on where one can get through into the water or using bath standing on there)
---
Today I am sharing the the 42 ft sculpture of Goddess Saswati Devi, which was situated in the middle of the pond, full of water. Its really very beautiful, very charming and amazing. One can enjoy the mind fresh air and scenery of our Jagannath Hall. The heaven of Dhaka.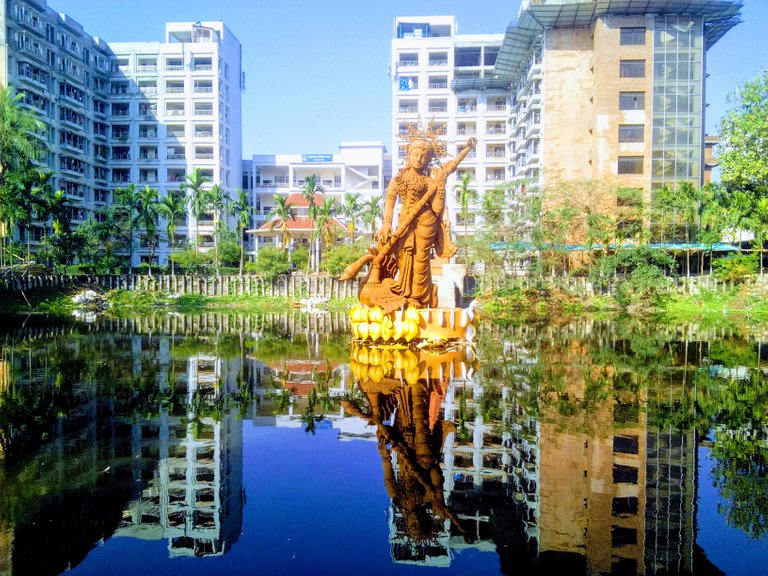 | Type | | Picture A Day |
| --- | --- | --- |
| Device | | HUAWEI Y541 U02 |
| ISO | | ISO100 |
| FOCAL LENTH | | 3.77 |
---
This is an Original blog written by me and The photo is also taken by me.
Thanks for visit my blog. You also can appreciate and criticize my work. Both are welcomed.
You also can follow me on
Add me on
Follow me on
---
---