Bitcoin Miner Iris Energy Defaults On Loan
In today's edition of YIYL, (You Invest, You Lose) we head back to the much-mangled bitcoin mining sector. As the price of bitcoin declined from 69 000 down to $16 000 the ability to generate cash flow from bitcoin in fiat terms isn't as lucrative as it once was, and those that did the math based on certain price points.
Since bitcoin doesn't look like it will be recovering anytime soon due to the increase in interest rates, pushing investors out of risk on trades to collect the positive returns on bonds, we've seen equities and other risk-on assets drained of liquidity.
Add to that the blow-ups in the shitcoin and exchange space, and the confidence in moving capital into the space has been hit with several sucker punches. So anyone in distress trying to raise money is going to find it hard.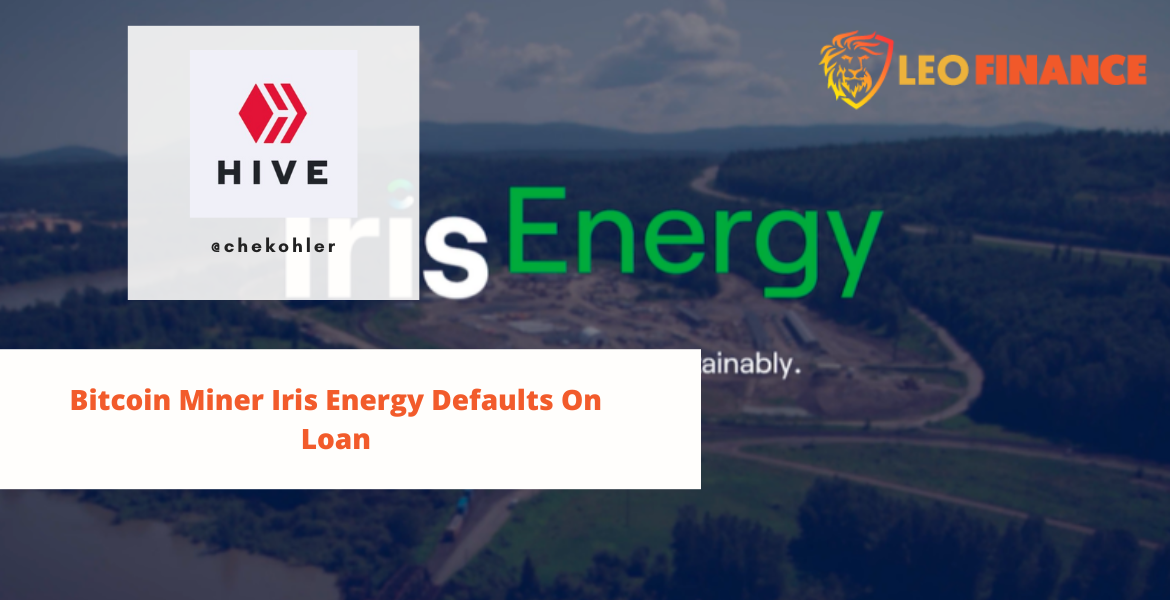 Iris Energy Faces Economic reality
One of the larger miners in the space, Iris has been in distress for some time and after announcing earlier in the month that they were close to defaulting on a $100 million+ loan, Iris Energy has defaulted.
As fate would have it, mining on leverage isn't the smartest play, and now Iris, Unable to pay the $7 million/month in debt obligations with their $2 million/month gross profit, the company has had to face the music.
Iris Energy has powered off 3.6 EH/s worth of mining capacity and called time on operations.
Iris is down but not out yet and has stated that capacity remains at around 2.4 EH/s which includes 1.1 EH/s of hardware in operation and 1.4 EH/s of rigs in transit or pending deployment.
Now we don't know if they can restructure debt and then lean up operation to make it through the bear market, or if this is just theatre and they will eventually have to close up operations under the weight of debt and wipe out their equity holders in the process.
https://twitter.com/caprioleio/status/1594671729917714437
Talk about the price
Upon the news, Iris Energy stock slumped 18% on the day to trade at $1.65 in after-hours trading, which is quite the pummelling and salt in the wounds for any long-term holder of the stock.
Iris Energy's stock has plummeted to $1.66, down 93% from its $24.80 peak when the stock first began trading a year ago, so anyone who held that stock is well and truly rekt.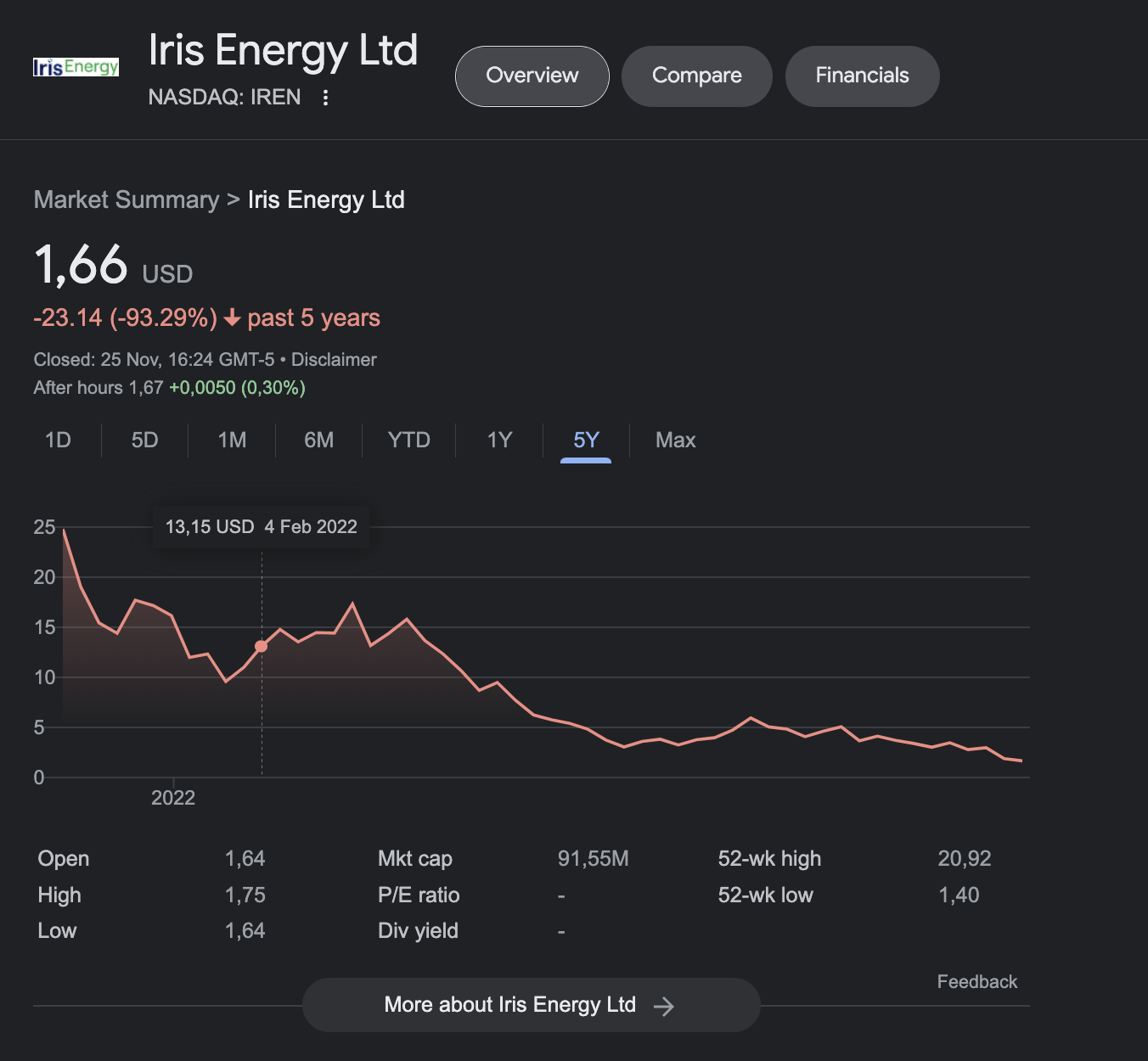 Bitcoin miners are currently suffering a triple whammy of high hash rates and difficulty, high energy prices, and low Bitcoin prices and I don't think that Iris will be the first or last miner who got over their ski's in finance and now have no idea how to cover their obligations.
Sources:
Have your say
What do you good people of HIVE think?
So have at it my Jessies! If you don't have something to comment, "I am a Jessie."
Let's connect
If you liked this post, sprinkle it with an upvote or esteem and if you don't already, consider following me @chekohler and subscribe to my fanbase
| Earn Free bitcoin & shop | Earn Free Bitcoin & shop | Claim Free Bitcoin & Shop |
| --- | --- | --- |
| | | |
Posted Using LeoFinance Beta
---
---