BlockFi Seizes Up As Bailout Bails
In today's edition of YIYL (You Invest, You Lose), we had back to the CEFI space which has really taken a battering in the last year, and rightly so, because they thought they were smarter than the average retail trader, and while they scammed a lot of retail, they learned the same lesson in the end.
What happened with most of these companies, is they raised money to offer interest-earning products, that were A securities and be subsidised by the money they raised, as they bootstrapped their market and secured customers and assets under management. The idea is that you will get to a certain scale where you can cut back the subsidy and then using your massive balance sheet earn enough on it in fees, loan interest and institutional lending that you can pay everyone their 2 - 15% on bitcoin, shitcoins, and stablecoins.
But the idea didn't work out and what's worse is the institutional players borrowing the funds were getting absolutely creamed in the market and would never have the capital to pay back their loans, 3AC as an example. Then a lot of these lenders had exposure indirectly or directly to the Luna Ponzi which probably blew a hole in so many balance sheets and they were just using a confidence game to keep it going.
BlockFi more like BlockedFi
BlockFi had a tough time this past June, floundering after substantial losses in the crypto downturn. They were bailed out by FTX, who extended them a $250 million loan, then shortly after reached a deal that would give them the option to acquire BlockFi, and also extended BlockFi $400 million in revolving credit.
In this deal equity holders were cleaned out, FTX took over their balance sheet but allowed them to run separately in the meantime, which allowed BlockFi to avoid the fate of something like Celsius.
This gave some blockFi users the time to pull off their funds and if you didn't after the first warning shots, you only have yourself to blame. I used BlockFi once, I even promoted it, then they started listing all kinds of shitcoins and I knew it was downhill from there, I pulled my funds and closed my account.
I get fuckall yield on my bitcoin, but I still have my bitcoin, unlike most BlockFi users.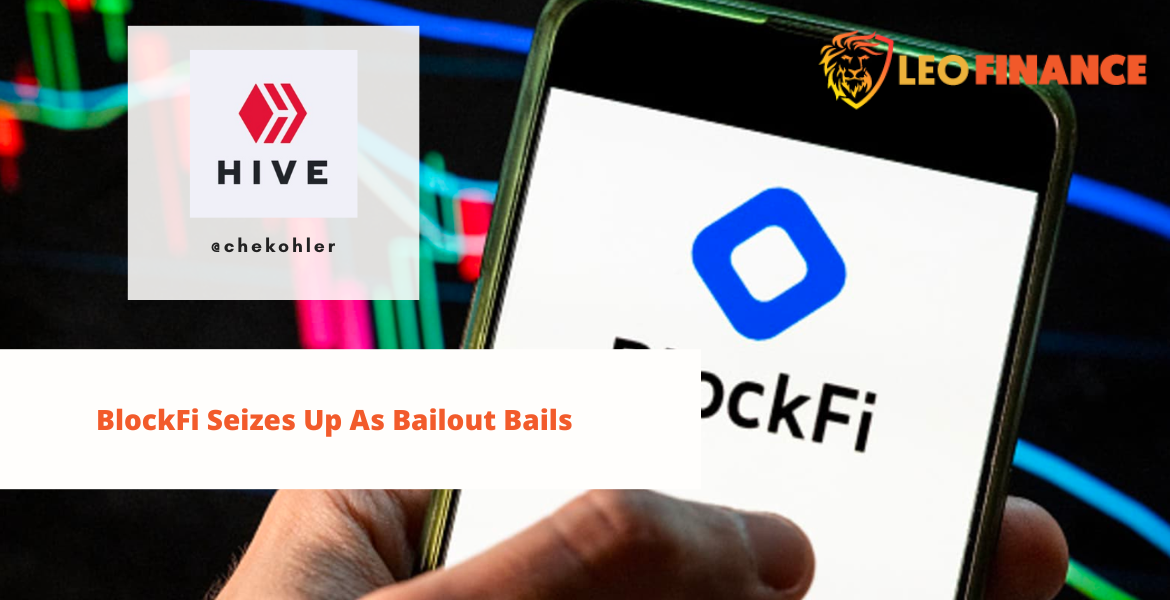 No bail for bad risk management jail
In a quick turn of events, the company that has been looking to save so many others, couldn't save itself and its balance sheet was only a con game.
The bailer is the one requiring the bailing, and the possible bailout of FTX by Binance fell through. This means that BlockFi is in a tough and uncertain spot, which is why they announced through Twitter that "until there is further clarity, we are limiting platform activity, including pausing client withdrawals".
https://twitter.com/BlockFi/status/1590875997351866368
So all you users are now in forced hodl mode.
They also wrote that they had learned about the FTX collapse via Twitter. BlockFi founder and COO Flori Marquez had tweeted only two days prior, just after the FTX news, that
"All BlockFi products are fully operational. BlockFi is an independent business entity. We have a $400MM line of credit from FTX.US (not FTX.com) and will remain an independent entity until at least July 2023. We are processing all client withdrawals."
https://twitter.com/FounderFlori/status/1590030306978848768
To give you some perspective on what a massive fuck up this is, BlockFI raised $1.4 billion in various rounds, to start and grow the company, all of which is probably gone now, as equity holders got cleaned out and operational costs have eaten through that.
If they need 400 million in credit after all that capital injection and the ablity to leverage customer funds of around 500 million.
According to reports from Cointelegraph, BlockFi had up to 1.8 billion in loan exposure which doesn't look like you're doing much due diligence or risk management and ofcourse you wouldn't be able to cover customer redemptions should shit hit the fan.
Retail holding the bag
Now, these unregulated shadow banks are crying foul and apologizing for misusing customer funds and retail will probably not see much fo that money after bankruptcy proceedings, the same goes for Celsius. A lot of people used this high-yield service provider as their new bank account and moved considerable funds into these shitcoin casinos and got cleaned out.
Do you think that these "founders" and employees are going to be cutting their salaries because of it? No they'll drain this thing dry and call it a failure and that we tried.
Honestly a lot of these people should see jail time for what they've done but it's highly unlikley that they will.
Sources
Have your say
What do you good people of HIVE think?
So have at it my Jessies! If you don't have something to comment, "I am a Jessie."
Let's connect
If you liked this post, sprinkle it with an upvote or esteem and if you don't already, consider following me @chekohler and subscribe to my fanbase
| Earn Free bitcoin & shop | Earn Free Bitcoin & shop | Claim Free Bitcoin & Shop |
| --- | --- | --- |
| | | |
Posted Using LeoFinance Beta
---
---