Core Scientific Going Broke Fast
In today's edition of YIYL, (You Invest, You Lose) we take a look at the capital-intensive business of bitcoin mining. As a bitcoiner I often hear this critique like, oh all these big players are mining there is no point in home mining you're just wasting time and not making a profit, they are going to cream you.
No that's simply not true, many home miners are playing the long game, home miners are repurposing the heat they get from their miner, home miners are using it as a way to offset energy production on their solar, there is more to it than simply trying to secure a piece of the reward of the next block.
The issue with mining is no one knows where the price will go in the short term and you have to make educated guesses, the smaller your operation like a home miner, the easier you can respond to changes and switch it on and off. If you're a big boy with massive sunk costs, if the price goes against you and you can't access finance, sell equity or extend your runway by getting lean and dumping your treasury, well then you're fucked and you go broke.
Just as the good capitalist market should, there should be no bailout, that's how creative destruction works and market pricing works.
Broke to the core
Founded in 2017, Core Scientific is one of the largest Bitcoin miners in the world with 180,000 servers and nearly 10% of the current computing power that secures the entire Bitcoin blockchain network, that's stupid big and they got in at a great time. Coming in after the bear market with major CAPEX they were cleaning house with coins and the China ban worked in their favor too.
They also got to enjoy a great bull run, but clearly didn't make the most of it, and now it's not looking so rosy
The top crypto miner has been forced to sell the bulk of its Bitcoin holdings in June as a steep drop in digital assets squeezes finances for even the leaders of the industry.
Core Scientific sold 7,202 mined coins for $167 million, leading to a 79% drop in Bitcoin holdings on its balance sheet, according to the company's monthly update.
The Austin, Texas-based company held 1,959 coins in July of this year. Fast forward three months and the bitcoin price hasn't come to save them and now they are down to $26.6 million in cash to keep going. Sure they do continue to bring in bitcoin, but bankruptcy is looming over them and it's not looking pretty.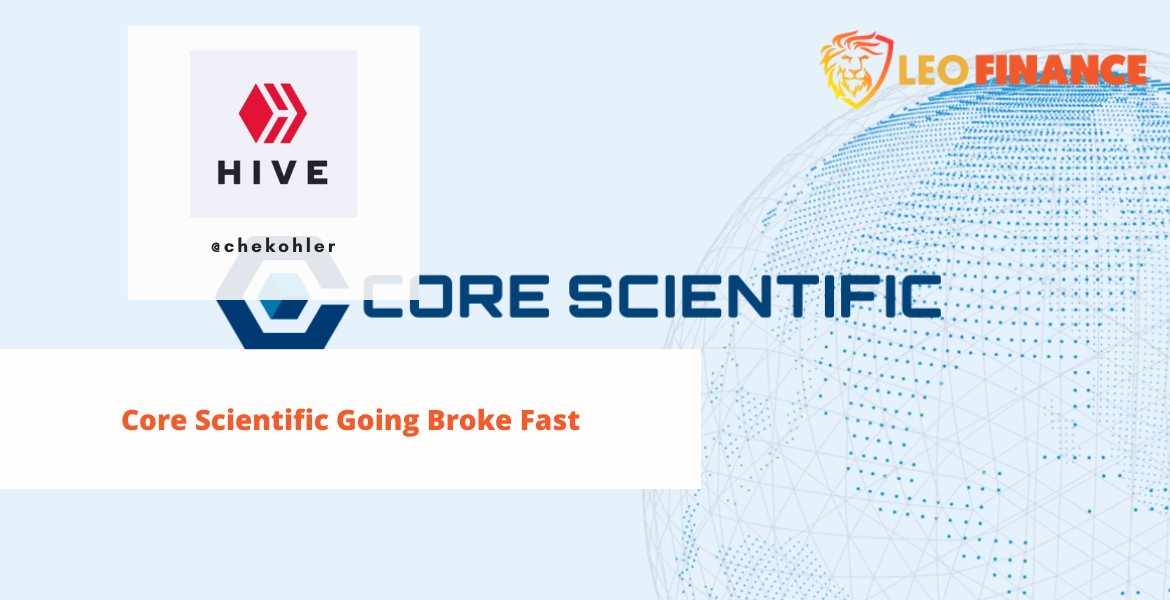 Talk about the price
CORZ has been crushed by this bear market and they have no room to move with equity not giving them much of a way to finance themselves. The company's stock has dropped from 13 bucks at the all-time high to a price of 20 cents, pretty much 99% down and trading like a shitcoin.
Since they are a publicly traded company the books are open for all to see, you can check their balance sheet, their income, and the cost of electricity they're getting and these are all trends not moving in their favour.
With no sign of the bitcoin price picking up, and equity investors getting crushed by rising interest rates, it's not the best time to be raising capital either and looking for favourable terms in the debt markets.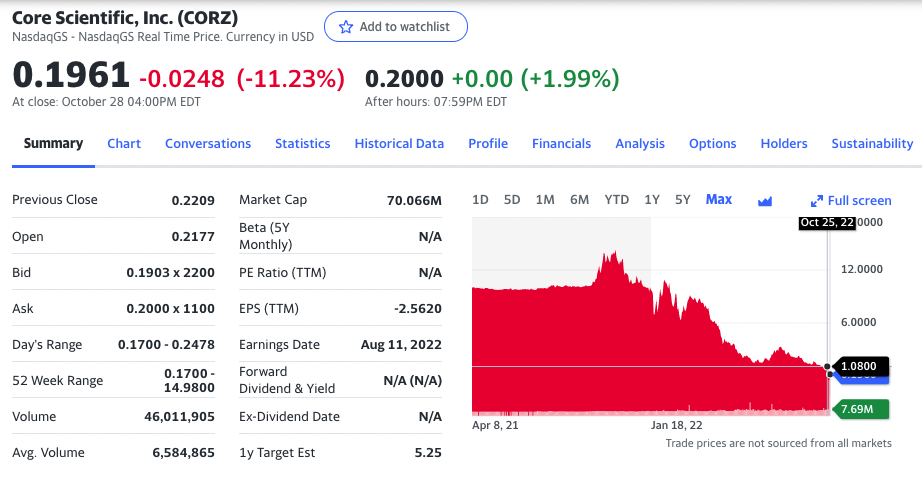 Trying to be too clever for bitcoin
I get some people to want more exposure to different parts of bitcoin, or they can only invest in stocks, thinking it's a way to get into the market through a financial contract they understand but they don't come without risk.
Now these equity holders of CORZ are learning this the hard way, if they do finally go broke, and the company is restructured all equity holders get cleaned out and the debt holders get to either take over operations or they chop it up and take what they can from the carcass.
It's a painful lesson for those holding but a valuable lesson to learn and continues to show why bitcoin the asset is just so damn good. Holding on-chain cold storage bitcoin is like a call option on the price with no theta, it doesn't expire, it just continues to roll over and anything more than that is pure greed.
If they do croke
If CORZ does close shop, that's a lot of hash rate coming off the market, but with bitcoin hash rate back above all-time high I don't see that affecting the network too much if any. What I do think is companies that have spare capacity will pick up the ASICs or we could see a flood of ASICs hit the market looking for a home, if they do clear house of assets, it might be a great time to pick up an ASIC of your very own at fire sale prices.
Sources:
Posted Using LeoFinance Beta
---
---