Developing Economies Drowning In Debt
The last 3 years have been an absolute shit show for the world's economies, which have already been approaching the brink of collapse after years of fiat exploitation. While powerful G7 nations like the US, Canada, Australia, the UK, and The EU deal with their own problems and fallouts, developing economies are looking worse for wear and our time is slowly running out.
You see the thing with economic collapse is no one cares as long as you're not at the bottom of the totem pole. Argentina, Sri Lanka, Venezuela, Lebanon, Turkey, Greece, and Cyprus have all had either bailouts, bail-ins, soft defaults, or actual defaults, and who gets stuck with the bill?
Not the governments taking out the debt, oh no, it's the currency holders, the citizens of the country.
Living beyond your means
Countries have always been living beyond their means, issuing bonds or taking out loans as the backing for new currency supply that governments would funnel into projects and services they think are worthwhile each year. Each year they create a deficit as tax receipts don't cover the growing shortfall for new projects and obviously the debt repayments along with interest.
As you or a company can delay forclosure should you be able to access lines of credit, as long as citizens and investors have faith in a currency it can delay foreclosure by issuing new currency units.
Supply shortage and supply chain issues
As we come out of an economic lockdown and into a war that affects a large portion of the world directly, we've seen many businesses fail. When businesses fail, it creates supply shortages and blockages in supply chains.
To get these supply chains running again and get people to re-open businesses to meet the growing demand takes time and in that time, the goods and services that are affected will drive up in price as people bid to acquire them at any cost.
We're seeing inflation run rampant in my countries around the world, and while the US and a few countries can deny it, I think every country in the world is sitting with double-digit year-on-year inflation.
Developing economies take the pain first
The world economic forum while not the arbiter of truth has stated that they think 107 countries are facing 1 or more of the following 3 issues, while 69 countries face all 3 at the same time.
Rising food
Rising energy prices
Tougher financial conditions
Of the 69,
25 countries are in Africa
25 countries are in Asia
19 countries are in Latin America
If we look at Africa, where I am based, it looks like Ghana, Ethiopia, Kenya, and South Africa are all racing ahead to obliterate what goodwill they had with their citizens, what value is left in their currency, and what is left of their industry.
As all these countries approach debt to GDP ratios of 80% and more, it becomes harder to service that debt and it starts to weigh down the economy. As the economy slows, it makes the debt burdens even harder and it becomes a vicious cycle of fighting deflation.
Governments do not want deflation as it makes their debts harder to service and their exports less competitive, so to counteract it, it's all about creating new currency units and extending lines of credit to keep the ball rolling in a direction that ends in hyper inflation.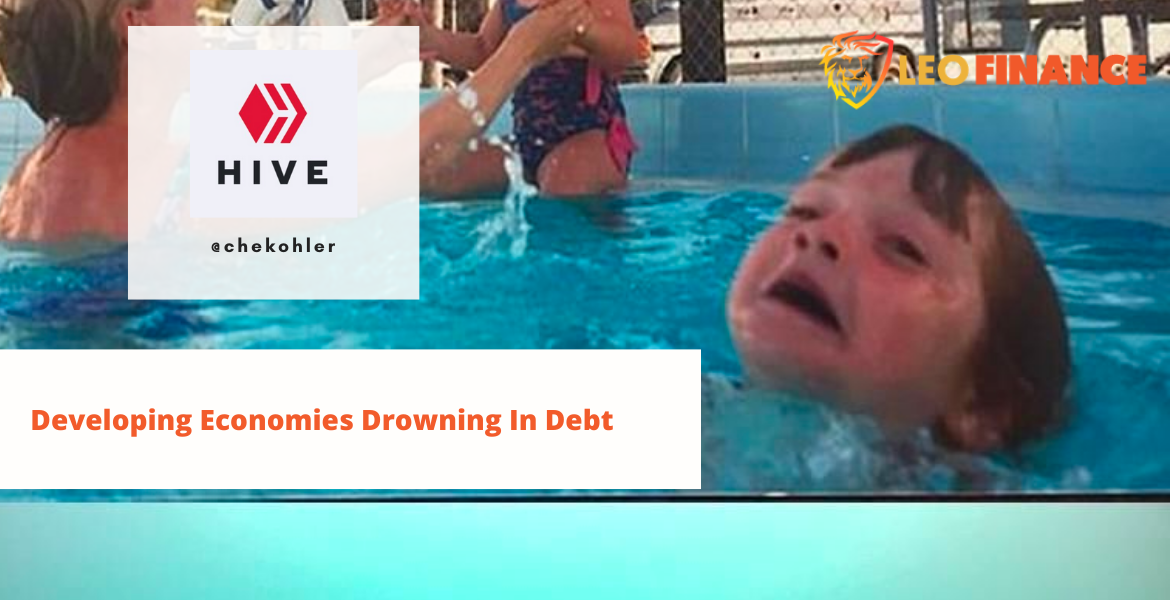 For those who don't like to read
If you're tired of my rants and don't feel like reading my drivel, here's a summary of the economies hitting the debt wall.
You don't buy insurance when your house is on fire
The fact that others aren't pricing in these events doesn't mean you shouldn't consider it. If you're not thinking about taking chips off the table and have an insurance policy against this growing likely scenario then I have no idea what you're thinking and how you price risk.
Bitcoin is going to become more important not because people want to speculate but because people will have very little choice. As I always say, you can either choose bitcoin out of curiosity or out of poverty, the choice is yours.
Have your say
What do you good people of HIVE think?
So have at it my Jessies! If you don't have something to comment, "I am a Jessie."
Let's connect
If you liked this post, sprinkle it with an upvote or esteem and if you don't already, consider following me @chekohler and subscribe to my fanbase
| Earn Free bitcoin & shop | Earn Free Bitcoin & shop | Claim Free Bitcoin & Shop |
| --- | --- | --- |
| | | |
Posted Using LeoFinance Beta
---
---