Does The Dollar Rally Destroy Developing Markets?
The past two years have been dominated by talks of viruses, how they spread around the world and how they crippled economies. It's the same thing with economics, since we are in a globalized world, any economic issues that occur will eventually affect everyone as the contagion spreads.
I think it's safe to say it's getting harder to earn a relative income to sustain yourself in many parts of the world both developed and developing. The average Joe, who goes out to work for a living and earn a salary or through his small or her small business is getting screwed.
Jobs and businesses have been destroyed and in some countries like the US and around Europe people are refusing to work due to low wages. It doesn't make sense for them to work if what they earn cannot sustain them.
Dollar distribution channels
If American's aren't working they're less likely to spend, so governments have been trying to inject cash into the system through various programs. This could be through QE or through additional welfare, as the US markets are flooded with liquidity the theory is as follows.
Businesses that now have liquidity will hire, and spend on operations and imports. Consumers who have cash will spend, encouraging more job creation, importing, and travel.
American businesses and consumers are the primary methods of redistributing the dollar around the world. If there is a lack of dollars circulating around the world, it makes it harder for other countries to service their dollar-based debt.
So they are forced to devalue their currency to attract off-shore dollars or bulk up their reserves by buying dollars on the open market and driving down their currency in the process.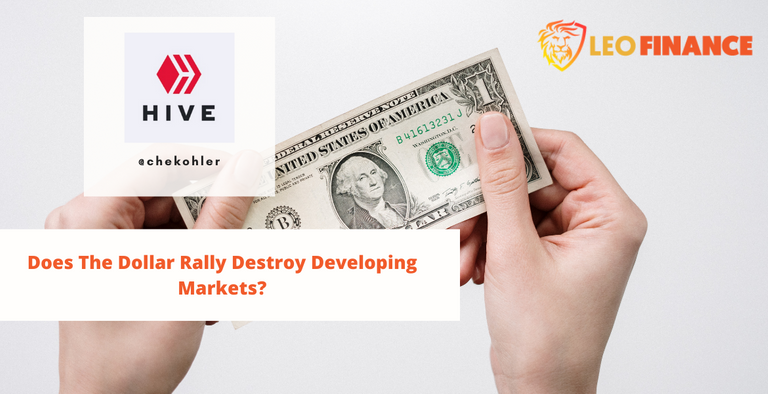 An example here at home
As the news of the new covid variant surfaces in South Africa, travel bans to and from the country have been swift. Markets have reacted too as the Rand weakens against the US Dollar. It's now trading at its lowest rate against the USD for the year.
1 USD would net you around R16.27 today, the Rand has always been a shitcoin, but it's evident it's basically a rug pull at this point. Citizens are the bag holders and they cannot see the scam at play.
A scam where they are going to be footing the bill for others' decisions.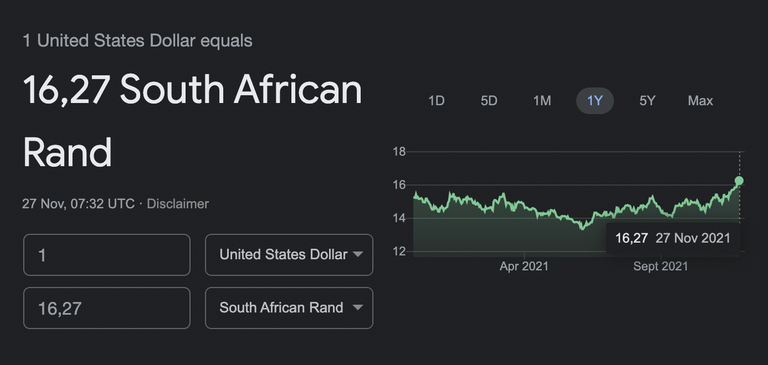 Since there will be a lack of travel to the country, it means fewer dollars are coming in, through tourism and business. Sure the lower currency value makes it attractive to try and purchase goods and import them from South Africa, but with supply channels so stuffed up, it means the opportunity isn't as lucrative for businesses.
In addition, higher dollar prices don't only mean higher debt costs, it means higher import costs to South Africa. Energy and commodities are priced in dollars and for us to acquire offshore commodities like petrol means spending more per barrel because of the conversion to dollars.
The higher the cost to acquire, the more costly transport, food, and everything become in the country, since all business activity is dependant on energy.
Remote work has held as South African's with in-demand skills can work here and bring dollars into the country but this is only a small part of the population and not enough to offset the damage from other sectors.
The relative strength of the dollar
If we take a look at DXY we can see the US dollar's relative strength is at all-time highs. It took around 8 months to get back to these levels as emerging markets continue to struggle. If the dollar continues to appreciate in what many call a dollar milkshake theory it continues to put pressure on foreign markets.
The world is in desperate need of the US to continue to devalue their dollar to service demand for dollars and paper over the cracks. If the S allows the dollar to run, it could cause widespread global issues such as currency collapse, immigration problems, and even civil and regional wars.
Sure it's not the US's fault if another countries currency is obliterated, there are always several factors involved, but to try and maintain global order for as long as possible, dollar debasement seems like the only tool.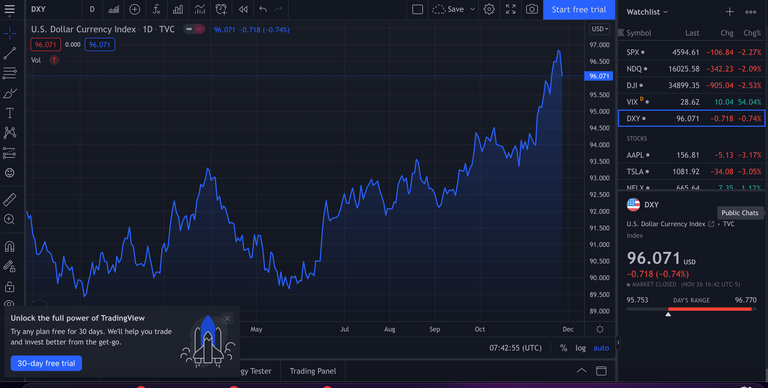 The demand for dollars continues
The current dollar distribution channels and Eurodollar market don't seem to be enough to reach the people and countries that need it most. We can see this by the growth in the stable coin market. Since stable coins are permissionless, we're seeing more demand for them from citizens and even institutions in non-dollar-based countries.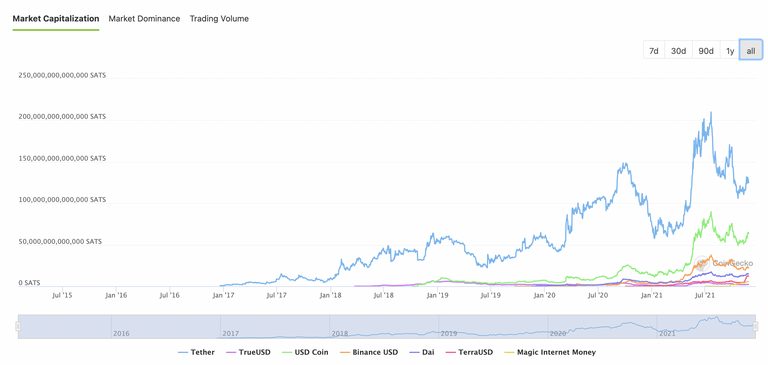 Stable coin market growth - Via @coingecko
A strengthened dollar means lower demand for risk assets.
When people can find shelter in the dollar as it appreciates against other currencies, it can also cause a compounding effect if not quelled as soon as possible. If the dollar is allowed to continue to appreciate in value, it offers a risk-free rate for cash holders. They can park their money in dollars.
That means they can sell risk assets, assets in emerging markets, assets in speculative markets all searching for yield to take on that risk fee appreciation.
In addition, as the dollar increases in value, it becomes harder to acquire, making debts in the US harder to service and in turn, we would see massive defaults.
If defaults are allowed to happen, it causes further deflation and the dollar will appreciate in value even more. The dollar is battling an insane amount of deflationary pressures and we can see that by the sheer amount of currency they need to print to maintain some sort of order in global markets.
Have your say
What do you good people of HIVE think?
So have at it my Jessies! If you don't have something to comment, "I am a Jessie."
Let's connect
If you liked this post, sprinkle it with an upvote or esteem and if you don't already, consider following me @chekohler and subscribe to my fanbase
| Safely Store Your Crypto | Deposit $100 & Earn $10 | Earn Interest On Crypto |
| --- | --- | --- |
| | | |
---

---
---