Genesis Another 3AC Victim
Many think the Luna blow-up is all but over, but as is the incestuous nature of cryptocurrency a lot of people had their hands in that shitcoin pie, be that directly or indirectly, and are still scrambling to cover their arses.
In the latest chapter of this widespread liquidation, Digital Currency Group's market maker and lending firm Genesis Trading is now reported to be facing losses in the hundreds of millions, according to sources close to the company.
The losses stem from their exposure to 3AC and the crypto lender Babel Finance who both have gone belly up. Having had some exposure to Luna as well as stETH, leaving many with egg on their faces.
Genesis is putting a brave face on the losses and still has hope of receiving partial repayments, with claims that the losses are offset by hedging.
CEO Michael Moro said
"a large counterparty who failed to meet a margin call to us:"
But we've heard this from a lot of CEOs and founders and it's proven to be nothing but PR and hot air, as we see Celsius still closed and BlockFi getting bailed out by FTX.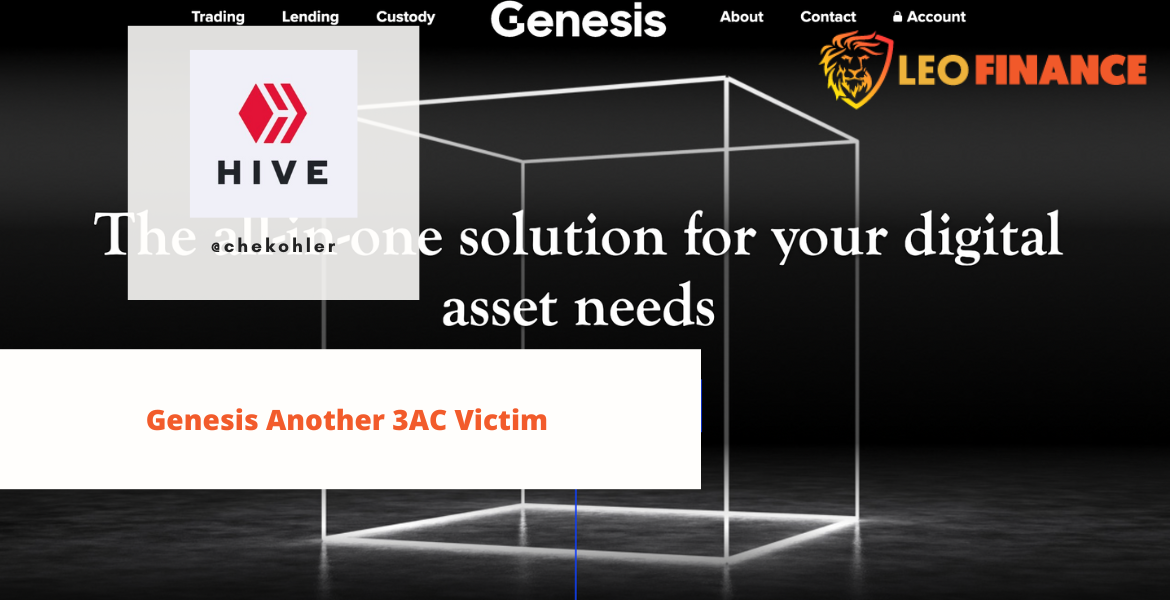 How exposed are they?
Some claim that the exposure is a few million on the good side and on the bad side there are claims that the DCG-owned trading colossus is said to have suffered nine-figure losses. How large their positions are is anyones guess, but this does not look good for anyone who is down stream and those are a plenty as many interest products were banking on Genesis to provide a return for their customers.
Genesis claim to have over $44.3 billion in loans in the first quarter of 2022 and say they are well capitalised. While its parent company, DCG, a large crypto conglomerate rumored to have a war chest of about $1 billion, is likely to help Genesis "buffer that kind of shock," as claims close to the company are pushed out to help investor confidence and avoid withdrawls.
A special note for Luno bros
If you're a LUNO user who is making use of the interest payment account for your bitcoin or shitcoins, you may want to reconsider this position and remove your funds as soon as possible. Luno uses genesis as a 3rd party provider where they lend your funds to these companies to risk in the market and net you a return.
This is starting to get scary and what looked like a contained breach with Luna is now starting to extend, it's hitting more and more CEFI providers, market makers, and trading desks and we're finding out that the counterparty risk and leverage during the bull run was far higher than we imagined.
If you do have money in interest baring products or on exchanges, now would be a good time to reconsider the risk you're taking and start moving your funds on-chain to a custody solution you control.
Sources:
Have your say
What do you good people of HIVE think?
So have at it my Jessies! If you don't have something to comment, "I am a Jessie."
Let's connect
If you liked this post, sprinkle it with an upvote or esteem and if you don't already, consider following me @chekohler and subscribe to my fanbase
| Earn Free bitcoin & shop | Earn Free Bitcoin & shop | Claim Free Bitcoin & Shop |
| --- | --- | --- |
| | | |
Posted Using LeoFinance Beta
---
---