If You Can Pause Your Chain, You're Not Decentralised

I don't know how many times I will have to explain to people that nothing in cryptocurrency is decentralised and it's all a shell game, creating leveraged bets on top of bitcoin. The game of cryptocurrency is to suck your money into their system and keep you there as long as possible, while the owners and early investors extract fiat or bitcoin on the other end.
No ones listening, I am the crazy person in the room, I don't get it, yet I speak facts, and every counter-argument is just a marketing pitch or a fairytale story that discounts risk and understanding of the limitations of a technologt.
One thing that really irks me is the bastardisation of the word decentralised, apart from bitcoin NOTHING is decentralised and even so, bitcoin is not as decentralised as we would like it to be.
The governance is decentralised by the 100k people running nodes and it grows every day
The protocol is decentralised, you can run bitcoin core or version of your own, and you can reject soft forks you don't like
The mining is decentralised, people are mining at different sizes from at home to massive farms
The wallet software is decentralised there are plenty to choose from
The scaling solutions are decentralised, lightning has 3 different versions
Bitcoin moves slow because it has so much decentralisation to deal with while shitcoins move fast, because centralisaiton is more efficient, but when you move fast, you make miscalculations and you end up burning yourself in the process, as we've seen countless times.
Decentralised with centralised shut offs
If you still believe that other chains are decentralised, can you explain to me how you pause a chain? How does that work? If you have different people with incentives all using a network, how do you get everyone to agree at once? It's either through collusion or through the fact that a central authority runs the chain.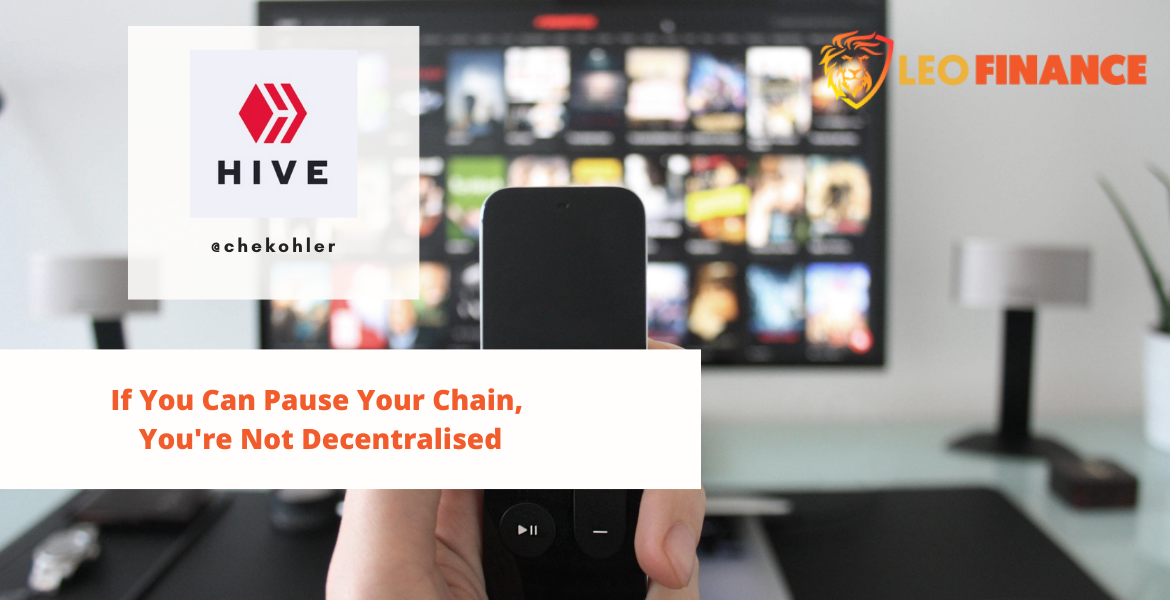 Solana
Solana the low fee blockchain has been suckering in people into its ecosystem for some time now, the centralised ETH clone's claim to fame is you can move ETH goodies to its low fee ecosystem. We've already seen how dumb that is with the wormhole hack, but that I've covered before if you want to check it out.
Low fees mean a low barrier to entry which means it costs very little to attack the network, Solana has been plagued by bots and has seen the chain halted at least 7 times.
Luna
After the terra massacre, they were still trying to rescue the situation and restore the peg by minting more Luna. As the price went down some idiots were buying it thinking it can't fall any lower, but the smart money continued to short it.
To save face Luna had to pause the chain
Chainlink
This stupid bridging story which for the life of me makes no sense, has got shitcoiners all excited to re-introduce the double-spend problem. Tokens can be rehyphothicated onto other chains for use there and double the supply with the original supply locked in a smart contract and managed by a centralised oracle like ChainLink, yes I said centralised.
How do I know? Well BlizzFinance a protocol on Avalance uses it to match its Luna tokens, and when Chainlink paused its oracle, it pretty much rekt their system.
Chainlink pausing the LUNA oracle allowed several attackers to deposit millions of LUNA which is still worth $0.10 according to the Chainlink oracle to borrow all the collateral.

The protocol has been drained before we could pause due to our timelock.

— Blizz Finance (@BlizzFinance) May 13, 2022
So again, how many times do I have to keep reminding you of this? How many more examples do I have to list before the larping stops? I honestly don't go deep searching for this nonsense, shitcoiners just make it so easy with their blundering ability to fuck up all the time.
Have your say
What do you good people of HIVE think?
So have at it my Jessies! If you don't have something to comment, "I am a Jessie."
Let's connect
If you liked this post, sprinkle it with an upvote or esteem and if you don't already, consider following me @chekohler and subscribe to my fanbase
| Ways to spend your bitcoin | Deposit $100 & Earn $10 | Earn Interest On Crypto |
| --- | --- | --- |
| | | |
Posted Using LeoFinance Beta
---
---