Movie Review: Those Who Wish Me Dead

So I had time to kill yesterday as things start to slow down towards the end of the year, my soccer game was cancelled too, so I thought I'd waste that hour looking for something to watch and came across "Those who wish me dead"
Obviously seeing a star like Angelina Jolie would get my attention and after some research, I saw it was directed by Taylor Sheridan who also did Wind River, which I really enjoyed. I've you haven't seen Wind River, I highly recommend checking it out.
In fact, if you've seen it you'll probably find a lot of similarities in this one. Those who wish me dead borrows liberally from movies like Only the Brave, Wind River, and a host of generic action films.
If you're going into this one thinking you're going to see something new, then you're sadly mistaken. This is a run-of-the-mill popcorn film, that feels as if they're creating scripts with algorithms.
It's like they see which aspects of stories resonate with people and then mix them up in different ways and spend the rest on securing a big-name star case to go through the motions.
There are some really good actors in this movie like Nicholas Hoult, Jon Bernthal, and Tyler Perry, and they all just coast through the film in my opinion. It's by no means a bad thing, this movie is clearly made to pass the time and not make any kind of statement.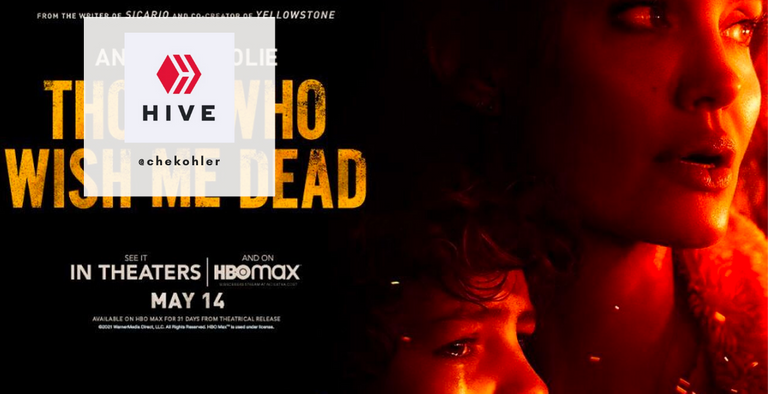 So what's this flick all about?
The story centers around Hannah a hotshot firefighter working in the forest of Montana. She recently gets back to work and is still reeling from the loss of lives during the previous fire season.
Hannah is a smokejumper who's perched in a watchtower high above the wilderness. She soon encounters Connor, a skittish boy who's bloodied, traumatized and on the run in the remote forest.
Connor is on the run after escaping assassins who are looking to close loose ends in which is his family has been caught up in. These hired guns follow him to this small town to try and finish the job.
As Hannah tries to bring him to safety, she's unaware of the real dangers to follow as these relentless killers stop at nothing to hunt down Connor.
It's a case of death by gun or death by fire as these hired killers stop at nothing to get the job done, even if that means burning the entire place to the ground.
Trailer for Those Who Wish Me Dead
The good the bad, and the pretty awesome visuals
The storyline in the movie is passable and keeps you entertained. Sure, this wasn't exactly rocket science, but the script does very little in terms of character development or fleshing out motivations for the characters. They all sort of fall into place, as a happy accident and there's no real thread behind the things they do or say.
The limited back story on each character seems more like filler than actual meat to get into the mind of each character and they all seem pretty cardboard in a sense.
None of the characters are fleshed out apart from Hannah (Jolie) - the film's heroin - but even her back story feels forced, and her memories don't do much to make you feel much for the character. What is strange is that the character of Allison (played by Medina Senghore) who hardly features in the story makes the best decisions and came across as the strongest character. All the other characters made strange and unrealistic decisions throughout the movie.
The actors do a good job with the material they are given, I can't fault them there, it's just that the story could have been done with a little more thought to it.
Cinematographer Ben Richardson does a great job with the visuals and elevates the extraordinary vastness and beauty of Soda Butte, and some of the forest fire effects do look good. I enjoyed the scenery in the movie and the use of the forest as a plot device.
My rating for Those Who Wish Me Dead
If you happen to miss this one, don't feel like you have to check it out honestly this seems like one of those movies that are made for a long plane ride. It's enjoyable enough to watch and forgettable enough that when you get up from your seat you won't remember half of it.
I give it an average 6 forest fires out of 10
More reviews
Have your say
What do you good people of HIVE think?
So have at it my Jessies! If you don't have something to comment, "I am a Jessie."
Let's connect
If you liked this post, sprinkle it with an upvote or esteem and if you don't already, consider following me @chekohler and subscribe to my fanbase
| Safely Store Your Crypto | Deposit $100 & Earn $10 | Earn Interest On Crypto |
| --- | --- | --- |
| | | |
---

---
---