SALT Lending Dry On Liquidity
In todays edition of YIYL (You Invest, You Lose) we continue down the path of the domino effect that is FTX. I have started to form this theory, that FTX had bottled it a while back and that they have just been playing a confidence game all this time, along with players like Celsius.
Luna was really the start, which I called out a while back and will never stop reminding people that I called them out, because you were all hot and heavy for Do Kwon now look at you now.
Anyway, the contagion spread and people thought because there was a gap between others not falling that it was now all a thing of the past, but here's the thing, contagion can hit you and you might not fall but you stumble. While those with strong balance sheets and are lean can recover, others try to plug the holes and double down which then speeds up their fall.
Now that the FTX lie has been exposed, all the companies that had swap lines with them, all the companies that held funds with them, all the companies that had credit lines with them and all the companies they owned and invested in are on pretty shakey ground.
No one is safe and the bodies are steadily floating to the surface. The latest body being SALT leading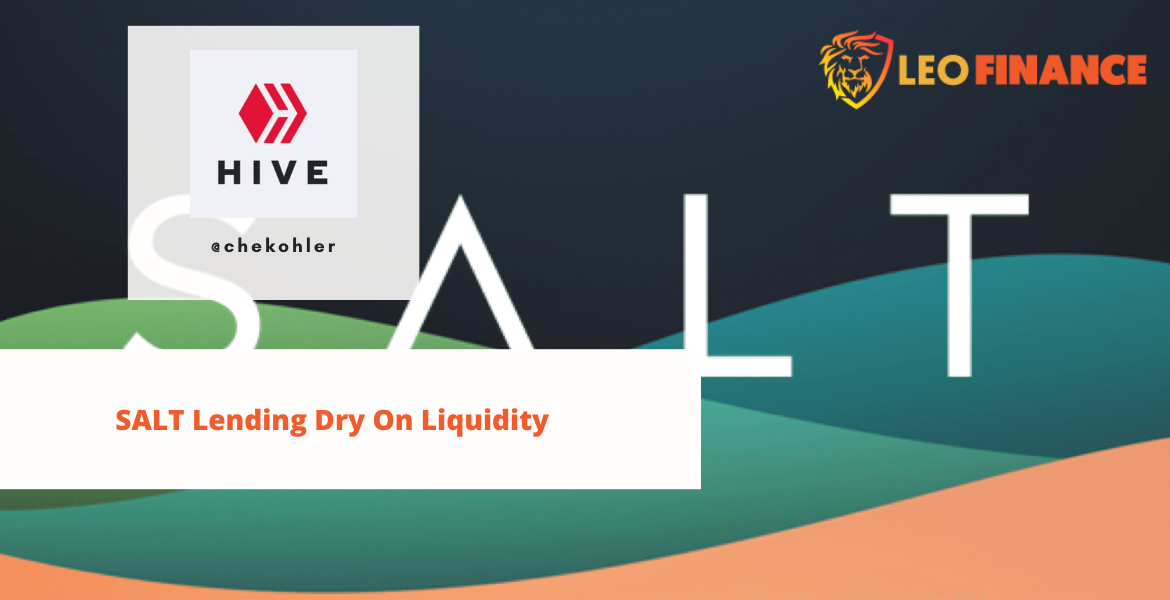 Lets get salty
SALT Lending launched in early 2018, right as the market was moving into its next leg up and when number go up so do confidence, risk and it papers over any bad decisions you make, in fact you might just be going leverage long and making a bunch so who cares right? I can't lose.
Anyway SALT was a shitcoin lender allowing cryptocurrency owners to take out a loan using their crypto as collateral. That way, users can receive a cash loan without selling their crypto holdings. Basically the same doomed model that Celsisus and the rest of those broke bitches had, and the recipe seems like it sure knows how to humble you.
The crypto lending recenlty announced that they are putting all their customers into forced hodl mode by halting withdrawals due to exposure to FTX.
https://twitter.com/TheBTCManual/status/1592766330113228801
"I am sorry to report that the collapse of FTX has impacted our business," they wrote in a message to users. "Until we are able to determine the extent of this impact with specific details that we feel confident are factually accurate, we have paused deposits and withdrawals on the SALT platform effective immediately."
In its letter to customers, SALT said it would recognize on-chain deposits but strongly advised against depositing more funds to customer accounts until the firm can assure them of its future plans.
So basically what they saying is we are trying to bide time to see if we can get credit lines to cover this fucking hole we're in, please don't give us money right now we can't deal with customer deposits, because that shit ain't going to help the situation we in, we need a bailout.
https://twitter.com/coffeebreak_YT/status/1592567205727961089
In September 2020, SALT Lending was charged by the Securities and Exchange Commission with selling an unregistered security and ordered to repay the $47 million it raised in a 2017 ICO.
Funny enough the SALT coin hit its all-time high during its launch year with a peak of $17.22 which they then bled out over the years and is 99% down today, trading at $0.03.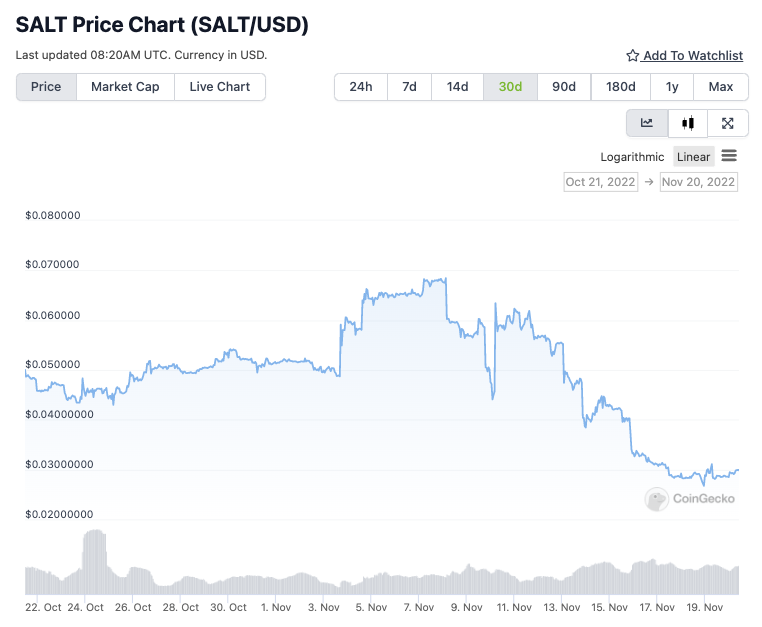 Since the news broke on SALT, the token has lost 50% of its trading value dropping from 6 cents to 3 cents but I think if you held this coin for anything more than a year you're probably long since been cleaned out so why would you care about another leg down.
I am actually surprised people are getting rekt from this one, I mean really you'd think after Celsius people would have pulled their money out you had nearly 5 months to correct this issue. You could either hold your own coins or dump them and hold cash, but you're either lazy or stupid or a bit of both and now you're sitting with fuckall.
Too bad, so sad, lets move on to the next one. Enjoy your new found rekucation.
Sources:
Have your say
What do you good people of HIVE think?
So have at it my Jessies! If you don't have something to comment, "I am a Jessie."
Let's connect
If you liked this post, sprinkle it with an upvote or esteem and if you don't already, consider following me @chekohler and subscribe to my fanbase
| Earn Free bitcoin & shop | Earn Free Bitcoin & shop | Claim Free Bitcoin & Shop |
| --- | --- | --- |
| | | |
Posted Using LeoFinance Beta
---
---