[Week 132] Goat Will Be The Animal I would Buy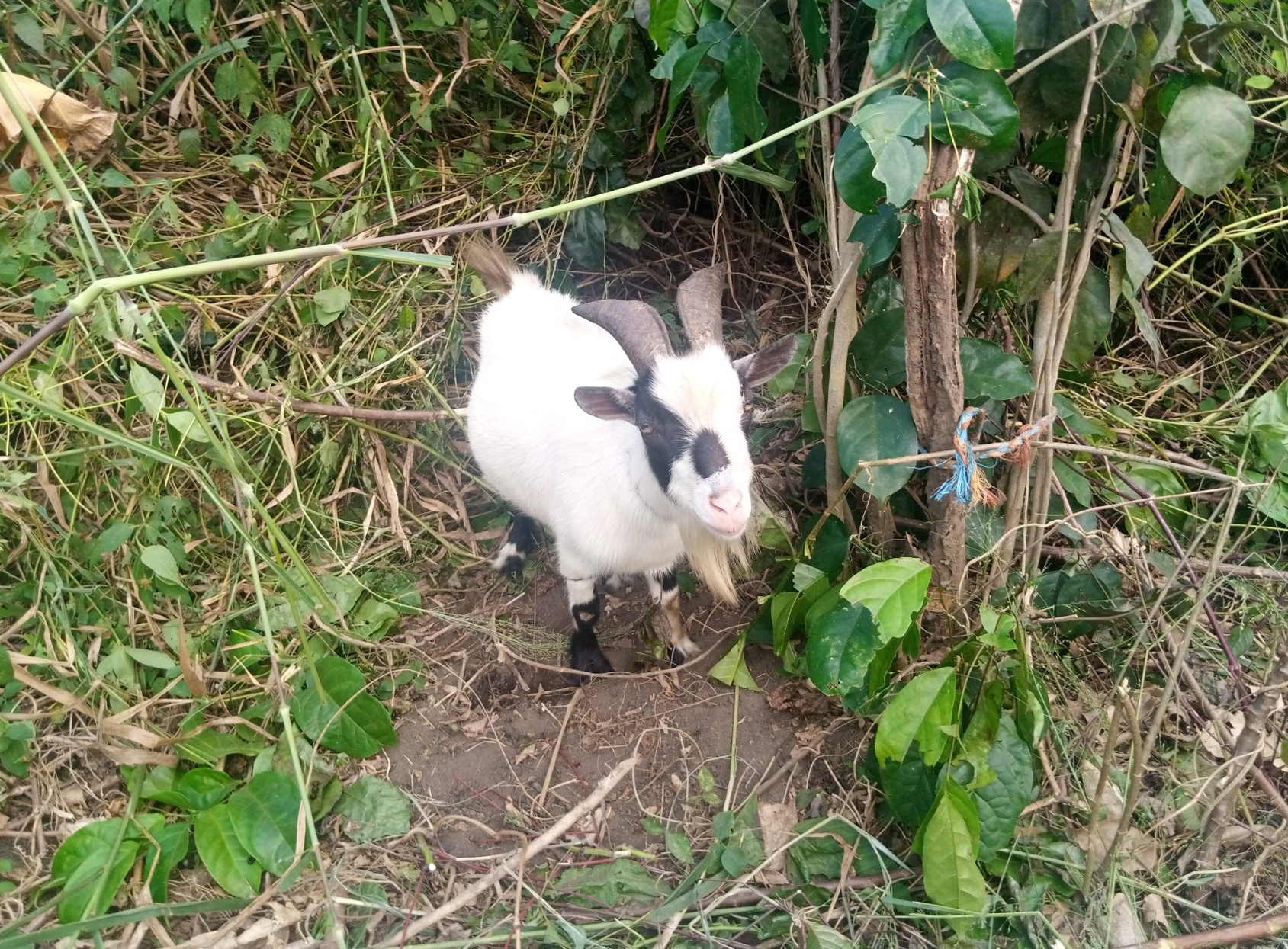 Goat eating grasses and leaf's in the garden near the house
Weekend Animal
In this weekend challenge, I chose to go for topic number 1, because their are some domestics animals I don't joke with. More especially, those that can serve as food or meat for man and at the same time be a source of income to the owners. So, if I could chose to buy animal and keep, I will go for Goat. You May Wonder why right? Yeah! I have my reasons and am going to make it clear to you. Relax and enjoy your reading.
Why I prefer buying Goat.
We all knows that goat is a harmless domestic animals. Very smart and an intelligent creatures. You can give them names and when ever you call them by their names they respond accordingly. Unlike Dog's that requires food or Chickens that needs feeds, Goat's are easy to maintain because, you can feed them with leaf's like, avocado, mango, cassava, pumpkin leaf's, etc. Is just left for you to know the brand of leafs they consume and get it for them. The funny thing is that those leaf's are not far from our homes, you can get them at your backyard, nearest farms or garden around you. You can also fed them with the peeled skin of your yam, plantains and food as well. They enjoy all those things. But if don't have money to buy them foods, with leaf's, they are good to go.
Goat's are easy to maintain. It serves as meat because I personally enjoy white soup prepared with Goat meat. That's why I will love to have it in my home
Goat is Money
Goat meat is one of the meat's widely consumed in the world today. In my country alone, a Goat meat of NGN-500 is 4 pieces. You can see how costly it is. So, if you are rearing Goat, believe me you will make so much money. Because poeple like the meat including myself. Apart from that, in our culture, when a man is coming to ask for a woman's hand in marriage, Native Goat will be included in his list. Any other traditional ceremonies including burial's too requires Goat. Now Tell me why I won't make money if a have plenty of Goat in my house.
Though goat meat is a red meat, but is contains less fat and cholesterol to compared with beef or pork meat. I enjoy the sweet taste of Goat meat and the money involved.
Goat Shit or poop is a great manure to our crops.
Due to the leafs the Goats consume, their shits is highly reached with nitrogen which serves as a feterlizer to the soil and help it to produce an excellent crops. So, am telling you that Goat is really good for farm produce. Having Goat in my house saves me the cost of buying manure or feterlizer's for my crops. All I need to do is to spray the shits on the roots of my crops or spray it on the beds before planting, once it decay's, it's an executive manure to our crops.
With all these points of mine, I believe you have seen the reason why I would buy Goat and keep for myself this weekend
Note:- Please while packing Goat shit to spray in your garden, make sure you don't have open woonds or even allow it to enter your mouth. It's harmful to our health
The image are mine
---
---