2V2 BATTLE !! SUSPENSE BATTLE EVER. FOR US AND EVEN FOR OPPONENT
Hey, guys I am here with another gaming blog of CLASH ROYAL Today's game was really very different and even hard. We played 2v2 battle. The game was very tough but anyhow we won the game. Firstly I will show you my deck I have change my deck and it is heavy from the last time, my last battle deck was almost 3.6 but today my deck weightage is of 4.0 elixir.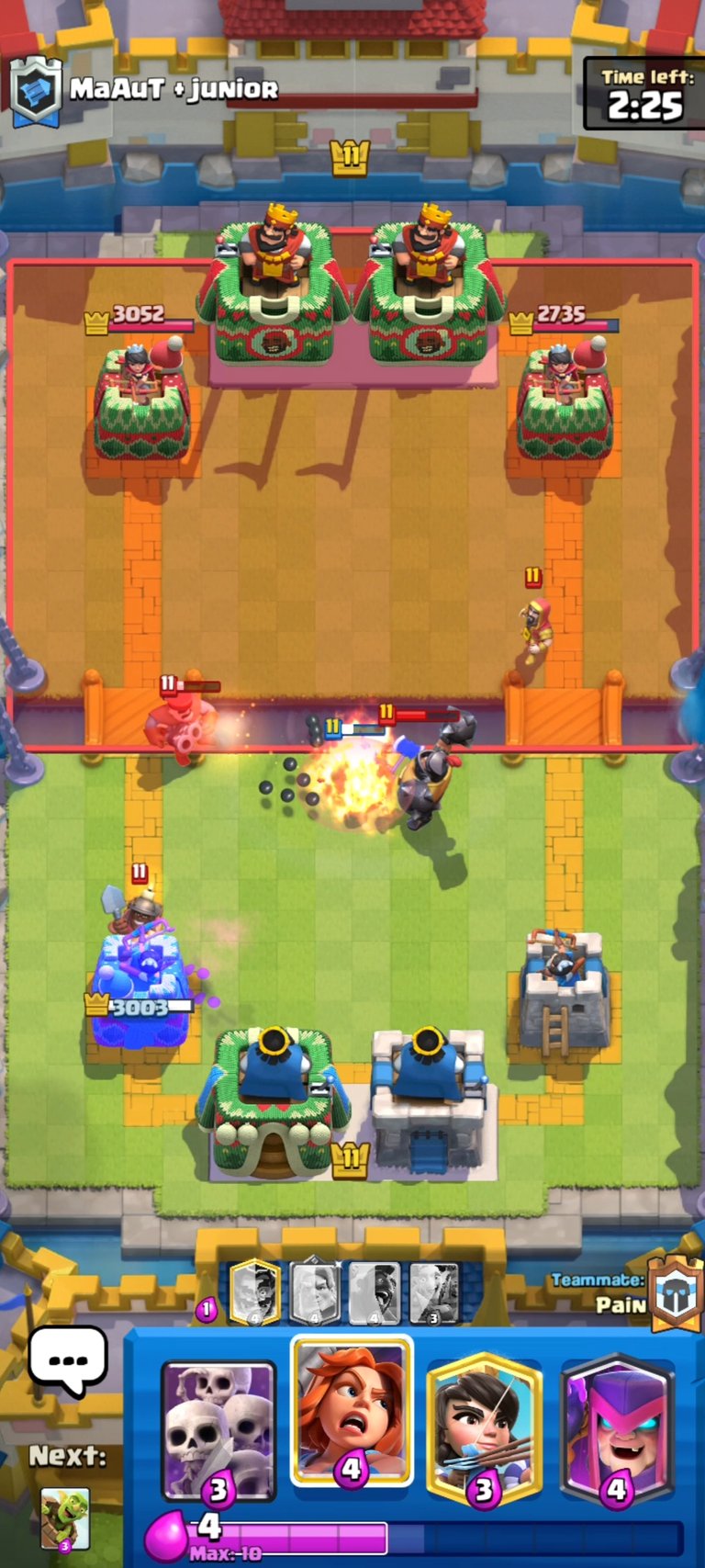 My deck for the battle was;-
1 Skeleton army
2 Princess
3 Valkyrie
4 Mother Witch
5 Baby dragon
6 Lightning
7 Inferno Tower
8 Goblin Barrel
So this was my deck for the 2v2 battle.
Strategy
Skeleton army is a only card which has number of troops at once , it is a card which kills almost all the epic card. For example:- Prince, Goblin Barrel etc. and many more other cards. Second card is princess my favourite card of this game a legendary card she give damage to the opponent cards from a very long distance. Valkyrie is a epic card she is a card which can defend and attack both at the same time, but the good thing is she can defend any card like mega knight which is very hard to defend, she can do it alone. Mother witch also a legendary card my purpose for using this card is that when ever she kills any one card of opponent automatically, she will leave one hog from here. So as much as she kills the card like skeleton army as many numbers of hogs will come out which will direct go and attack to the tower. So this was the purpose behind using this card.
Baby Dragon is a epic type card which attacks from air to both type of troops like ground and air. He throws small fireball from his mouth which gives damage to the opponent card. Baby dragon is also a very useful and good card you can always keep this card in your deck. Lightning is only card which is power-full amongst all the spells, a minimum damage lightning gives is 300-400 it is useful when the opponent tower health is low. This is the reason why maximum people use lightning. Inferno tower is a epic card a best card ever to defend any card like mega knight , baby dragon and any other card. The important thing is that cards like hogs or hogrider which directly, attacks to the tower will go first to inferno tower so it is a best card to defend when you are at the end of battle. Goblin barrel is my one of favourite card because it goes through air without any restriction and goes directly to opponent tower , when ever you are at the end of battle use this card properly, and you will win the game.
So this was the strategy behind the selection of my cards.
ABOUT THE BATTLE
The game was not easy as you can see the video I have shared below. You will see that how we were struggling to take the opponent tower we just try over best to win me and my friend gave all the efforts, and the end you will notice in the video that in last 10 seconds were there and at that moment we take that tower and both of us were having low health but we taken the tower. And the opponent has used posion at the end which was damaging our tower health but at the end we just won the game by almost 100 health, we think that this game will go overtime but anyhow the game was ended in 2 minutes.
This was the 2v2 battle which me and my friend played, I hope you like my battle thanks for reading the blog.
---
HAPPY THURSDAY
---
---