An Edge of winning the game ("CLASH ROYAL")
Hey guys I am here with another blog of gaming CLASH ROYALE and today's game was really very tough for me to win. It was 2v2 battle, firstly I will tell you about my battle and then I will share my deck with you.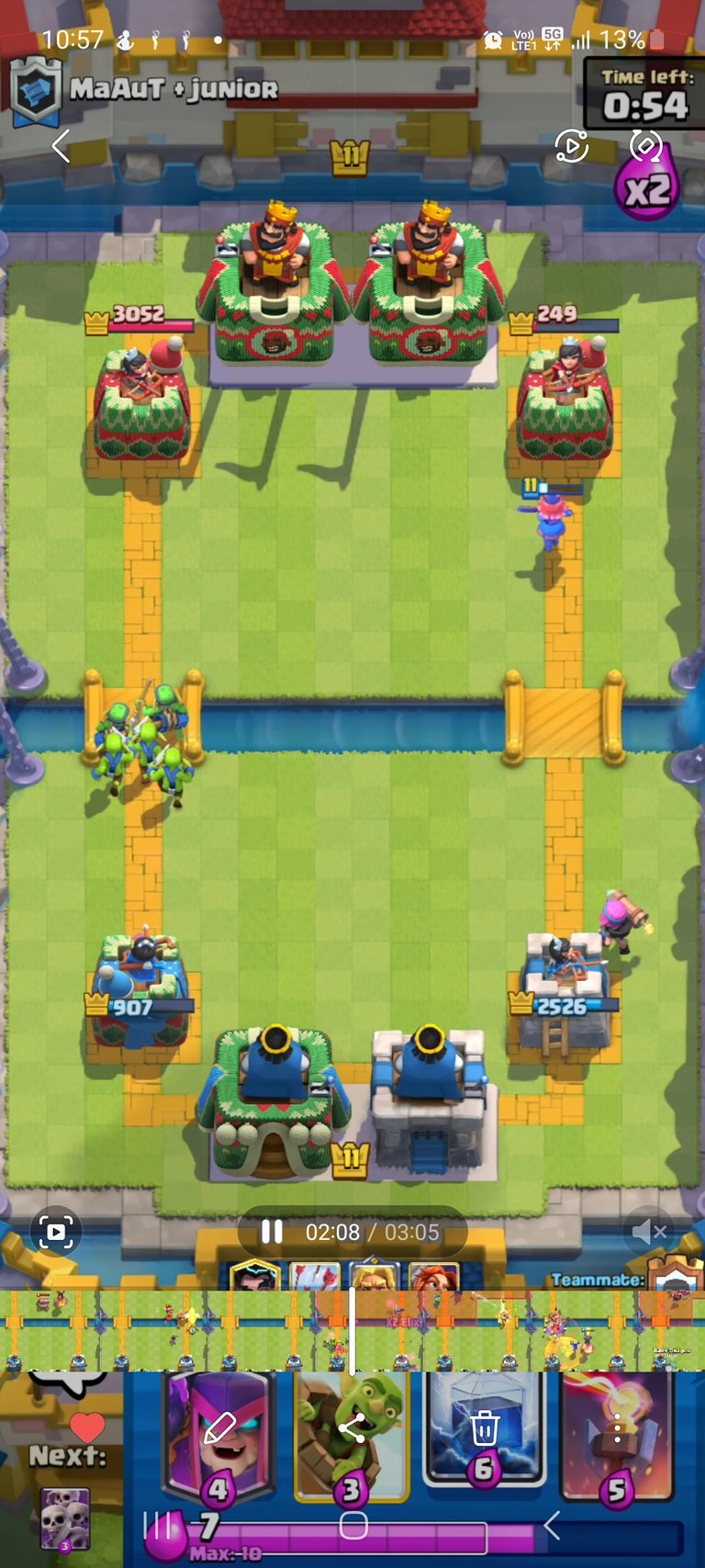 ABOUT BATTLE
Here I will tell you about my battle, as soon as our battle start me and my friend was waiting and having patience so that our elixir gets full and we can attack both together, but it was not like we planed we both attack together but opponent was also smart because he want to defend the cards so he put cards at the back so he can defend them easily because they are getting hit by them and side tower also hits them regularly, as you will see the video you will notice this thing and slowly-slowly we both were playing and trying our best to reach the opponent tower, then at the end of one minute game we gave almost damage to the tower that he can't be any more his health was almost 250 and it can be hit easily.
As soon as we have taken the opponent tower, our opponent also tried his best to take our tower if he want to win the game and on the other side me and my friend were defending at tower as best we can and we did it, Now we at the end of the game where almost 15 seconds left were our tower was also damage and in the end within 5 seconds he put poison ("it is a spell which gives damage to the tower and also effect the health to opponent cards"), and but by using that spell to he can't take our tower and we won the game, my opponent was too strong and he tried his best to win the game I appreciate his game play too.
So this was all about the battle and now I will share you my deck from which I played this game:-
MY DECK
1 Mother Witch
2 Lightning
3 Princess
4 Valkyire
5 Inferno Tower
6 Baby Dragon
7 Goblin Barrel
8 Skeleton Army
So this was my deck for the game.
Generally you will notice some change in deck as compare to previous one, because its 2v2 battle were cards matter a lot you should make some heavy deck to defend too and attack too. Because it is a game of timing if you partner is attacking then you have to be patient and defend the opponent card if you are attacking then your partner have to defend the other cards. You both should have mutual understanding and some unity so that you can win the battle easily.
---
So this was today's battle and you have seen how hard this game was.
I hope you like my blog and thanks for reading my blog.
HAPPY MONDAY
---
---