Second chance || Inkwell prompt #76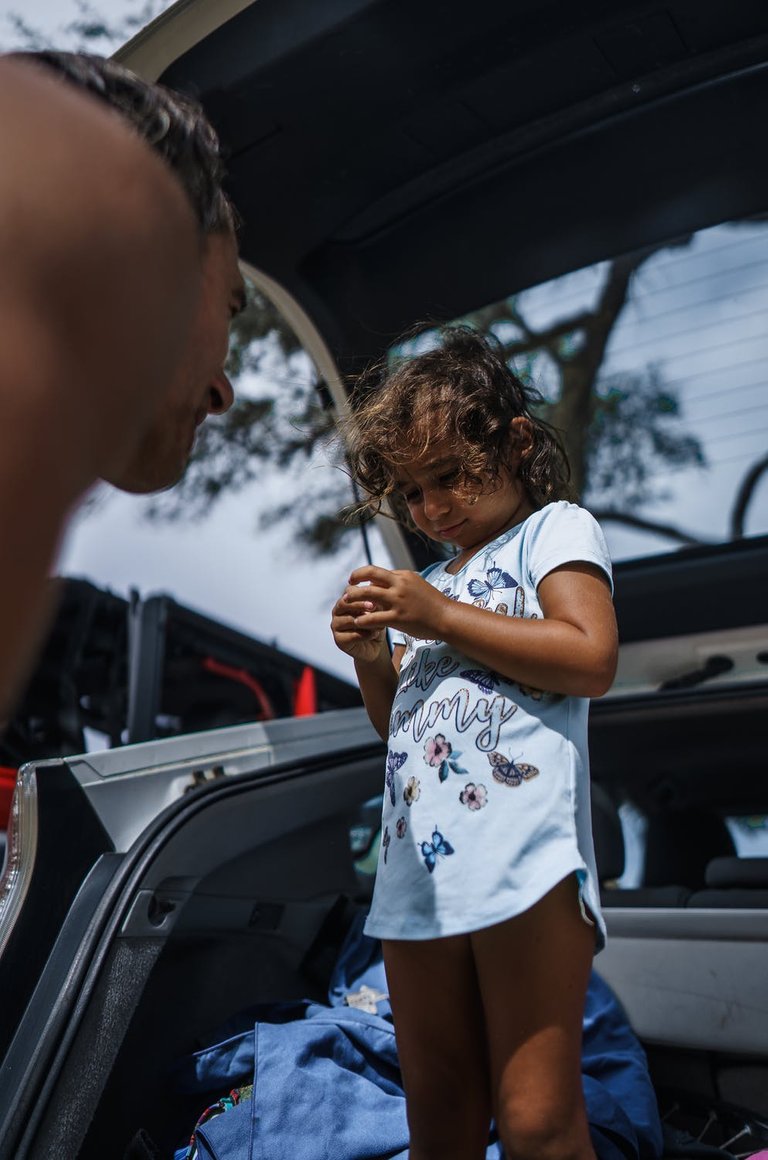 Source
"Would you let me walk with you?", She asked as he made for the door. She wore a beautiful smile, the pink ribbon making sure her hair fell perfectly in place by the side of her face. She stretched out her little hand towards him, and he took it without thinking twice. They walked together and when they got to the garden they both stopped like they'd been in each other's minds and he closed his eyes to feel the gentle touch of the breeze across his face.
"Would you take me with you Finn?". Her voice interrupted him and he looked at her small beautiful face, he could feel all the emotion swell up inside him. He felt her little grip tighten, as she waited for his answer. He looked away, how was he going to explain to her that everything had changed. That things were going to be different from now on and it all was his fault. If only he'd been a little more careful then maybe Julia wouldn't have hated him enough to file for a divorce and also ask for the custody of their child. She'd won the case obviously because she made sure it was clear he couldn't look after Mia.
He looked at her again, and bent over to face her squarely. "No honey, Daddy is going on a very important business trip and I'll be gone for a very long time, but, I'll make sure to send you your favourite chocolate and come visit you whenever I get the chance", he tried to sound as lively as he could as he lied to her. She searched his eyes and smiled again. Then she hugged him tightly and whispered in his ear "I love you so much daddy".
He didn't know when a hot tear ran down his cheek, it burnt his skin reminding him of how hard his life was going to be from now on. He'd thought of ways to rectify his mistake, it had just been a fling, he didn't in any way expect Julia to find out. There wasn't a day that he didn't try to make amends for cheating on his wife and even though he'd changed, she just wasn't convinced and she'd also made it clear that she didn't want her child growing up around such a father. Everything had been so hard to bear but there was nothing he could ask for, atleast he'd still get a chance to visit his angel from time to time, she was all that mattered to him.
---
"Daddy common! We'd miss the train", Mia screamed back at him as she raced towards the electric train at the park. It had been six months since he'd left and even though Julia didn't enjoy seeing him around Mia he'd always made time to be near her. The bond between them had grown a lot more than usual, and it was always great to know that his little girl still loved her father so much.
He ran with her and they entered the train on time before it moved. Then he made sure she'd buckled her belt tightly and he did same as the train took off at top speed. It was so fast that he couldn't hear what his little girl was saying as she shouted at the top of her voice. They made it round the curve and it's speed double, this time his whole face stretched and they threatened to come out of his skin. He was having the time of his life and it was clear his little angel was too.
The train finally came to a stop and they both came out laughing hard and out of breath. He looked up and saw Julia starring at them with her hands folded. She'd been a lot more quiet this days and had hardly ever said a word to him, he didn't push his luck with her because he didn't want things to get worse. Mia noticed her mom and ran towards her hugging her tightly. Then with a mischievous smile on her face she took her mother's hand and walked her towards where he stood and said,
"Hey Finn, look at Julia, she's so beautiful today". He looked up at her and for the first time in a long time, he really looked at her. She was still as beautiful as he'd known her, in a white silk top, blue jeans and brown boots but he could see the dark shades under her eyes that she'd tried to hide with her concealer. When she saw him staring she immediately turned her face and walked towards an ice cream stand. Then she bought the impatient Mia a cone and then walked up to him and handed him another.
"Are you too old for this?", She asked and smiled. Shivers ran down his spine and he was short of words, that was the most words she'd ever said to him since after the divorce. He finally got himself to take the cone from her hand and then she held his hand as they both watched their daughter play with the little puppy she'd found running around the park.
---
---
Thank you for reading this, if you enjoyed it or it connected to you in a way, I invite you to drop a comment, I'll be glad to reply and Upvote for more content ❤️
---
---