The great influence of the "Dragons" on the rest of the "Splinters" [ES-EN]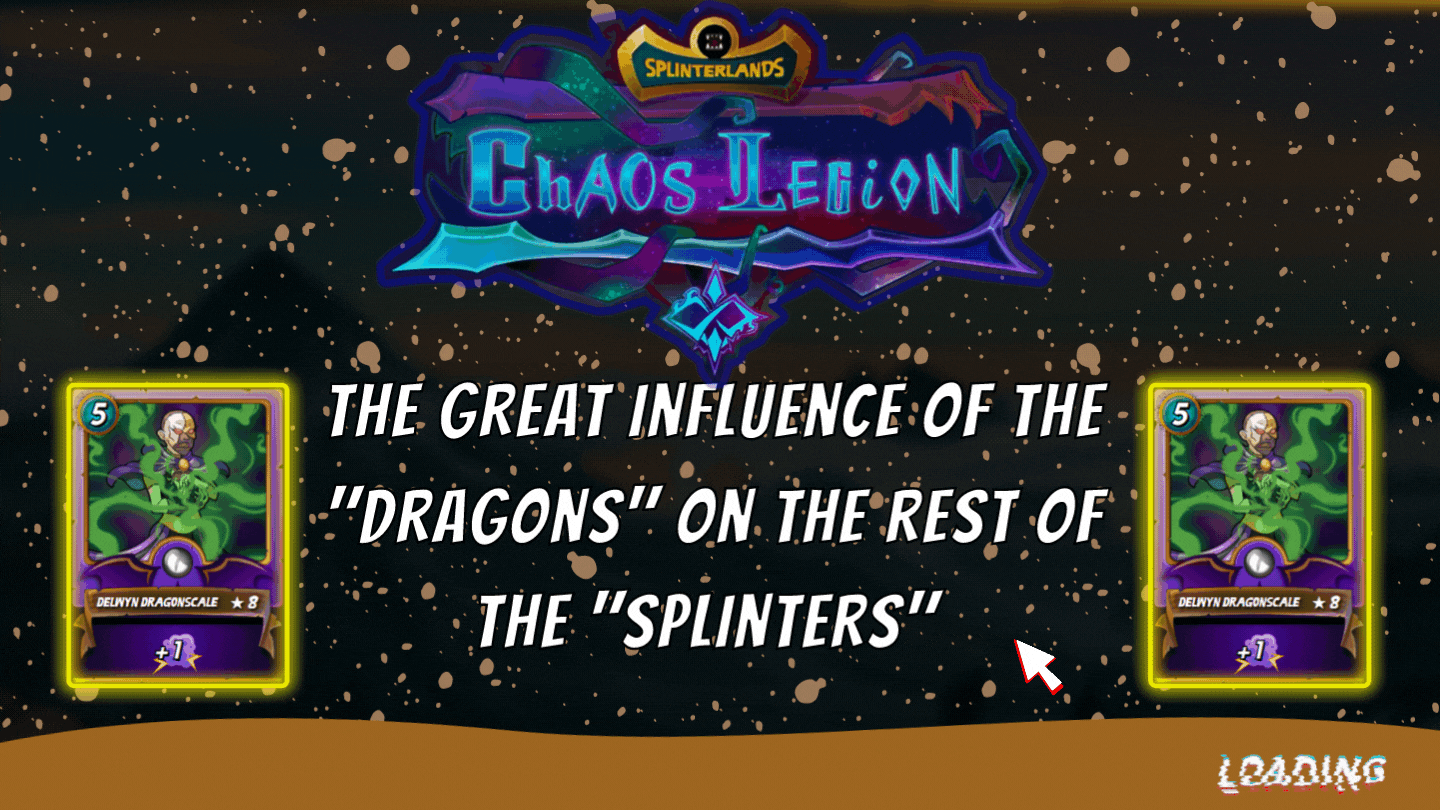 Image created in Canva


Hace más de un mes o quizás más, no publico una estrategia o una batalla que he querido compartir con la comunidad, a fin de cuentas, cada una de estas puede servir de ayuda a los nuevos usuarios para sus futuras formaciones y/o combinaciones que los ayuden a ganar batallas, obtener recompensas y subir en el "Ranking" de la liga en la que se encuentren. Recientemente, se publicó un desafío utilizando cartas del tipo "Dragón", he querido realizarla, ya que los dragones como dice el título de mi publicación, tienen una gran influencia en el resto de "Splinters".
It's been more than a month or maybe more, I have not published a strategy or a battle that I wanted to share with the community, after all, each of these can help new users for their future formations and / or combinations that help them win battles, get rewards and climb in the "Ranking" of the league in which they are. Recently, a challenge was published using "Dragon" type cards, I wanted to make it, since dragons, as the title of my publication says, have a great influence on the rest of the "Splinters".
---
La influencia de las cartas del tipo "Dragón" se cierne sobre todo el juego y su historia; y es que, este tipo de criaturas míticas colosales son auténticas y pueden formar equipo con cualquier equipo, incluso si estos no son de cierta manera compatibles, como es el caso del "Splinter de fuego" que utilice para esta batalla, es por eso que quiero compartir una estrategia donde utilice un invocador del tipo Dragón enfocado en aumentar el poder mágico, con el equipo de fuego que, por naturaleza es mucho más fuerte frontalmente con ataques cuerpo a cuerpo.
The influence of the "Dragon" type cards hovers over the entire game and its history; and is that, this type of colossal mythical creatures are authentic and can team up with any team, even if these are not in some way compatible, as is the case of the "Fire Splinter" that I used for this battle, that is why I want to share a strategy where I use a Dragon type summoner focused on increasing the magical power, with the fire team that, by nature is much stronger frontally with melee attacks.
---

---
La confluencia de los Dragones en el campo de batalla - The confluence of Dragons on the battlefield
Antes de resaltar la batalla, quiero explicar un poco la confluencia que existe con las distintas cartas del tipo "Dragón" que hay en el juego, esto es bueno que los nuevos usuarios lo lean y analicen, ya que, sabiendo esto, pueden crear combinaciones nunca vistas en el juego, así que, de seguro puede servir para este fin. Lo primero que hay que saber es que, los Dragones en el universo de "Splinterlands" son todos diferentes, algunos pueden parecerse físicamente, pero lo que importa es que muchos de ellos en su gran mayoría tienen distintos tipos de ataque y un gran número de habilidades capaces de frenar en seco a cualquier oponente.
Before highlighting the battle, I want to explain a little the confluence that exists with the different cards of the "Dragon" type that are in the game, this is good for new users to read and analyze, since, knowing this, they can create combinations never seen in the game, so, for sure it can serve for this purpose. The first thing to know is that, the Dragons in the "Splinterlands" universe are all different, some may look alike physically, but what matters is that many of them mostly have different types of attacks and a large number of abilities capable of stopping any opponent in his tracks.
---
El punto de esto, es que, no importa que tipo de "Splinter" elijamos para luchar, podemos combinarlo con cualquiera, lo importante aquí es que, existen muchos invocadores que ayudan a que cualquier tipo de situación que se nos presente, por ejemplo, podemos jugar con "Daria Dragonscale" y reforzar los puntos de ataque cuerpo a cuerpo, o si lo deseamos y sabemos que nuestro oponente jugara de forma frontal, jugamos con el invocador llamado "Camila Sungazer", el cual se enfoca en disminuir este tipo de ataque.
The point of this, is that, no matter what type of "Splinter" we choose to fight, we can combine it with any, the important thing here is that, there are many summoners that help any type of situation that comes our way, for example, we can play with "Daria Dragonscale" and reinforce the melee attack points, or if we wish and we know that our opponent will play in a frontal way, we play with the summoner called "Camila Sungazer", which focuses on decreasing this type of attack.
---
No solo podemos hacer esto, hay una gran cantidad de invocadores que se adaptan a todos los tipos de ataque o de defensa, así que, utilizar el "Splinter de Dragón", en conjunto con otros equipos, representa una clara ventaja que, si sabemos aprovecharla y jugamos bien nuestras cartas, podemos salir victoriosos.
Not only can we do this, there are a lot of summoners that adapt to all types of attack or defense, so, using the "Dragon Splinter", in conjunction with other teams, represents a clear advantage that, if we know how to take advantage of it and play our cards well, we can be victorious.
---
Para los más nuevos, observen la cantidad de invocadores del tipo "Dragón" que existen en el juego:
For those who are new to the game, take a look at the number of "Dragon" type summoners that exist in the game:
---

---

---
Una batalla con "Fuego y Dragón" - A battle with "Fire and Dragon"
Esta batalla la realicé buscando mi misión diaria, a pesar de que no jugué una carta adecuada para cumplirla, por lo que, quise jugar de esta manera para tener las mayores probabilidades de ganar y no bajar de puntos en el "Ranking", ya que recientemente subí a "Oro I" y no quiero volver a bajar, así que, la única alternativa que tenía de acuerdo al conjunto de reglas que me toco, era jugar con mi "Splinter de Dragón" en confluencia con mi equipo de "Fuego", puesto que era el único con el que podía combinarlo adecuadamente con mi invocador.
I performed this battle looking for my daily mission, even though I did not play a suitable card to fulfill it, so, I wanted to play this way to have the best chance of winning and not to drop points in the "Ranking", since I recently went up to "Gold I" and I do not want to go down again, so, the only alternative I had according to the set of rules I got, was to play with my "Dragon Splinter" in confluence with my "Fire" team, since it was the only one with which I could combine it properly with my summoner.
---
Mi equipo de tierra no es muy fuerte en lo que se refiere a ataques del tipo mágicos, sabía que mi adversario jugaría con "Obsidian", así que como mi invocador más fuerte es "Delwyn Dragonscale", mi opción era jugar magia contra magia, aunque el equipo de fuego se caracteriza por ser mucho más fuerte en ataques "Cuerpo a Cuerpo", mi estrategia se basó en utilizar las dos únicas cartas mágicas más fuertes que tenía mi equipo y las que me garantizarían resistencia y utilidad en la batalla, por lo que seleccione a "Naga Fire Wizard" y "Zalran Efreet", el resto de mi alineación fueron dragones, con habilidades diversas para contrarrestar acciones específicas de mi oponente, como curar al tanque en cada turno y volver lentas a sus cartas.
My ground team is not very strong when it comes to magic type attacks, I knew that my opponent would play with "Obsidian", so as my strongest summoner is "Delwyn Dragonscale", my option was to play magic against magic, although the fire team is characterized by being much stronger in "Melee" attacks, my strategy was based on using the only two strongest magic cards that my team had and the ones that would guarantee me resistance and utility in battle, so I selected "Naga Fire Wizard" and "Zalran Efreet", the rest of my lineup were dragons, with different abilities to counteract specific actions of my opponent, such as healing the tank every turn and slowing his cards.
---


Reglas de mi batalla - Rule of my Battle
Fog of War & Earthquake with 40 Mana

Mana: 40.
Niebla de guerra: los monstruos pierden las habilidades de escabullirse y agacharse.
Terremoto: Los monstruos que no vuelan reciben 2 daños de Meele al final de cada ronda.
No me fije mucho en las reglas de batalla, puesto que, lo más importante entre estas es que, los monstruos que no sean del tipo voladores, serán golpeados por la fuerza de la tierra y perderán -2 puntos de vida en cada ronda, por lo que, también me adelante y utilice a dragones con esta habilidad para tener ventaja.
Mana: 40.
Fog of War: Monsters lose the Sneak and Snipe abilities.
Earthquake: No-flying Monsters take 2 Meele damage at the end of each round.
I didn't pay much attention to the battle rules, since, most important among these is that, non-flying monsters will be hit by the earth force and will lose -2 life points in each round, so, I also went ahead and used dragons with this ability to have an advantage.
---

---
Alineamiento y Estrategia - Alignment & Strategy
Delwyn Dragonscale Este fue mi invocador elegido para esta importante batalla, la cual no estaba dispuesta a perder, su principal habilidad es brindarle +1 punto de ataque mágico a todas las cartas de mi lado del campo que contengan este tipo de ataque, así que, utilice todos los recursos existentes a mi disposición para acompañar a mi invocador y elegir cartas con este tipo de ataque para que mi ofensiva se volviera aún más poderosa.
Delwyn Dragonscale This was my chosen summoner for this important battle, which I was not willing to lose, his main ability is to provide +1 magic attack point to all cards on my side of the field that contain this type of attack, so, I used all the existing resources at my disposal to accompany my summoner and choose cards with this type of attack to make my offensive even more powerful.
---

---
Djinn Chwala Este fue el tanque que elegí para esta batalla, mis opciones realmente estaban reducidas a solo 8 puntos de maná, por lo que, lo más viable era utilizar a mí "Djinn Chwala" para que defendiera una de las posiciones más importantes de una batalla en el juego. Aun así, esta carta es realmente poderosa y posee 2 habilidades muy buenas que pueden causarle daño a mi oponente, especialmente a su tanque "Venari Knifer" que, por casualidad también posee la habilidad de "Thorns", pero no tiene la habilidad de "Enrage" que incrementa mi ataque y velocidad durante esa misma ronda.
Djinn Chwala This was the tank I chose for this battle, my options were really reduced to only 8 mana points, so, the most viable was to use my "Djinn Chwala" to defend one of the most important positions of a battle in the game. Even so, this card is really powerful and has 2 very good abilities that can cause damage to my opponent, especially to his tank "Venari Knifer" who, by chance, also has the "Thorns" ability, but doesn't have the "Enrage" ability that increases my attack and speed during that same round.
---

---
Naga Fire Wizard Como 2da carta elegí a mi carta de fuego "Naga Fire Wizard", la cual posee habilidades que le otorgan una increíble resistencia y una muy buena defensa contra ataques cuerpo a cuerpo y de rango. En tal sentido, mi carta posee las habilidades "Shield" que reduce en -1 punto el daño de cualquier ataque cuerpo a cuerpo y de distancia y la habilidad "Thorns" capaz de causarle daño a quien sea capaz de atacarlo frontalmente, quitándole -2 puntos de vida o en su defecto de escudo si es que la carta los tiene.
Naga Fire Wizard As 2nd card I chose my fire card "Naga Fire Wizard", which has abilities that give it an incredible resistance and a very good defense against melee and ranged attacks. In this sense, my card has the "Shield" ability that reduces by -1 point the damage of any melee and ranged attack and the "Thorns" ability capable of causing damage to anyone who is able to attack it frontally, taking away -2 health points or shield if the card has them.
---

---
Serpentine Mystic Esta carta la coloqué en la 3ra posición con el objetivo de proteger a las cartas más importantes en lo que se refiere a mi ofensiva, sus +5 puntos de vida, la hacen resistente al menos a un par de ataques y posee habilidades de soporte realmente importantes como lo son "Affliction y Slow". La primera de estas, marca a la carta objetivo impidiendo que las habilidades "Heal y Tank Heal" causen algún efecto en la misma, adicional a esto, con "Slow", todas las cartas de mi oponente se vuelven más lentas perdiendo -1 punto de velocidad, lo que me da cierta ventaja, ya que algunas de mis cartas, por no decir la mayoría, posee una velocidad superior a las de mi oponente.
Serpentine Mystic I placed this card in the 3rd position in order to protect the most important cards in my offensive, its +5 life points make it resistant to at least a couple of attacks and it has really important support abilities such as "Affliction and Slow". The first of these, marks the target card preventing the abilities "Heal and Tank Heal" to cause any effect on it, in addition to this, with "Slow", all the cards of my opponent become slower losing -1 point of speed, which gives me some advantage, since some of my cards, if not most, has a higher speed than those of my opponent.
---

---
Zalran Efreet Esta es una de mis armas secretas, ya que, con sus habilidades puede retrasar una inminente derrota a manos de mi oponente, esto es debido a su habilidad llamada "Life Leech", la cual cada vez que mi Zalran acierta un ataque en contra de su objetivo, esta incrementa sus puntos de vida, haciéndolo más y más fuerte en cada ronda hasta convertirlo en un auténtico tanque resistente a un gran número de ataques y otorgándole mucho más tiempo al resto de mis cartas en la ofensiva de realizar su trabajo.
Zalran Efreet This is one of my secret weapons, since, with its abilities it can delay an imminent defeat at the hands of my opponent, this is due to its ability called "Life Leech", which every time my Zalran hits an attack against its target, it increases its life points, making it stronger and stronger in each round until it becomes a real tank resistant to a large number of attacks and giving much more time to the rest of my cards in the offensive to do their job.
---

---
Lightning Dragon Mi dragón de trueno es una de las catas más poderosas del tipo "Dragon" de todo mi mazo de cartas, su espectacular velocidad de +6 puntos, sus poderosos +3 puntos de ataque y las 3 habilidades que lo conforman lo hacen un enemigo letal para cualquiera. Su habilidad de volar lo hace inmune a la regla de batalla "Earthquake", además de esto, tiene la capacidad de "Aturdir" a su objetivo de ataque, causando que se salte su siguiente turno, por último y no menos importante, la habilidad llamada "Piercing", le permite traspasar el escudo de su carta objetivo, lo que lo hace más letal al momento de atacar.
Lightning Dragon My thunder dragon is one of the most powerful "Dragon" type of all my deck, its spectacular speed of +6 points, its powerful +3 attack points and the 3 abilities that make it up make it a lethal enemy for anyone. His ability to fly makes him immune to the "Earthquake" battle rule, in addition to this, he has the ability to "Stun" his attack target, causing him to skip his next turn, last but not least, the ability called "Piercing", allows him to pierce the shield of his target card, which makes him more lethal when attacking.
---

---
Fire Spitter Esta es la última carta de mi formación, la cual protege también en gran medida, a mis cartas en la línea de fondo, pero, a su vez también funciona como una carta ofensiva con una increíble rapidez y la probabilidad de esquivar ataques, gracias a su habilidad de "Volar", la cual también protege a mi monstruo de la regla "Earthquake". Por último, mi carta posee unos muy buenos +3 puntos de ataque de rango, causando un importante daño a las cartas en la primera posición de la formación de mi oponente.
Fire Spitter This is the last card of my formation, which also protects my cards in the back line to a great extent, but, at the same time, it also works as an offensive card with an incredible speed and the probability of dodging attacks, thanks to its "Flying" ability, which also protects my monster from the "Earthquake" rule. Finally, my card possesses a very good +3 ranged attack points, causing significant damage to cards in the first position of my opponent's formation.
---

---
Lo mejor de esta estrategia Vs la formación de mi oponente -The best of this strategy vs. my opponent's formation.
Lo que sobresalió de mi estrategia fue la capacidad de mi equipo de "Dragon" para adaptarse a cualquier adversidad inclusive con un equipo de fuego especialista en ataques "Cuerpo a Cuerpo". Además, la confluencia de estos, me permitieron combinar tanto ataques mágicos como ataques de distancia, tiendo una fuerte ofensiva a la vez que una buena carta de apoyo capaz de neutralizar, la velocidad y la recuperación de su tanque.
What stood out in my strategy was the ability of my "Dragon" team to adapt to any adversity even with a fire team specialized in "Melee" attacks. In addition, the confluence of these allowed me to combine both magic attacks and ranged attacks, giving me a strong offensive as well as a good support card capable of neutralizing the speed and recovery of his tank.
---
Mi adversario tampoco jugo mal, sus alineación se apoyaba en conjunto con su invocador "Obsidian", sin embargo, mis cartas eran más fuertes y tenían más velocidad y puntos de vida, lo que me dio ventaja, pero, redujo sus posibilidades de obtener la victoria solo confiando en su ataque rápido mágico.
My opponent didn't play badly either, his lineup was supported together with his summoner "Obsidian", however, my cards were stronger and had more speed and life points, which gave me an advantage, but reduced his chances of victory by relying only on his fast magic attack.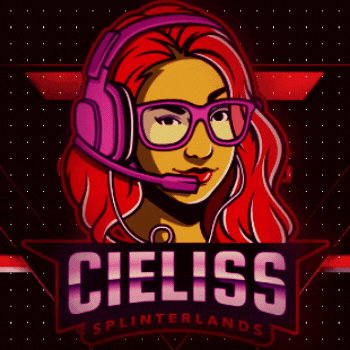 ¡I invite everyone to join Splinterlands, the best game based on chains of blocks, full of adventures, battles, and strategies where you will have fun and get rewards according to your league!
---

---

Join the official Spanish community here Discord
---
---