Compilation of my October works inspired by Halloween... Recopilación de mis trabajos de Octubre inspirados en Halloween..
Happy Sunday have all my love is nice of this community today to bring you all the presentation of a compilation of some of my works made during this month of October inspired by the festivities of Halloween, is considered a party where allusion to all saints and is traditionally held in the United States, Canada, United Kingdom and Ireland in which is to decorate the houses, dress up or make up terroríficicamente, prepare some scary food, Here in Venezuela some people have taken this tradition to celebrate this festivity and because in some communities have developed contests focused on this theme is why I saw myself in the commitment to participate and develop these works, most are made with recycled materials because I like to give a new use to those objects were fulfilled with their useful life time in another new object or decoration so I encourage you to join me during the development of my publication.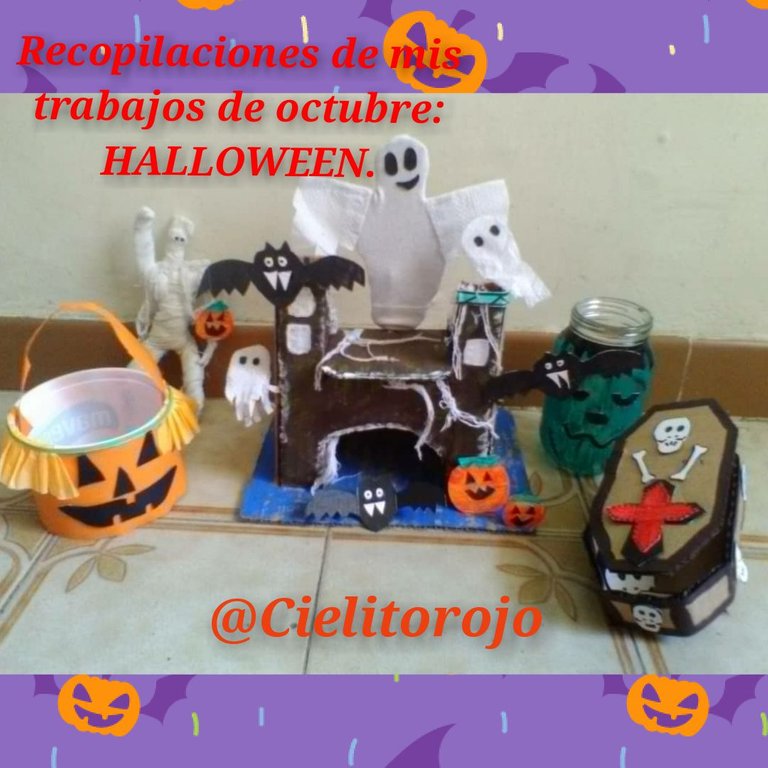 Feliz domingo tengan todos mi amores bonito de esta comunidad, el día de hoy traerle a todos ustedes la presentación de una recopilación de algunos de mis trabajos realizado durante este mes de octubre inspirado en las festividades de Halloween, se considera que es una fiesta dónde se hace alusión a todos los santos y se lleva a cabo tradicionalmente en los países Estados Unidos, Canadá, Reino Unido e Irlanda en la cual consiste en decorar las casas, disfrazarse o maquillarse terroríficamente, preparar algunas comidas de miedo, aquí en Venezuela algunas personas han tomado está tradición de celebrar está festividades y motivado a que en algunas comunidades han desarrollado concursos enfocado en esta temática, es por eso que me vi en el compromiso de participar y elaborar estos trabajos, la mayoría está elaborado con materiales de reciclaje ya que me gusta darle una nueva utilidad a esos objetos se cumplieron con su tiempo vida útil en otro nuevo objeto o adorno así que los ánimo a que me acompañen durante el desarrollo de mi publicación.
These are some of my creations during the month of October I thank you all for following me and for your support especially the different curators who respect and value my activities, thank you all for giving me your support and your good votes, the different accurate and positive comments that every day motivate me to continue developing and producing for all of you, thank you from the bottom of my heart.
Estas son algunas de mis creaciones durante el mes de octubre les agradezco a todos ustedes por seguirme y por su apoyo en especial a los diferentes curadores que respetan y valoran mis actividades, gracias a todos por darme su apoyo y sus buenos votos, los diferentes comentarios acertados y positivos que día a día me motiva incentivan a seguir desarrollando y produciendo para todos ustedes, agradecida de todo corazón.
For all those who follow me I know that I usually recycle materials such as cardboard boxes, butter cartons, toilet paper, toothpaste boxes, reused cloth, wire, bandages, glass jars, among other materials.
Para todos aquellos que me siguen conocimiento de que por lo general realizó materiales de reciclaje cartón de caja, envase de mantequilla, papel higiénico, caja de crema dental, tela reusada, alambre, vendajes, frasco de vidrio entre otros materiales.
For the creation of the haunted castle we used cardboard boxes and for the elaboration of the bats and the toothpaste box and for the ghosts we used toilet paper.
Para la creación del castillo embrujado utilizamos cartón de caja y para la elaboración de los murciélagos y la caja de crema dental y para los fantasmas utilice papel higiénico.
For the pumpkin candy box we used plastic containers, cardboard and fabric clippings.
En el caso del dulcero de calabaza utilice envase plástico, cartulina y recorte de tela.
For the candelabra we used mayonnaise glass and painted it green/black. For the eyes and nose we used a box of toothpaste to make these pieces.
Para el candelabro utilizamos para hacer vidrio de mayonesa lo pintamos de color verde /negro, los ojos y nariz utilizamos caja de crema dental para elaborar estás piezas.
In the case of the mummy we used wire and bandage to create the doll and give it originality and good appearance.
En el caso de la momia utilizamos alambre y vendaje para crear el muñeco y darle originalidad y buena apariencia.
For the giant ghost we used a cardboard box lined with white cloth and helped with toilet paper.
Para el fantasma gigante con cartón de caja forrada con tela blanca y ayudando papel higiénico.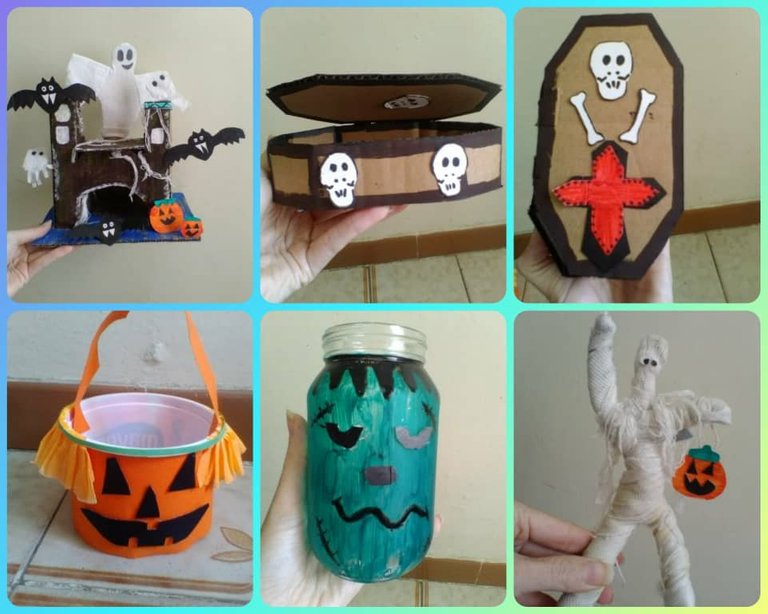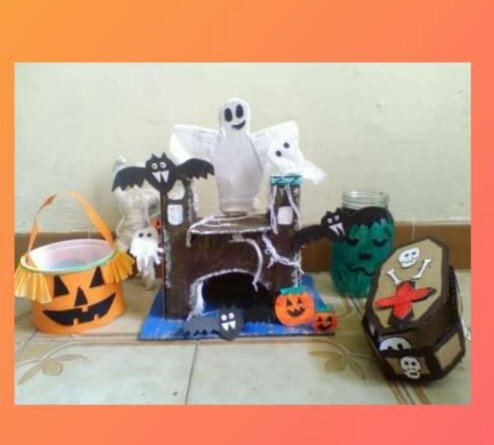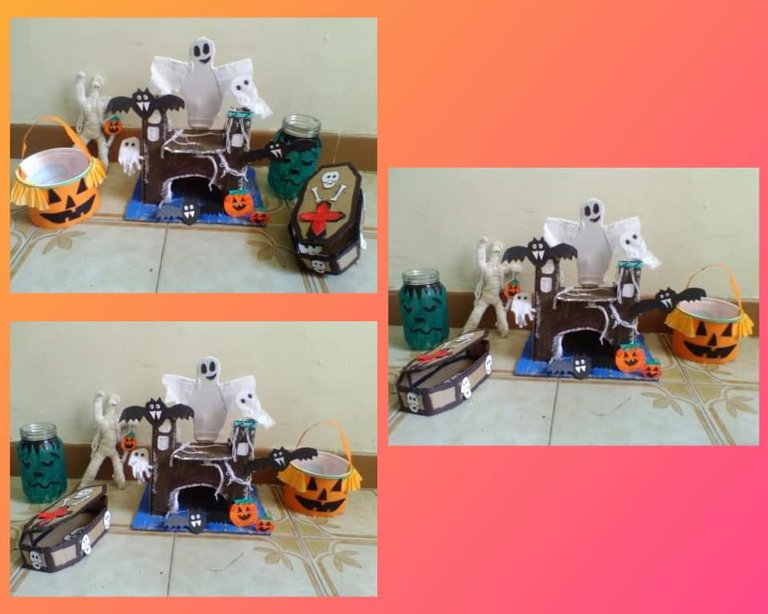 Thank you for reading me and your valuable support.
The photos are from me @cielitorojo
Translated with Deepl translator.
Gracias por leerme y su valioso apoyo.
Las fotos son de mí @cielitorojo
Traducido con traductor de Deepl.
---
---