Exploring the Chocolate Hill's View Deck.

Hello, Wednesday Walker!
I haven't posted in the community in a while. I simply became overworked trying to balance being a full-time mom with some side hustles in real life.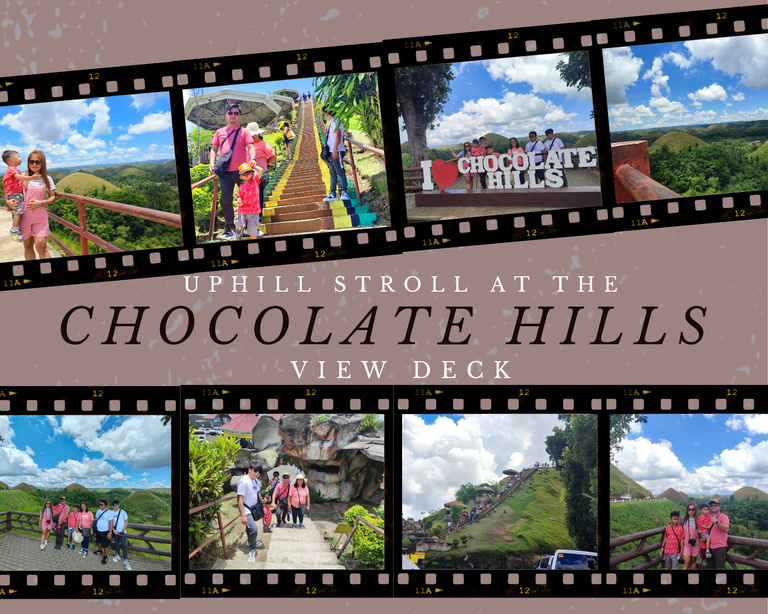 Today I want to share with you our experience climbing more than 200 steps to the view deck of the world-famous tourist destination in Bohol, the Chocolate Hills.
When we made the decision to take this tour, my husband and I had a conversation with the travel and tour agent because we were unsure whether the senior travelers we would be traveling with would choose this itinerary with the uphill steps. My husband's aunt (my father-in-law's sister) already went to Bohol a few months prior to us, and she already "oriented" my in-laws about how they didn't go in the steps and just waited for their children at the base of the view deck. So my in-laws have already made up their minds that they will do the same and that climbing will be too tiring and difficult for them. My in-laws are already in their seventies and not physically active.
The view deck was still on the itinerary, and my husband and I agreed that the elderly might choose to go or not once we arrived.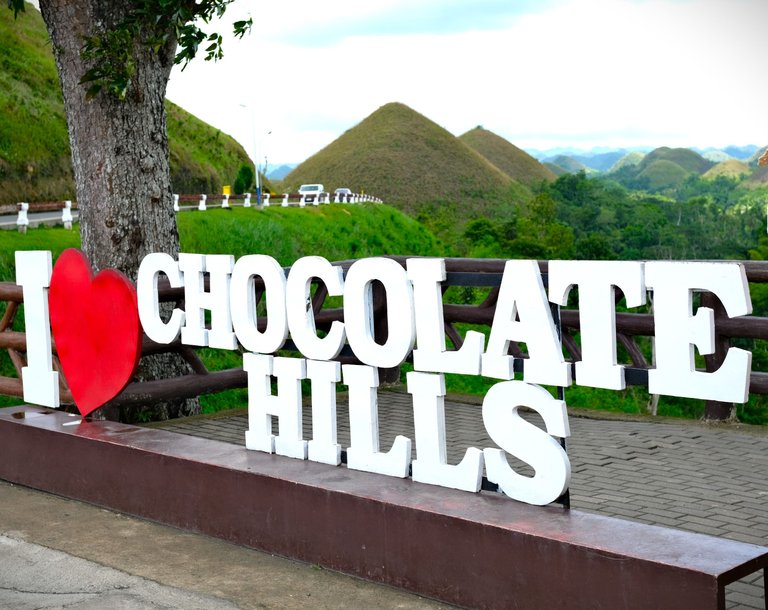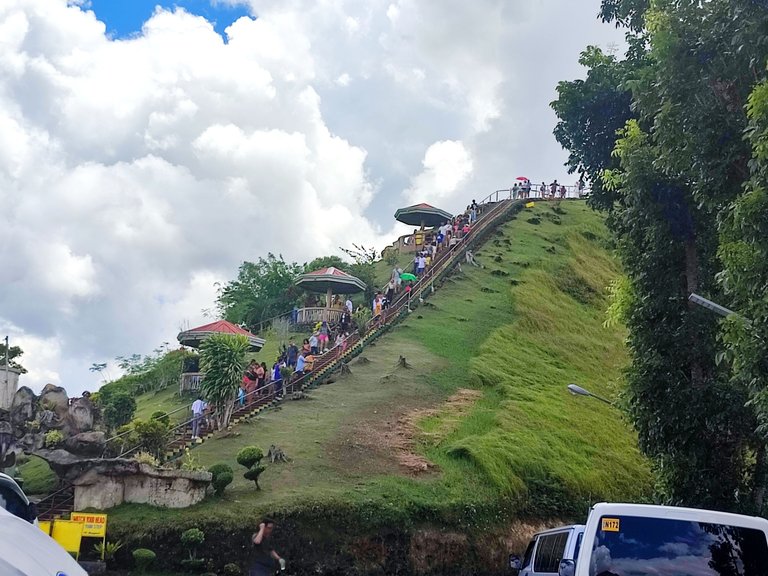 From the parking area, this is how the stairs look. After exiting the car, we began to take pictures of the place. Near the parking lot, there was a large sign that read "I❤️CHOCOLATEHILLS," but there was a line before you could take a picture. As we waited in line, we finally convinced my in-laws to attempt the steps by promising to help them every step of the way and to take a break in the few shades on the side if they became tired.
Our tour guide was telling a story about the tourist spots while we were in line to take photos. She said the area was known as "Carmen Hills" because it is situated in Carmen, Bohol, until one tourist visited the place during the dry season, when mostly the grass cover of the hills turned a chocolate brown dry color from afar, and called the place Chocolate Hills. After it gained popularity, people began referring to the hills as Chocolate Hills.
The guide asked us for our phones so she could take more group photos of us before we proceeded to the entrance, going to the hill's highest view point. She also asked permission if she could use our photos on their page. She was nice, so we gave her permission.
And the climb begins.
It got drizzled and windy at the same time. My firstborn was the first to go up because he was so eager to see what was up there.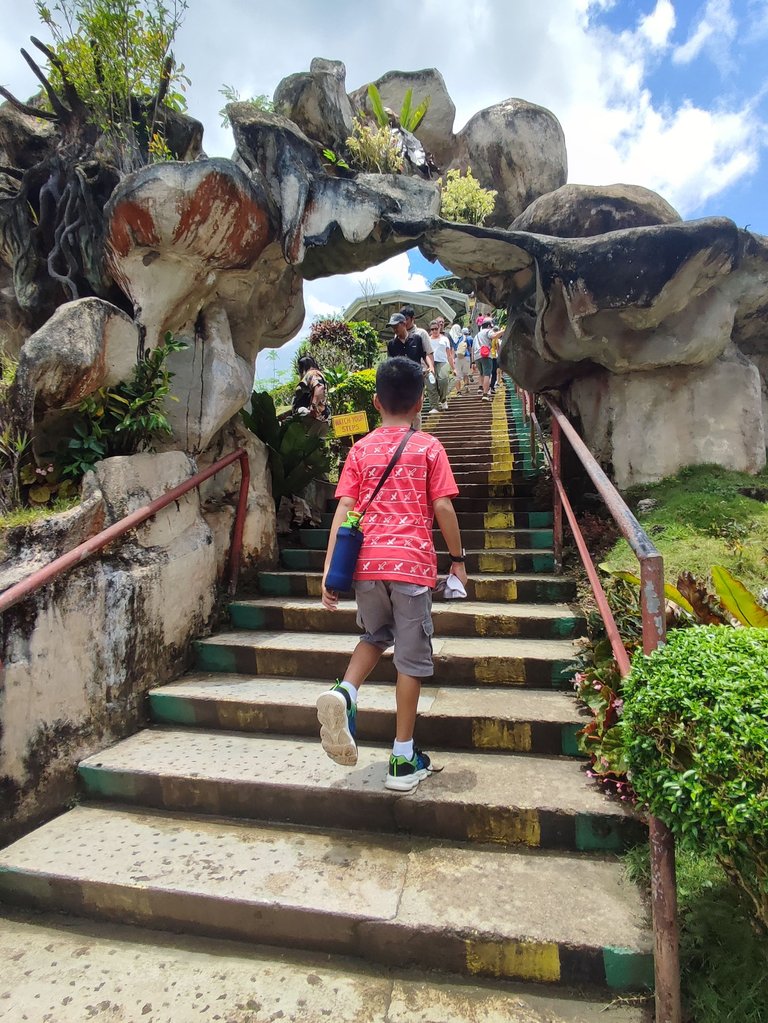 There were other tourists going up and down the stairs, so it was not advised to stay longer on the steps to rest or take photos. That's why they put up the shaded cottage on the side.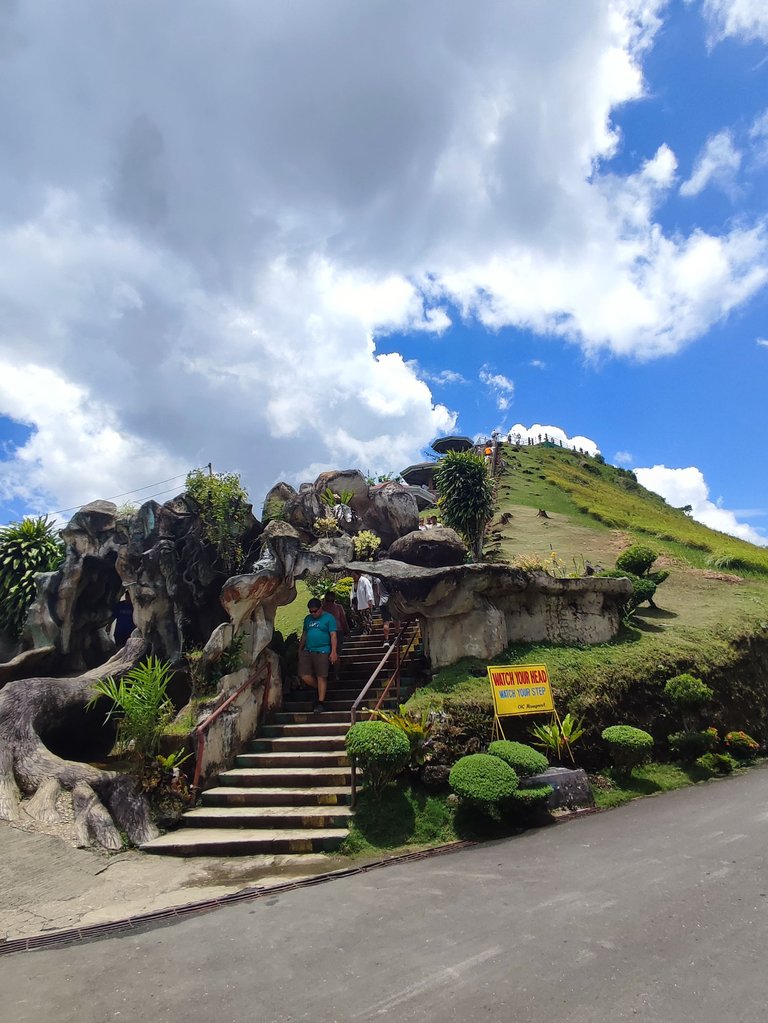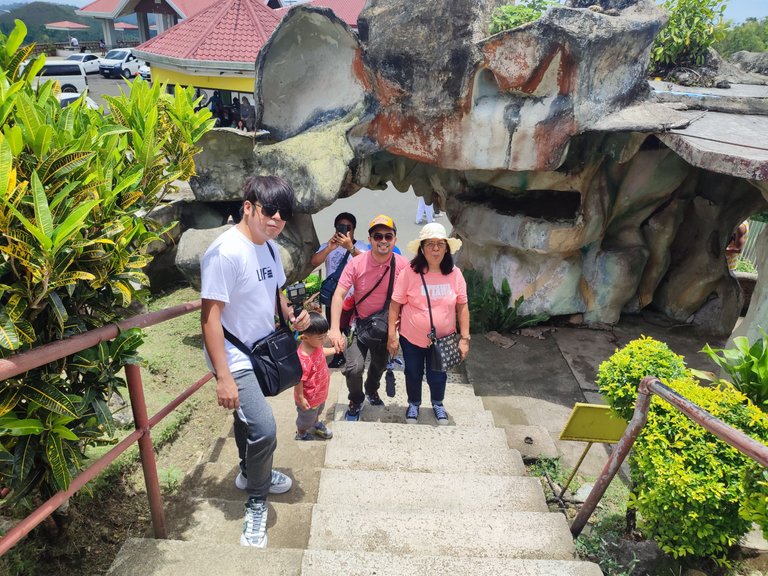 My mother-in-law is now beginning to feel at ease ascending the steps after seeing the gents around her. She got injured at the knee and had surgery in the past, which is why she doesn't like climbing stairs.
When the drizzle unexpectedly turned into rain while we were enjoying our little uphill trek, we stopped near the side cottage for cover. The little one needed to be protected from the rain, as well as the camera, which wasn't weatherproof. We took advantage of the approximately 10 minutes of rain to snap additional pictures.
The heat was painful after the rain ceased. Aside from the trek, it was also a roller coaster of different types of weather.
After a few breather stops, we eventually made it to the top. It wasn't physically difficult for me, if you ask me, but it's a different story if you're taking a child, an umbrella, and a camera. It is quite difficult and draining, but the view is breathtaking at the top.
You can see hundreds of hills from the observation deck. Can you believe those hills were limestone, and this place was submerged in seawater a million years ago? Nature is indeed amazing. My first son made his own version of history, saying those hills were "placed" there by giants because they were playing with rocks. lol
We enjoyed the view for a moment and decided to start the descent. Compared to climbing up, going down is a lot easier and faster. And my toddler decided to go with his father; my hands are more free to take more photos now. lol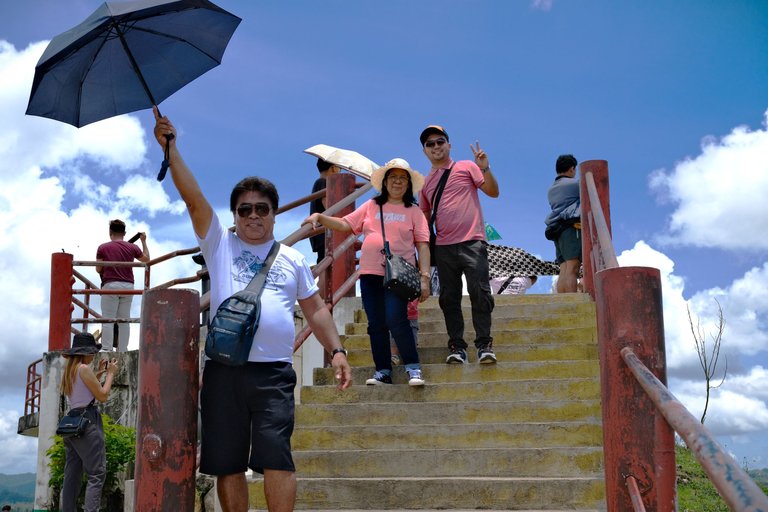 But just like going up, my eldest son is still on the lead; he just wanted to get back to the vehicle so we could check what was next on our itinerary. We are not in a hurry, though, and decided to check out the nearby store first to buy refreshments.
I'm glad to see my in-laws happy doing things they thought they couldn't. It is a dream for me and my husband to show them places they have never been because they were so busy providing them with a good life before. Now that they have retired, it's our chance to treat them. It made me smile just to see them happy.
I will share more with you about our trip to Bohol next time. That's it for today. See you on my next one!
This is my participation for #WednesdayWalk organized by @tattoodjay in collaboration with #makemesmile by @elizacheng.
Thank you for reading!
❤️❤️❤️

All photos are my own, unless stated otherwise.
---
---