CINETV COMMUNITY NEWSPAPER | 2023 | ISSUE 2
CINETV COMMUNITY NEWSPAPER | 2023 | ISSUE 2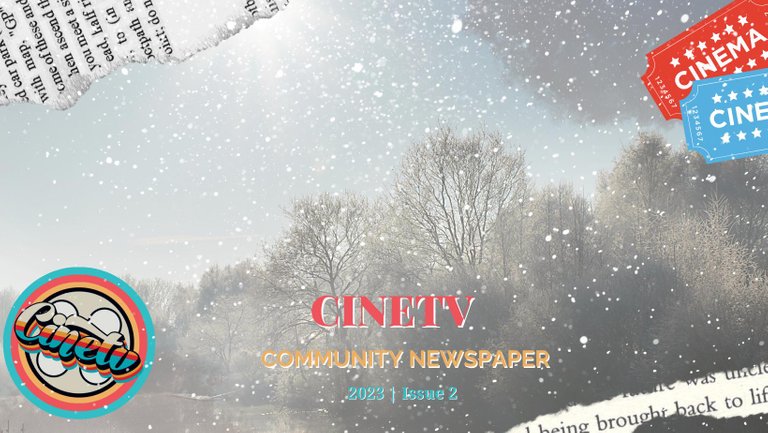 Image created with Canva Pro



Good morning CineTV Community. I trust you have had a great week and are looking forward to a fantastic new week. Do we have a Community Update this week? Unfortunately, the answer is "NO". So let's just skip this and move on to our Contest.



@caulderfreeman is back back on track with a fantastic contest! If you hadn't seen it yet, you can check it here.
This week we want to hear about a movie that represents winter. When I think of films who represent winter, there are just a lot of films that qualify for me. And I'll tell you a secret why that is. Once it really starts to become spring, and then summer, it's very rare for me that I watch TV or movies at all. Usually I am outside so much during that time that once I get in I have so many other things to do. There is no time to hang out in front of the TV. I don't know if anyone can relate to this, but for me it is mainly in winter time that I watch movies and TV, and for that simple reason very movies would represent winter to me.
Now of course I know this probably won't be what @caulderfreeman intended, so... the challenge for all of you to do better is here! Do we have a deal? You all know what to do. If you haven't posted your entry yet, you still have some time to think about your entry.
The submission deadline is 17th January, 2023, 11:59 PM, UTC time.




To follow all writing prompts properly, it is of course a must to follow our Twitter Account where @thisismylife regularly provides you with the latest inspiration to start a blog to write.
And we are so happy to report that the entire CineTV team is back in full action. This week @thisismylife also started again, and we all got to see it with her last blog where she tells us a bit more about some of the writing prompts
I don't do it that often in the newspaper, but this one time I want to ask you all to make sure you read this blog. @thisismylife describes how important it is to make new connections. How important it is to bring people you know into our community.
Of course there is more to read, and there are some nice writing prompts that can be good for new inspiration!




Also this week @frey97 takes us with her into the fast-paced world of youth. In a blog that is easy to read, she talks to through all the things that has kept the youth busy. Everything you should know to keep up during this time is covered. From movies, to Netflix, via Youtube to the Celebs.
Read the blog here. Know what's going on and feel young again!!




If you're ready for a little break now, grab a cup of coffee and go into the relax mode. Enjoy the latest Hollywood gossip. Our beloved celebrities have also celebrated Christmas, and what better way to start the new year than by looking at what juicy gossip can be found at the start of the new year.


I am very curious about your personal opinions about the actors and actresses that we see so often on the big screen (well, mostly TV screen).
As you know by now, it is important not to write film reviews. That's NOT what this challenge is about. It is precisely about your personal stories, why you like or do not like to watch that actor or actress. Why are you or are you not attracted to that actor or actress? And so there are many more things to think of that tell something personal.
Last week GEORGE CLOONEY was our Movie Star of the Week. And there was a reaction that completely met the conditions. That means that we are giving away 100 CINE tokens and 100 ECENCY points this week.
The winner this week is:
Congratulations Melinda. You can expect the tokens in your wallet later today!
Are you all ready for the new challenge this week?
This actress knows how it works in Hollywood. She has been in the spotlight all her life. Already as a child as a model, and later successfully added acting and directing. She has been seen many times both on TV and on the big screen.
Despite all her success, she also went through a difficult period. Because she achieved her first successes at such a young age, it was difficult for her to maintain this success as an adult.
It is clear that she succeeded very well in this after a more difficult period if we look at the further course of her career.
Personally, I have always enjoyed her acting. Maybe because she seemed very natural to me. I feel like she might as well have been my girl next door. I never felt like I was watching a "Hollywood star". And that, in my opinion, is her greatest achievement when you talk about acting.
Now you might ask yourself which actress am I talking about? And of course I won't keep you guessing about that. For this week I'm asking you to write a blog, or leave a comment on the newspaper. You can do both, as long as it is your personal opinion about:
JODIE FOSTER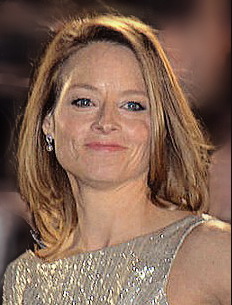 We have a fresh balance again, which means we have 100 CINE and 100 Ecency points to give away. The conditions are being looked at more strictly. And if the conditions are not met, we will not give away additional tokens.
Rules:
Only personal opinions
If you choose to write a blog, use the tag #moviestaroftheweek and post the link in the comments
A blog is not necessary, you can also leave a comment.
The challenge is not intended as a contest, it is in fact intended to give you an ENGAGEMENT option for the newspaper. The fact that we are giving away tokens to engage with us is an extra bonus for you. You guys are "THE COMMUNITY", and we would be nothing without you!




We keep watching for all the films that come out this year, after all, that is what the CINETV community is for. I will try to show as many different genres as possible. Hopefully there's something to your taste and you'll find a new movie for your "To Watch" list. Get ready for some trailers below!


THE DEVIL CONSPIRACY
Conspiracy or reality? This film makes you doubt the future. We know that we have been able to clone for a long time. And it is no longer a secret that the technology is being developed more and more. Is it still really conspiracy that it is possible to clone the most influential people in the world with just a little bit of DNA? Or does our future really look so horrifying?


A MAN CALLED OTTO
Tom Hanks is back on the silver screen. A grumpy old man. But grumpy old men can also be thawed by the lives of younger people. This story seems taken from real life, it is not a fantasy, it often takes place in reality. Those who want to see the deeper meaning can see a gripping story peppered with humor here!


PLANE
A thriller film full of heart-pounding action. It already starts when there is a lightning strike and a hair-raising landing has to be made. However, none of the occupants of the airplane knows that this landing is only the beginning.


We like to point out the following note about plagiarism!
We have an entire team dedicated to finding AND reporting plagiarism and abuse. And be warned, we NEVER will tolerate plagiarized blogs. Not in plagiarized words, nor images!


We have seen some really great posts that failed to source their pictures, and so we were not able to curate them properly. Remember to only post YOUR OWN words and to properly source the photos that you use that are not your own.


Plagiarism is THEFT and has no place in our CineTV family!
And with that, this week's newspaper has come to an end. We hope you enjoyed it and we'll see you next week with a new newspaper! If you find this newspaper and want to chat with about movies and TV with us, feel free to join is in our DISCORD
Thanks...we love you all!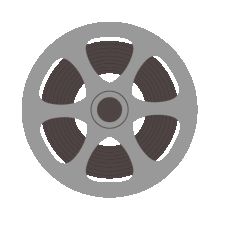 Posted using CineTV
---
---