Script Writing Contest Announcement - A CineTV x Scholar & Scribe Collaboration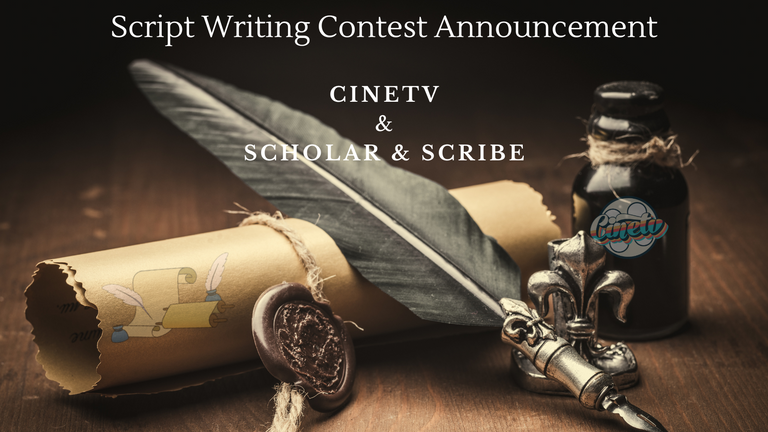 Created in Canva Pro
Introduction
The CineTV team is always looking for new opportunities to engage with the community and sometimes these ideas arise from something as simple as a discord chat. Creatives amongst us know very well how you can get inspired by reading as little as 1 word. In this case, the contest idea came from reading a discord chat that started with this question from @sketchygamerguy:

The people that read the question (myself included) were wondering if we knew this movie. You can see that in the answers that followed:

I admit, @papacrusher's "is a movie, a television show?" made me laugh because I was wondering the same thing, only I didn't ask.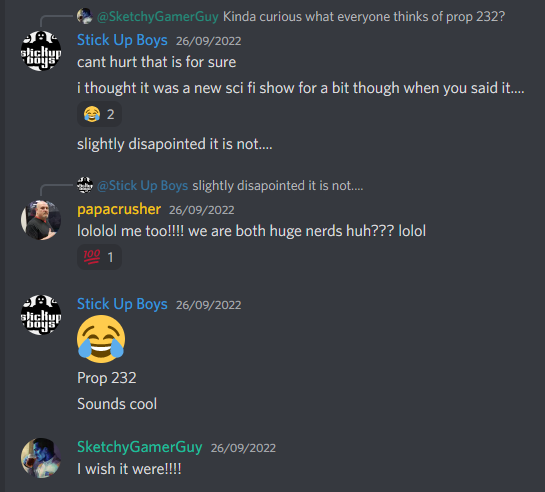 At this point, @stickupboys jumped into the conversation. I forgot about it after this chat, but the next day @papacrusher brought it up again: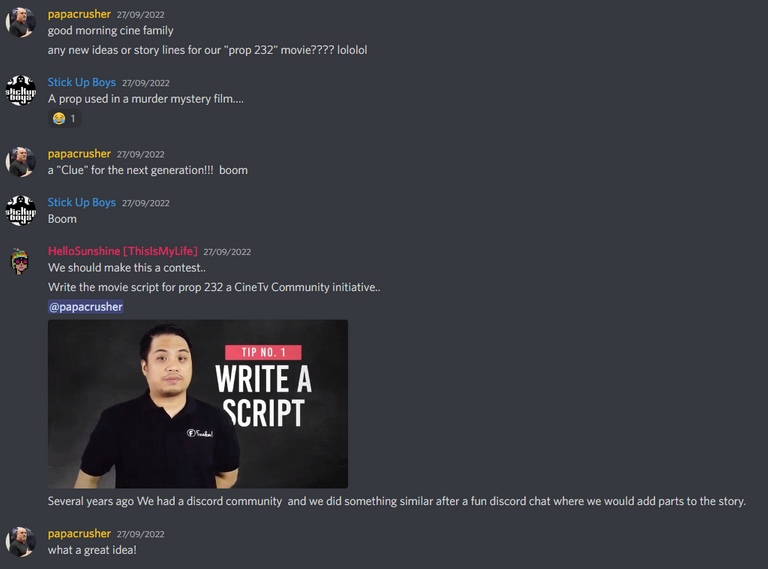 It was at this point that I proposed the idea to create a contest about "Prop 232". We let it brew for a while before taking action but it was clear we all felt this should be a new contest for the CineTV community. And here we are, warming you guys up for the idea so you can start thinking about how you are going to participate once the contest starts.
We are still in the process of rolling out the exact rounds of the contest, but not to worry because we have partnered up with the amazing Scholar & Scribe community for this contest. We think this is a great opportunity to bundle powers with this community filled with great writers. This means that you can not only win CINE tokens in this contest but that there are also SCHOLAR & SCRIBE tokens for grabs if you manage to win a place amongst the chosen winners. By using the scholarandscribe tag, you will also earn the tokens thanks to curation, which is a nice bonus for valid entries.
Let's write the "Prop 232 movie script" together!
Please don't be scared away by the fact that we call it a movie script here because we are going to make sure that the contest is approachable for everyone, not only the experienced writers. You don't have to worry about having scriptwriting knowledge either, you just have to follow the rules we announce for each round, if you do so, your entry should be a valid one.
The contest will not run weekly, but bi-weekly and for every topic that we cover for the Prop 232 script, we will have two rounds that you can join, the first one is focussed on the idea/character/concepts for the script where we choose three winners. For round two we move on to writing a short script based on the winners of the first round. Everyone can join again, also those that didn't win, and three winners will be chosen here as well.
Don't worry about the exact rules, we will make sure to list them clearly in every round. We are just excited to let you know what's brewing behind the scenes as we are pretty excited about this contest. It will be a new concept and we are quite excited to find out what everyone is going to contribute, I know that @papacrusher himself can't wait to start writing.
When do we start?
We are trying to publish the kick-off round next Saturday, meaning you will have to be patient for just a little longer until we announce how we are going to start writing this script for the Prop 232 movie.
Have a good week(end) ahead everyone! We're hoping to see you in a week from now...
---
---