Rodrigo, un ejemplo de perseverancia en un mundo perverso [Esp-Eng]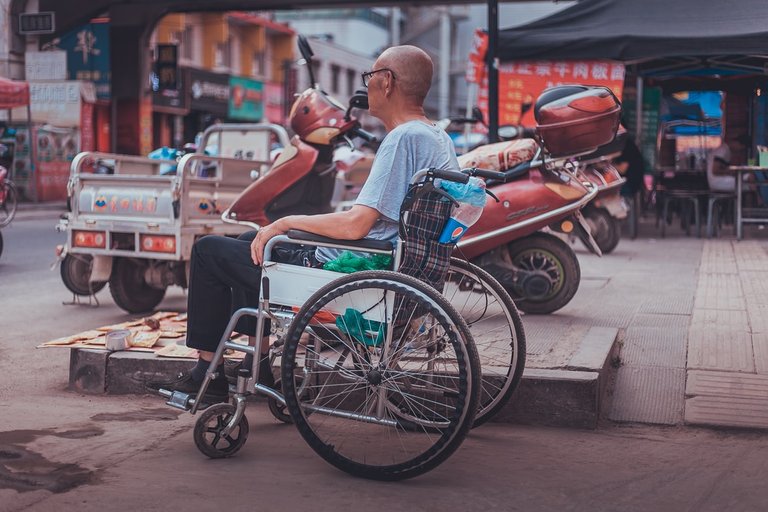 Imagen de 张 学欢

Erase una vez, un buen hombre llamado Rodrigo, quien debido a un fatal accidente había quedado dependiendo de una silla de ruedas, este hombre que además debía arreglárselas para sostenerse a sí mismo, pues no tenía familia, solía pensar que con perseverancia, todo lo que uno se propone lo puede lograr, siempre y cuando tenga la actitud adecuada.
Pero varios conocidos, se preguntaban porque este hombre seguía luchando, siempre estaba solo, nadie lo ayudaba y además, debía trabajar duro para conseguir lo necesario, para pagar el lugar donde vivía además de comida para alimentarse cada día, los brazos de Rodrigo estaban muy cansados por el esfuerzo físico que hacían a diario, llevando a este buen hombre a donde sea que tuviera que ir.
Once upon a time, there was a good man named Rodrigo, who due to a fatal accident had been left dependent on a wheelchair, this man who also had to manage to support himself, because he had no family, used to think that with perseverance, everything you set out to achieve, as long as you have the right attitude.
But several acquaintances, wondered why this man was still struggling, he was always alone, nobody helped him and besides, he had to work hard to get what he needed, to pay for the place where he lived in addition to food to feed himself every day, Rodrigo's arms were very tired by the physical effort they made daily, carrying this good man wherever he had to go.

Se le veía bien temprano en las mañanas, moviendo las ruedas de su silla para llegar a tiempo al autobús, y a su vez a su empleo, en el que se encargaba de atender al público, un trabajo arduo en el que, se daba cuenta de lo crueles que pueden ser las personas cuando se lo proponen, cada día oía reclamos debido a su lentitud, por no poder movilizarse rápido para atender a la gente, era tratado con muy poca consideración.
Pero pese a los malos tratos, Rodrigo no perdía las esperanzas de hallar gente buena que apreciara lo que hacía y que mirara su esfuerzo. Un buen día, en el que la gente se portaba muy grosera con rodrigo, pues por un fuerte dolor en el brazo, se le hacía más difícil moverse rápido a los lugares, una chica llegó a donde estaba él, con una compra grande, aunque podía pasar por cualquiera de las otras caja, quiso pasar por la de rodrigo, pues deseaba conocerlo, le sorprendía todo lo que hacía aún con algunas limitaciones físicas.
He was seen very early in the mornings, moving the wheels of his chair to get to the bus on time, and in turn to his job, where he was in charge of serving the public, an arduous job in which he realized how cruel people can be when they want to be, every day he heard complaints because of his slowness, for not being able to move fast to serve people, he was treated with very little consideration.
But despite the bad treatment, Rodrigo did not lose hope of finding good people who appreciated what he did and looked at his effort. One day, when people were being very rude to Rodrigo, because of a severe pain in his arm, it was more difficult for him to move quickly to places, a girl came to where he was, with a large purchase, although she could go through any of the other boxes, she wanted to go through Rodrigo's, because she wanted to meet him, she was surprised by everything he did even with some physical limitations.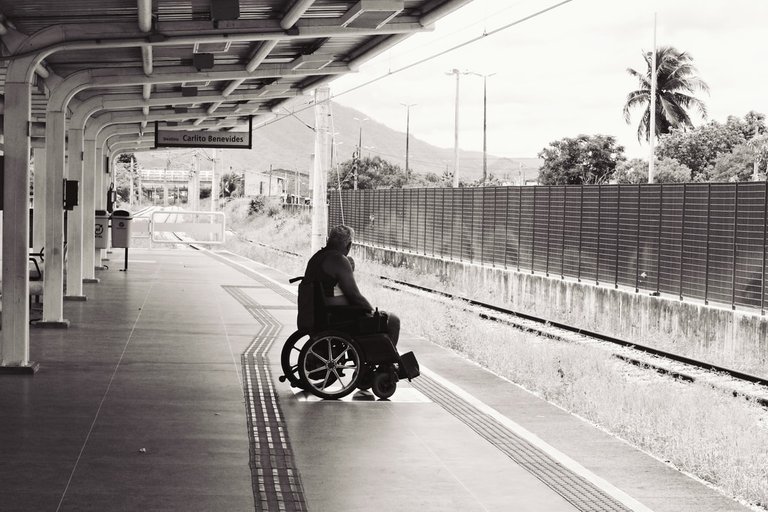 Imagen de Igor Rodrigues
Pero está mujer con bonitos sentimientos, también se dio cuenta de el trato que le daban no solo los clientes sino sus compañeros de trabajo, conmovida por ello decidió luego de tener una breve conversación con Rodrigo dejarle su tarjeta para que la llamara, deseaba contratarlo en su empresa, una en la que se fabricaban productos para darle una mejor calidad de vida a las personas con diversidad funcional, entre sillas de ruedas especiales, prótesis inteligentes y muchas cosas más.
Rodrigo no lo tuvo que pensar mucho para aceptar este empleo, pues además de que recibiría una buena paga en él podría ayudar a muchísimas personas que están pasando por situaciones similares a la de él, Así que luego de un buen tiempo finalmente había conocido personas sinceras y con un corazón bueno que veían el esfuerzo que hacía cada día, para él, eso era mucho más satisfactorio que todo el dinero que estaba ganando ahora. Su jefa a la cual le tenía mucho cariño, había sufrido un terrible accidente cuando era niña y aunque muy pocas personas lo sabían, perdió una pierna en aquel accidente, por lo que se vio obligada a usar prótesis toda su vida.
But this woman with beautiful feelings, also realized how she was treated not only by customers but also by her coworkers, moved by this she decided after having a brief conversation with Rodrigo to leave her card for him to call her, she wanted to hire him in her company, one that manufactured products to give a better quality of life to people with functional diversity, including special wheelchairs, intelligent prostheses and many other things.
Rodrigo did not have to think much to accept this job, because in addition to receiving a good pay in it could help many people who are going through similar situations to him, so after a long time he had finally met sincere people with a good heart who saw the effort he made every day, for him, that was much more satisfying than all the money he was earning now. His boss, whom he was very fond of, had suffered a terrible accident when she was a child and although very few people knew it, she lost a leg in that accident, so she was forced to wear prosthesis all her life.

Ella sabía lo que sabía cómo se sentía ser tratado mal por ser diferente, pero eso no la llenó de rabia hacia el mundo sino que al igual que Rodrigo, se esforzó mucho por conseguir lo que ahora tenía y ayudar a otros a no pasar por la misma situación, y a valorar a aquellos que con un buen corazón la habían ayudado en el camino.
En el mundo siempre podemos hallar personas con un buen corazón, personas que cada día luchan como nosotros para salir hacia adelante, pero cuándo se sufre de alguna diversidad funcional, muchas veces las personas por lo agitado de la vida, no tienen mucha paciencia y les cuesta considerar los esfuerzos que esa persona está haciendo para poder valerse por sí mismo, por eso debemos esforzarnos por ponernos en el lugar de los demás, ser amables con todas las personas pues no sabemos cuál es su lucha.
She knew what it felt like to be treated badly for being different, but that did not fill her with anger towards the world, but like Rodrigo, she made a great effort to get what she now had and help others not to go through the same situation, and to value those who with a good heart had helped her along the way.
In the world we can always find people with a good heart, people who struggle every day like us to move forward, but when you suffer from some functional diversity, often people by the hectic of life, do not have much patience and find it hard to consider the efforts that person is doing to fend for himself, so we must strive to put ourselves in the place of others, be kind to all people because we do not know what their struggle is.

Los divisores utulizados fueron editados por mi en Paint 3D, y los descargue desde pixabay.
The dividers used were edited by me in Paint 3D, and I downloaded them from pixabay.
Muchas gracias a todos los que leyeron mi historia, ha sido un gusto, estare atenta a sus sugerencias para mejorar. Que tengan buen dia.
Thank you very much to everyone who read my story, it has been a pleasure, I will be attentive to your suggestions for improvement. Have a nice day.
---
---