La desconfianza, una conducta innata // Distrust, an innate behavior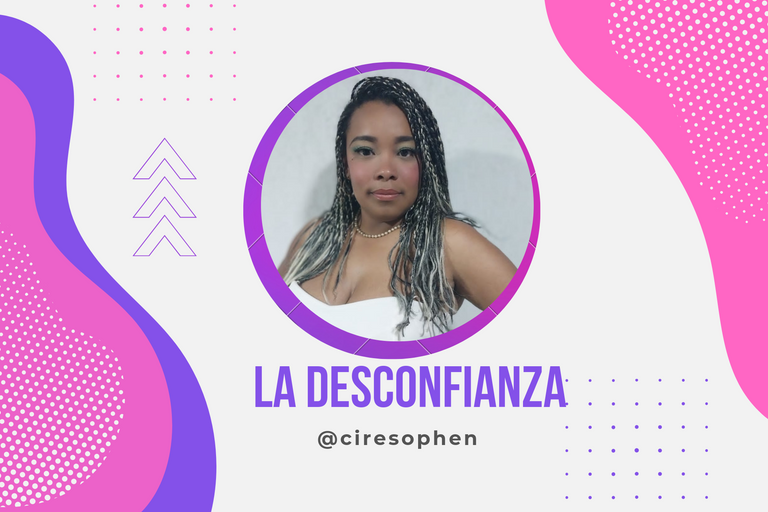 Feliz día / Happy Holidays
"El miedo es el enemigo. Yo desconfío de cualquier sentimiento o decisión que podría estar motivado por el miedo". Andrea Riseborough.
Fear is the enemy. I am wary of any feeling or decision that could be motivated by fear." Andrea Riseborough
Desde nuestro nacimiento, vamos estructurando los patrones para vivir, sin embargo muchos de ellos son aprendidos de la sociedad que nos alberga y la familia que nos cría y en la medida que nos vamos desarrollando ejecutamos nuestro hacer y sentir en función de dichos patrones.
Es por esto que vamos creciendo con un codigo irrompible, el cual se convierte en un espejo de los que quizás no somos.
Cuando somos pequeños nos dicen que debemos ser exitosos y cumplir cada peldaño social, pero cuando nuestro corazón palpita por seguir otro destino, nos abruma la desconfianza, la cual siempre nos visita cuando debemos tomar decisiones diferentes a las establecidas.
La desconfianza es un sentimiento considerado negativo, pero esta alli a nuestro lado siempre y aunque nos atemoriza porque nos contrapone con malas decisiones , también nos ayuda a protegernos ante circunstancias que creemos puedan colocarnos en peligro.
Since our birth, we structure the patterns to live, however many of them are learned from the society that shelters us and the family that raises us and as we develop we execute our actions and feelings according to those patterns.
This is why we grow up with an unbreakable code, which becomes a mirror of what we may not be.
When we are little we are told that we must be successful and fulfill each social step, but when our heart beats to follow another destiny, we are overwhelmed by distrust, which always visits us when we must make decisions different from the established ones.
Distrust is a feeling considered negative, but it is always there by our side and although it frightens us because it sets us against bad decisions, it also helps us to protect ourselves against circumstances that we believe may put us in danger.

Aunque siempre trabajamos en pro de la seguridad y de adecuar las circunstancias a nuestras necesidades, desconfiar es necesario, ya que no podemos por el mundo a la ligera y sin defensa, eso incluye protegernos poniendo límites a los demás.
Desconfiar es constante en el mundo actual, ya que al vivir circunstancias negativas se vuelven catalizadores que generan una visión negativa de las personas que nos rodean.
Actualmente la desconfianza es un sentimiento altamente palpable en cada epicentro de la vida del hombre,todo esto producto de que no se puede frenar el comportamiento oportunista de otras personas en circunstancias diferentes, es decir, solemos mostrarnos inseguros en el amor, trabajo, para contar nuestros problemas entre otros, simplemente porque en algún momento fuimos traicionados.
Sentirse tembloroso dentro de la toma de alguna decisión en nuestra vida siempre será parte de nuestras vidas, pues de alguna manera nos ayuda a tener ese balance entre la autodeterminación y el miedo.
Las traición ha devastado a la confianza y en la actualidad la rivalidad ha sido más visible,motivado a la traición constante de quiénes nos rodean y aunque la desconfianza posee muchos vértices los más visibles son cuando debemos tomar decisiones de nuestro futuro o las relaciones de pareja.

A medida que vamos madurando, nos damos cuenta que hay circunstancias que no podemos cambiar sobre todo cuando se trata de traiciones o decisiones porque cada uno de ellas nos dará un resultado, en ese sentido debemos aceptar, aprender, perdonar y avanzar en el andar de nuestra vida,pero también reconocer a la desconfianza como un sentimiento de protección y crecimiento personal que nos ayuda a madurar.
Desde un punto de vista personal, a mi edad creo que el periodo de mayor desconfianza para el ser humano, es cuando estamos adolescentes pues tomar las decisiones más asertivas para el futuro son todo un problema, pero no hay punto final para este sentimiento que representa un negativo para nuestra felicidad, pero necesario para la madurez.
Although we always work for security and to adapt the circumstances to our needs, distrust is necessary, since we cannot go through the world lightly and without defense, that includes protecting ourselves by setting limits to others.
Distrust is constant in today's world, since living negative circumstances become catalysts that generate a negative view of the people around us.
Currently distrust is a highly palpable feeling in every epicenter of man's life, all this product of not being able to stop the opportunistic behavior of other people in different circumstances, ie, we tend to show insecure in love, work, to tell our problems among others, simply because at some point we were betrayed.
Feeling trembling when making a decision in our life will always be part of our lives, because somehow it helps us to have that balance between self-determination and fear.
Betrayal has devastated trust and nowadays rivalry has become more visible, motivated by the constant betrayal of those around us and although mistrust has many vertices, the most visible ones are when we must make decisions about our future or relationships.
As we mature, we realize that there are circumstances that we cannot change especially when it comes to betrayals or decisions because each of them will give us a result, in that sense we must accept, learn, forgive and move forward in our life's journey, but also recognize distrust as a feeling of protection and personal growth that helps us to mature.
From a personal point of view, at my age I believe that the period of greatest distrust for human beings is when we are teenagers, because making the most assertive decisions for the future is a problem, but there is no end to this feeling that represents a negative for our happiness, but necessary for maturity.

---
¡Gracias por detenerte a leer!
Fotografías son de mi propiedad editadas en picsart y Canva.
Texto traducido en deelp.
Separador

Nos vemos en mi próxima publicación.
Tengan un feliz día.
---
---