Beautiful Environmental Design Concept of Metro City Park
Hello everyone in Architecture+Design Community! 🤗
Today i want to share about Beautiful Environmental Design Concept of Metro City Park in my town guys.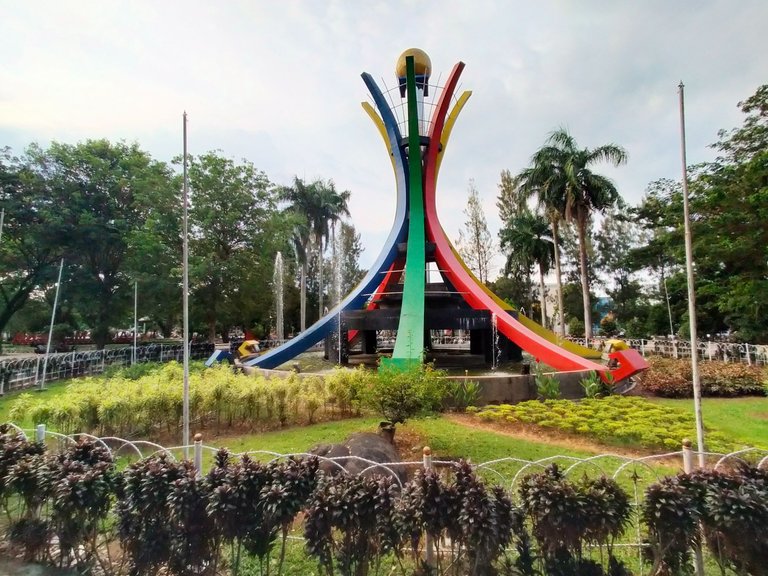 Metro City Park was previously known as Taman Merdeka and is a historical place to commemorate the services of the heroes during the colonial era. Metro City Park is located in the middle of the Metro city and is usually used for local residents to walk, jogging, sports, chat and relax. In addition, this park also has an attractive environmental design and various miniatures as an icon for Metro City, so on this occasion i want to share how beautiful this park to all of you guys.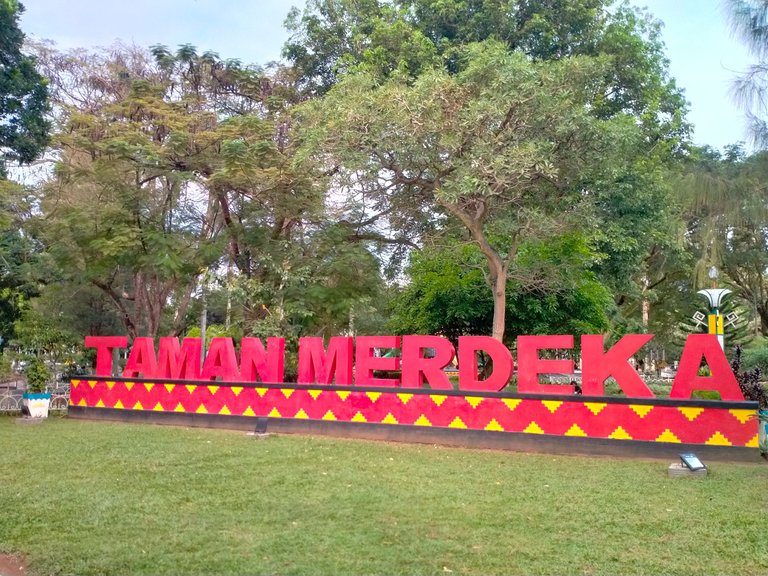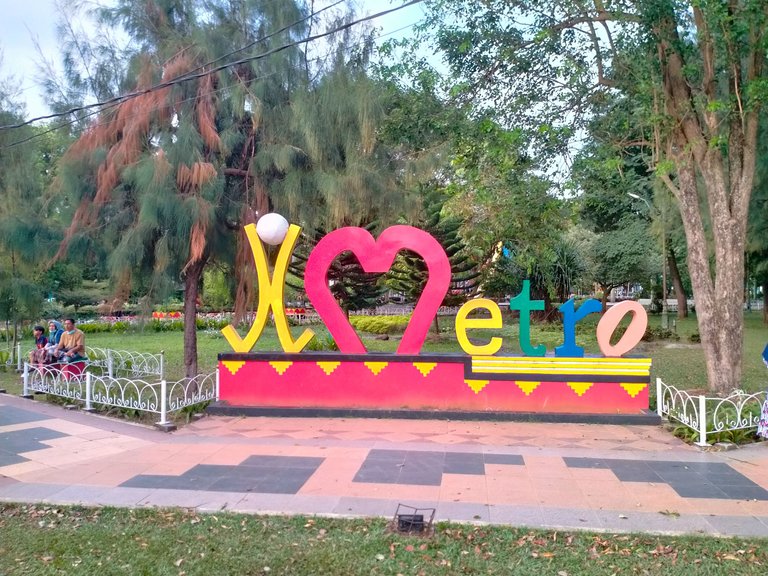 Metro City Park or Merdeka Park is a park that contains the concept of Go-Green so that this park is expected to make the surrounding air fresh, even more so to reduce air pollution from vehicles passing by in the city center.
At the front of the garden we can see that there is a decoration with the name "Taman Merdeka" and what is interesting is that there is a frame with a Lampung batik motif. Besides that, beside it there is a unique colorful decoration that reads "I Love Metro" which has unique shape in every single words and this colorful making it interesting.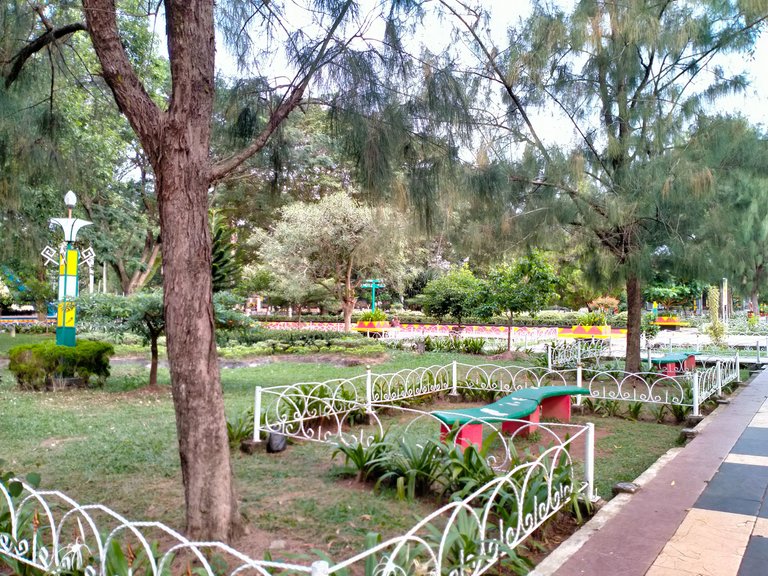 This garden is very neatly arranged starting from the flowers, grass, trees and supporting decorations such as seats, garden decorative lights, several miniatures and so on. Many residents also stop by this park to relax, jog and enjoy the weekend with their families.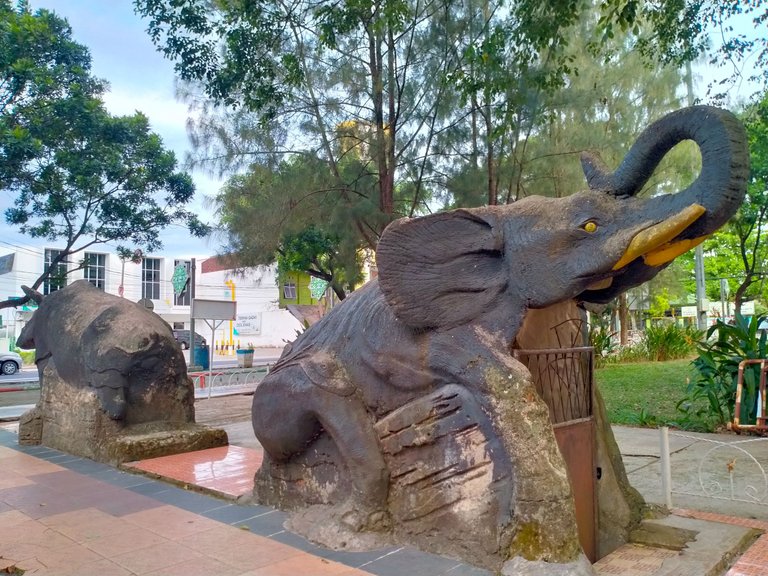 ---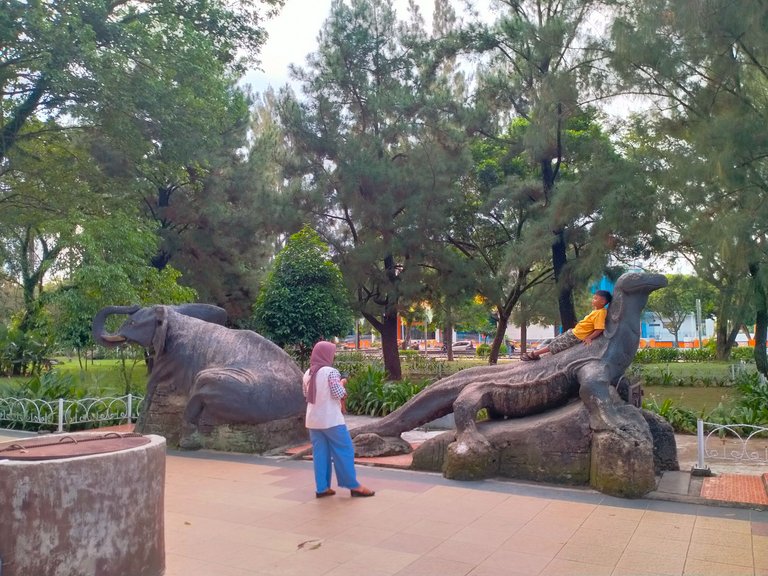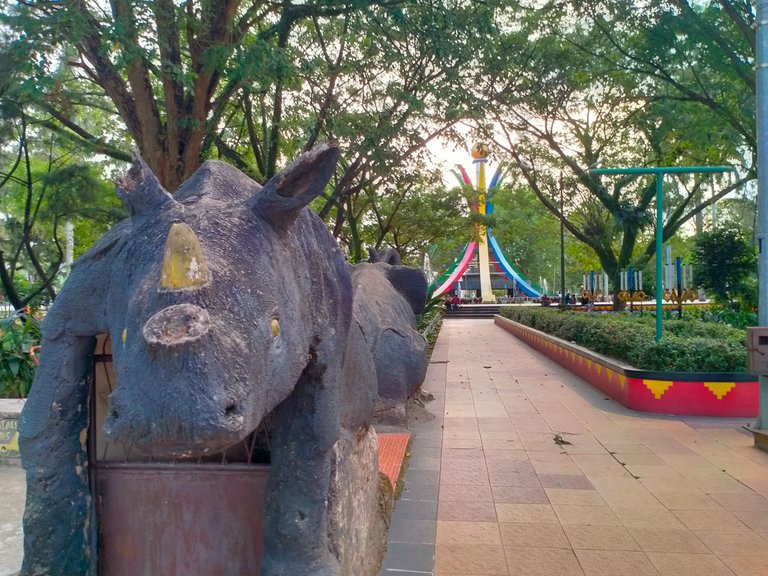 ---
Metro City Park also has several miniatures like the photo above, namely animal statues that are famous as Sumatran animals including the Lampung Elephant, Komodo and Sumatran Rhinoceros. Where in this statue there is a door that is used as a public toilet which is underground and i think this is an interesting concept.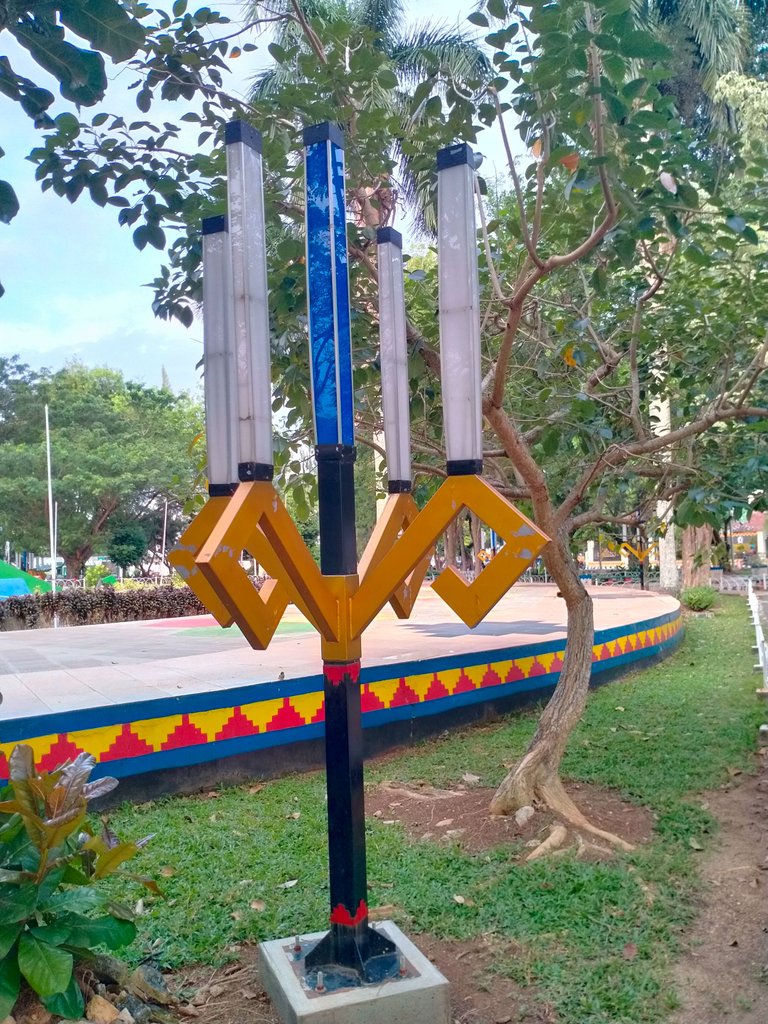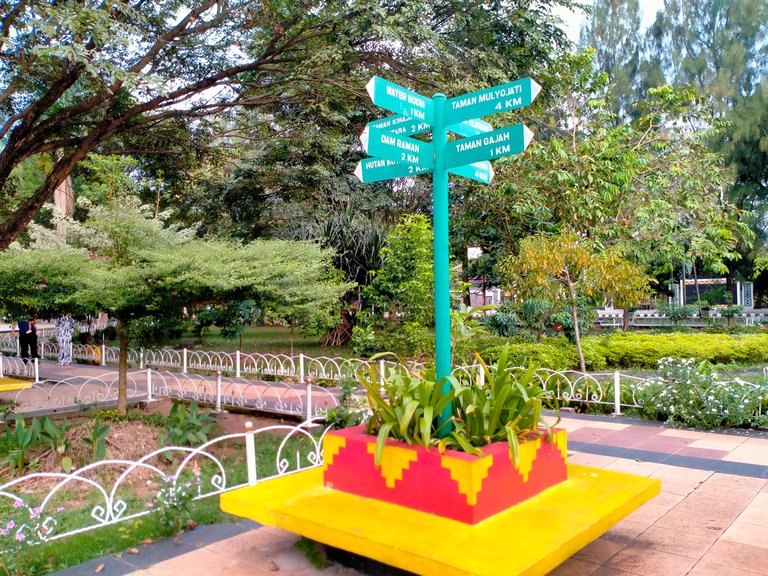 In addition to animal miniatures, there are also some unique miniatures, such as garden decorative lights with unique shapes such as batik Lampung and several directions to the location near the park. Metro City Park has more than 500 types of plants and flowers planted so that this park is very green and makes the environment very fresh.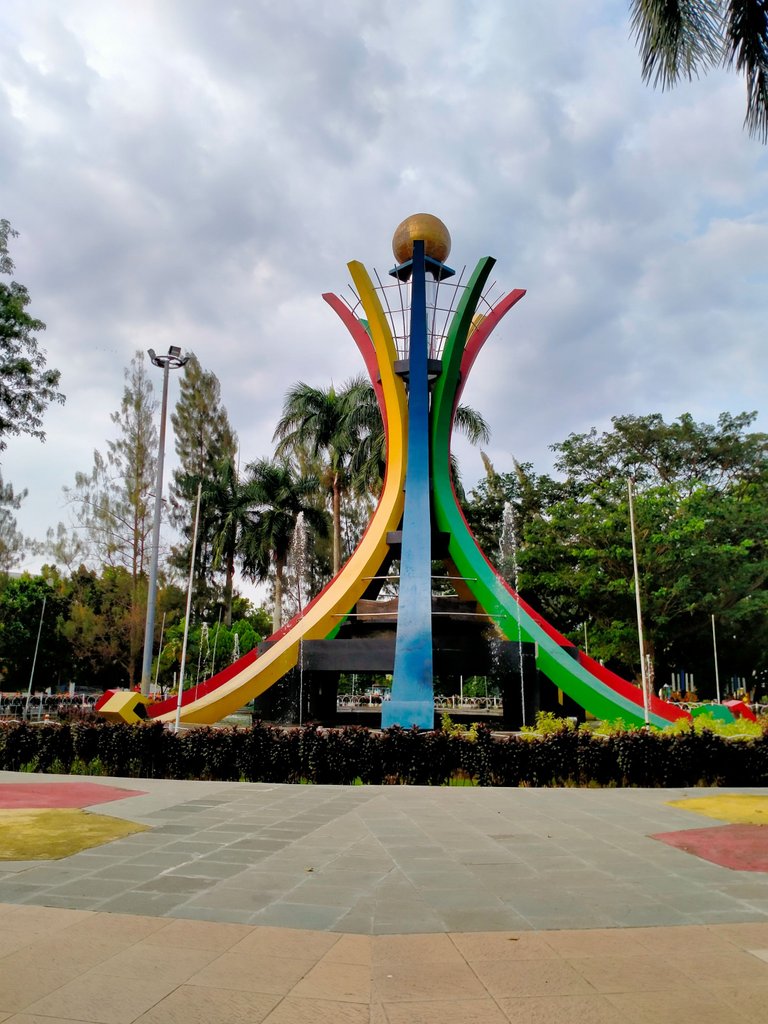 ---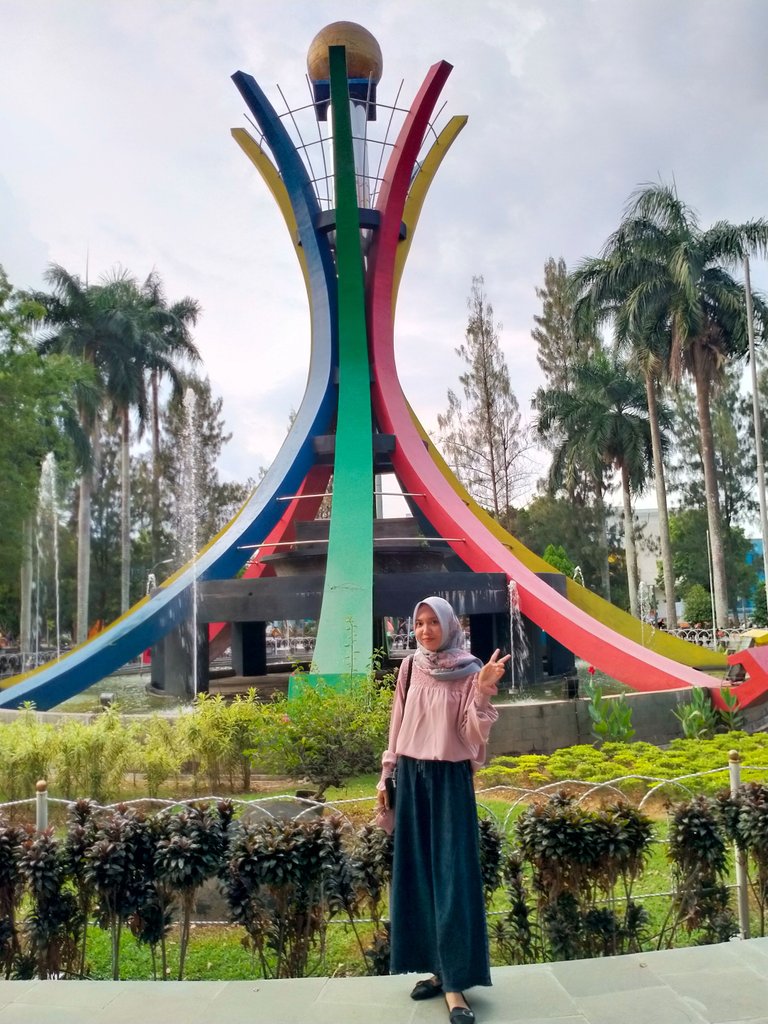 ---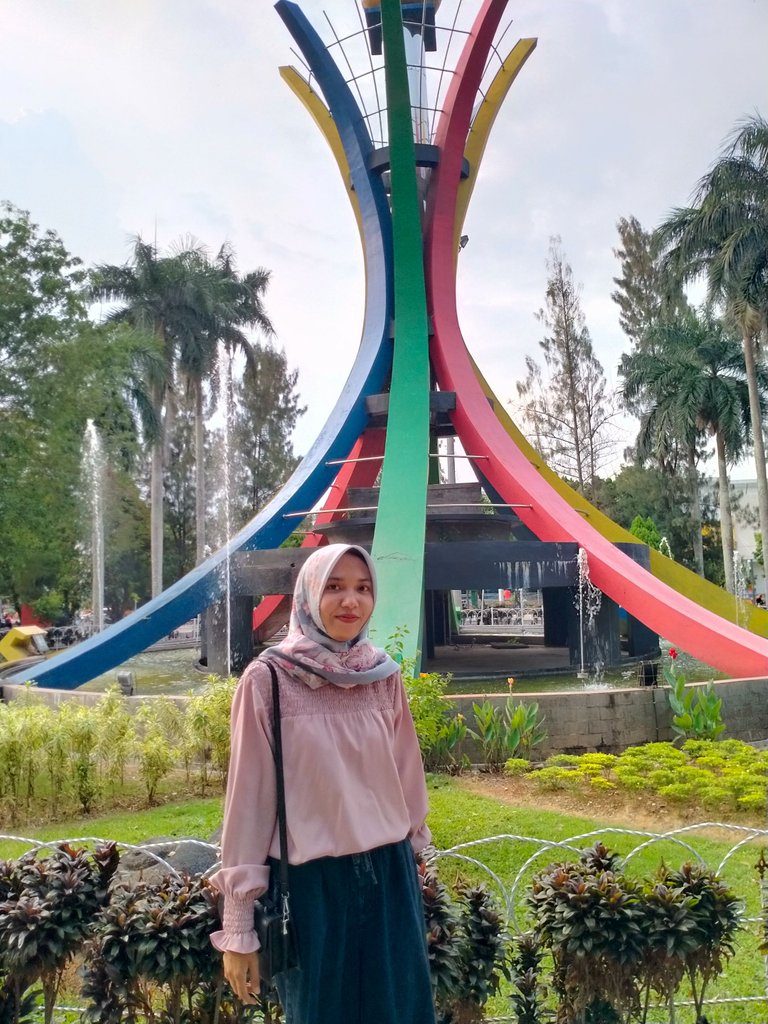 This one is the Metro City Park Icon, which is called the Fountain Tower where this icon has a very aesthetic and unique shape, especially the mix of colors that make it even more beautiful. This fountain tower is located in the middle of the park and is surrounded by water ponds containing fish and several pipes as fountains.
I also took a selfie in the tower which is the icon of this metro city park and i think this is an architecture that has its own aesthetic value and uniqueness.
Thankyou for those of you who have visited my article, i hope you will like my stories and experiences in the article. In addition, i will be very happy if you provide feedback on my articles and let's be friends with each other in this Hive Platform. See you in my next post guys 😄
---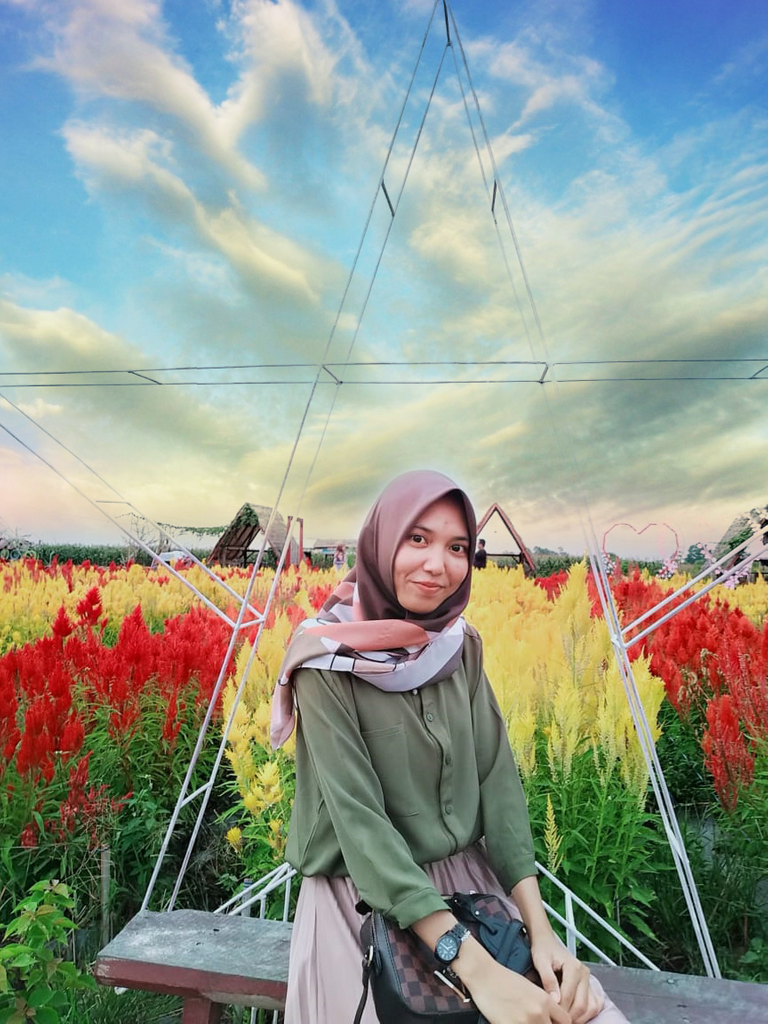 Who is Cita Amanda?
Cita Amanda is a person who has a profession as a medical laboratory analyzer and works in a hospital in Lampung. I'm 24 years old, My hobbies are writing, blogging, cooking, culinary, traveling, photography and learning about cryptocurrencies. Having a high dedication to learn something new, share experiences and contribute to the community. I want to build relationships and have friends on the Hive Blockchain, so don't hesitate and let's be friends 😉
If you like her content, don't forget to upvote and leave feedback to show some love. You can also reblog if you want too, because it means a lot for me
Thanks 🤗
---
---