The X-Men: Different Thoughts on Mutant Power / Part 2 [ENG/ESP]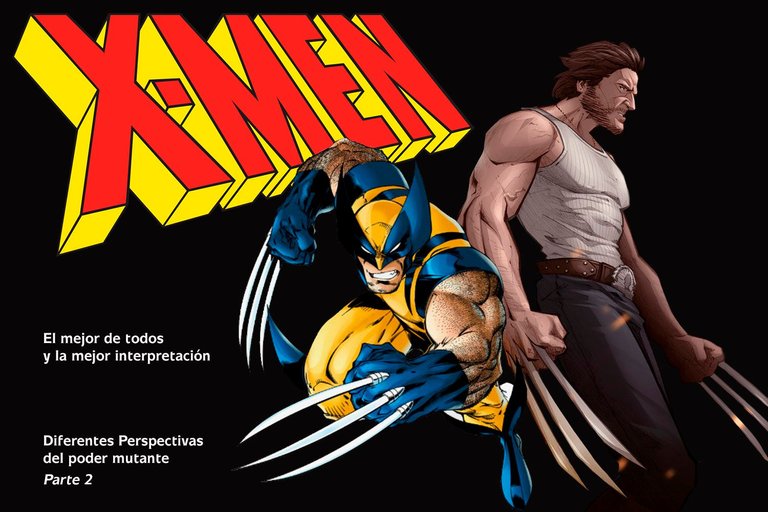 Source | Source | Source | Imagen editada en Adobe Photoshop
---
---
We continue with our series, and this time we talk about Cheetah, better known as Wolverine or Lobezno in the original comics. This character from my point of view is the best of all the main characters, in fact he is the one who has more participation and relevance in the story, and he is also one of the most developed characters. From the beginning we can have a quick perspective of him and enjoy how he changes as time goes by.
Logan's power (his name) is not the blades that come out of his hands as many of us think, his mutant power lies in self-healing, however in the series we are made to believe the opposite at the beginning, but as the chapters progress, we are shown the background of how Wolverine obtained the powerful "adamantiun", the only indestructible metal, one that becomes very coveted by those who implanted it, so much so that later they seek occasion to kill him and remove his skeleton.
Logan is a typical guinea pig who has gone from one experiment after another, before becoming X-Man he belonged to a Canadian group of mutants who fought for certain ideals of an organization, but after being betrayed he managed to leave to later join the ranks commanded by Charles Xavier.
Continuamos con nuestra serie, y esta vez nos toca hablar de Guepardo, mejor conocido como Wolverine o Lobezno en los comics originales. Este personaje desde mi punto de vista es el mejor de todos los principales, de hecho es el que más participación y relevancia tiene en la historia, y también es uno de los personajes más desarrollados. Desde el principio podemos tener una perspectiva rápida de él y disfrutar como va cambiando al pasar del tiempo.

El poder de Logan (su nombre) no son las cuchillas que salen de sus manos como muchos pensamos, su poder mutante radica en la auto curación, sin embargo en la serie nos hacen creer todo lo contrario de inicio, pero a medida que avanzan los capítulos, se nos enseña el trasfondo de como Wolverine obtuvo el poderoso "adamantiun", el único metal indestructible, uno que se vuelve muy codiciado por aquellos mismos que se lo implantaron, tanto asi que más adelante buscan ocasión para matarlo y quitarle su esqueleto.

Logan es el típico conejillo de indias que ha pasado de un experimento tras otro, antes de convertirse en hombre X pertenecía a un grupo canadiense de mutantes que luchaba por ciertos ideales de una organización, pero luego de ser traicionado logro marcharse para posteriormente unirse a las filas comandadas por Charles Xavier.
---
His beginnings as an X-Men / Sus inicios como hombre X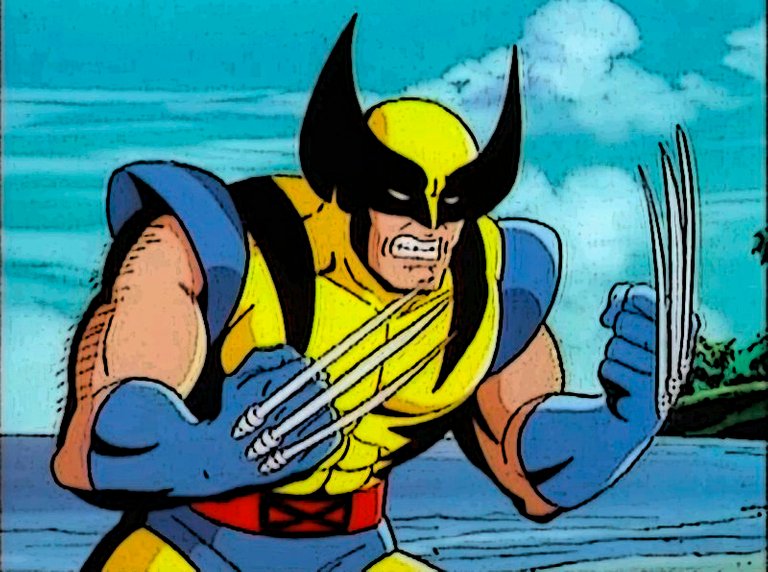 Source | Imagen editada en Adobe Photoshop
If it wasn't for Iceman, Wolverine would be the most rebellious of all X-Men, his way of being is that of the typical lonely man that everything bothers him, the one who lives affected by other things but doesn't show them to others. And precisely so, Logan lives tormented by his past, in fact that is the main reason why he joins Xavier, to help him heal the wounds that torment him every day.
His attitude clearly reflects a very human aspect, and I think the author wanted to show this to the viewers; not healing the heart does not allow you to move forward, this is an aspect that really connects with people, and I think it is one of the keys to his success. The X-men are not super people who have no problems or anything like that, they are developed as quite the opposite, a group of people with normal problems who have a "gift" so to speak, which is to be known as mutants, but from the rest they are nothing different from society in general.
Wolverine's perspective about his powers is something interesting, he never showed himself against having it, but neither in favor, it's something like: "well, I have it, I make use of it", you can say that he is neutral towards his own power. When he was alone he used them to defend himself, when he was with the X-men he uses them to fight against his enemies, but at the same time he uses them against his personal rivals whom we will also meet later on. He is never shown as a bully despite his character, but rather as a lone wolf in need of love.
Si no fuera por Iceman, Guepardo seria el más rebelde de todos los hombres X, su forma de ser es la del típico hombre solitario que todo le molesta, aquel que vive afectado por otras cosas pero que no las muestra a los demás. Y precisamente es asi, Logan vive atormentado por su pasado, de hecho esa es la razón principal por la que se une a Xavier, para que le ayude a sanar las heridas que lo atormentan cada día.

Su actitud refleja claramente un aspecto muy humano, y pienso que el autor lo quiso demostrar a los televidentes; no sanar el corazón no te permite avanzar, este es un aspecto que realmente conecta con las personas, y pienso que es una de las claves de su éxito. Los hombres X no son súper personas que no tienen problemas ni nada por el estilo, son desarrollados como todo lo contrario, un grupo de personas con problemas normales que tienen un "don" por decirlo de alguna manera, el cual es ser conocidos como mutantes, pero del resto no son nada diferentes a la sociedad en general.

La perspectiva de Guepardo acerca de sus poderes es algo interesante, jamás se mostró en contra de tenerla, pero tampoco a favor, es algo como: "bueno, lo tengo, hago uso de él", se puede decir que es neutral hacia su propio poder. Cuando estaba solo los uso para defenderse, al estar con los hombres X los usa para luchar contra los enemigos, pero a su vez los usa contra sus rivales personales a quien también vamos conociendo más adelante. Jamás se muestra como un abusivo a pesar de su carácter, sino más bien como un lobo solitario en necesidad de amar.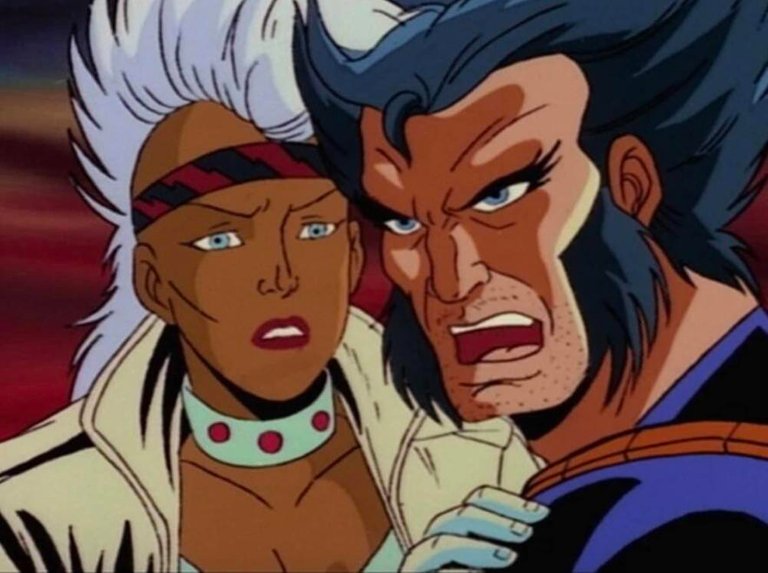 Source
The latter is another very developed aspect of his personality, as an X-Men he falls in love with Jean Grey, but he can never have her because of Cyclops, who is his partner, later appears Yuriko, who was one of his lovers whom he later abandons as a form of protection, but she decides to take revenge and implants claws similar to those of Wolverine to fight against him. After that it is known a past with the silver fox, one of the Canadian mutants to which Cheetah belonged, however with none of them could be happy, only with Storm in an alternate universe reached happiness in love, the rest was quite unhappy.
Esto último es otro aspecto muy desarrollado en su persona, como un X-Men se enamora de Jean Grey, pero jamás puede tenerla a causa de Ciclope, quien es su pareja, más adelante aparece Yuriko, quien era una de sus enamoradas a quien luego abandona como forma de protección, pero esta decide vengarse y se implanta garras parecidas a las de Wolverine para asi luchar contra él. Posterior a eso se le conoce un pasado con la zorra plateada, una de los mutantes canadienses a los que Guepardo pertenecía, sin embargo con ninguna de ellas pudo ser feliz, solamente con Tormenta en un universo alterno alcanzo la felicidad en el amor, del resto fue bastante desdichado.
---
A masterful performance / Una interpretación magistral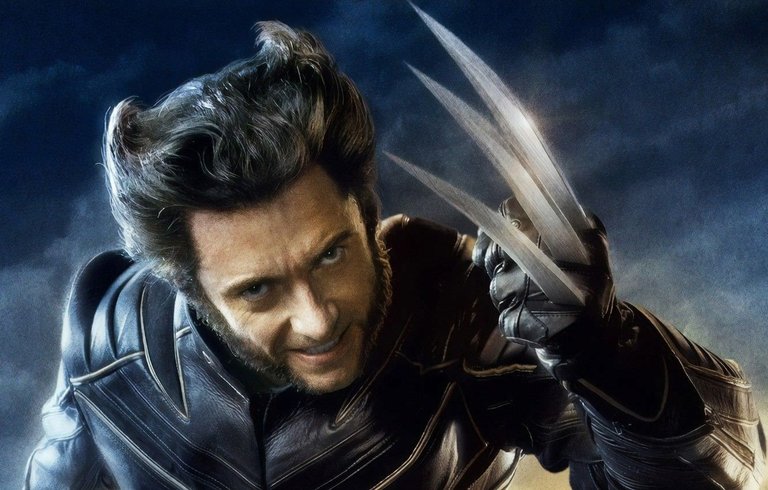 Source
I could not go on without mentioning Hugh Jackman as the best interpreter of Wolverine, I have never been a fan of movies about anime, they are usually pretty bad, both the characters and the plot lack a lot of quality. But with the X-Men you can say that there is an exception, the production is good in spite of everything.
I think Hugh Jackman was consecrated with this character, although he is an actor with a good career, his role as Logan is from my point of view one of the best of his career, he knew how to embody the stubborn character in an excellent way, so much so that he is the one who has more films of the X-Men. His similarity to the character seems to be natural, both his character and his impulsiveness, the way he moves, his looks, etc., only in the size there is a difference but in that case nothing can be done.
One of the things I like about this character in the movies is that he is given a leadership superior to that shown by Cheetah in the animated series and original comics, usually he is always there although he never leads at all, but in the movies after Xavier he is the most imposing and important character of all the X-men.
Finally and to conclude, talking about Lobezno is quite fascinating, I think there is much more to say about him, although the main idea was to show part of his personality as a mutant and his perspective towards them, I can only say that he is one of my favorite characters, his temperament, his aggressiveness, his bravery, his mentality are things that the creator of the series has developed very well, and have made this character one of the most beloved and famous of all the saga.
No podía seguir adelante sin hacer mención a Hugh Jackman como el mejor intérprete de Guepardo, jamás he sido fan de las películas acerca de los anime, por lo general son bastante malas, tanto los personajes como la trama carecen de mucha calidad. Pero con los X-Men se puede decir que hay una excepción, la producción es buena a pesar de todo.

Creo que Hugh Jackman se consagro con este personaje, si bien es un actor con buena trayectoria, su papel como Logan es desde mi punto de vista uno de los mejores de su carrera, supo encarnar al obstinado personaje de forma excelente, tanto asi que es el que más películas tiene de los X-Men. Su similitud al personaje parece ser natural, tanto su carácter como su impulsividad, su forma de moverse, sus miradas, etc., solo en el tamaño hay una diferencia pero en ese caso nada se puede hacer.

Una de las cosas que me gusta acerca de este personaje en las películas es que se le otorga un liderazgo superior al que muestra Guepardo en la serie animada y comics originales, por lo general siempre esta hay aunque nunca lidera del todo, pero en las películas luego de Xavier es el personaje más imponente e importante de todos los hombres X.

Por último y para concluir, hablar de Guepardo es bastante fascinante, creo hay mucho más que decir acerca de él, aunque la idea principal era mostrar parte de su personalidad como mutante y su perspectiva hacia los mismos, solo me queda acotar que es uno de mis personajes favoritos, el que más me gusta de todos, y el que decía que era yo cuando jugaba con mi hermano de pequeño, su temperamento, su agresividad, su valentía, su mentalidad son cosas que el creador de la serie ha desarrollado muy bien, y han hecho de este personaje uno de los más queridos y famosos de toda la saga.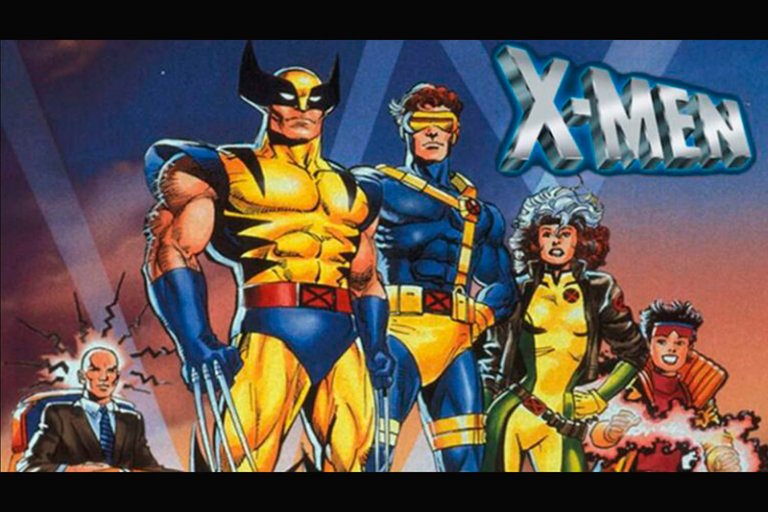 Source | Imagen editada en Adobe Photoshop
Thanks for reading / Gracias por leer
---
---