[ANIME REVIEW] Kakegurui: Crazy about bets | Locos por las apuestas •ᴇsᴘ-ᴇɴɢ•
Lately I've been watching a lot of anime, this time I came across Kakegurui (2017), one that I wanted to see for a long time because of its aesthetics and the low color palette that I found intriguing.
Últimamente he estado viendo mucho anime, en esta oportunidad me topé con Kakegurui (2017), uno que quería ver desde hace mucho tiempo por su estética y la baja paleta de colores que me resultó intrigante.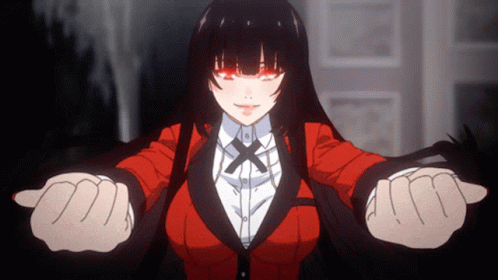 Yumeko Jabami
Let's talk about its plot, somewhere in Japan there is a private academy called Hyakkeō attended by elite boys and girls, children of businessmen, politicians or wealthy people.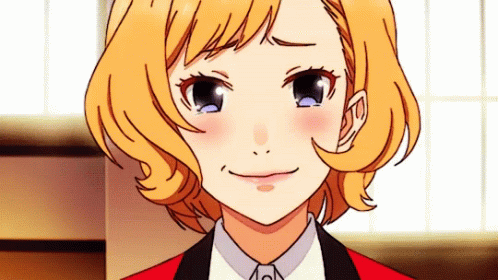 Heredera de una gran fábrica de juguetes | Heir to a large toy factory The unusual thing happens after classes, students make bets turning the academy into a complete casino. But it doesn't end there, winning or losing establishes your social status, you can be popular, a member of the student council or become a mascot because of your debts accumulated in your games. The situation becomes a bit tense when a new student arrives and starts being challenged by the academy's best players.
Hablemos de su trama, en algún lugar de Japón existe una academia privada llamada Hyakkeō al que asisten chicos y chicas elite, hijos de empresarios, políticos o personas adineradas. Lo inusual ocurre luego de las clases, los estudiantes hacen apuestas convirtiendo la academia en un completo casino. Pero eso no termina ahí, ganar o perder establece su estatus social, puedes ser popular, miembro del consejo estudiantil ó te conviertes en una mascota debido a tus deudas acumuladas en tus juegos. La situación se vuelve un poco tensa cuando una nueva estudiante llega y empieza a ser retada por los mejores jugadores de la academia.
Yumeko and Zusui
Although it is a gambling anime, I was surprised by how original, unique and exciting the games were, each of the players presented a different one from the previous one, talking about their personality and ambitions. It is worth noting that they are not saved from the traps until our protagonist Yumeko Jabami appears and dismantles them one by one. Gradually winning over each member of the student council, which makes us look forward all the time to her confrontation with the president.
Si bien es cierto es un anime de apuestas me terminó sorprendiendo cuan originales, únicos y emocionantes fueron los juegos, cada uno de los jugadores presentaba uno diferente al anterior hablando así mismo de su personalidad y ambiciones. Cabe destacar que no están a salvó de las trampas hasta que nuestra protagonista Yumeko Jabami aparece y las va desmantelando una a una. Ganándole poco a poco a cada miembro del consejo estudiantil, lo que nos hace ansiar todo el tiempo su enfrentamiento con la presidenta.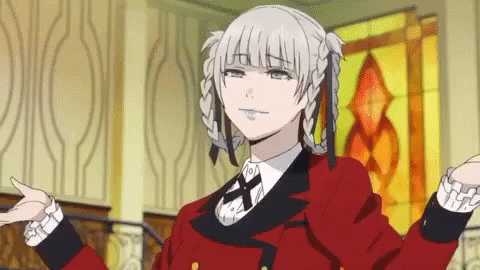 Presidenta del consejo estudiantil | Student Council President
Something that kept me glued to the screen watching this series was the motivations of each player, as some do not crave money or power but put their lives in the hands of chance, that's right friends, a choice of life or death that does not take anything else but to lose or win, it becomes a little murky to see how it causes excitement and emotion to see how their lives depend on this and well the name of the anime could not be more agreed to this fact.
Algo que me mantuvo pegada a la pantalla viendo esta serie fue las motivaciones de cada jugador, pues algunos no ansían dinero o poder sino poner sus vidas en manos del azar, así es amigos, una elección de vida o muerte que no la toma nada más sino que el perder o ganar, se vuelve un poco turbio ver como les causa excitación y emoción ver como sus vidas dependen de esto y bueno el nombre del animé no podía estar más acordé a este hecho.
As for her characters, Yumeko the protagonist is a taciturn and mysterious girl who turns out to be an incredible strategist, it is really brilliant how she defeats her rivals. Always accompanied by Zusui a shy and fearful boy who brings us to reality every time we are involved in a game. My favorite character is Midari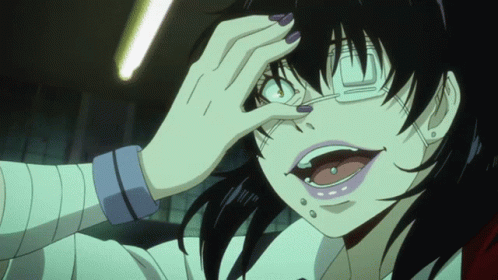 because of her madness and wildness, she was really one of the most fascinating and funny characters. Personally I think that even though there are interesting characters they don't become so outstanding because of how uninformed we are about them.
En cuanto a sus personajes, Yumeko la protagonista es una chica taciturna y misteriosa que resulta ser una increíble estratega, es realmente brillante como va venciendo a sus rivales. Siempre acompañada de Zusui un chico tímido y temeroso que nos lleva a la realidad cada vez que nos vemos envueltos en un juego. Mi personaje favorito es Midari por su locura y desenfreno, realmente fue unas de las que hizo reír y fascinar más. Personalmente creo que apesar de que hay personajes interesantes no se vuelven tan destacables debido a lo desinformados que estamos de ellos.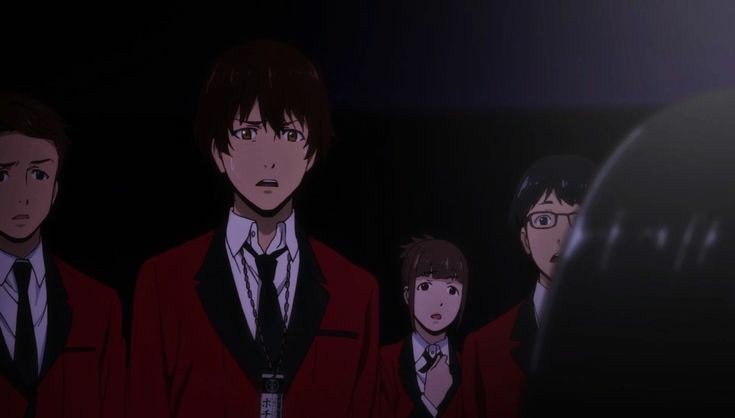 Zusui y su cara de WTF| Zusui and his face of WTF
About its animation I liked it a lot, the characters are very attractive and wrapped in a mysterious aura or depending on the personality of each one. But above all I liked the strange, bizarre and even lustful expressions that they put in certain moments, I found them very funny.
Sobre su animación me gustó mucho, los personajes son muy atractivos y envueltos en un aura misteriosa o dependiendo de la personalidad de cada uno. Pero sobretodo me gustó las expresiones tan extrañas, bizarras y hasta lujuriosas que ponen en ciertos momentos, me parecieron muy divertidas.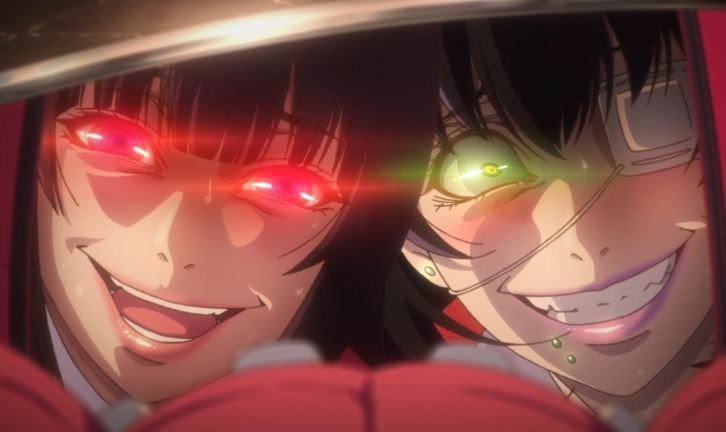 Expresiones raras | Rare expressions
I loved the opening, it's one of my favorites so far, it introduces us to each of the characters and even if we pay a little attention it could give us many clues, it's very obscene and suggestive. The one of Kakegurui xx (2019) is just as outstanding.
El opening me encantó, es uno de mis favoritos hasta el momento, nos presenta a cada uno de los personajes e incluso si préstamos un poco de atención podría darnos muchas pistas, es muy obsceno y sugerente. El de Kakegurui xx (2019) es igual de destacable.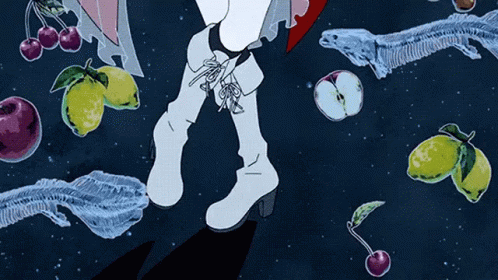 Intro
Anyway, I put a lot of expectations on the finale and ended up a bit disappointed just like in of the second season. Don't get me wrong if it was good just that the main problems are half solved, in the second season we get hints of Yumeko's origins, also how they face the new momobami clan in order to see who inherits the presidency of the student council.
En fin, puse muchas expectativas en el final y terminé un poco decepcionada al igual que en de la segunda temporada. No me malentiendan si estuvo bien tan solo que los problemas principales quedan resueltos a medias, en la segunda temporada nos dan indicios de los origines de Yumeko, también como se enfrentan al nuevo Clan momobami con el fin de ver quién hereda la presidencia del consejo estudiantil.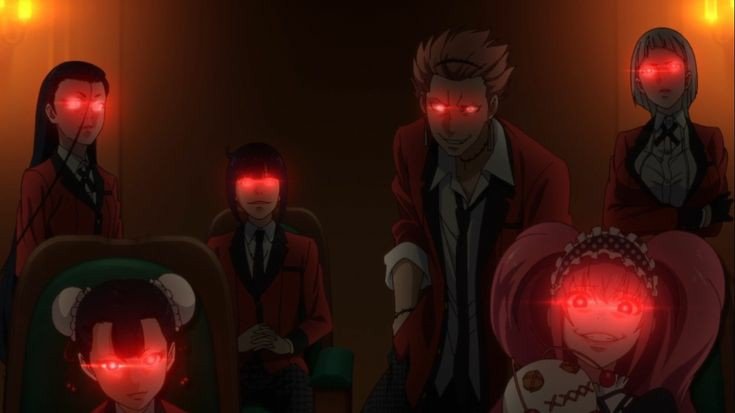 Clan momobami
Do I recommend it? Of course, it's an anime that I will put on my list of highlights, if I were to give it a score it would be 8/10. It's quite entertaining, honestly I watched the episodes very quickly, it's not tedious at all and it involves us as well as its characters in this madness for betting.
¿Que si la recomiendo? Por supuesto, es un animé que pondré en mi lista de destacables, si le diera una puntuación sería 8/10. Es bastante entretenido, sinceramente me ví los episodios rapidísimo, no es nada tedioso y nos envuelve al igual que sus personajes en esta locura por las apuestas.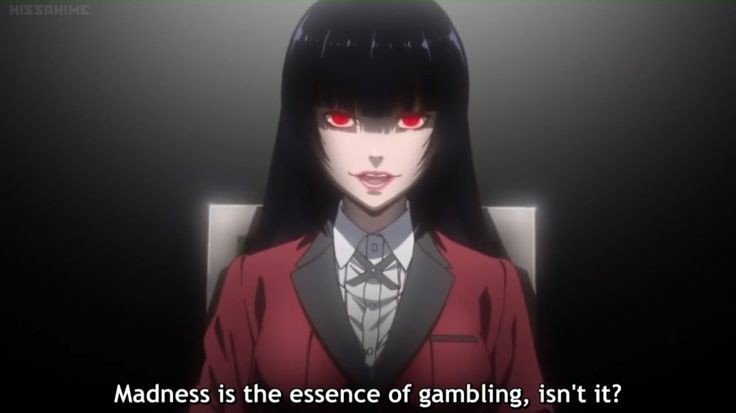 Yumeko
---
---