ClaNFT Acquisitions Report MAY 2022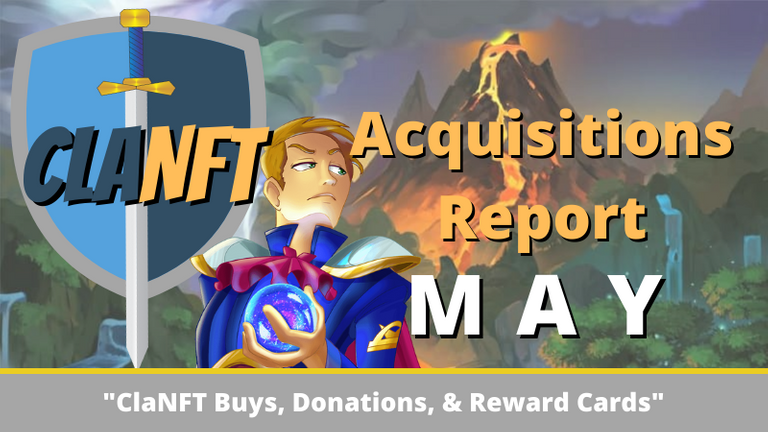 Splinterlands Guild Link | Discord Link | Referral Link |

ClaNFT recently started its Guild Bank, creating a bit of a presence online in blogging via its use of Brawl Reports, Giveaways, Recruitment Posts, Guild Goals, and EoS Reward Reports. With that, we build a small little bit of money each week to put back into the account, compounding it and helping it grow: That's what these posts are about, our Acquisitions Reports to see our transparent acquisition process, which is voted on a weekly basis by our Guild Members.
Each week, we take our collective earnings of that week and decide what to do with them, voting on the decision to purchase DEC, Cards, Vouchers, SPT, SPS, ONEUP, etc.
If we vote to purchase cards, we vote on how to allocate our spending and prioritize things such as GFs, CP, Summoners, or upgrading monsters.

May Acquisitions:
For most of May, since we have just started this project, we voted on focusing largely on Cards, and acquiring leveled up cards and summoners, and filling out the gaps of the account. As such, many of these initial purchases are focused on leveling the account for Bronze, acquiring 1 BCX sets of CL, and slowly snagging summoners.
---
Week 1
We earned about $7 from the account's posts in Week 1, and chose to allocate this into a mix of Summoner, Leveling, and Acquiring new cards... We used Monster Market for our purchases, as the 3% Cash Back allows us to extend these small amounts a bit more.
1x Thaddeus Brood @ $2.20 | This gives us a 1 BCX Death Summoner on top of our initial, 1 BCX Life Summoner, General Sloan. Preparing for Rewards 2.0 | 20 CP
1x Djinn Biljka @ $1.44 | Our last Reward Legendary we needed, this gives us nice CP, and good power to the Earth Splinter | 500 CP
1x Kelp Initiate @ $1.30 | At this cost, he provides us with a very nice low mana card for Bronze. | 40 CP
5x Goblin Psychic @ $1.00 | Goblin Psychic's extra health when leveled is very useful for surviving sneak attacks. | 25 CP
5x Antoid Platoon @ $0.40 | A solid Low Mana Tank for Fire, good to level for the bot and for low mana Bronze. | 25 CP
1x Djinn Chwala @ $0.25 | Chwala is a great core card for Bronze AND Silver, plus now the bot has a more powerful Drake of Arnak play. | 100 CP
1x Djinn Renova @ $0.25 | Djinn Renova was mostly bought just to complete our Reward Set | 100 CP
4x Venari Wavesmith @ $0.20 | Leveled Venari to lv. 2 to go with our delegated lv. 2 Summoners | 80 CP
1x Pelacor Conjurer @ $0.01 | Leveled Pelacor Conjurer with the last cent | 5 CP
This gave us a total of 895 CP for $7.05, which is decent considering we were not prioritizing CP in our purchases. This will give us an additional 4 SPS by the end of the airdrop, and makes our Bank's bot more capable, and gives us more CP and Cards to delegate to newcomers as needed for EoS, etc.
---
Week 2
Week 2 we only earned about $3, significantly less than our previous week, and as such, we chose to focus on a single goal with these limited funds: This time, we chose to focus entirely on Leveling / Acquiring for our Bank Bot. We used Monster Market for our purchases, as the 3% Cash Back allows us to extend these small amounts a bit more.
1x Dax Paragon @ $1.25 | Dax Paragon is a 2 Mana Epic we did not have, which will help with Low Mana Bronze | 100 CP
5x Chaos Knight @ $0.60 | Leveling Chaos Knight gets us closer to lv. 3, where he gains +1 Melee | 25 CP
5x Cruel Sethropod @ $0.40 | Leveling Cruel Sethropod gives more tankiness to Low Mana in Bronze | 25 CP
5x Silent Shavi @ $0.80 | Silent Shavi is a great card that's even better at lv. 2 | 25 CP
1x Kulu Swimhunter @ $0.07 | Bought missing 1 BCX Commons for Rewards 2.0 | 5 CP
1x Stitch Leech @ $0.14 | Bought missing 1 BCX Commons for Rewards 2.0 | 5 CP
1x Blinding Reflector @ $0.07 | Bought missing 1 BCX Commons for Rewards 2.0 | 5 CP
1x Crypt Beetle @ $0.07 | Bought missing 1 BCX Commons for Rewards 2.0 | 5 CP
1x Supply Runner @ $0.20 | Bought missing 1 BCX Commons for Rewards 2.0 | 5 CP
1x Venari Scout @ $0.07 | Bought missing 1 BCX Commons for Rewards 2.0 | 5 CP
As you can see, we only gained about 205 CP for about $3.67 here, which will add about 1 SPS to our total Airdrop gained. Not great, but slowly acquiring these cards will help the bot significantly, and, eventually, will be great cards to delegate to our Novice/Bronze players!
---
Week 3
This week, we earned about $1.60 so far from our Posts, and we also earned $3 in Credits from the new update, which provided 3k Credits to any account younger than 30 days, we're 25 Days old as of 5/24! We of course, used Monster Market to get 3% Cash Back and extend our purchases a tiny amount:
1x Serpent of Eld @ $4.00 | One of our most expensive purchases, the bot uses Serpent of Eld like it's his religion, so we needed a 1 BCX for this guy to utilize. | 40 CP
4x Flying Squid @ $0.64 | Upgrading Flying Squid to level 2 brings us one step closer to a major power spike in our bot's levels. | 20 CP
1x Riftwing @ $0.19 | We bought a Riftwing with the remaining credits, in order to zero them out and get a useful card a little closer to the next level... | 5 CP
Total CP: 65 | Total Cost: $4.83
This is our worst yet for CP acquisitions, BUT we acquired a powerful Untamed card that we can utilize as our bot utilizes Serpent almost exclusively in Water, this should improve earning potential.
---
Week 4
This week, we also only earned a bit, about $2.60 which we used in the following way, we went over a bit here and used some of the DEC earnings from our bot/chests. I sold a small amount of BEE as well
14x Hill Giant @ $0.06 | This leveled us to a level 3 and completed our Hill Giant (for now) | 70 CP
9x Flying Squid @ 0.13 | This brought us to level 3 for Flying Squid, gaining +1 Melee! | 45 CP
5x Antoid Platoon @ $0.09 | This brought us to 10/14 for our Antoid Platoon, almost at level 3. | 25 CP
3x Venari Bonesmith @ $0.06 | This leveled our Venari Bonesmith
Total CP: 140 | Total Cost: $2.60
Another one that's not huge on CP, but we managed to level some crucial cards for low mana and it should prove helpful for the bank in both manual and automatic play.
---
TOTAL PURCHASED: 1305 CP | $18.15
---
Monthly Cards Earned
This month, we earned some excellent cards...
1x Harklaw | An awesome legendary, he adds 500 CP to our account and some rental income as a spare, since we received quite a bit in initial donations
3x Pelacor Conjurer | 15 CP
2x Venari Heatsmith | 10 CP
1x Pelacor Mercenary | 5 CP
1x Pelacor Deceiver | 5 CP
1x Exploding Rats | 20 CP
We also earned Credits throughout grinding, which we used to buy 1x Venari Bonesmith worth 20 CP
In total, we earned 575 CP from our Rewards last month, which will net us an additional 2 SPS before the end of the Airdrop.
---
Donations
This season, we have received numerous donations from our guild players which have helped to compound what we already had.
LIFE | 1x General Sloan, 1x Portal Spinner, 4x Gargoya Scrappers 1x Venari Crystalsmith, 1x Silvershield Archers | 95 CP

WATER | 1x Djinn Oshannus, 2x Pelacor Bandits, 3x Hardy Stonefish, 1x Venari Wavesmith, 1x Wave Runner, 1x Frost Lion, 4x Demented Sharks | 605 CP

DEATH | 1x Harklaw, 2x Venari Bonesmith, 3x Pelacor Deceiver, 1x Carrion Shade, 1x Phantasm, Undead Rexx, 1x Undead Minotaur, 1x Life Sapper | 615 CP

FIRE | 1x Scavo Chemist, 3x Radiated Scorcher, 12x Venari Heatsmith, 1x Kobold Bruiser, 7x Exploding Rats | 245 CP

EARTH | 1x Pelacor Mercenary, 3x Mycelic Morphoid, 1x Venari Seedsmith, 1x Barking Spider, 1x Goblin Dartling | 60 CP

DRAGON | 1x Naga Assassin, 1x Twilight Basilisk, 1x Naga Brute, 1x Gloridax Soldier | 90 CP

NEUTRAL | 1x Gargoya Lion, 1x Gargoya Devil, 1x Rusty Android | 40 CP
That brings us to a total of 1850 CP donated from Guild members collectively so far since we started. This does NOT include CP Delegated, only cards donated to the bank to own. This will earn about 8 SPS from Airdrops.

Guild Notification List
@torran @movebitch @vjekich @allani545 @jakkal @oliviander @cyouonthemoon @mrmare @kyuki @hentaimama @perrodelmal @lucamafort @mediocreguy13 @rqr4 @litrydow

Splinterlands Guild Link | Discord Link | Referral Link |
---
---