HBD Is The Stablecoins That Will Save Us From The Next Bearish Market
Although these days the crypto market is in decline, such as to now question PlanB's Stock To Flow model (I remember that it predicted that Bitcoin would reach 96k by the end of November), there are still signs of a bullish market which, unlike of 2017, it still seems projected for the next 5-6 months.
Since the crypto market is unpredictable and based on the experience of the last bullrun, it is necessary to start thinking about a partial and gradual accumulation and conversion plan of one's crypto capital into stablecoins, in order to safeguard our investments.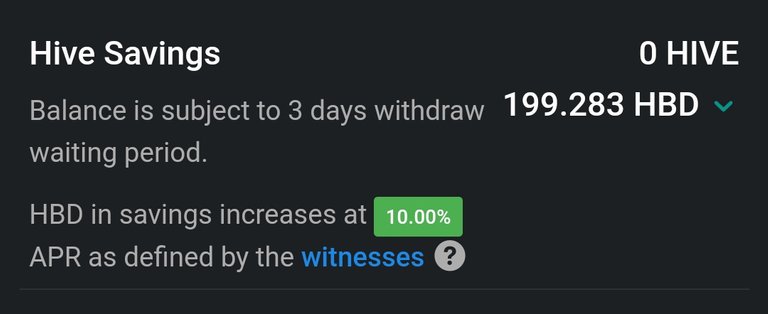 ---
If in the previous bullrun the stablecoins were few and little considered, today they are an excellent tool that should not be underestimated. Hive offers one of the best stablecoins on the market, Hive Backed Dollar or HBD and a tool like Savings HBD where you can earn 10%.
It would be great if the percentage increased to 15% or 20%, it would become the most profitable stablecoins the crypto world can offer at the moment. Securing a part of your crypto capital is important in order not to suffer large losses. In my opinion, an allocation of 50% in stablecoin would be perfect and would protect our capital from possible falls or from a bearish market, expected anyway after this bullish phase.
Emotions in the crypto market must not prevail, enthusiasm must be contained and it is always better to secure your capital with a lower profit rather than risk getting more and then end up with huge losses of 70% -80%, what it exactly happened between 2018 and 2020.
History must teach us something and the advice for new users is to be prudent and balanced. If you are not interested in immediate gains but are aiming for long-term projects, then close your wallets and forget about any market trend. You really risk crashing into a mechanism that is much larger than you are, to your own detriment.
The market will probably still give some strong jolts, a chance to still make gains but have it in mind that it will not last forever. Therefore, it is better to start planning a constant accumulation plan in stablecoins.
ITA
Sebbene in questi giorni il mercato crypto sia in flessione, tale da ormai mettere in discussione il modello Stock To Flow di PlanB (ricordo che prevedeva che Bitcoin raggiungesse i 96k entro fine Novembre), ci sono ancora segnali di un mercato bullish che, a differenza del 2017, sembra proiettato ancora per i prossimi 5-6 mesi.
Poiché il mercato crypto è imprevedibile e sulla base dell'esperienza della scorsa bullrun, è necessario iniziare a pensare ad un piano di accumulo e conversione parziale e graduale del proprio capitale crypto in stablecoins, al fine di salvaguardare i nostri investimenti.
Se nella precendente bullrun le stablecoins erano poche e poco considerate, oggi sono un ottimo strumento che non deve assolutamente essere sottovalutato. Hive offre una delle migliori stablecoins sul mercato, Hive Backed Dollar o HBD ed uno strumento come Savings HBD in cui guadagnare una percentuale del 10%.
Sarebbe fantastico se la percentuale aumentasse al 15% o al 20%, diventerebbe la stablecoins più vantaggiosa che il mondo crypto può offrire al momento. Mettere al sicuro una parte del proprio capitale crypto è importante per non subire le perdite ingenti. A mio avviso un'allocazione del 50% in stablecoin sarebbe perfetto e metterebbe a riparo il nostro capitale da possibili ribassi o da un mercato bearish, previsto comunque dopo questa fase bullish.
Le emozioni nel mercato crypto non devono prevalere, gli entusiasmi devono essere contenuti ed è sempre meglio mettere al sicuro il proprio capitale con un guadagno minore piuttosto che rischiare di ottenere di più e poi ritrovarsi con perdite ingenti del 70%-80%, ciò che è esattamente accaduto tra il 2018 e 2020.
La storia deve pur insegnarci qualcosa ed il consiglio per i nuovi utenti è quello di essere prudenti ed equilibrati. Se non siete interessati a guadagni immediati ma puntate a progetti a lungo termine, allora chiudete i vostri wallet e lasciate perdere qualsiasi andamento del mercato. Rischiate davvero di schiantarvi contro un meccanismo che è molto più grande di voi, a vostro esclusivo danno.
Il mercato darà probabilmente ancora alcuni forti scossoni, possibilità di ottenere ancora guadagni ma abbiate ben impresso nella mente che non durerà per sempre. Meglio quindi iniziare a programmare un piano di accumulo costante in stablecoins.
Posted using LeoFinance Mobile
---
---