How profitable will 1000 HBD be in 20 years?
The 20% APR of Hive Backed Dollars is certainly shaking up our community a bit and attracting potential investors to buy stablecoins and make a profit without looking too much into the market. The increase in the interest rate has caused many to doubt that millions of Hive Power could be converted to HDB, but this has not actually happened yet.
Honestly it is a thought that I have reasoned about too but I have decided to continue to keep my HP. Because? The reason at the moment is simple: Hive, like the entire crypto and financial market, is going through a period of uncertainty and pushing down all financial markets. At the moment the value of HIVE is around 0.75 $ so from the conversion I would get on average 1.25 HIVE-> 1 HBD. A price that I consider too low. Probably if it were worth $ 5, I would convert a portion of my HP but in this bearish phase of the market, which could last over time and probably return even below $ 0.50, my strategy is to continue to accumulate HIVE and convert my HBDs when the value of HIVE should fall below $ 0.50.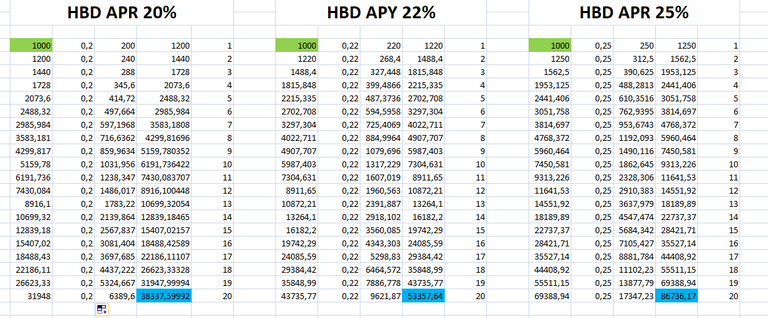 The situation would be different, however, if today I had to invest FIAT capital or had BITCOIN, then I would immediately opt for HBD, protecting my investment from the bearish market and from the depreciation of HIVE. Emotions are a key factor in this strategy: investing HBD offers peace of mind to investors who are easily prey to anxiety and fear, certain that their capital will enjoy 20% APR regardless of the market decision. To invest in HIVE, in other cryptocurrencies, it is necessary to have a medium / long-term vision, not to be bothered by excessive discounts and to continue to live your life peacefully. Never risk your own serenity in exchange for hypothetical riches! Health is the most precious asset we can wish for!
HBD is a really interesting stablecoin: I made some calculations anyway by simulating investing 1000 HBD in Savings and calculating the interest with APR 20%, APY 22% (if every month I reinvest the interest), APR 25%, the latter hypothesis at examination by witnesses, possibly applicable for investors who decide to block the withdrawal of HBD for a year or more.
After 20 years, the earnings would be as follows
1000 HBD APR 20% -> 38337 HBD
1000 HBD APY 22% -> 53357 HBD
1000 HBD APR 25% -> 86 736 HBD
In this regard, I recommend reading the post by @taskmaster4450 on the sustainability of the HBD interest rate and on how much be healthier than all other stablecoins, including UST.
Hive is the best place to stay!
Posted Using LeoFinance Beta
---
---