Splinterlands Battle Challenge: ANIMATED CORPSE

Hi all Splinterlands friends,
this week's Battle Challenge is about the ANIMATED CORPSE monster, a simple card belonging to the Death element that can only be purchased in Alpha and Beta versions. The Alpha card is rarer than its Beta twin, which explains the higher value on the market.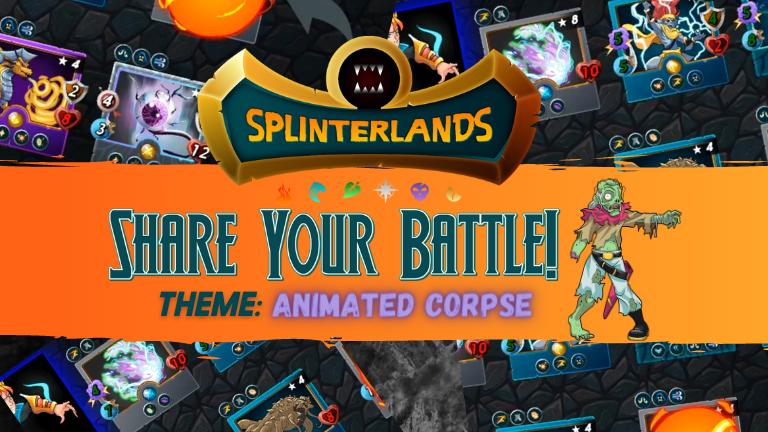 ---
I bought the Alpha card more than a year ago, paying a few cents and today on the market it is available for 8 $ or about 920 DEC while the Beta version is much cheaper, about 2 $. The cards are collectible, which is why I bought them even though I use them very rarely, just like ANIMATED CORPSE.
To be competitive, the card deserves to be upgraded to at least level 4 and obtain the very useful Avoid ability and reduce damage from magical attacks. It is a card with mana 4, therefore very useful in battles with a strong restriction on the overall mana of the players. In my favorite hi lineup, use it in first position and deploy cards with a more important offensive weight behind you and especially with magic or melee attacks
The card upgraded to level 10 represents the maximum of the upgrade and deployed in the first position would offer high-level offensive possibilities, associated with a very good speed and a very respectable health score, ideal would be to associate a card with health recovery.
But now let's move on to the battle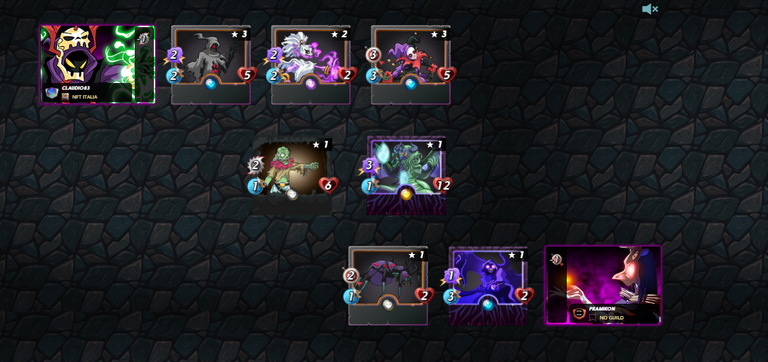 ANIMATED CORPSE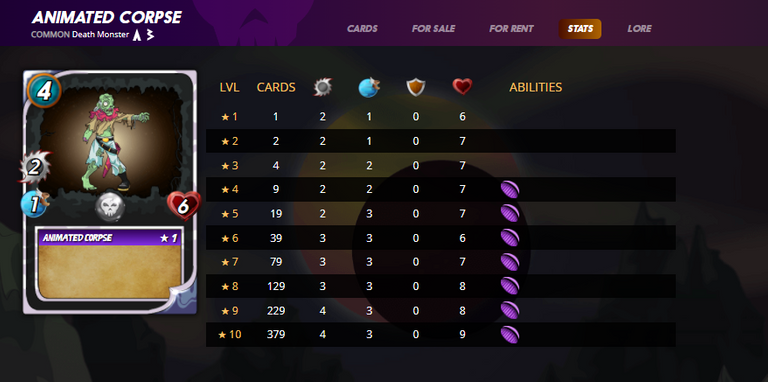 The monster is at level 1, not boosted, and therefore obviously could not demonstrate all its power. Probably in the lowest rank I could have highlighted his value but in this battle he helped me to be a fortress and absorb enemy attacks, while the rest of the team attacked the enemy from distance.
BOOGEYMAN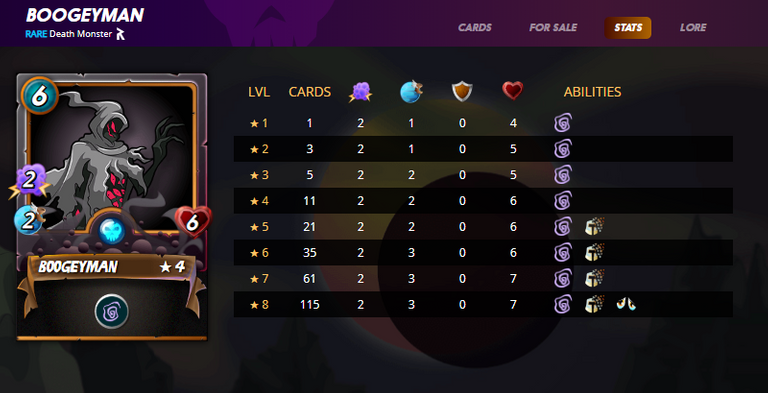 ---
Always my second favorite wizard, in the first place there is the incredible RULER OF THE SEAS, I have always used it with the death summoner, since the first level, because it has a good magic attack and the Slow ability which I almost always use. He is now level 4 and I will continue to upgrade him to the maximum.
SCREAMING BANSHEE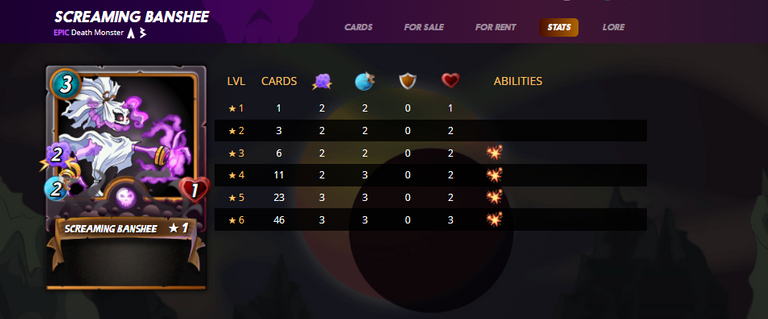 I particularly love this monster, boosted to level 3 makes its magic attack efficient, compared to its very low mana of 3 points. His presence in the formation is decisive for the final victory of the team. Really recommended!
TWISTED JESTER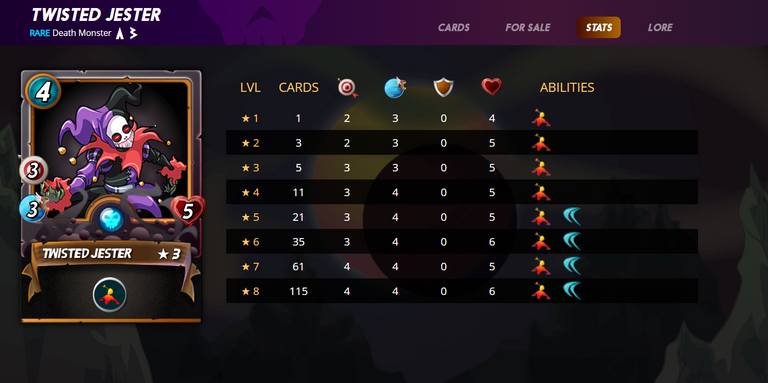 ---
My strategy is to place it in the last positions and avoid that it can easily reach first position and therefore become harmless. Surely, when he has a chance to express himself at his best, it is a truly offensive card and determined for my victories.
My goal is to upgrade it up to level 7 and reach the attack of 4 points and add the second ability Dodge which would allow the monster to avoid the attacks from a distance!
---
---
Thank you for taking the time to read this post
If you haven't signed up for Splinterlands yet, I invite you to give it a try. You can use my referral link
##ITA
Ciao a tutti amici di Splinterlands,
il Battle Challenge di questa settimana riguarda il mostro ANIMATED CORPSE, una carta semplice appartenente all'elemento Death e che è possibile acquistare solo in versione Alpha e Beta. La carta Alpha è più rara rispetto alla sua gemella Beta e ciò spiega il valore più elevato sul mercato.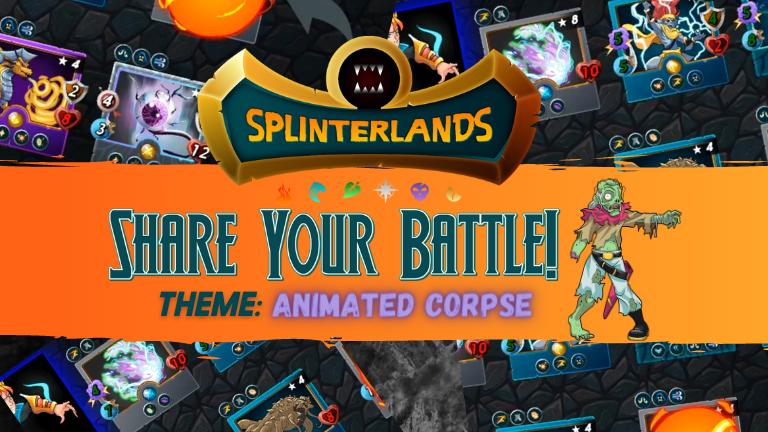 ---
Io hi acquistato la carta Alpha più di un anno fa, pagandola pochi centesimi ed oggi sul mercato e acquistabile a 8$ o circa 920 DEC mentre la versione Beta è molto più economica, circa 2$. Le carte sono da collezione, motivo per cui le ho comprate anche se le utilizzo davvero raramente, proprio come ANIMATED CORPSE.
La carta per essere competitiva merita di essere potenziata almeno a livello 4 ed ottenere l'utilissima abilità Avoid e ridurre i danni da attacchi magici. E' una carta con mana 4, molto utile quindi nelle battaglie con una forte restrizione del mana complessivo dei giocatori. Nello mio schieramento hi preferito utilizzarla in prima posizione e schierare alle spalle carte con un peso offensivo più importante e soprattutto con attacchi magici o da mischia
La carta potenziata a livello 10 rappresenta il massimo del potenziamento e schierata in prima posizione offrirebbe possibilità offensive di alto livello, associato ad una velocità molto buona ed un punteggio salute davvero di tutto rispetto, ideale sarebbe associare una carta con recupero salute.
Ma ora passiamo alla battaglia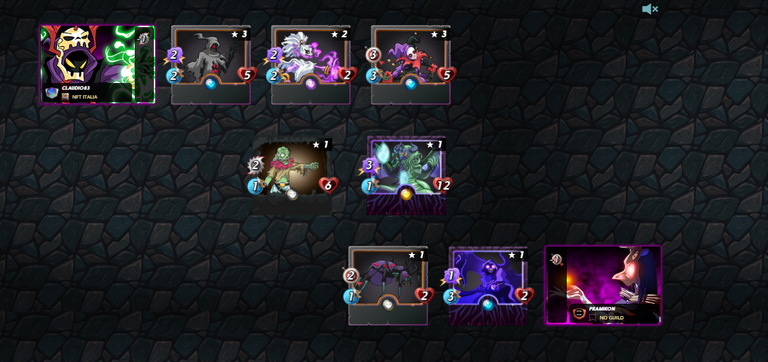 ANIMATED CORPSE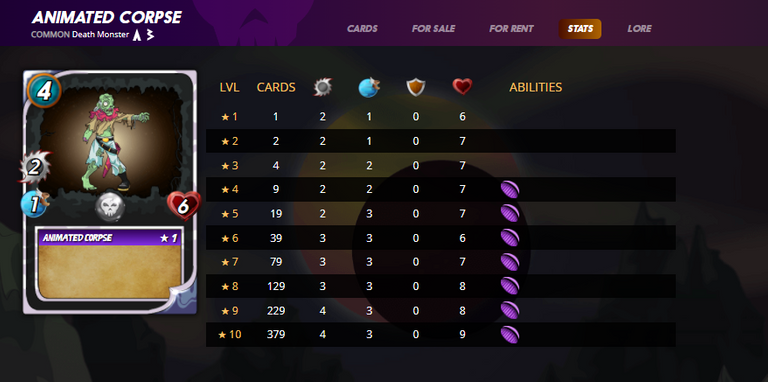 Il mostro è a livello 1, non potenziato, e quindi non ha potuto ovviamente dimostrate tutta la sia potenza. Probabilmente in rank più basso avrei potuto evidenziare il suo valore ma in questa battaglia mi ha aiutato ad essere una fortezza e assorbire attacchi avversari, mentre il resto della squadra ha attaccato il nemico dalla ditsanza.
BOOGEYMAN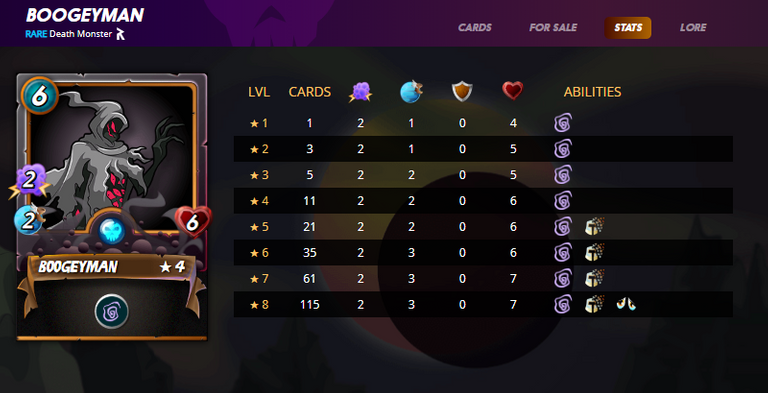 ---
Da sempre il mio secondo mago preferito, , al primo posto c'è l'incredibile RULER OF THE SEAS, l'ho utilizzato sempre con l'evocatore morte, sin dal primo livello, perché ha un buon attacco magico e l'abilità Slow che uso praticamente sempre. Ora è a livello 4 e continuerò a potenziarlo al massimo.
SCREAMING BANSHEE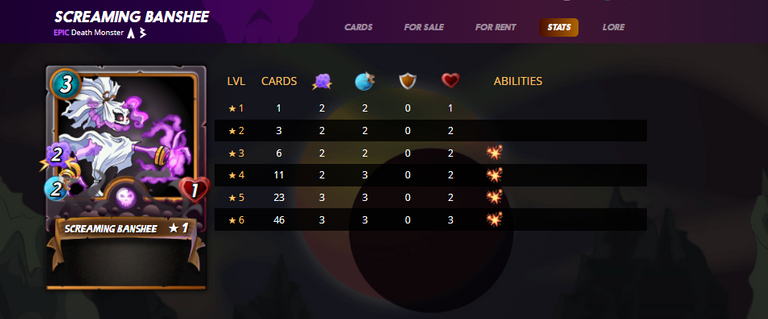 Adoro particolarmente questo mostro, potenziato a livello 3 rende il suo attacco magico efficiente, in rapporto al suo mana molto basso di 3 punti. La sua presenza in formazione è decisiva per la vittoria finale del team. Davvero consigliato!
TWISTED JESTER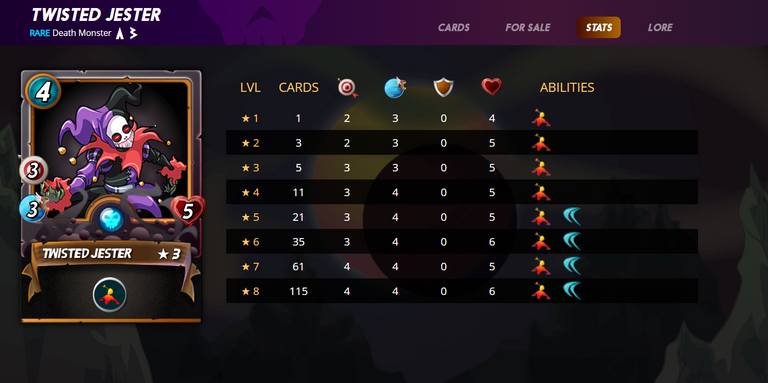 ---
La mia strategia è posizionarla nelle ultime posizioni ed evitare che possa arrivare facilmente in prima posizione e diventare quindi inoffensiva. Sicuramente, quando ha possibilità di esprimersi al meglio, è una carta davvero offensiva e determinate per le mie vittorie.
Il mio obiettivo è potenziarla fino a livello 7 e raggiungere l'attacco di ben 4 punti ed aggiungere la seconda abilità Dodge che permetterebbe al mostro di evitare gli attacchi da distanza!
---
---
Thank you for taking the time to read this post
If you haven't signed up for Splinterlands yet, I invite you to give it a try. You can use my referral link
---
---