Truth Social: Trump's social platform - Truth Social: La piattaforma social di Trump [ENG-ITA]
Do you remember the challenge between Trump and Biden during the last American elections? Well it's hard to forget everything that happened, the assault on the Capitol and the censorship carried out by many social media such as Twitter which even went so far as to suspend his account.
Well after about a year from all this, Donald Trump has announced the launch of Truth Social, the new social media "of truth"! The platform will be officially released in 2022 and promises to be free from censorship. Do you believe it?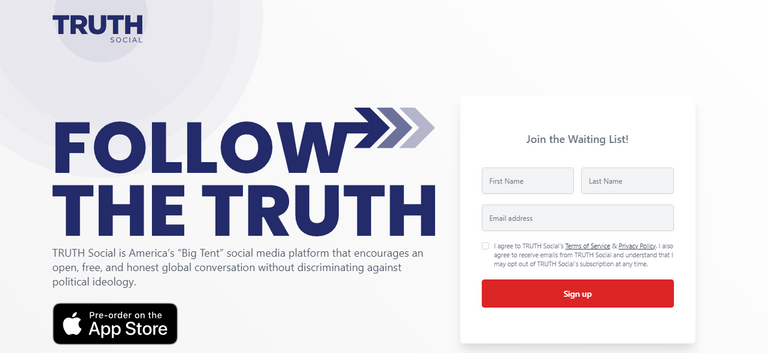 ---
I bet Hive 1 million that if I write anything against Trump, my post will be censored within minutes. The reason is simple: centralization. There is no social platform, controlled by a company or a group of people that does not rigorously test user content, especially if its creator is a former US president.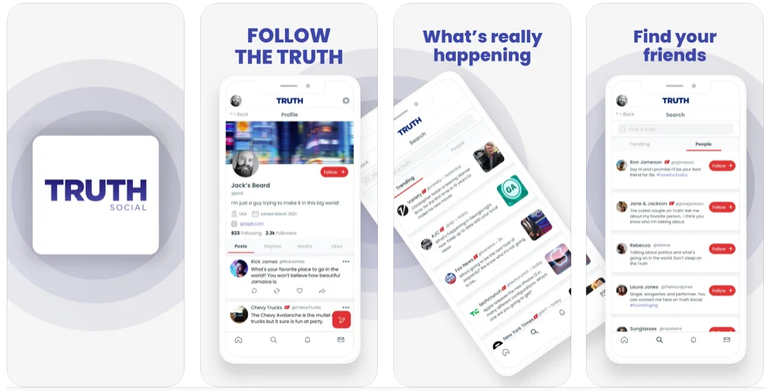 ---
From the first screenshots of Truth you can see a user profile that bears a striking resemblance to a Twitter profile, which has always been Trump's favorite social network. The former president was banned from Twitter, Facebook and YouTube for his support for protests following the US elections that culminated in the assault on the Capitol on January 6 this year.
My judgment, and I think I have the approval of the whole community, is that this is a farce. The truth really has a very subjective meaning in this world: everything that we like to hear from others is true, what is false is what instead strays from our beliefs. It is plausible to think that Truth Social will be a political platform in which he will talk about politics, or rather about a part of politics, that of Trump and his followers.
I would define it more as a blog than a social platform but if you want to have more details, you can subscribe to the Whitelist and wait for the email for access that could arrive by the end of the year for the first lucky users.
The decentralized social platforms are quite different, they are the ones that all politicians probably hate because the single truth probably does not exist, but there are different truths depending on the point of view of the users. Hive interprets the neutral and decentralized social platform well, anyone can express a judgment or a thought, be it political or otherwise.
Everyone wants to imitate Hive but no one can do it. The guarantee of freedom of speech is the most beautiful truth that we can guarantee to anyone who wants to express their own thought and concept.
God bless Hive
---
---
ITA
Vi ricordate durante le ultime elezioni americane la sfida tra Trump e Biden? Beh è difficile dimenticarsi di tutto ciò che è accaduto, dell'assalto al Campidoglio e della censura attuata da molti social media come Twitter che arrivarono persino a sospendere il suo account.
Ebbene a distanza oramai da circa un anno da tutto ciò, Donald Trump ha annunciato il lancio di Truth Social, il nuovo social media "della verità"! La piattaforma sarà ufficialmente rilasciata nel 2022 e promette di essere libera dalla censura. Voi ci credete?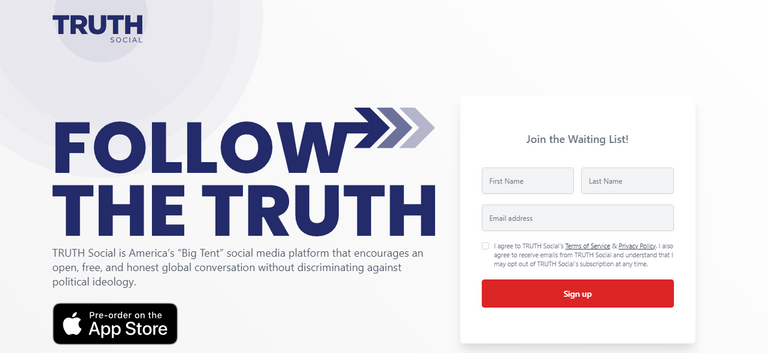 ---
Scommetto 1 milione di Hive che se io dovessi scrivere qualcosa contro Trump, il mio post sarà censurato entro pochi minuti. Il motivo è semplice: centralizzazione. Non esiste una piattaforma social, controllata da un'azienda o da un gruppo di persone che non sottoponga a rigorosa verifica i contenuti degli utenti, in special modo se il suo creatore è un ex presidente degli USA.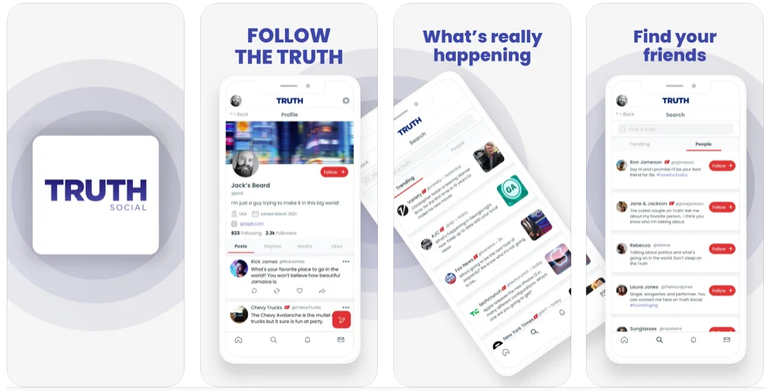 ---
Dai primi screenshot di Truth si può notare un profilo utente che ha una sorprendente somiglianza con un profilo Twitter, da sempre il social preferito da Trump. L'ex presidente è stato bannato da Twitter, Facebook e YouTube per il suo atteggiamento favoreggiante le proteste a seguito delle elezioni americane culminate con l'assalto al Campidoglio, il 6 gennaio di quest'anno.
*Il mio giudizio, e penso di avere l'approvazione dell'intera comunità, è che si tratta di una pagliacciata. La verità ha davvero un significato molto soggettivo in questo mondo: è vero tutto ciò che piace ascoltare dagli altri, è falso ciò che invece si allontana dalle nostre convinzioni. E' plausibile pensare che Truth Social sarà una piattaforma politica in cui parlerà di politica, o meglio di una parte della politica, quella di Trump e dei suoi fedeli. *
Io lo definirei più un blog che una piattaforma social ma se avete voglia di avere più dettagli, potete iscrivervi alla Whitelist e attendere l'email per l'accesso che potrebbe pervenire già entro la fine dell'anno per i primi fortunati utenti.
Le piattaforme social decentralizzate sono ben altre, sono quelle che tutti i politici probabilmente odiano perchè la verità unica probabilmente non esiste, ma ci sono diverse verità a seconda del punto di vista degli utenti. Hive interpreta bene la piattaforma social neutrale e decentralizzata, chiunque può esprimere un giudizio o un pensiero, che sia politico o di altra natura.
Tutti vogliono imitare Hive ma nessuno può riuscirci. La garanzia della libertà di parola è la più bella verità che possiamo garantire a chiunque voglia esprimere un proprio pensiero e concetto.
Dio benedica Hive
---
---