Why is HIVE pumping?
While Bitcoin and cryptocurrencies are facing a major downturn, Hive is proving to be near impassive and continues to remain at very high levels above $ 2.50, after hitting a new ATH of 3.40 in the past few hours.
Where does all this enthusiasm come from?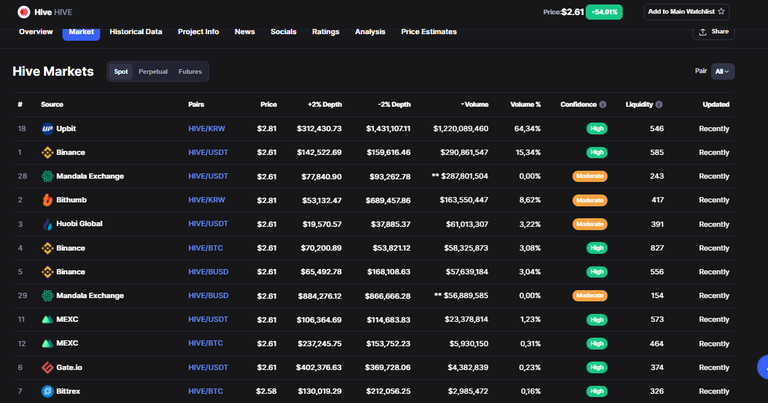 ---
In the past 24 hours, the trading volume has exceeded $ 2 billion, an increase of nearly 500%. Half of these trades take place in the Korean Upbit exchange and it is no coincidence that the HIVE / KRW pair exceeds the 1.2 T of trading dollars. WOW!
Why are Koreans buying HIVE?
Korean users are passionate about crypto games, an interest in HIVE could come from games like Splinterlands for example. I encountered a major defibrillation soon after @theycallmedan's announcement on Twitter and the development of a new HBD-based NFT PVP game. Do you remember?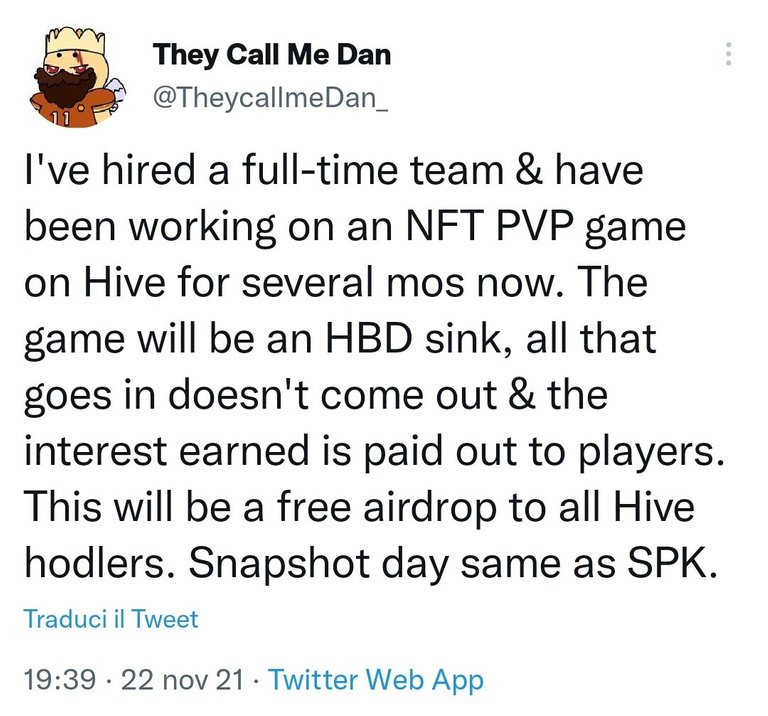 ---
From the date of the tweet's publication, HIVE had a leap of more than 100% in the next 36 hours. Coincidence? Maybe yes maybe no.
What to expect in the near future?
After every pump, a dump can be expected. Many users are making big profits and the price will inevitably go down. I hope there is some good support between $ 2 and $ 1.50, it would be a very good level to build up in anticipation of new possible upside. Always remember that HIVE had an average value of $ 0.80 a week ago and therefore would still be a nice upside!
What to expect in the near future?
Of course, TO THE MOON! 🚀
Next year will be very exciting: @spknetwork, @splinterlands, @leofinance, @nftshowroom and many other projects on Hive will have a particularly exciting development and we can expect a lot of satisfaction. Beware of selling all your HIVEs now, you might miss the next HIVE train for $ 5 -10 $.
ITA
Mentre Bitcoin e le crypto stanno affrontando una flessione importante, Hive sta dimostrando di essere quasi impassibile e continua a restare su livelli molto alti oltre i 2,50 $, dopo aver toccato un nuovo ATH di 3,40 nelle scorse ore.
Da dove arriva tutto questo entusiasmo?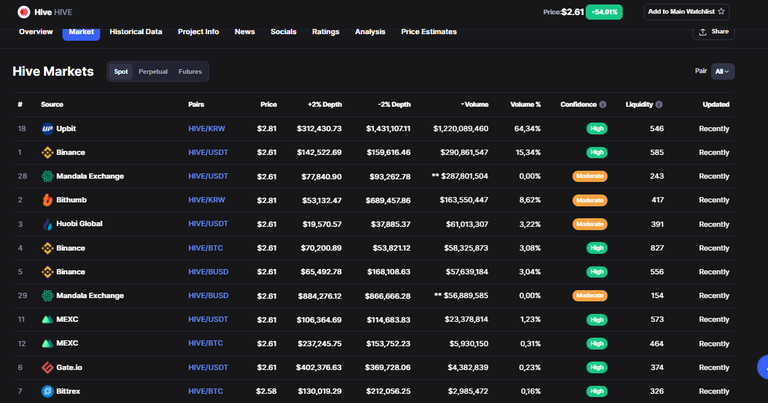 ---
Nelle ultime 24 ore il volume di scambi ha superato i 2 miliardi di dollari, un incremento di quasi il 500%. La metà di questi scambi avvengono nell'exchange coreano Upbit e non a caso la coppia HIVE/KRW supera gli 1,2 T di dollari di scambio. WOW!
Perché i coreani stanno acquistando HIVE?
Gli utenti koreani sono appassionato di crypto games, un interessamento in HIVE potrebbe derivare da giochi come Splinterlands ad esempio. Ho riscontrato un defibrillazione importante subito dopo l'annuncio di @theycallmedan su Twitter e sullo sviluppo di un nuovo NFT PVP game basato su HBD. Ricordate?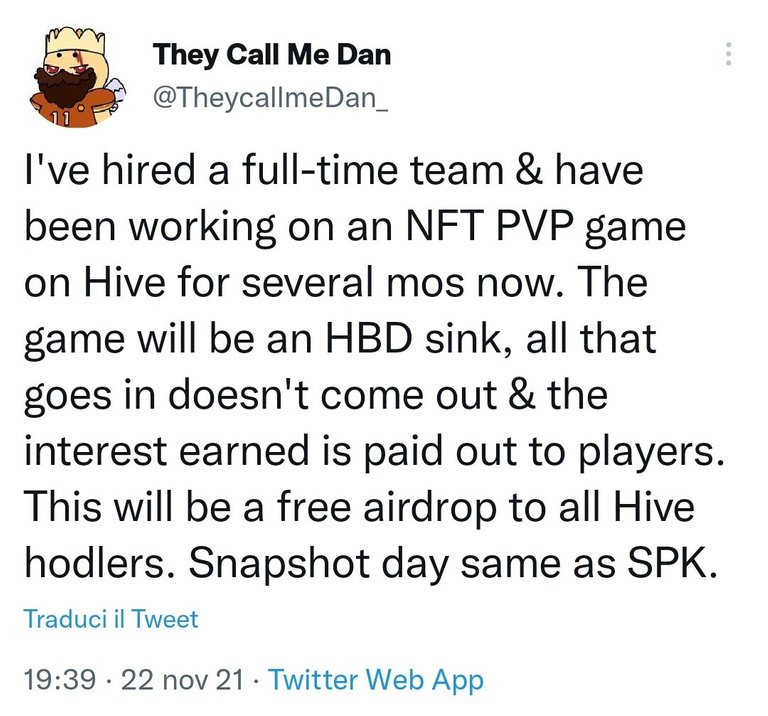 ---
Dalla data di pubblicazione del tweet, HIVE ha avuto un balzo di oltre il 100% nelle successive 36 ore. Casualità? Forse si, forse no.
Cosa aspettarci nel futuro prossimo?
Dopo ogni pump, è lecito aspettarsi un dump. Molti utenti stanno ottenendo grossi profitti ed il prezzo scenderà inevitabilmente. Io spero che ci sia un qualche buon supporto tra gli 2$ e 1,50$, sarebbe davvero un buon livello per accumulare in attesa di nuovi possibili rialzi. Ricordiamoci sempre che HIVE una settimana fa aveva un valore medio di 0,80$ e quindi sarebbe comunque un bel rialzo!
Cosa aspettarci nel medio futuro?
Ovvio, TO THE MOON! 🚀
Il prossimo anno sarà davvero molto eccitante: @spknetwork, @splinterlands, @leofinance, @nftshowroom e tantissimi altri progetti su Hive avranno uno sviluppo particolarmente eccitante ed è lecito aspettarci molte soddisfazioni. Attenzione a vendere ora tutti i vostri HIVE, potreste perdervi il prossimo treno di HIVE tra 5$-10$.
Posted using LeoFinance Mobile
---
---