Afri-tunes week 60|| freestyle of Sability || song by Ayra starr
---
Greetings my fellow Muscians
I'm happy to be part of another round of this week's presentation and as well be able to listen to other great performances here by other great members of this community, I'm @cleevesh I hope you enjoy my presentation.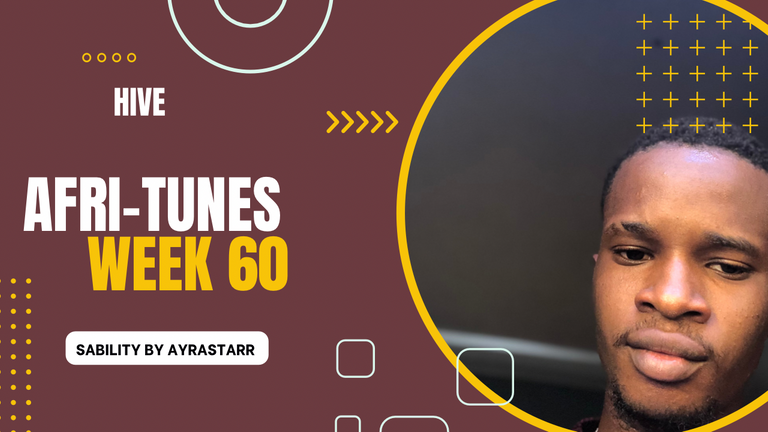 For this week I'll be presentinga song by one of our leading female artist in Nigeria Ayra starr also popularly known as "Sabi girl"and the song is titled Sability, i think we can clearly see where she got the song title from, anyways after releasing her hit song Rush, Ayra starr decided to bless us with another hit sability this song basically has gain multiple streams on all streaming platform, yeah the song is that sweet sand that's exactly why I choose to do it this week.
"Sability," which incorporates a variation of the 1999 song "Coupé Bibamba" by Awilo Longomba. With lyrics that combine English and Yoruba, the song serves as the singer's anthem of empowerment and celebrates her Nigerian roots. The lyrics boast about the singer's accomplishments and bragging about their confidence and superiority in their industry. The verses recount particular accomplishments and references, while the chorus exhorts listeners to "sabi," or know how to do something. In Nigerian Pidgin, the word "sabi" means "to know," and Starr uses it to stress how knowledgeable she is. The success of "Rush" catapulted Starr's career to new heights, and "Sability" has helped to further establish her as one of the top West African performers.
For this freestyle, the live instrumental was done by my brother and and I sang along with it.
I hope you enjoyed it, Thnak you so much for watching
Lyrics
Sability"
London (London)
E n lę oh
Greet everybody for here oh
Padi jo shey shey pęlę oh
Mo ti so funwon tęlę oh
Belle oh
Deliver like I get belle oh
Dem say I dey go cele oh
Dem say I dey go cele oh
Espiritu Fortuna
I go make you jo dada
Shey you getty the power
Sweety passy amala ketu
Shinji Kagawa
Jesu kristi loba wa
Got them falling yakata
You know as e sabi girl dey do
Sabi oh, oh-oh (Come on, come on)
Sabi oh, oh-oh-oh-oh-oh-oh
Sabi oh, oh-oh (Come on, come on)
Sabi oh, oh-oh-oh-oh-oh-oh (Oya na)
Oni reason
Oni reason why dem dey call me oloyin
While you beefing, I'm still leading
Kill anything I no fit miss
You no go fit in my shoes
High fashion, Jimmy Choos
Wanna sip some gin and juice
Tomorrow will be okay
Espiritu Fortuna
I go make you jo dada
Shey you getty the power
Sweety passy amala ketu
Shinji Kagawa
Jesu kristi loba wa
Got them falling yakata
You know as e sabi girl dey do
Sabi oh, oh-oh (Come on, come oh)
Sabi oh, oh-oh-oh-oh-oh-oh
Sabi oh, oh-oh (Come on, come on)
Sabi oh, oh-oh-oh-oh-oh-oh (Oya na)
Espiritu Fortuna
I go make you jo dada
Shey you getty the power
Sweety passy amala ketu
Shinji Kagawa
Jesu kristi loba wa
Got them falling yakata
You know as e sabi girl dey do
---
▶️ 3Speak
---
---