Flume Gorge Part 2
Hi fellow Travelers,
Today I'm finishing up a post that I started a while ago but didn't have all the pictures for yet! The Flume Gorge in the White Mountains in New Hampshire.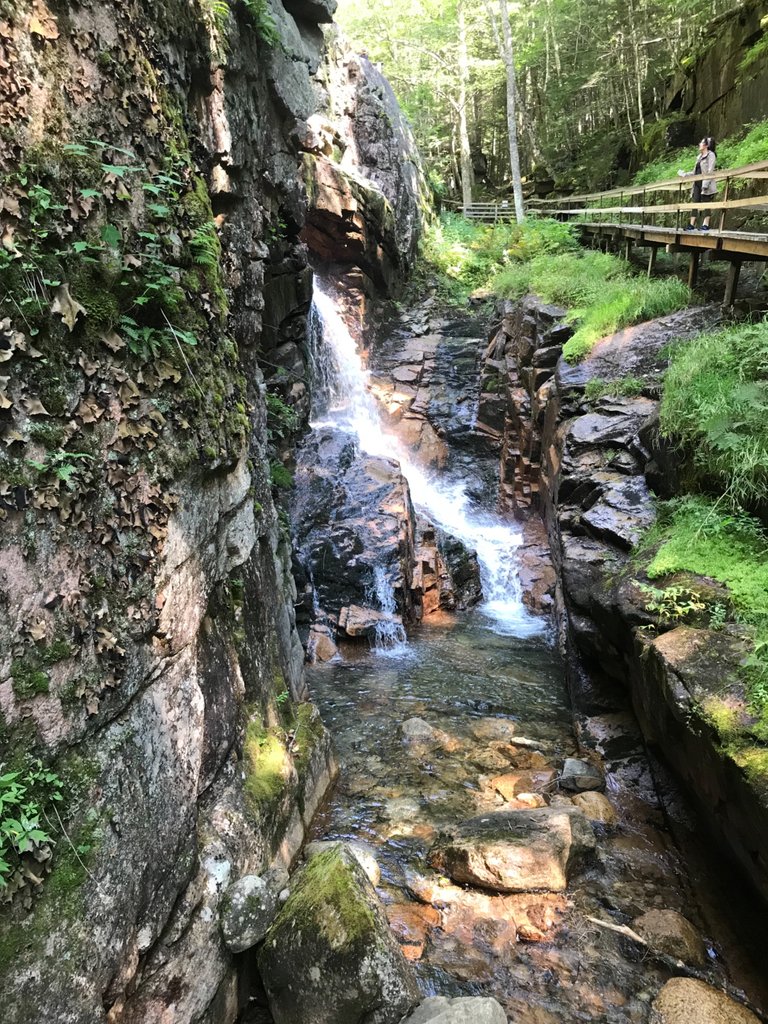 Flume Gorge Part 2
One of the really fun things about this summer was that we got to visit all kinds of places that we haven't been to before or it's been many years that we forget. The Flume Gorge has been a place we were looking to go to for a while but for one reason or another we didn't end up getting there. We decided to change that!
The Flume Gorge is a beautiful place nestled in the middle of the Franconia Notch state park in the White Mountains in New Hampshire. It's quite a beautiful place! There's an awesome series of waterfalls all over the place and the biggest one has it's own walkway to go through it. There are small areas leading up to it where you can see the water as it's leaving the area.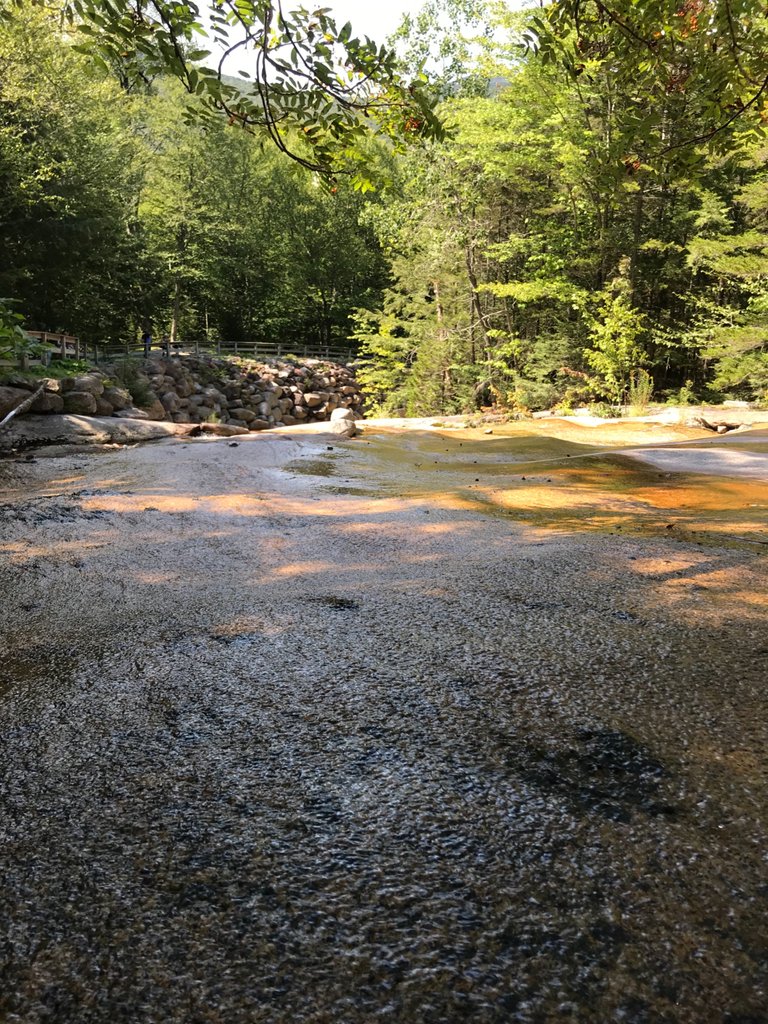 A little nondescript walking up but there are boulders everywhere! I think all of these rocks were at one point larger pieces of giant boulders that broke and split from the water and ice over time.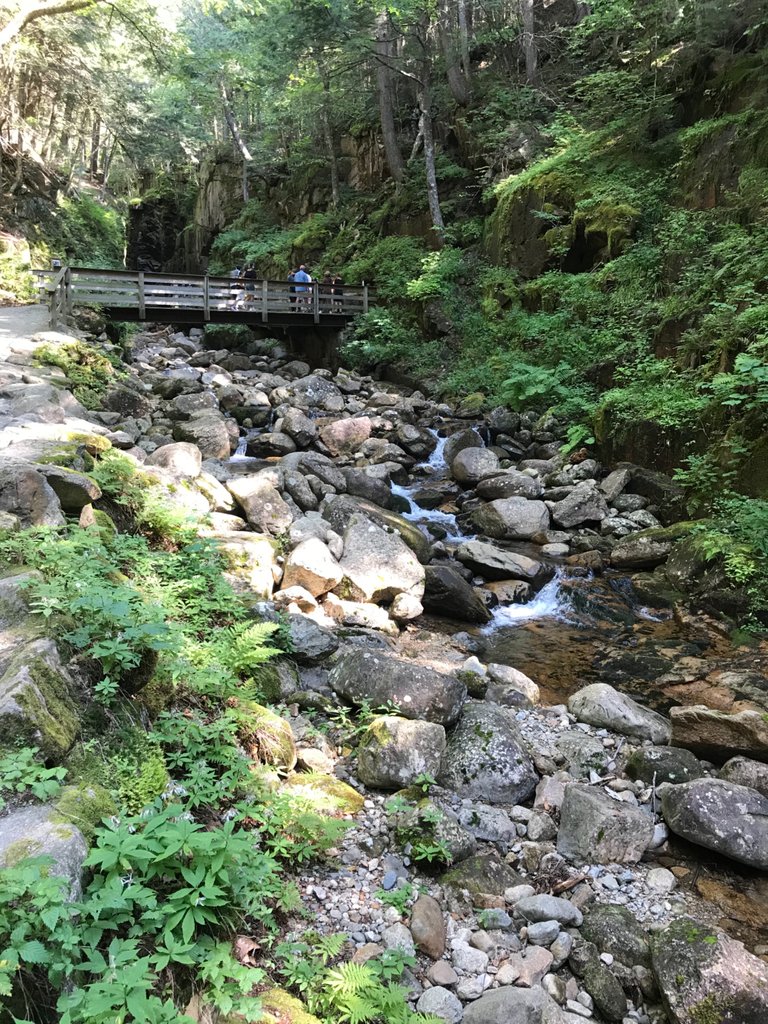 The start of the bridge that leads to the main part of the waterfall you can kind of see some of the area but it's not really apparent how much the water has shaped the area around until you get closer.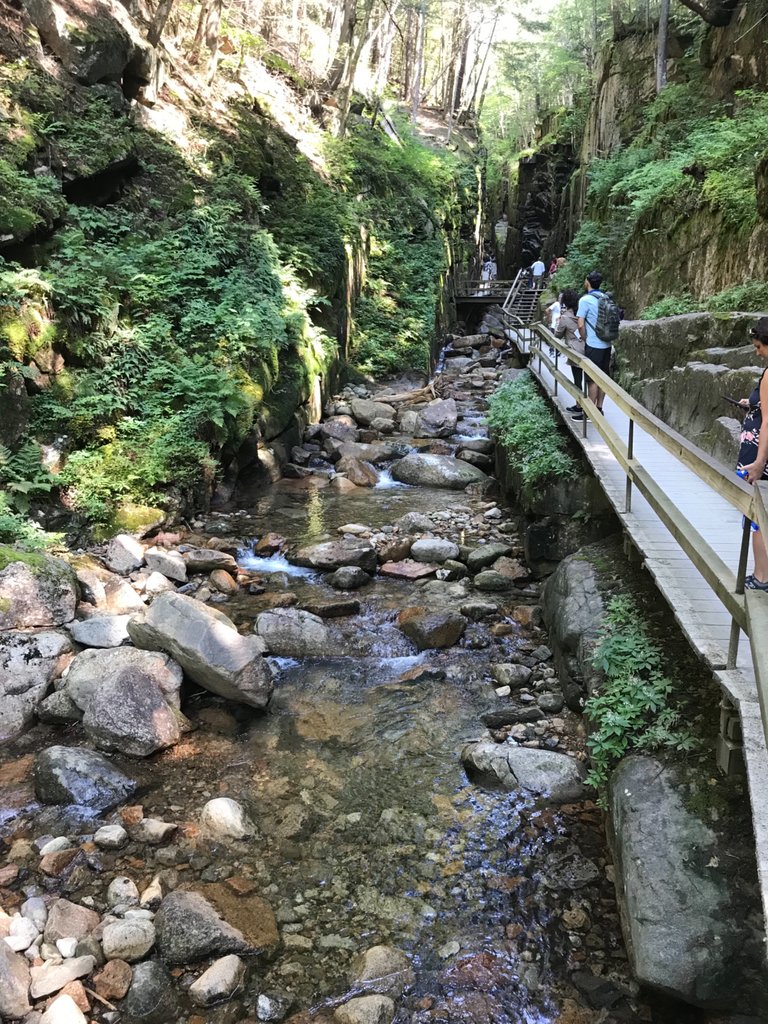 You can see that there is more change of the environment that's for sure. The walkway you are walking on is also getting skinnier and sketchier as you are going lol. The little man definitely had some issues going on at some points and needed some help!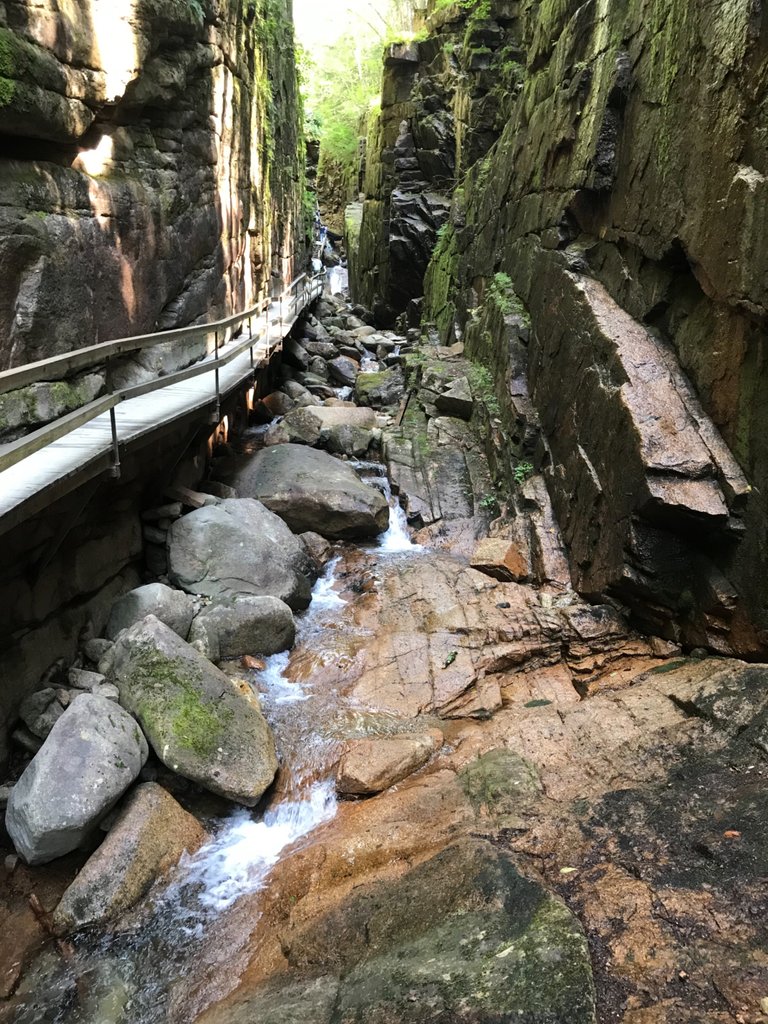 The stairs up were the toughest. They were steep as hell! But you can see the incredible wall on the other side. This waterfall and river area was made by the water cutting through these giant basalt deposits. I don't think I got a picture of it but right near this wall on the right they put a sign that this was all basalt rock. I think the noticeable difference for me is the rock, basalt, looks darker than granite, which New Hampshire is well known for because of the rich deposits it's got everywhere.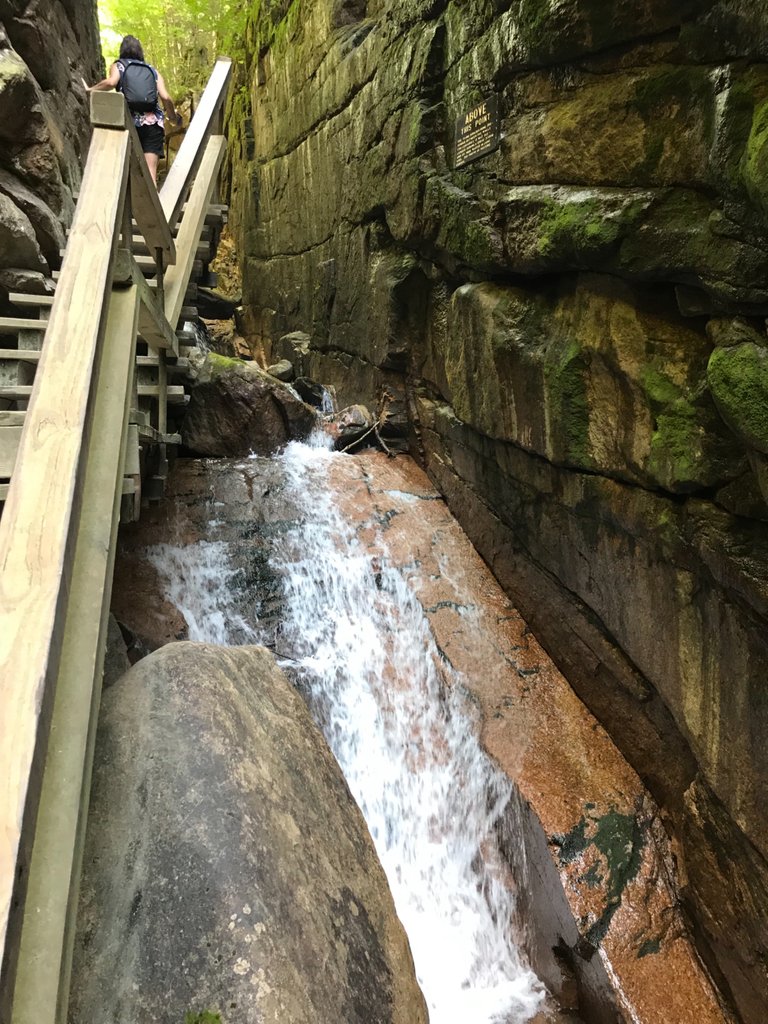 The sheer wall created by the flowing water is easily 40 or 50 feet high! This seems like the grand canyon of the Northeast lol.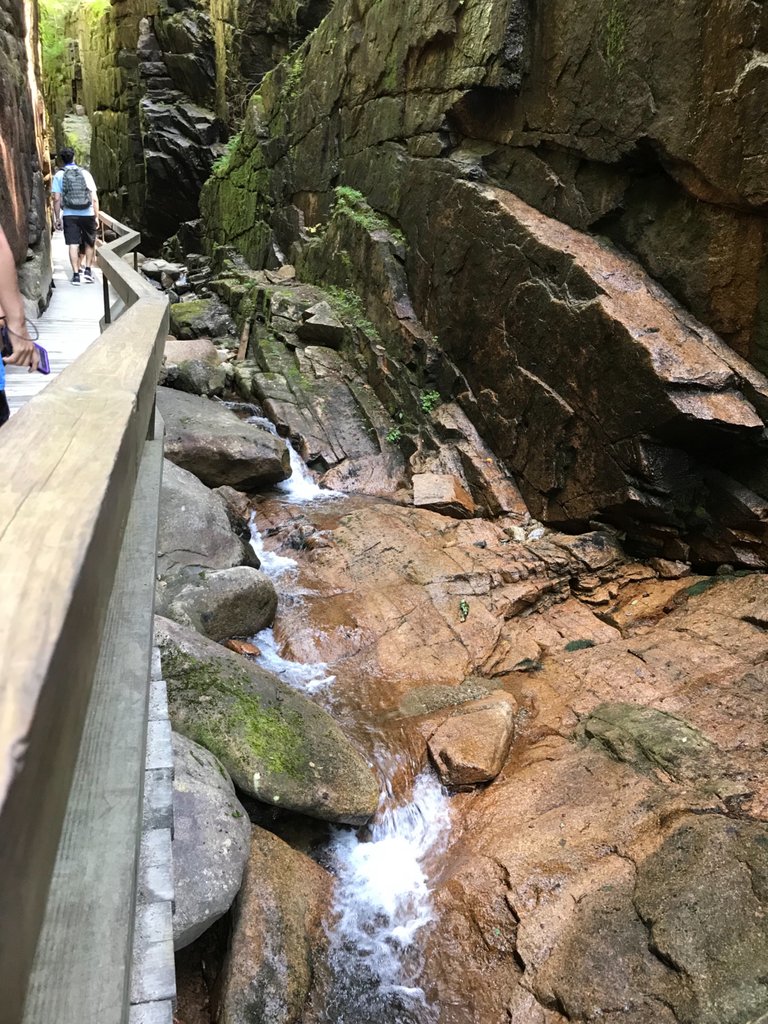 You can get a good perspective of how deep into the rock we are! It's really an awesome scene to be in. On a hot day, this area is pretty cool since we are in the rock but we have the water flowing down and there is mist everywhere in the air because of that.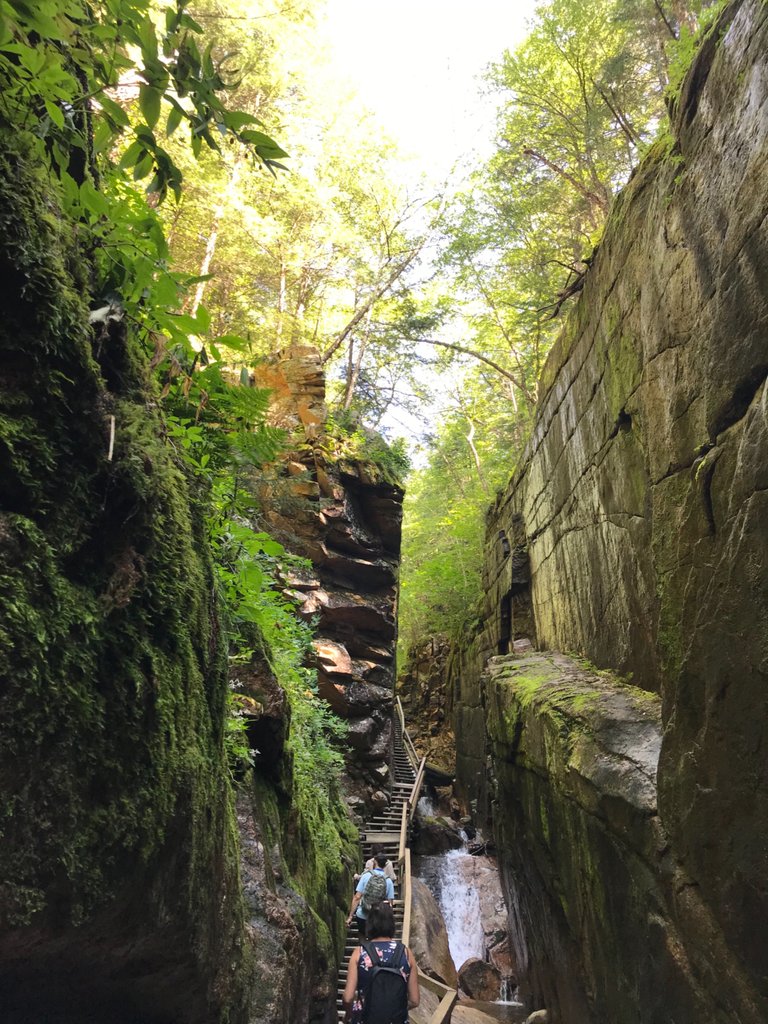 I bet there are thousands of gallons of water that flow down this area every single day. It's crazy to think of, that water can have such volume despite raining days ago in some areas!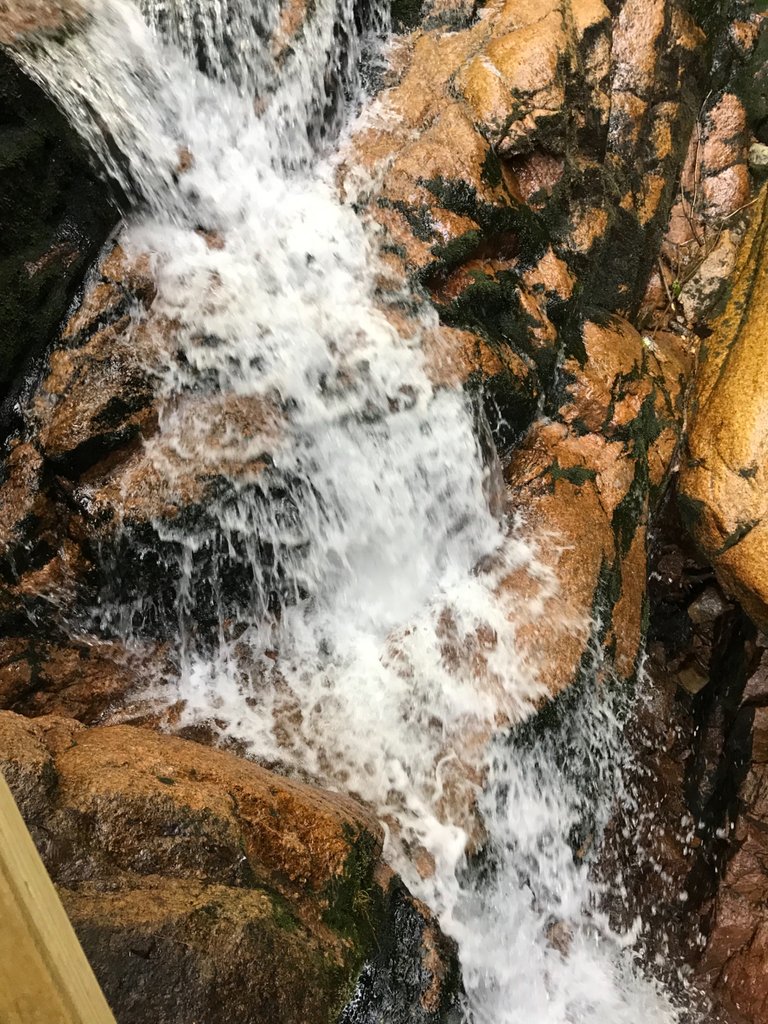 The water and falls keep on going up to the top of the gorge bridge area. You can get a great view of the fall in this area and just how intense the flow of water is!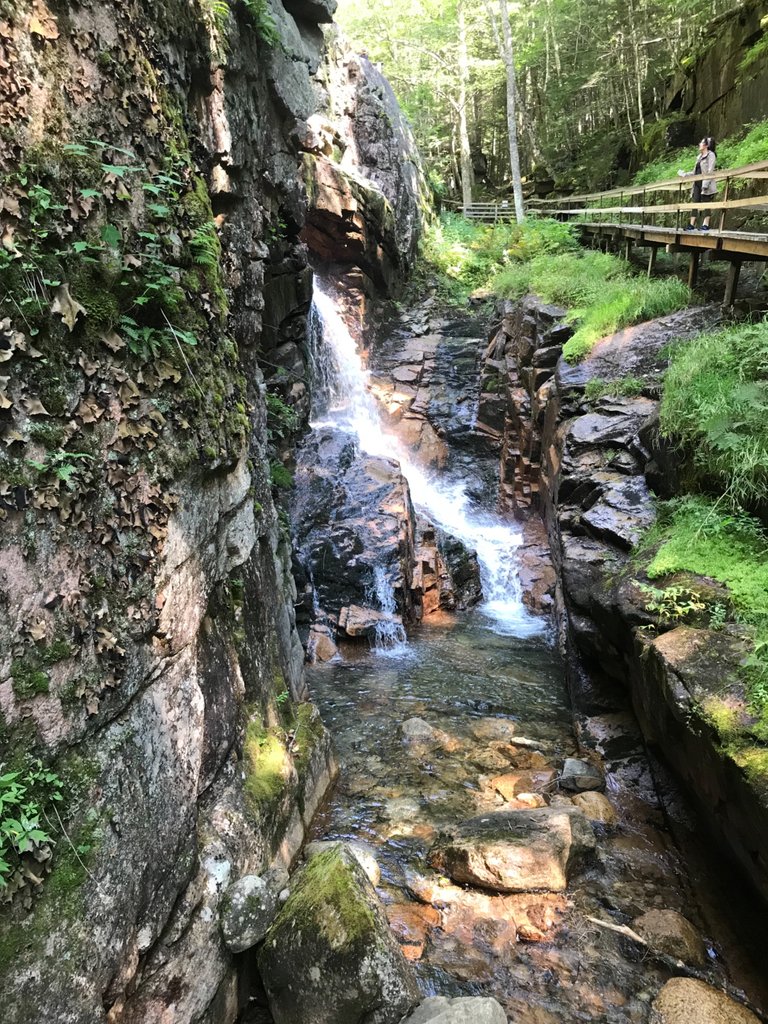 The water makes it look like you could sit there and hang out on a nice hot day but let me tell you those rocks are slippery as hell! lol some of the other areas where you can actually get to by foot without risk of death, you have to be very careful so walk on the rock. This spot looks like it would be a really nice spot to sit on a super hot day, that water is incredibly cold and refreshing.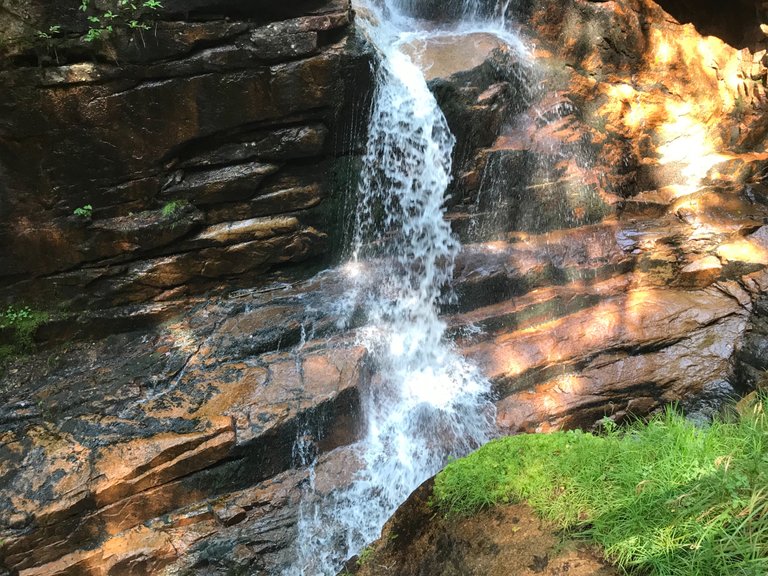 The Flume Gorge was an awesome trip and one that we are so glad we did. Some of the coolest trips we have taken are just ones that are local to us with a few hours of a drive! It would be awesome to visit the Alps and all that but sometimes you only see the popular tourist places and totally miss things that are within your reach. We have made it a point to look up places near us so that we can just take a couple hours of a drive to see some of the coolest things around! We also turn this type of stuff into some homeschool opportunities for our son so that makes it a huge benefit opportunity for us.
Let me know what type of place you've discovered locally that you didn't visit before!

Connect with me!
Do you want to get paid, in crypto, for searching the internet? Try using and signing up for Presearch to earn some great crypto! I've currently got 2,560 PRE tokens, with a market value of $749.28. It doesn't sound like a lot but when you search using sites like Google you get paid $0! Join Presearch to break Google's stranglehold on the internet searches. If you'd like to sign up, use my referral link!
https://www.presearch.org/signup?rid=513043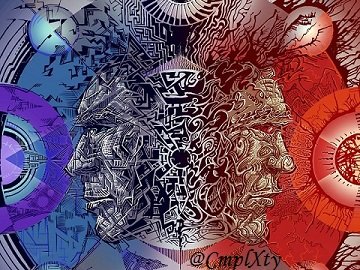 Image source
---
---