Reservoir Wednesday Hike
Hi fellow Hiveians,
Today the little man and I got out for a beautiful evening hike recently!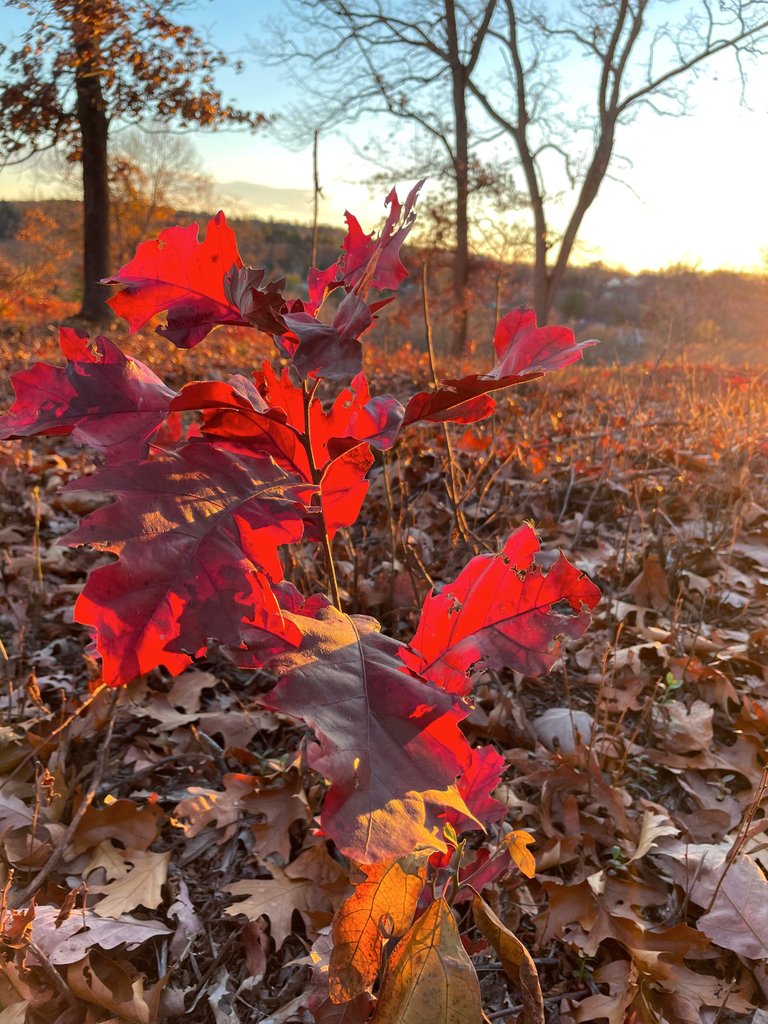 Reservoir Wednesday Hike
Hiking is one of my favorite things to do in the fall and winter. It's nice to do in the other times of the year except you usually have to tend with bugs and some other unpleasant things. In the fall, most of that stuff is dead or dying so it's not bothering you. It's for sure dead in the winter so that makes it even better to get out there for a hike.
The little man was antsy from me working one weekend day and once I got home I only had a few minutes to change my clothes before we were off and headed out for a hike. We saw one of our neighbors on the way out and he mentioned this place that he used to go all the time when he was younger so I figured let's give it a whirl! It was definitely a great choice!
All over the place there were these cool wooden bridges and I know that this would likely be cool as hell to walk in during the fall or spring when there are leaves just falling or things starting to grow. The summertime is probably decent too except it's certainly going to be infested with bugs lol so maybe not ideal for me.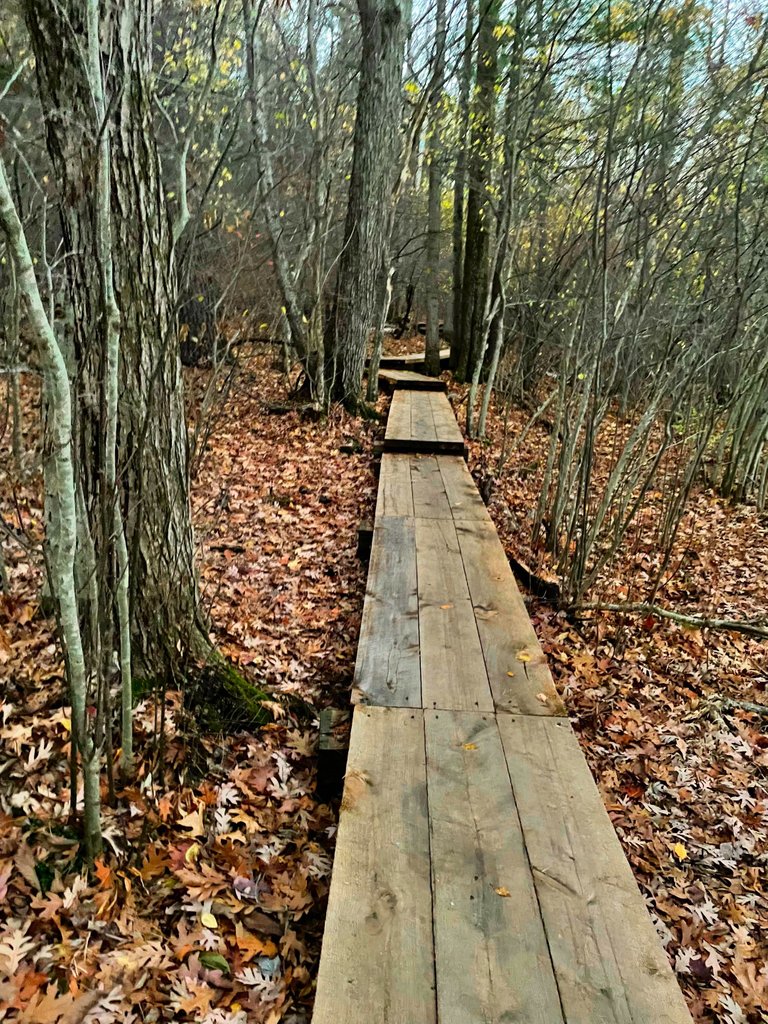 The place was thankfully very easy to find and get to, as well as parking. I was glad about that because some of the hikes that we've been on this year and last were a pain in the ass to figure out where to park! Lol that doesn't make for a really fun hike when you're annoyed to start it.
The place was also a lot bigger than I thought it would be! We could have easily hiked for another couple of hours if we had the daylight, and not seen the whole place. It's certainly going to be on the list of places that we are going to check out when we've got more time, perhaps this coming weekend!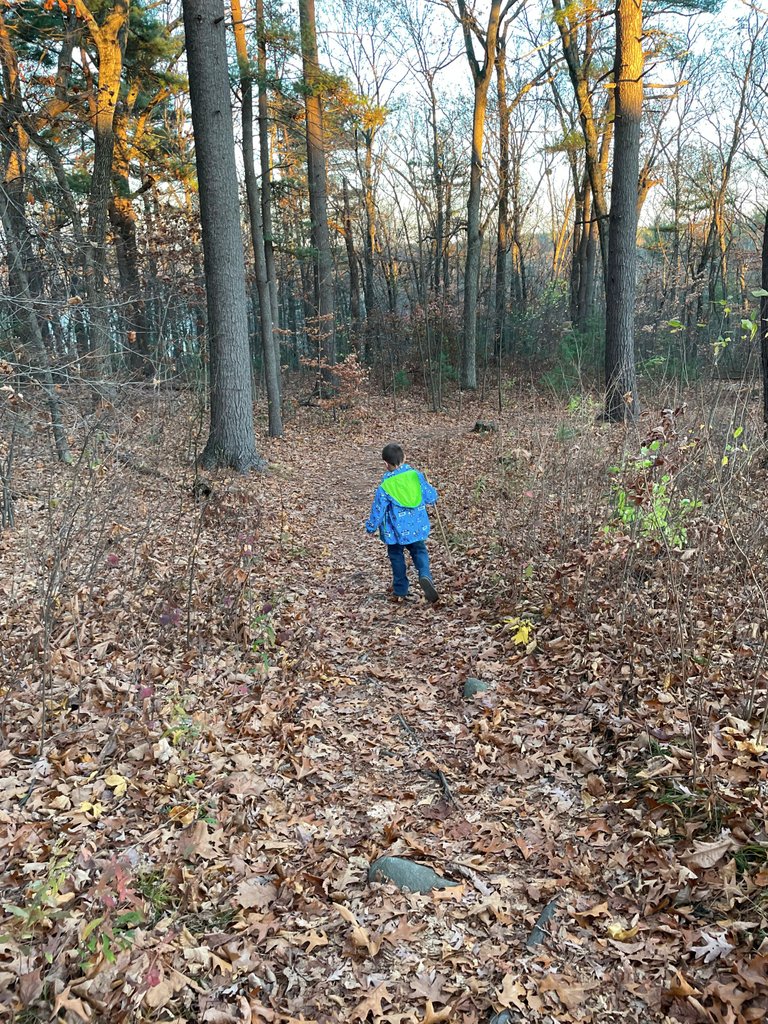 It was the best time though, the golden hour! We got there at such a perfect time because we were at the bottom of the hill and we had enough time to get up to the top of the hill to catch some of the beauty and golden rays of the sun as it was getting lower. These red leaves from an oak tree shedding it's leaves for the winter was a pretty awesome sight I think! I loved the way the sun hit the leaves, really made for a nice picture and the background is cool to see.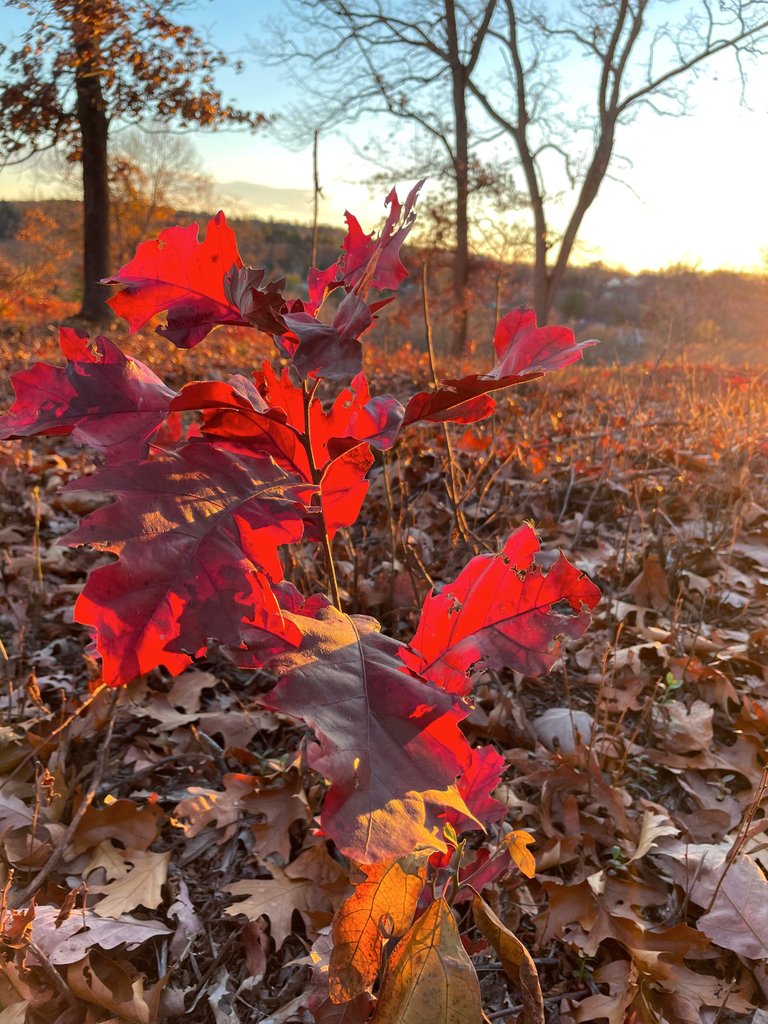 The place here reminded me of a Lord of The Rings movie for whatever reason lol the rolling hill here with trees that were dying or shed their leaves for the winter. I felt like there horde of orcs coming our way! I didn't want to tell the little man this because he's at the stage where he remembers things very well, especially things that may scare him. He's one hell of a funny kid that's for sure. Loves being dangerous but can't stand a fire alarm lol.
I figure if I tell him about the orcs, and he would need me to describe what they look like, then it likely wouldn't have been that good a time because he would have been antsy to get out of there, thinking there were really some orcs coming up the hill to attack us lol. Thankfully there were no idiots around to make it seem like they were orcs! Lol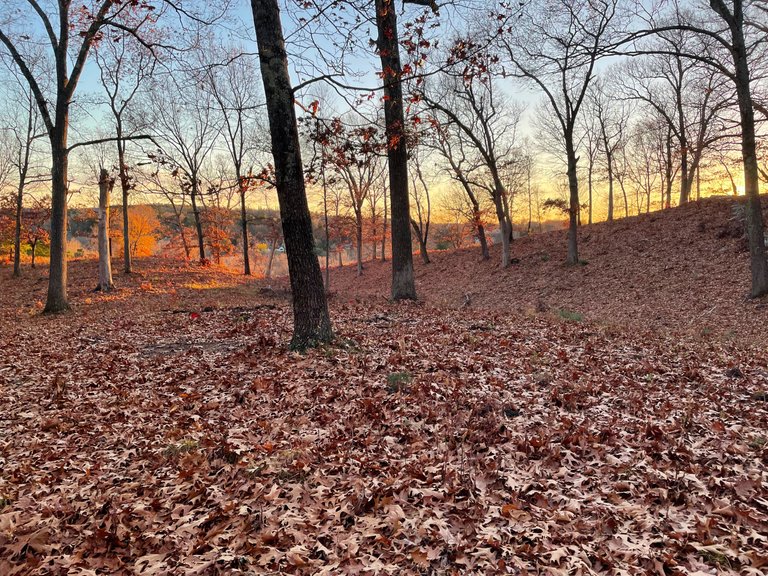 The area had quite a nice hill, a hill that I didn't realize was as big as it was. In this area it's not very common to find a spot where you can get on top of a big hill as it's relatively flat. Not as flat as central United States that's for sure but flat for where we live lol. Getting up on top of hills has always been one of the things that I enjoy about going out to places for hikes. It feels good to set your sights on a hill and make your way towards and up on top of it! I guess it's probably human nature to think that way, since it's a good vantage point and all.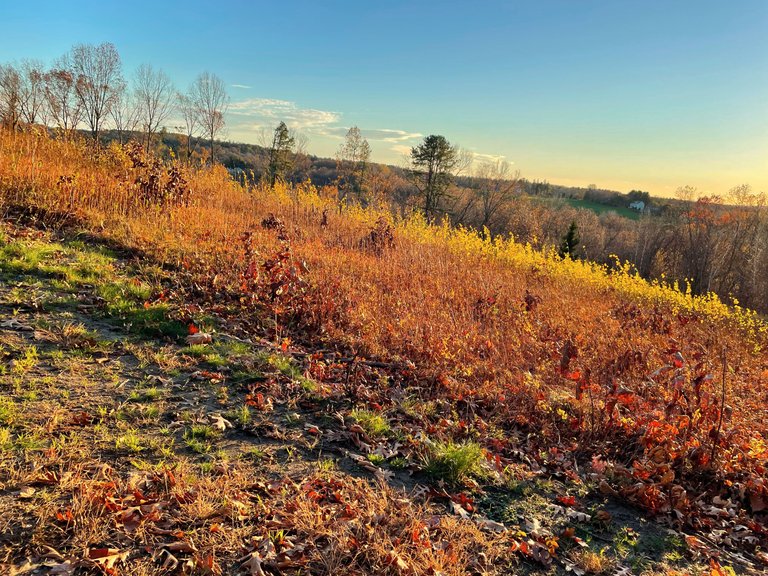 When we were there it started out nice and beautiful but then progressed towards a nice fading of the day. At this time of year, the sun fades quickly that's for sure! By the time we knew it, the sun was getting really low and it was rapidly getting to dusk. The little man was getting pretty nervous around dusk time lol
We ended up being 10 minutes away from the car and had to walk in the dark! He was pretty scared about that and wouldn't let go of my hand when we were walking lol I felt bad but it was also a good experience for him. I don't think that he's going to be doing any night hiking anytime soon but to get a small exposure to these types of things every so often is good.
What made it even spookier for the poor kid, but I absolutely loved it, was when we were hiking in the near-dark then the pitch-black (I thankfully had my phone! It was pretty damn dark being there under the canopy lol) we heard some animals that were nocturnal! One of the best things that I've never heard before was an actual owl "hoot, hoot"-ing like you'd hear or watch a video of them doing! It was amazing! The little man didn't quite think so as he was already scared but the owl put a little terror in him lol I assured him though that it was perfectly fine and I think he felt better because I was so excited at hearing it!
I've never heard a real owl before and I've lived in this area my whole life. Granted not this specific spot but I've lived in this region my whole life and I have had quite a bit of hiking experience, and a pretty decent amount of it at night and I've never heard the owls. It was remarkable! I wanted to record it but I knew it wasn't going to come out well enough for me to use for a post lol The closest I've come to an owl is one of my first smart phones, I was able to get lucky enough and randomly had it out trying it out when a baby owl flew by me and I got the fella in flight. It was incredible! Sadly I don't have the phone nor the picture any longer lol but now I've experienced an owl in the wild twice but both times were unique from the last. Let's hope I can get to see an owl with the little man now!

Connect with me!
Do you want to get paid, in crypto, for searching the internet? Try using and signing up for Presearch to earn some great crypto! I've currently got 2,720 PRE tokens, with a market value of $380.27. It doesn't sound like a lot but when you search using sites like Google you get paid $0! Join Presearch to break Google's stranglehold on the internet searches. If you'd like to sign up, use my referral link below and spread the word!
https://www.presearch.org/signup?rid=513043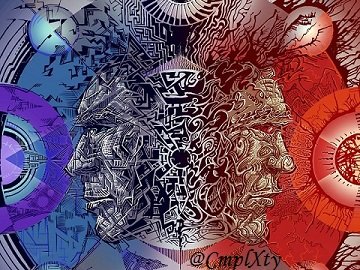 Image source
---
---