Splinterlands - 45K SPS Staking and Chaos Legion General Sale Packs Purchase
Hello Battlers,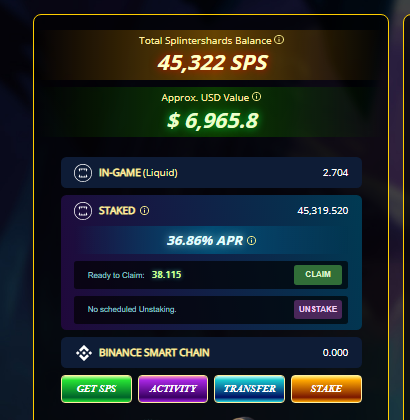 Source for coolguy123 account
We are into ending hours of the General sale of the Splinterlands Chaos Legion packs sale with packs purchased in First 24 hours qualifying for the cards to be airdropped.
Unlike as predicted earlier as 2 cards to be airdropped, now, it will be atleast 3 cards as more than 3 million packs have already been sold with a little over 2 hours still left for the 24 hour deadline.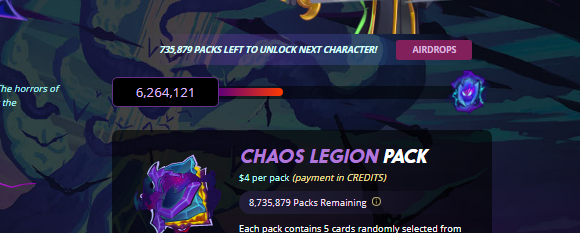 As I write this, there are already 3,264,121 Chaos Legion edition packs have already been sold in little over 21 hours as the above shown stats include 3 million packs sold earlier as part of pre-sale phase 1 and 2 and it's unlikely that, the remaining 0.7 odd million packs will be sold in the next 2+ hours to have Fourth card airdropped.

Coming back to the original topic of my intention behind this blog, yes, I have achieved another milestone in this journey with Splinterlands as I could stake over 45K SPS tokens, the Governance tokens of Splinterlands.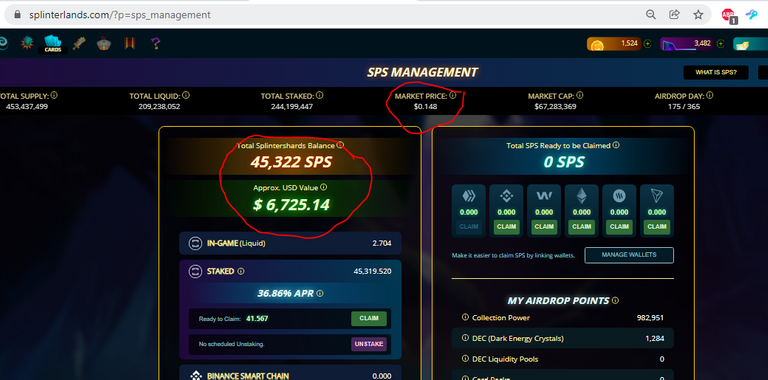 Well, the battles fought, the packs purchased and the blogs I wrote, made this possible as the SPS earning is solely based on the Splinterlands assets we own and an account worth US $60000 is not an easy one to gain for someone like me who hasn't invested a penny from the pocket, yes, whatever the account value is there is all because of my re-investment of Hive and other tokens I earned over a period of 4 years and Splinterlands has been the biggest Crypto investment made by me and I have close to 100 packs to open and I am hoping to add few more $ worth cards into that 60K and keep growing.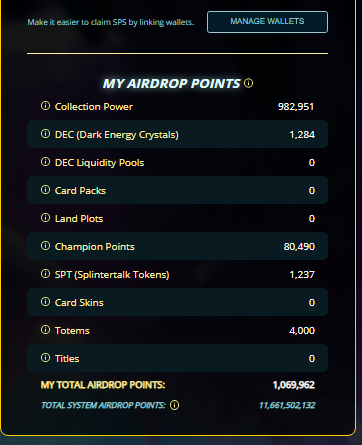 The collection power, the DEC we own and the cards and packs we purchase all counts towards the total airdrop points for SPS airdrop and we can enjoy the airdrop for over another half an year.
As we can see from above screenshot, I now have over 1 million airdrop points and it keeps increasing as the Chaos Legion festival is going on!!!!!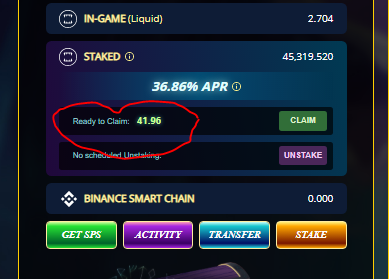 On an average, I earn about 55 SPS tokens from the staked SPS which is about $8.25 (55 X current SPS price of 0.15) and I am sure once the Chaos Legion pack sale and SPS airdrop ends, the price will pick up and we can expect more returns from the staked SPS tokens.
I also aim to have atleast 100K SPS token staked by the time the airdrop ends and that should give me more than 100 SPS in dividend from the staked tokens and that should give me more than $20/day at current price itself which will be around $600 per month of passive income!!!!!
Guess what, $600 per month will be approximately INR 45K which is not a bad amount in the form of passive income solely from Splinterlands!!!

Right now, it's all about Chaos Legion and I am not falling behind as I have also purchased over 1K packs from 2 pre-sales and now the General sale as well and airdropped cards seems to be of significant value in the longer run and returns from those will be better ones.
With 2 more hours to go for the 24 hour deadline, we are all super excited and hopefully, the value of the cards airdropped will be good to cover some cost incurred in purchasing the packs.
Splinterlands is not just a cards game, it has evolved to be a play2earn game and each of the Splinterlands tokens (DEC and SPT besides SPS) play important role in the passive income earning opportunity we have and I am grateful to Splinterlands for keeping me busy and also earn some Dollars as I play those battles :)
Thanks for reading this and do share your own experience about this game and also about the tokens you earned or even may be about the packs you purchased.
Thanks and wishing you all happy day :)

Join the new Official Telegram for Splinterlands via link given below to participate in contests and have fun.
---
Not yet signed up for Splinterlands?
You can join using my referral link: splinterlands.io and get some monsters from me :)
Posted Using LeoFinance Beta
---
---