A Minnow's Experience with the DEC/UNISWAP Pool
Introduction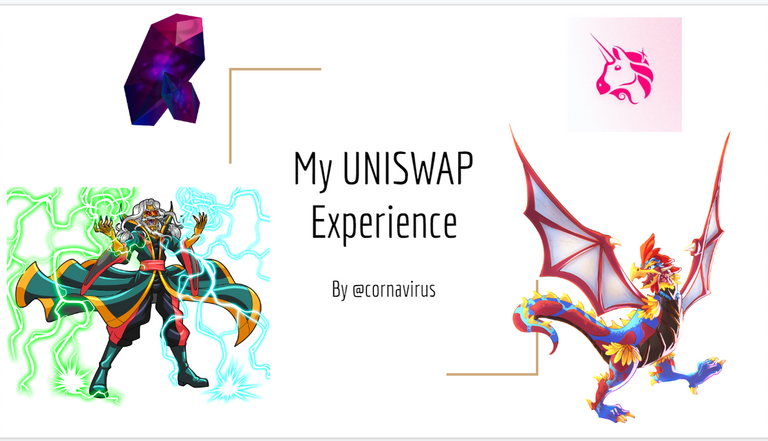 Hey fellow trades and summoners, it is cornavirus here and today I want to talk about my experience with the UNISWAP DEC Pool that was released just a few days ago. Even as a minnow, I wanted to get into the hype and see why everyone was so excited and hopefully make a couple of bucks doing it. Hopefully, my experience serves as a guide to other minnows looking to get in on the fun and help avoid miscalculations and such that I have experienced.
Disclaimer: The following content may be cringe to some but keep in mind that this is my first time doing something like this and that I am a very very small minnow just looking for fun ways to earn.
First Step: Withdrawing the DEC
First step to all of this UNISWAP thing is to withdraw your dec to your ETH wallet. You will have to link your wallet first by clicking on your profile and clicking Link External Wallet. This will bring you to this page: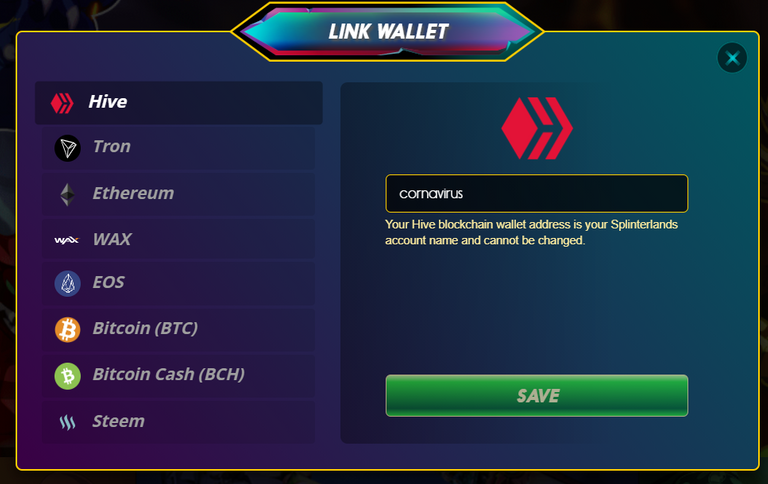 Proceed to click on the ethereum tab and it will give you and empty box to copy and paste your address into. You could alternatively click on the Find My Address button below the address box and for me, it took me to my metamask wallet asking if I would like to link my wallet to Splinterlands. After clicking Connect``, all the other times you click onFind My Address```, it will automatically fill in your address for you.
After that is finished, you need to do the actual withdrawing to your address. To do that, click on the DEC symbol, NOT THE PLUS SIGN NEXT TO IT.

Afterwards, it will take you to the DEC withdrawal + Deposits page: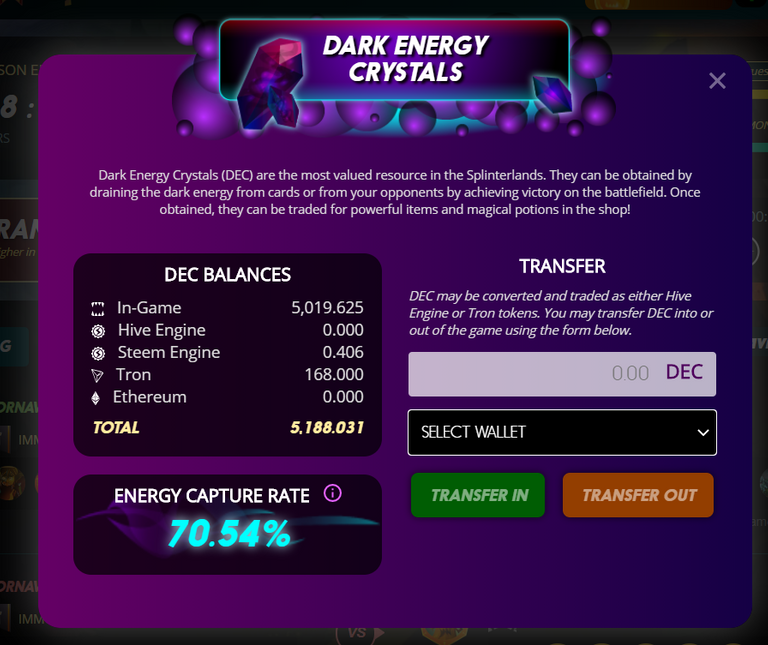 Here, enter the amount of DEC you would like to withdraw to your ETH wallet and in the SELECT WALLET section, click on the Ethereum Wallet.
Be mindful that there is a 1000 DEC fee for withdrawing to an ETH wallet to cover for the gas fees.
It should arrive in your wallet shortly after. Mine took around 5 minutes to arrive but if your's takes longer, go to the Splinterlands Discord to ask for help. Some people have encountered delays withdrawing to their ETH addresses.
Step 2: (Optional, for people like me who just started using ETH) Trading your DEC to ETH
Because I just started getting into ETH when Splinterlands announced the DEC pool, I had NO ETH so Uniswap allowed me to trade my DEC for some ETH which I would later add to the pool. Because DEC isn't a common ETH coin, you will have to search for the coin using its contract address after going on Uniswap, or simply click this link:
https://app.uniswap.org/#/swap?inputCurrency=0x9393fdc77090f31c7db989390d43f454b1a6e7f3
It will take you to this screen: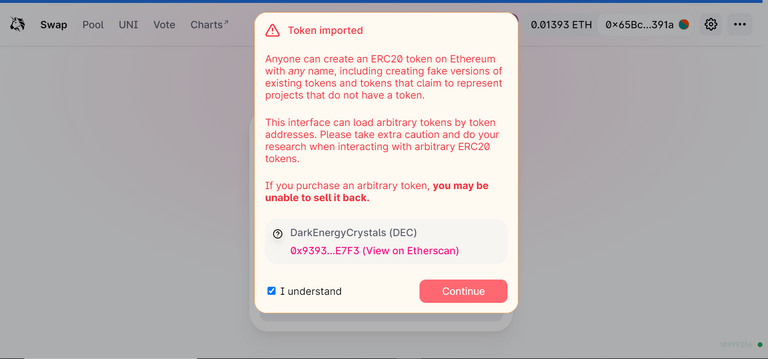 Check the I undestand box off and click continue and it will tell you to connect to your wallet. I used Metamask here because I just love that fox thing and it is really convenient. Enter how much you want to swap for ETH and there will be a Approve DEC button you have to click looking something like this but instead of BAT, it is DEC: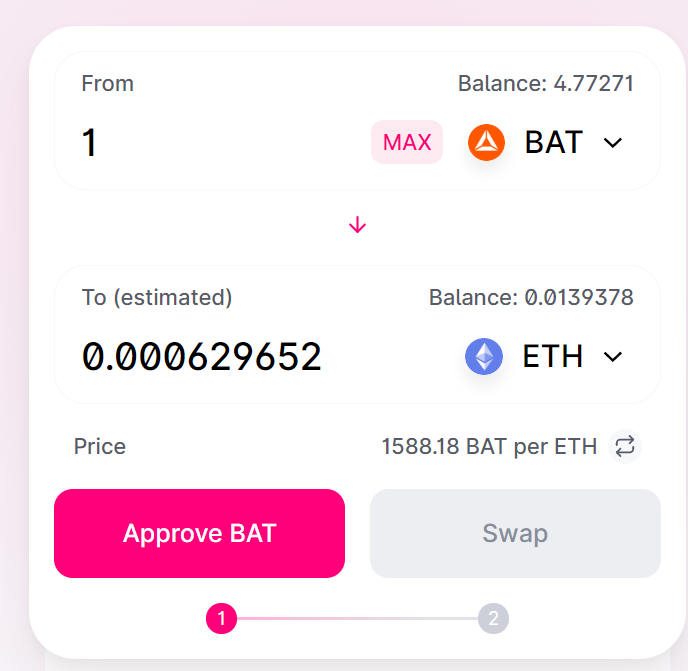 Clicking on Approve DEC tells you to send a transaction to confirm that you can spend the BAT on the exchange. This step costed me $1.24 in transaction fees but I thought "Oh hey, small price to pay because I'm trading in 21000 DEC for ETH." Boy was I wrong. Turns out after sending that confirmation, you need to send ANOTHER transaction to trade your DEC for ETH. The confirmation is a one-off thing though but you will need to do it for every coin you trade.
So after you have confirmed that you want to trade thee DEC, click Swap. It will tell you to send a transaction saying how much DEC you want to swap for ETH. This step costed me $2.03 in gas fees. But finally I got enough ETH!
Side Note:
You might be wondering how I got the tiny amount of gas fee to confirm and swap my dec. That is thanks to blocktrades. I managed to swap my HIVE to ETH using blocktrades and that powered my Uniswap adventures. So big thank you to blocktrades for getting me that ETH. Transaction was fast and smooth, I highly recommend it for trading between different cryptos.
Step 3: Pooling the ETH + DEC
The next step is to add the liquidity to the pool. For this, you will need an equal amount of ETH as DEC in USD value. This means that $10 worth of DEC has to be matched with $10 worth of ETH. To add liquidity, you will first have to approve of the DEC transactions. You do not need to do this if you already approved it in Step 2. Once you have done so, you are ready to add the liquidity to the pool. To do that, enter either the amount of ETH or DEC you want to deposit into the pool. Once you have entered in your desired amount, the other currency will automatically fill in based on the value you put in for your initial currency. For example, I added 13k DEC to the pool and I had to add 0.0297777 ETH to the pool.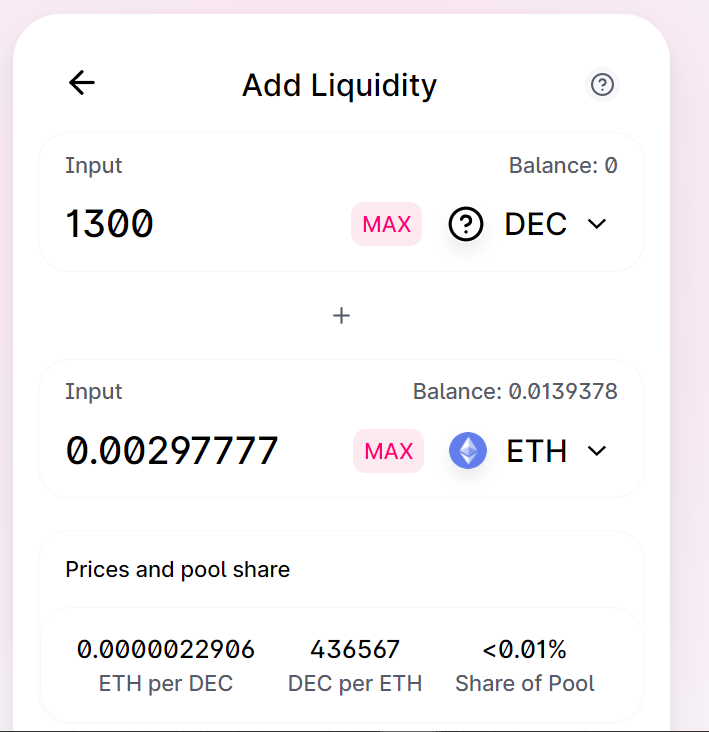 After I adjusted the values to be suitable for me, I click Approve DEC and it will take me to send another transaction this time with the required DEC and ETH which I am adding. This costed me around $2.05 in fees. But after that, you are done and you can see your DEC and ETH earn liquidity fees.
Review: Costs
So throughout my pool adding process, how much fees did I occur and what percentage of that was taken out of my initial investment?
Initial Withdraw of DEC to ETH wallet: 1000 DEC ~0.71 USD
DEC approval Gas Fee: 0.003516 ETH ~ $1.19 USD
DEC Trading Gas Fee: 0.005752 ETH ~ $1.95 USD
Adding Liquidity Gas Fee: 0.006036 ETH ~ 2.05 USD
That adds up to around $5.9 in fees.
My initial amount that I withdrew out of Splinterlands was 35k DEC which is around $24.85
This means I spent 23.7% of my initial withdrawal on fees! Moral of the story? Unless you are a whale and are withdrawing a lot to the pool, it is probably best not to join the UNISWAP Pool excitement.
What do I Get for Joining the Pool?
Joining the DEC liquidity pool will provide you with liqudity trading fees and raffle tickets for the upcoming Splinterlands Lands!
There will be 1000 Splinterlands Land plots airdropped to liquidity pool providers every month for 3 months based on how much liquidity you are providing to the pool. Raffle tickets will also be distributed to liquidity providers. For more information on this, read up on this at Splinterland's initial post!
https://peakd.com/splinterlands/@splinterlands/dec-is-on-uniswap
Additionally, you split a 0.3% trading fee among the providers so every day you leave your dec and ETH in the pool is 1 more day they will grow!
Looking Back
Looking back at what I did, I regret not adding more to the pool but I will still add to the pool if I had another chance. This is because of all the cool prizes which await me for putting my DEC into the pool. And who knows, if DEC exploded and DEC/ETH trading pair beecome popular, I might just make a buck. But for, now my DEC is earning me a small dividend daily and I will enjoy it.
I hope from this post, other minnows can learn from my experience and better decide what amount they want to put into the pool, if at all, after considering the hidden gas costs I incurred. Going into the pool, I had no idea how much gas I needed to pay and I underestimated that amount but hopefully after reading this, other minnows can better prepare themselves.
Thank you for reading my post guys, and as always, BATTLE ON!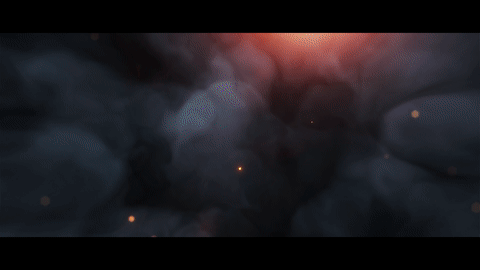 Posted Using LeoFinance Beta
---
---