Clash of Streamers | New Nerfs Update!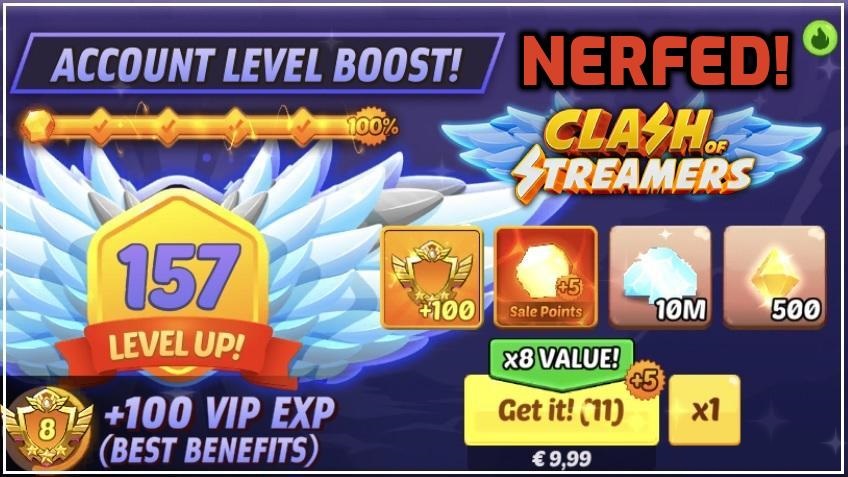 There was an update patch for the Mobile Play2Earn Game Clash Of Streamers yesterday which introduced some new Nerfs. This is what changed...
The way these games pretty much always work is that things start out very generous as it helps to attracts new players with things slowly but surely getting balanced (nerfed) over time as more data becomes available of aspects that are not sustainable. I wrote about this 3 months ago in my post on Getting a Pre-Nerf Advantage

This Wrote this back at that time:

One of the great things about the developement is that they announce nerfs in advance so everyone that follows the project closely by watching the daily streams on Twitch (or those that read my blog posts on the game) have time to still take advantage of them before they are gone. I wrote this 20+ Days ago:

---
Most Recent Nerf Update
Insanity Boost -> Nerfed
The Sale points have been removed from the Insanity Deal but only for new players from here on out. This means that everyone that managed to get the deals will continue to get 5 Free Sale points each new level they clear which is a massive difference. They will also make a separate leaderboard naming the accounts that got the boosts Legacy Accounts. Everything else aside from the sale points remains the same for the Insanity deals which still offer crazy high value and are one of the better deals in the game.

Account Level Boost -> Nerfed
For each new level a player cleared, they also are able to buy an account level boost which cost 5$ and included 5 Sale Points also offering crazy good value as 25 Sale points allows for players to buy any deal in the game for free. Combined with the TTTT Voucher Max Bulk Buys, they just were too strong as you could get 100+ Sale Points + a Free TTTT Boost and an exclusive Building skin for just 7.7 PRPS which could be cought for less than 40$. The nerf is that The price went up for the Account Level Boost from 5$ to 10$. I personally managed to get 146 Account level boosts most of them through TTTT Vouchers for a really cheap price.

TTTT Vouchers -> Nerfed
It was great to be able to buy exclusive skins with TTTT Vouchers also including some Account Level Boosts in the package. They now made it impossible for Exclusive skins to be included into the Bulk Buys with Vouchers. This is the one nerf I personally thing will hurt them seeing a big decline in Max Bulk Purchases. For me, getting the exclusive skins in a very beneficial way was one of the main reasons that I almost weekly bought and used a voucher. This nerf will most likely keep me from continuing doing this just using sale points or just skipping on the exclusive skins from here on out. Buying Vouchers on the G4G Shop to sell them in the game was one of the best ways to save some crypton to pay for the land expansion. I'm not sure if there will be enough demand for TTTT Vouchers going forward though. For the last one I sold, I got 55100 Crypton, but I expect the price to go down below 50k Crypton again.
I'm not 100% sure if it's implemented yet but 6 will be the maximum of exclusive pets each week someone can buy including their alt accounts. The number of new exclusive skins in circulation should go down from here on out because of these changes.

Marketplace Refresh Cost -> Nerfed
One of the best ways to use in-game gems was just to auto-refresh the marketplace buying all deals. The cost to refresh the deal will go up each time you refresh up until a certain point.
---
Too Late To Still Get in? --> NO
With these new nerfs it begs the question if it now is too late to get in while still getting a good early edge. I'm quite sure the answer to that is NO as most of the player base still needs to be onboarded. The Crypto Land Expansion which will allow players to earn Passive Crypton is still a couple months away and playing just 5 to 10 minutes on the side on your phone during breaks can already get you a long way. I'm still running my Community Sign-Up Deal and you can easily get you Free Sub-Plot (See How To Get A Free Land Plot & Earn! by the time the expansion is released. On top of that, there are still things in the game that I believe to be way too generous. The game also has a catch-up mechanic where new players get extra luck compared to old ones for as many days since the game was released allowing them to make faster progress to catch up.

---
Conclusion

If
Clash Of Streamers
manages to get more adoption the coming years (which I'm quite sure it will), those that got in early getting all the juicy deals before they got nerfed will have done an excellent deal including those that get in right now as they are able to get an advantage before the launch of the Crypto Land Expansion. The Discounts right now are also quite crazy (-60%) with PRPS going well below the sell-wall price. The game is also fully Free2Play so anyone looking tp try out something new just to make their own estimation if the game could be something that they see growing big has got nothing to lose. Scanning the QR code on your phone will help to download the game on your phone.
---
More Info & Guides For Clash Of Streamers (some things might be outdated already)
---
Play2Earn Games I'm Currently Playing...
---
---