Gambling Dapp Dividends Report | Deploying Capital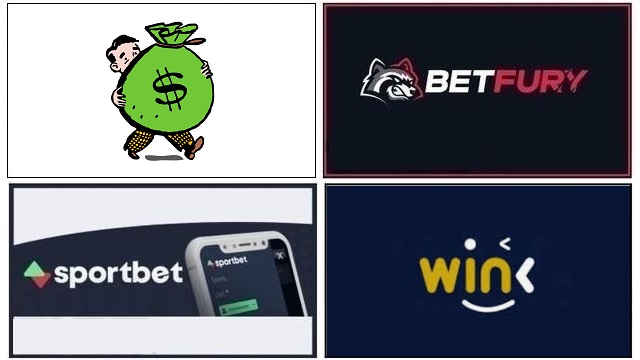 I am keeping close track of my Gambling Dapp Portfolio that includes BFG (Betfury.io), WIN (Wink.org), & SBET (Sportbet.one) and make regular updates on how exactly they are doing showing what can be expected for those interested...
---
I managed to put some funds safe on the side both during the bull market and these past months while the market was going down which puts me with some dry powder to deploy in times like these when there is big capitulation. While the gambling dapp coins that provide reliable high returns tend to be less at risk for crazy downside, they are always influenced by the market as many of them trade against volatile assets in liquidity pairs. So yesterday and today, I continued to cost-average more in all 3 coins I'm invested in.
These were my buys:
50k BFG for 703$ (~0.014$ Average Price)
200k SBET for 421$ (~0.0021$ Average Price)
1M WIN for 122$ (~0.000122$ Average Price)
---
While the dividends this week were down quite a bit due to the fact that the market and the prices crashed while there isn't that much sports betting action these days. The overall returns however remain solid and I do anticipate things to pick up again once the new football season starts. I see a fairly good chance that being able to pick up coins at current prices will make for some excellent returns over time. There is always the risk of regulation or other things going wrong but for now fundamentally nothing seems to have changed to me so I keep cost-averaging building my passive returns from this portfolio.
The Dividends from SBET mostly rely on the Sports Events while the price is fully linked the EOS as it's the only trading pair. With EOS seeing a big decrease in price it brought SBET down with it which made me deploy some stable coins to buy a bit more pushing the price up. Everything below 1 Million Market Cap feels like a good deal.

---
In the short term, WINK Dividends are rather disappointing while the long-term picture on the 100-Day Moving average still shows a nice uptrend in dollar returns. Since WIN is one of the coins that has the potential to get inside a crazy speculative bubble, it also counts for the downside. I don't feel we are yet at the bottom though and I'm kind of hoping for total dumping prices at some point where I would buy more.

---
The Dividend returns for BFG actually continued to go up despite the crazy bloodbath on the market 94$ to 100$ last time and from 100$ to 109$ Weekly dividends for around 520 BFG this week. This initially made BFG hold up in price but eventually it also cracked which made me pull the trigger to add to my position.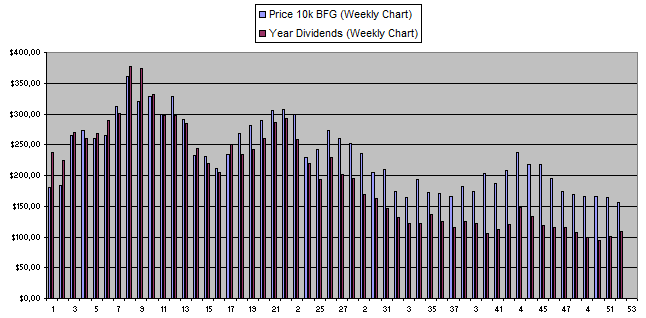 ---
APY Based on Current Price and Dividends from the last 7 days
All these numbers are based on prices of Monday
Note: Token prices going up or down have a major influence on the actual returns going forward either amplifying them if they go up or destroying them when the price goes down.
---
Personal Gambling Dapp Portfolio
Since all prices went down so much, the dividends 'only' added up to just over 200$. After deployed 1246$ during this dump, I now hold 27M WIN / 6.8M SBET / 571k BFG/ 10k TRX / 79 LIVE | 2271 RAKE. I am looking the diversify more looking for good gambling dapps that pay the losses from the gambler to those holding a token, so if you have one on your radar make sure to let me know...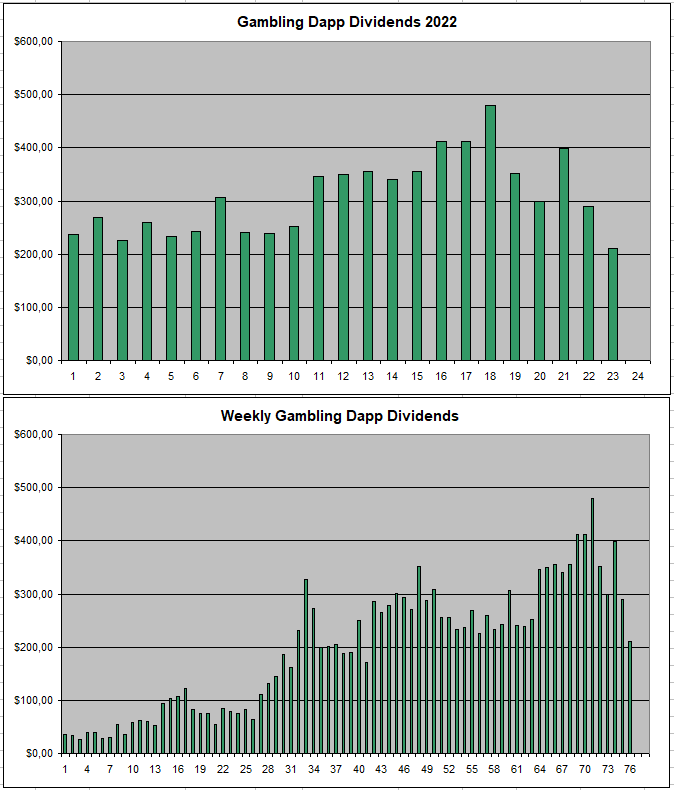 ---
Full Guides to Decentralized Crypto Bookies I personally use where no KYC is required allowing anonymous betting from any location without individual limits for winning players...
---
I'm looking forward to what the next week will bring and I'll make another report 7 days from now...
---
Posted Using LeoFinance Beta
---
---