Splinterlands Untamed Pack Flipping Results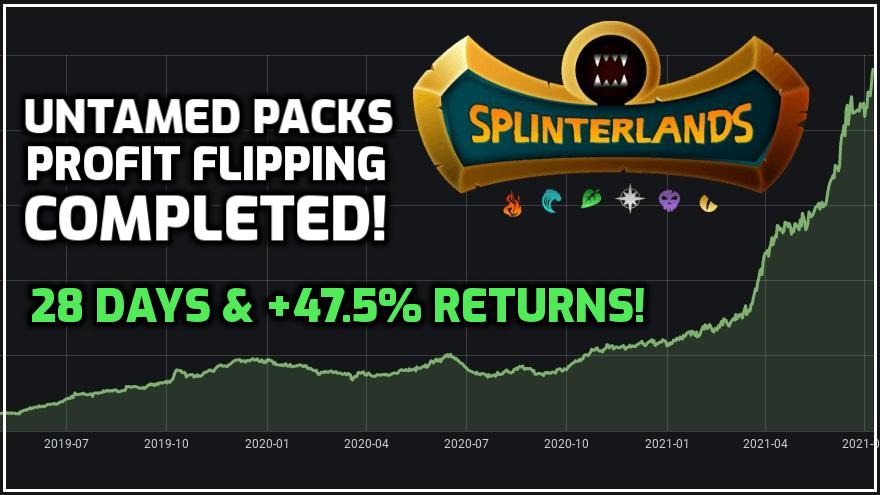 28 days ago before the Untamed Packs in Splinterlands were sold out, I made a post (Link)with a plan to flip some of them for some profit. By now, it has been done and these are the results...

Splinterlands is in a pretty good state at the moment to the point with the rental system being somewhat of a gamechanger making the initial experience of new players a lot better. It is now much easier to climb in the rankings from the start without being required to heavily invest and I'm quite sure this will really help to get more players into the game.
The pattern of a card set being closed to selling out exactly repeated compared to what happened with the beta set. The last 100k packs went really fast with many of them being bought by players who understand the dynamics knowing they can sell the packs with some profit later down the line. It's one of those things I kept in mind when seeing it happen the first time around and it is likely to happen again with the upcoming Chaos Legion Set which is about to release a couple of months from now.
Untamed Pack Profit Flip ResultsEven though it was tempting to open some of the packs (or even open all of them with potions), I stuck to my original plan and started cost-average selling them on hive-engine after they sold out not that long after I purchased the 110 Packs for 200$.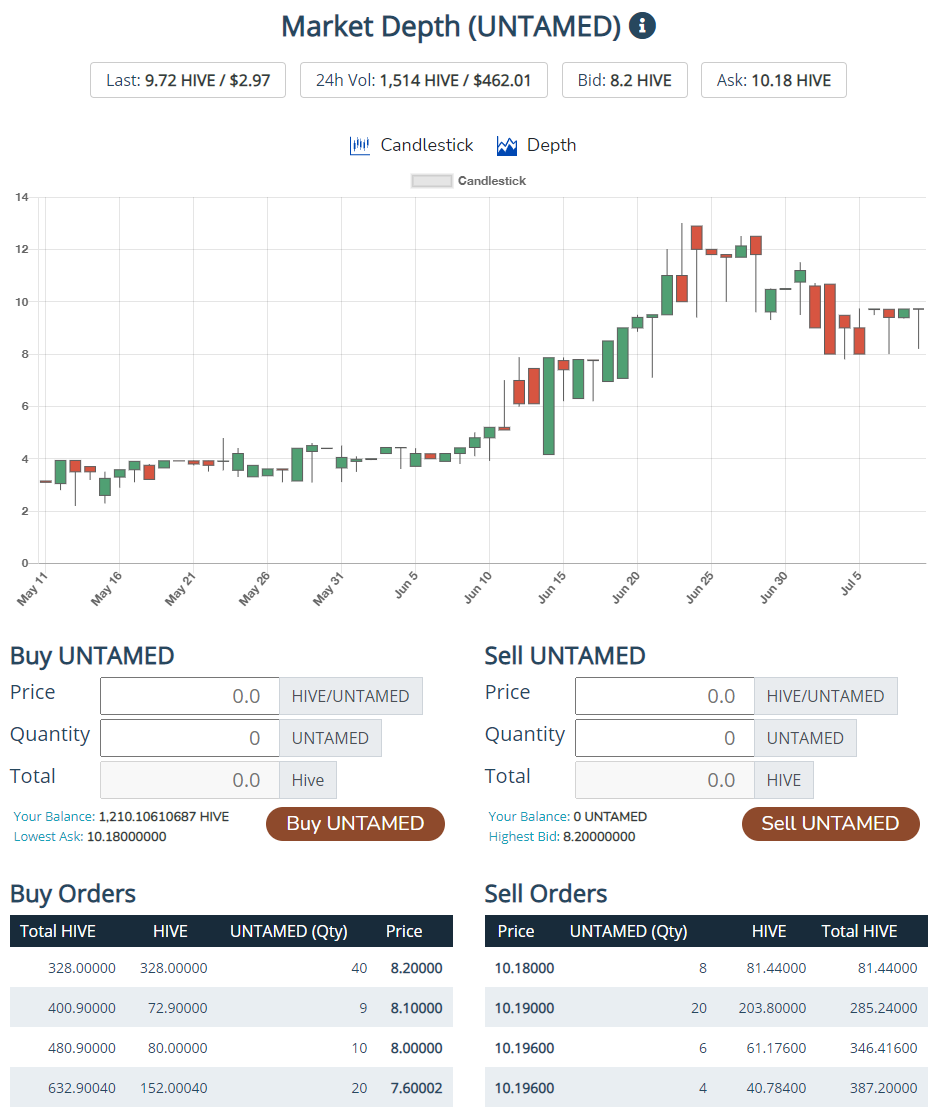 I anticipated to be able to sell them for 2.20$+ each but prices went way up regularly trading for 3$ or more. It seemed that others were also looking to sell as a bot always undercut my sell order price. Eventually, I managed to easily sell all of them without many issues at different prices also because the hive price is not exactly all that stable.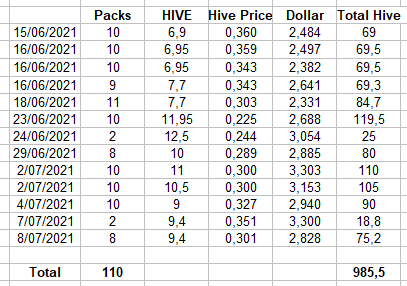 In total, I sold the 110 Packs getting 985.5 Hive (295$) for it which is now sitting in my Hive-Engine being exposed to the volatile prices. The plan was to put it into DEC but this is trading at a premium price of 1.1$ for 1000 DEC instead of 1$. This somewhat screws up my plan as I will have to find another solution in the meantime while DEC inevitably will return to the Peg or even below it. Most likely I will trade the Hive for DEC on Hive-Engine, send it to my Splinterlands account, send it there for free to the Binance Smart Chain and trade it for a stable coin on cubdefi.com. I originally planned to use it to buy 110 Chaos Legion packs for 184$ but I might save up for an extra 110 Packs since I have well over 1100 Potions available.
Conclusion
Splinterlands as a game and an ecosystem provides many different ways to make some profit which for me honestly is the most enjoyable gameplay aspect where some skill comes into play. Flipping card packs for some profit with Untamed Card Packs being close to being sold out provided a fairly easy +47.5% return in less than a month's time and I should have gone bigger on it which I likely will do when this entire cycle possibly repeats with the new Chaos Legion Set.
Those that missed out, feel free to follow me on Hive / Leofinance / Publish0x / Noise.cash where I'll be sharing more of these potential opportunities that I'm getting into myself.
---
For more Info Around the Splinterlands Game & Free Rentals for new players see...
---
Another Crypto Game I'm now early into is Clash Of Streamers

---
Posted Using LeoFinance Beta
---
---