Did Netflix go crazy? After announcing a 22% increase in the plan, will his end of reign be near?
This post can also be read in Portuguese
If you live exactly in Latin America, chances are, you saw a message from Netflix that it will increase the price of all its plans. This happens at an event where other streaming platforms take the opposite path, presenting attractive plans so that more people can join their plan.
But as we realized this is not what Netflix plans to do, we are seeing that more strong competitors are emerging in the market, bringing innovations to their plans and fighting with very competitive prices. It's true that it is the giant in the streaming market today and especially here in Brazil where they have millions of subscribers. Its customer base is already consolidated.
It is also true that such an increase has not happened since 2019, but it is fair to remember that we are still living with a pandemic so in recent years we have seen a significant increase in new customers for spending a good part of their time at home.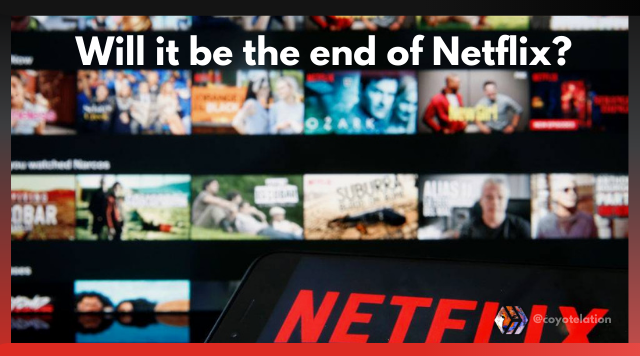 But Netflix decided to change the price and this impact is practically 22% increase. In a country where the price of gasoline is above R$6 and staple foods such as rice, beans, oil and gas prices above R$100, it is absurd to see that the platform decides to increase plans without even presenting anything new...
Let's see what the new plans will look like with their attractive prices: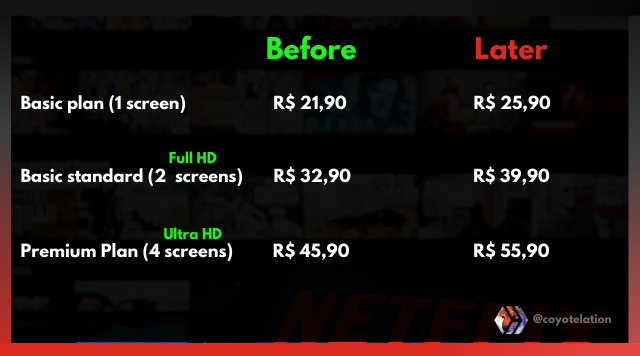 Admittedly, some people won't even notice this change, they'll just keep paying on their credit card, but in many families this amount will cause doubts about whether or not to stay with Netflix. All because many series were canceled and the products presented are not pleasing many people, that is, the popularity starts to be threatened because of it.
But why this increase at this time?
Well, everything indicates that this is to please its shareholders, it doesn't mean that the company is making losses in the market, but this is so that it can attract more investors. So who will pay for it are us customers. Netflix only has its streaming service so there isn't much option left for it.
To give you an idea, curiously, the most expensive plan, which is Netflix Premium, we can pay for three or even four different streamings and without a doubt that thinking like that won't be doing anything wrong. Canceling might be the wisest way to go.
A solution to your problem
Well, as I mentioned a little before, with the value of the most expensive Netflix plan we could pay some other platforms and one of them would be HBO MAX, at this moment we still have a very interesting promotion which is the lifetime plan if you accept the plan to pay only R$9.90 per month and today is the last day of this promotion, whoever wants to take the chance is now.
Is it really possible that the existing reign of Netflix could be broken mainly in Latin America? Well, only time will tell but no doubt what she's doing is speeding up this whole "shooting yourself in the foot" process. Are you going to cancel your subscription or just change your plan?

Versão em português
Se você mora exatamente na América Latinha, é bem provável que você viu uma mensagem da Netflix avisando que irá aumentar o preço de todos os seus planos. Isso acontece em um evento onde outras plataformas de streamings percorrem justamente o caminho contrário, apresentando planos atraentes para que mais pessoas possam aderir ao seu plano.
Mas como percebemos não é o que Netflix pensa em fazer, estamos vendo que mais concorrentes fortes estão surgindo no mercado trazendo inovações em seus planos e combatendo com preços bem competitivos. É verdade que ela é a gigante do mercado de streaming atualmente e principalmente aqui no Brasil onde possuem milhões de assinantes. Sua base já está consolidada de clientes.
É verdade também que um aumento assim não acontecia desde 2019, mas é justo lembrarmos que estamos ainda convivendo com uma pandemia então nos últimos anos vimos um aumento significativo de novos clientes por passarem boa parte do seu tempo em casa.
Mas Netflix resolveu mexer no preço e esse impacto é praticamente 22% de aumento. Num país onde o preço da gasolina está acima dos R$6 e alimentos básicos como arroz, feijão, óleo e o preço do gás acima dos R$100 é um absurdo ver que a plataforma resolve aumentar os planos sem nem mesmo apresentar nada de novo...
Vejamos como serão os novos planos com seus preços atraentes:
É certo que algumas pessoas nem irão perceber essa mudança, apenas vão continuar pagando no seu cartão de crédito, mas em muitas famílias esse valor irá causar dúvidas sobre permanecer ou não com a Netflix. Tudo porque muitas séries foram canceladas e os produtos apresentados não estão agradando muita gente, ou seja, começa a popularidade ficar ameaçada por conta disso.
Mas por que desse aumento nesse momento?
Bem, tudo indica que isso é para agradar seus acionistas, não quer dizer que a empresa está tendo prejuízos no mercado, mas isso é para que possa atrair mais investidores. Então quem vai pagar por isso somos nós clientes. Netflix tem apenas o seu serviço de streaming então não resta muita opção para ela.
Para se ter uma ideia, curiosamente o plano mais caro que é o Premium da Netflix podemos pagar de três ou até mesmo quatro streamings diferentes e sem dúvidas que pensar assim não estará fazendo nada de errado. Cancelar poderá ser o caminho mais sensato a se fazer.
Uma solução para o seu problema
Bem, como mencionei um pouco antes, com o valor do plano mais caro da Netflix poderíamos pagar algumas outras plataformas e uma delas seria a HBO MAX, nesse momento ainda temos uma promoção muito interessante que é o plano vitalício caso aceite o plano em pagar apenas R$9,90 por mês e hoje é o ultimo dia dessa promoção, quem quiser aproveitar a chance a hora é agora.
Será mesmo que o reinado existente da Netflix poderá ser quebrado principalmente na América Latina? Bem, apenas o tempo irá dizer mas sem dúvidas o que ela está fazendo está acelerando todo esse processo de "tiro no seu próprio pé". E você, vai cancelar sua assinatura ou apenas trocar de plano?

Thanks for reading so far. If you liked it, give that strength with your upvote and rate me. Feel free to leave a comment .Thanks guys!




Posted Using LeoFinance Beta
---
---