Fund Raising Project for Running Pens Gallery
hi everyone!
Time flies! It is 1st November already!
I hope all of you are doing the best despite of whatever limitations at hand.
For those who has read one of @gtpjfoodbank 's most recent post The Miracle in the time of Lack for a Refugee School you realised that we found a struggling missionary school for the refugees in Malaysia who needed food aid to sustain families in refuge.
At the same time, I got to know more about the teacher who reached out to the Food Bank and her really talented class.
After talking to her quite extensively lately, I have decided, why not get them into the HIVE Blockchain to showcase the kids' talents at the same time, helping them to save up enough rainy day HIVEs for their first 2 most talented teenagers in arts to pursuit a chance for further education when they come of age and manage to apply for asylum in any countries that can accept them from being persecuted?
I don't want to burst the bubble of their stories here, simply because, it's their story and you will see them in their own account later
I actually wanted to get the talented kids' doodling into NFT however I am not certain how that can be done yet realising an NFT gallery on a ETH blockchain can cost as much as USD90 for a start up gallery; and I heard that they are charging them a bomb...
---
However there is another option that I haven't check out yet, but I definitely will soon
I digress...
---
So I thought of another walk around.
Behold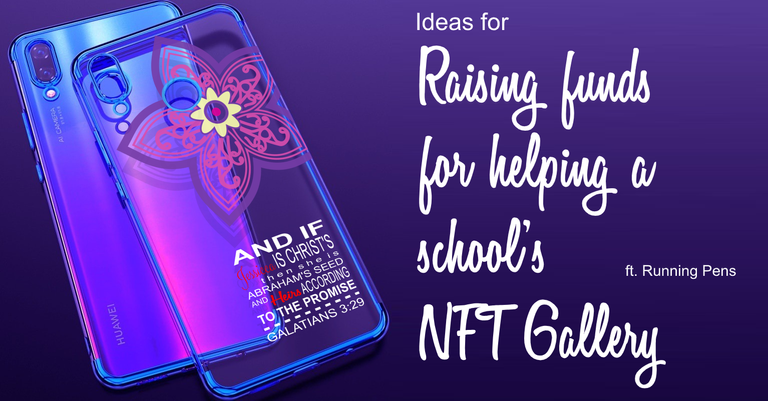 This is my own mock design testing
Starting with something more tangible...
Maybe like, fully customised handphone casing featuring their work for anyone who wants to support the fund raising?
I am thinking that since it is just the beginning and I am not certain how many people will dig this idea, I am going to try one of the cheapest suppliers (overseas) just to see how potential it can look like, where I can perhaps later negotiate for a lower price if there are a lot of takers.
---
This is all for the startup of the Gallery that allows their work to be converted into NFT
---
BUT ARE THEIR WORK REALLY GOOD?
They love doodling, and I was very fortunate to receive permission to test one of their doodles into a mock casing design, so that you can see how it could potentially look like, like this: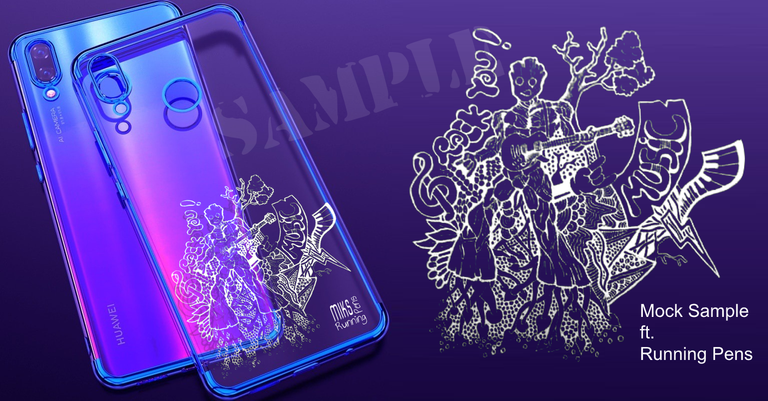 Original art from one of the talented students, modified into white ink print on a transparent soft casing cover
This is just one of them and they have tons of really cool doodles that will be showcased in @runningpens account later.
---
Unfortunately, currently even if I run at a loss, it still requires at least 25 HIVE per order (before shipping) because of the weaken HIVE token.
I will look into consideration in other crypto options besides HIVE as well; including fiat for people who resides in Malaysia.
---
I even thought of getting my own machine, but it costs around USD 300 to start up.

I even tried messaging the printer supplier to see how this can be done.
Currently waiting for their reply
I digress (again!)...
---
What do you think?
Would you be interested personally own very personalised super cool doodle from refugee kids?
And knowing 90% of the net profit will be going to the gallery and kids' further studies fund, and 10% will be given to @gtpjfoodbank for them to continue their great work distributing food aid, including to these kids' families during this pandemic?
I will be compiling the cover design and liaising with the supplier
---
Let me know if you are interested, or perhaps you have a better way to help make really cool doodles into NFT
ps: I am also donating 50% of my author rewards to @runningpens for them to have an easier start up later in the HIVE Blockchain
I am working closely with the teacher to doodle their ever first logo - Running Pens!
---
---