Beautiful and Sublime Sunday - Life In The City With My Cousin And A Reflection
Good morning everyone! Today is a time going back to the mountain, the place God preffered for me to stay. For me, it's a Heaven on earth. But I will share with you, what I did yesterday.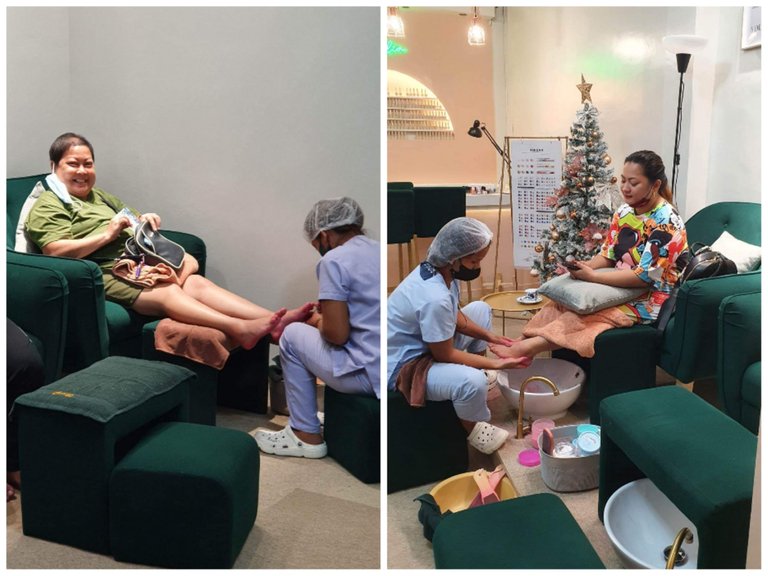 I did pampering myself with my cousin. I just do it sometimes. My cousin paid the billing. Her husband is working in Australia.
Before I go to the mountain, let me share with you about my two day happening in the city. I don't like here and I love the mountain's atmosphere and climate. God designed my life connected to my work so I could live longer. The students there are respectful and kind. One word is enough for the indigenous people there. They love me and they are all grateful that I stay.
Without this wonderful place, maybe I couldn't survive in my teaching career. My health is so tough. I have no spleen which is necessary to our health because the function of spleen is to control the antibodies. In my case, 8 years ago, they removed it because my white blood was eating my red blood cells. And the only solution was to removed my spleen. That was a very long study from my doctor and we were two women diagnosed with the same disease, me and wife of my mother's nephew. Because, I agreed to removed it, I am now alive while our relative had died on that year.
I have a lot of medicine. Every week I spent 1k pesos (20 dollars approximate) for the maintenance. This is life. And after the surgery, I gained weight though I am not eatinf too much. I can not go to a crowded places but I go with mask. Using mask was normal to me since before the pandemic.
That's why, I told myself that God has a mission for me to do. I was sicked since 9 years old, until now but He gives me a beautiful place where my health can survive naturally. My workplace is a fitted place for me. We have a small numbers of students around. I am one of the teachers who started this high school from the beginning. I am proud to myself and to all the people who supported me.
That's all for today!!@ace108 for #beautifulsunday, @coff33a for #sublimesunday and the #asean.hive community.

Hive On!
Stay Stronger!
That's all for today!
Thank you for your kindness and support to me!
HIVE ON AND FOLLOW ME!
THE @CRAZYGAL OF NORTH DAVAO
PHILIPPINES

---
---