(PT-EN) Valor médio do baú / Average chest value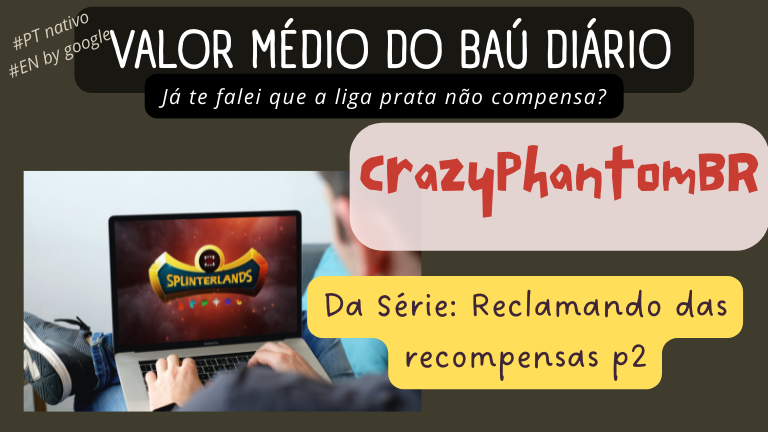 This post is an entry to the SOCIAL MEDIA Weekly Challenge
#PT first, #EN despues, #ECENCY forever!
https://ecency.com/hive-13323/@splinterlands/splinterlands-weekly-curation-challange-august-2-2022
Fala galera, voltei a participar aqui direto para um desafio de mídia social, deste que é o melhor jogo #play2earn que existe!! #Splinterlands!!
A conversa de hoje é sobre o meu final de temporada PRATA e o cálculo do valor médio do baús diários.
A imagem abaixo lista todas as minhas recompensas dos 40 baús de temporada
Hey guys, I came back to participate here straight to a social media challenge, this is the best game #play2earn there is!! #Splinterlands!!
Today's conversation is about my SILVER season finale and calculating the average value of daily chests.
The image below lists all my rewards from the 40 Season Chests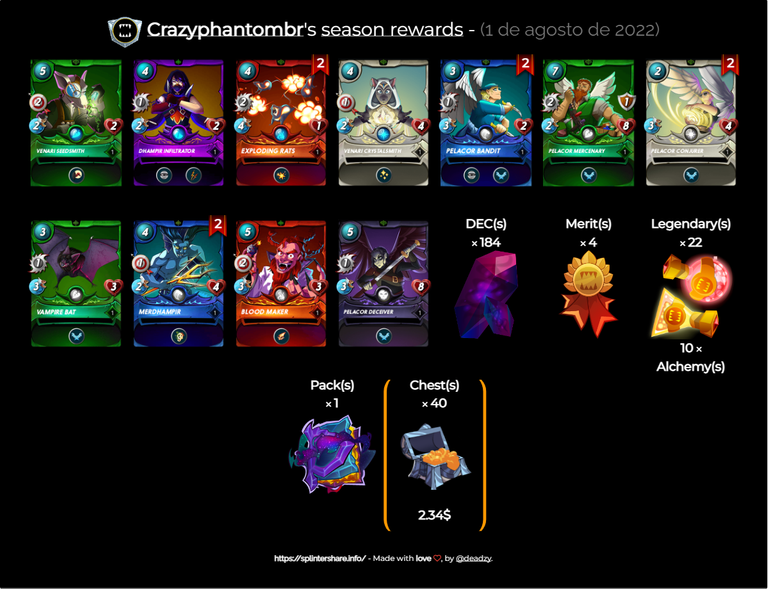 Não tive nada de surpreendente, continuo acumulando cartas básicas. O que ajuda, mas não chega a animar. Uma coisa que tenho percebido, por curiosidade, a minha carta Tide Byter parou de vir nos meus baús, sendo substituída pela carta Merdhampir. Péssima troca, pro meu gosto!
Infelizmente, o dia de fechamento da temporada foi em 01 de agosto, o que quebrou minhas estatísticas, pois a recompensa da temporada vai ficar de fora das contas. Quero falar para vocês dos meus totalizadores do mês de Junho e Julho, resumidos em um único índice.
I didn't have anything surprising, I keep accumulating basic cards. Which helps, but doesn't cheer up. One thing I've noticed, out of curiosity, my Tide Byter card stopped coming in my chests, being replaced by the Merdhampir card. Bad exchange, for my taste!
Unfortunately, the season closing day was August 1st, which broke my stats as the season reward will be left out of the accounts. I want to tell you about my totalizers for the month of June and July, summarized in a single index.
---
1. Quantidade de baús diários
Number of daily chests
Abordei em várias postagens essa questão.
I have addressed this issue in several posts.
https://ecency.com/hive-184309/@crazyphantombr/pt-en-major-league-with
https://ecency.com/hive-184309/@crazyphantombr/pt-en-comparativo-de-recompensas-c50ae2dd20d68
A quantidade de baús diários que consigo coletar jogando na liga bronze é três vezes maior do que na liga prata. Para cada baú da liga prata, consigo três baús na liga bronze.
Isso por si só já é um indicativo que podemos ter uma situação de desvantagem para as ligas superiores. Devido ao meu conjunto de cartas ser bem restrito, me manter na liga PRATA demanda muito trabalho de organização, e o resultado dos baús não é atrativo.
Já na liga bronze, perco muitas oportunidades de carta GOLD e packs. Porém isso é compensado pela quantidade maior de recompensas diárias.
The amount of daily chests I can collect while playing in the bronze league is three times as much as in the silver league. For every silver alloy chest, I get three bronze alloy chests.
This in itself is already an indication that we may have a disadvantageous situation for the higher leagues. Due to my limited pool of cards, staying in the SILVER league takes a lot of organizational work, and the result of the chests is not attractive.
Already in the bronze league, I miss many opportunities for GOLD cards and packs. However, this is offset by the higher amount of daily rewards.
---
2. Valor médio do baú PRATA x baú Bronze
Average value of the SILVER chest x Bronze chest
| Mês | Liga | Baús | Valor do baú | Valor médio por baú |
| --- | --- | --- | --- | --- |
| Junho | Prata | 533 | U$10,43 | U$0,0195 |
| Julho | Bronze | 320 | U$7,86 | U$0,0245 |
Esta tabela mostra mais uma vez o que eu tenho cansado de repetir por aqui: a liga prata está amaldiçoada! Veja os número: por mais que eu tenha rushado no mês de junho acreditando que seria recompensado por dedicar tantas horas ao jogo, o que percebi foi que mais uma vez as recompensas que acumulo na liga bronze com muito menos esforço são maiores do que as recompensas da liga prata!
O valor médio do baú recebido na liga BRONZE foi 25% maior!
Isto poderia ser coincidência? Azar meu? Os números não mentem...
Quer que eu desenhe?
This table shows once again what I've been getting tired of repeating around here: the silver alloy is cursed! Look at the numbers: as much as I rushed in June believing that I would be rewarded for dedicating so many hours to the game, what I realized was that once again the rewards I accumulate in the bronze league with much less effort are greater than the rewards of the silver league!
The average chest value received in the BRONZE league was 25% higher!
Could this be coincidence? My bad luck? The numbers don't lie...
Want me to draw?
https://ecency.com/hive-13323/@crazyphantombr/pt-en-enf-of-season
Nesta postagem eu publiquei esta imagem: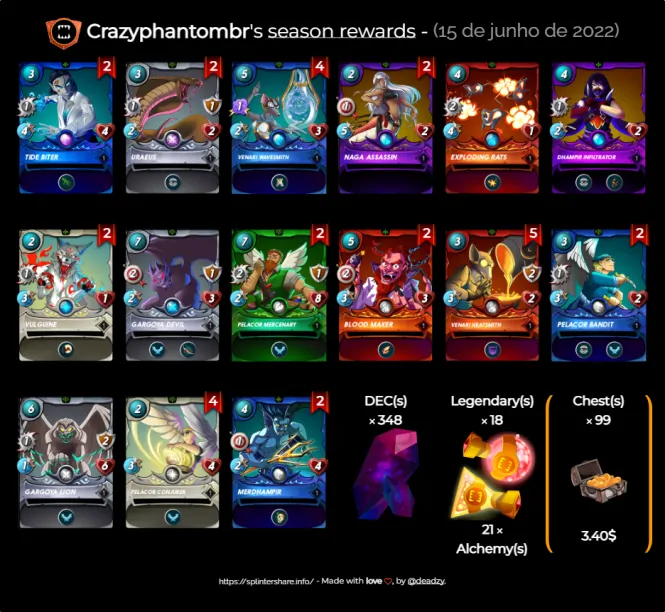 Foram 99 baús de temporada Bronze, com valor estimado em U$3,40.
Qual foi o valor médio por baú? U$0,0343 por baú de Bronze!
There were 99 Bronze Season Chests, with an estimated value of $3.40.
What was the average value per chest? $0.0343 per Bronze chest!
---
Conclusão
Conclusion
Continuo coletando evidências que jogar na liga PRATA para mim não compensa!
I keep collecting evidence that playing in the SILVER league for me is not worth it!
---
Convite: Vem pro Splinterlands!
Se você ainda não joga Splinterlands venha fazer parte da comunidade!!! Se quiser, utilize meu link de recomendação:
https://splinterlands.com?ref=crazyphantombr
E se precisar, tem toda a comunidade #hivebr que pode te ajudar a começar!
Muito obrigado a todos e até a próxima!!!
Invitation: Come to Splinterlands!
If you haven't played Splinterlands yet, come join the community!!! If you want, use my recommendation link:
https://splinterlands.com?ref=crazyphantombr
And if you need it, there's the entire #hivebr community that can help you get started!
Thank you all so much and until next time!!!
---
---