Beautiful new designs of woven tails. Make them for yourself.
Nuevos y hermosos modelos de colitas o moñeras para el cabello. Tejidas a crochet.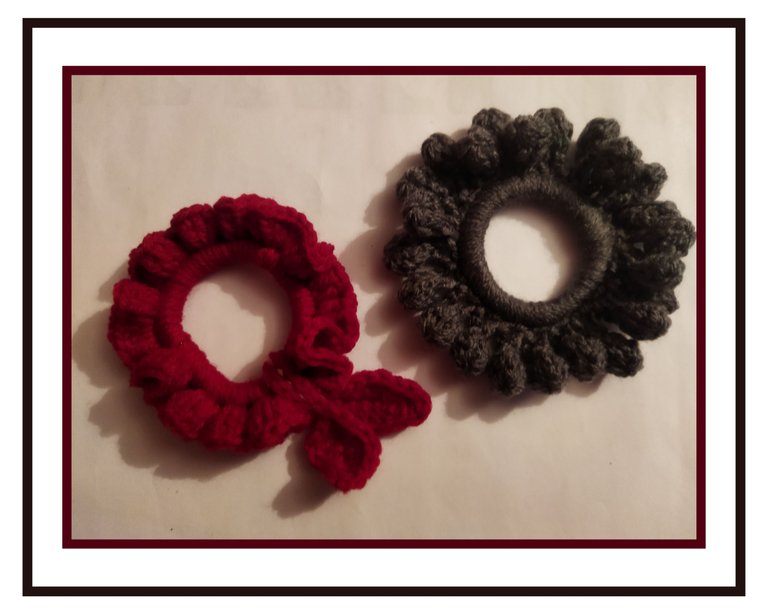 Español.
Hola amigos de esta linda comunidad. Yo soy Lelys 🙋🐝🤗 me da mucho gusto pasar por aquí para compartir una nueva creación tejida. A mí me encanta tejer, en estos días he realizado algunos modelos de colas para el cabello. Mi intención es hacer un repaso por todos aquéllos que una vez tejí para crear una de cada modelo, exhibirla y promocionarla.
Acá en Venezuela hace mucha calor por lo que llevar el cabello recogido es frecuente entre las mujeres y también los hombres que usan el pelo largo. Para ellos estoy tejiendo estos modelos. Espero que a ustedes también les guste y quieran hacer unas cuantas.

Para hacer estos modelos usé el hilo acrílico, de la madeja de estambre escolar, generalmente estas traen 10 ó 15 gramos cada una. Algunas colas pueden necesitar dos o tres madejas, dependiendo del diseño. También usé el gancho de crochet de 3,5 mm, las tijeras, ligas o colitas elásticas y aguja lanera.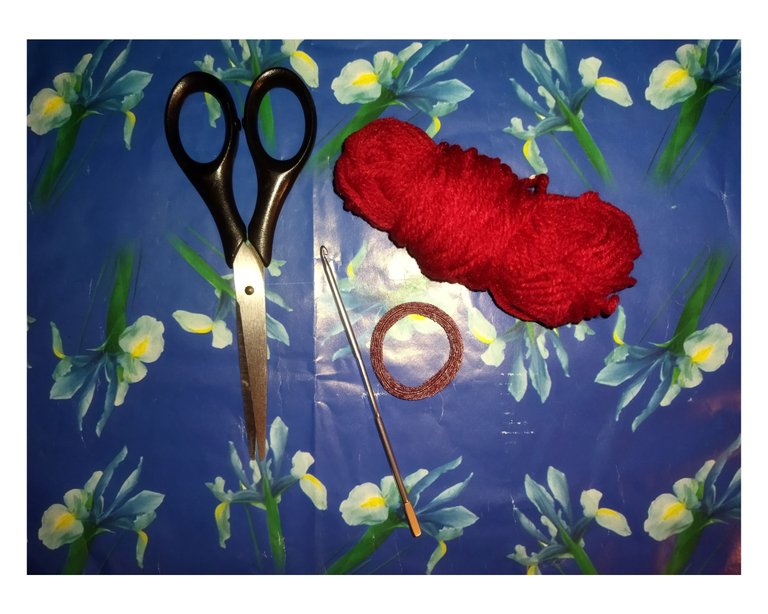 En el modelo número uno usé estambre de color rojo. Empecé cubriendo completamente toda la cola o liga con puntos bajos. Luego, en la segunda vuelta tejí un aumento triple de punto alto por cada punto de la vuelta anterior.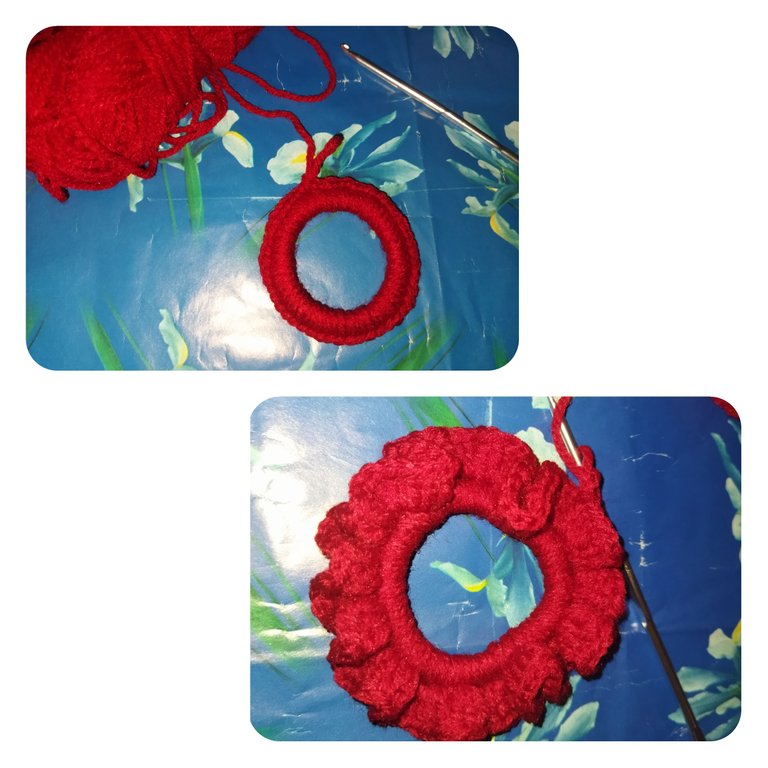 Como parte de la decoración tejí dos hojas también en color rojo. Empecé tejiendo 27 cadenas, formé una hoja en cada extremo y en el centro solo tejí puntos deslizados. Después con un trozo de hilo color mostaza realicé unas puntadas por los puntos deslizados tejidos.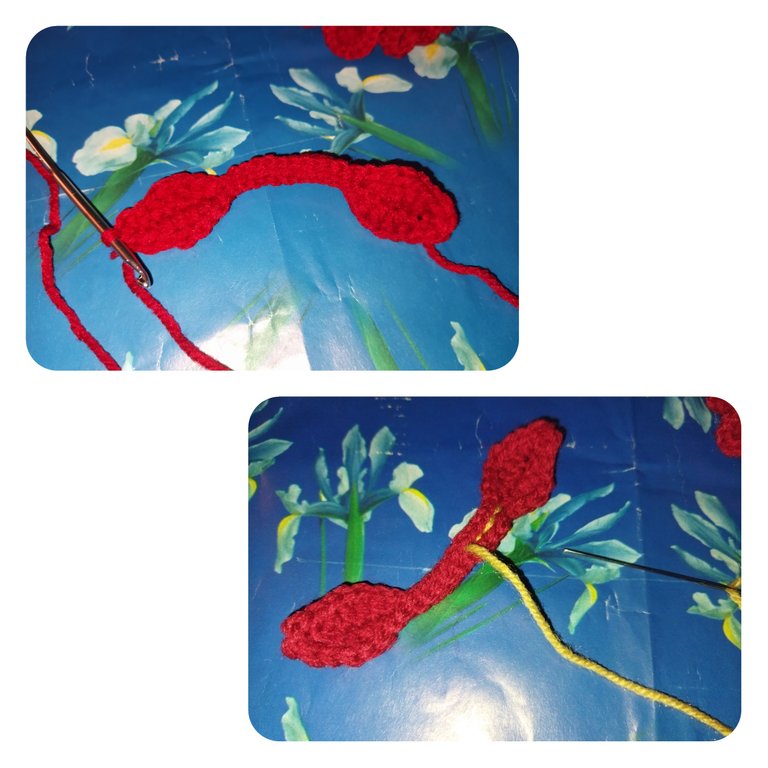 Estas hojitas las coloqué en el lugar de cierre de la colita. Así como pueden ver en la fotografía. Cosí por la parte de atrás de las hojas, cerré y rematé.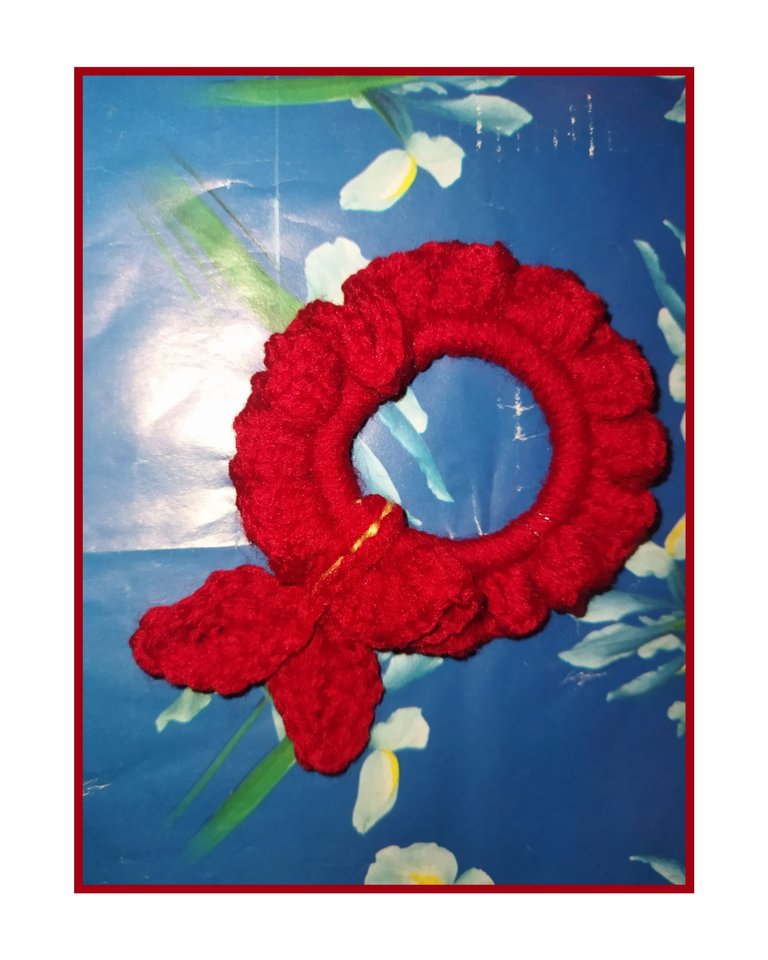 Para el segundo modelo usé hilo color gris plomo. Este color me gusta muchísimo. Elegí un modelo tejido de pompones pequeños. Empecé cubriendo con puntos bajos toda la liga. A pesar de que la liga no es de color gris no se ve la diferencia del color después de poner el hilo.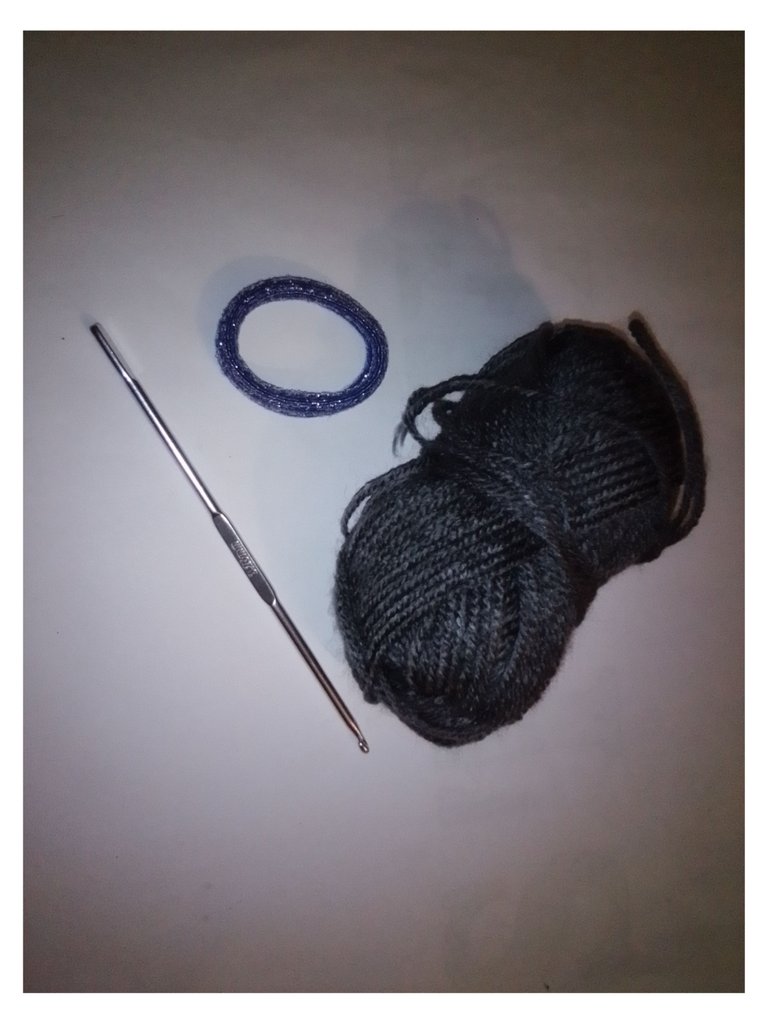 En la segunda vuelta empecé a tejer los pompones. La secuencia de puntos es la siguiente:
Levanté cuatro cadenas, marqué la cadena cuatro. Tejí tres cadenas y en la cadena marcada levanté cuatro puntos altos sin cerrar. Cerré los cinco puntos altos juntos, hice una cadena, subí con tres cadenas y en la cadenita de donde nacen estos tres puntos levanté cuatro puntos altos cerrados juntos.
Allí mismo tejí una cadena y me devolví al punto donde inicié el primer grupo de cinco puntos altos, hice un punto deslizado. Levanté con otra cadena y cerré el pompom con punto deslizado.
Tejí de nuevo tres cadenas e hice punto deslizado en el segundo punto bajo siguiente de la base.
A partir de allí se sigue la misma secuencia para hacer todos los pompones.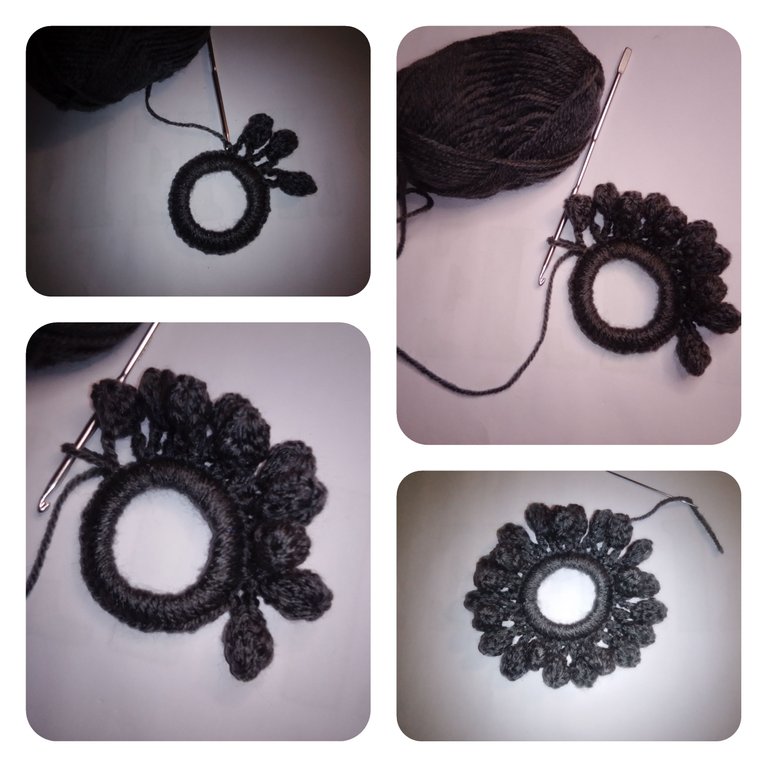 Este modelo de cola me encanta, al principio no recordaba bien como se hacen los pompones. Se ven muy lindos. Estas colas o moñeras se usan mucho para recoger el cabello, más que todo para decorarlo. No se ve igual ponerse la liga sola que una colita de pompones tejida.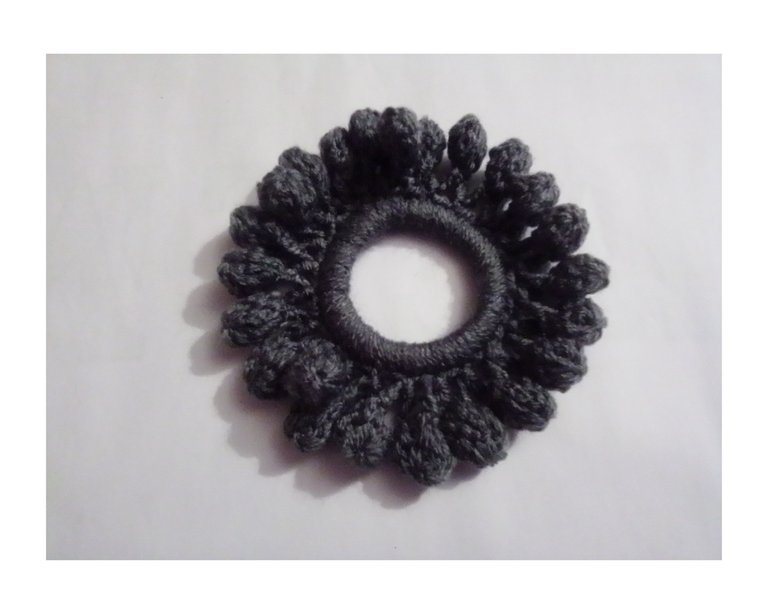 Ambos modelos están preciosos. Todas las fotos son de mi propiedad. Gracias a @kattycrochet por el separador. Edité con Polish. Usé el traductor de DeepL. Gracias por tu visita. Hasta prontito.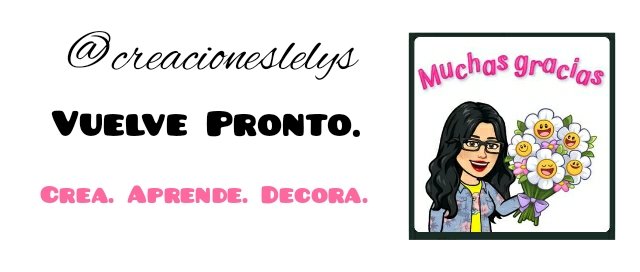 ---
English.
New and beautiful models of ponytails or hair bows. Crochet knitted.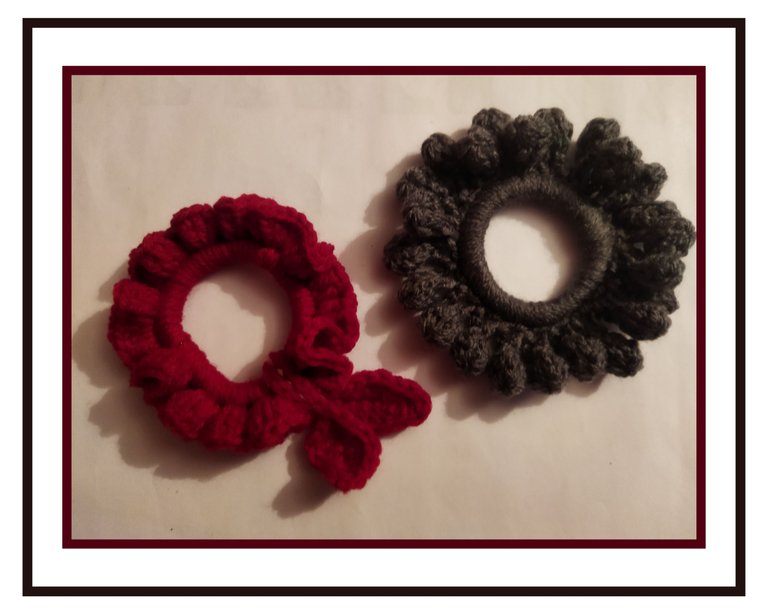 Hello friends of this nice community. I am Lelys 🙋🐝🤗 it gives me great pleasure to stop by here to share a new knitted creation. I love to knit, these days I have made a few patterns for hair tails. My intention is to make a review of all the ones I once knitted to create one of each model, exhibit it and promote it.
Here in Venezuela it is very hot so wearing your hair up is common among women and also men who wear their hair long. For them I am weaving these models. I hope you also like it and want to make some of them.

To make these models I used the acrylic yarn, from the skein of school worsted, usually these bring 10 or 15 grams each. Some tails may need two or three skeins, depending on the design. I also used a 3.5 mm crochet hook, scissors, rubber bands or elastic bands and a wool needle.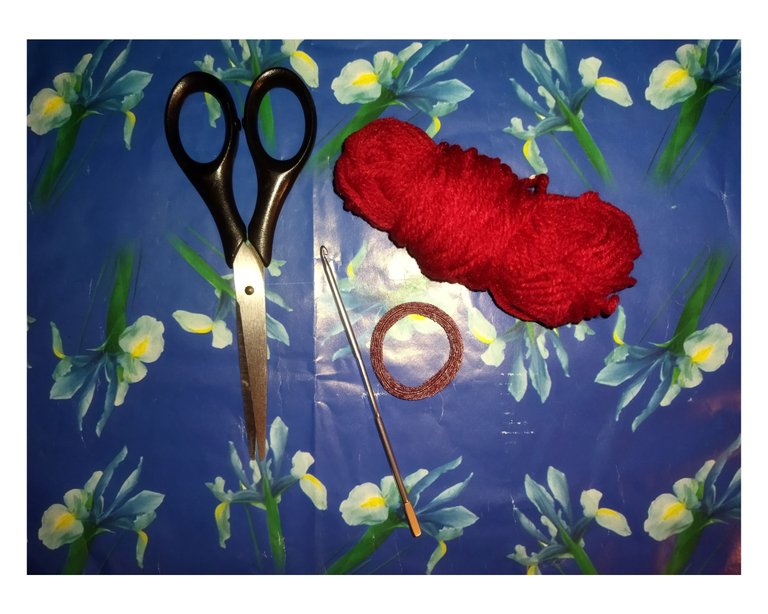 In pattern number one I used red yarn. I started by completely covering the entire tail or garter stitch with low stitches. Then, in the second round I knit a triple increase of double crochet for each stitch of the previous round.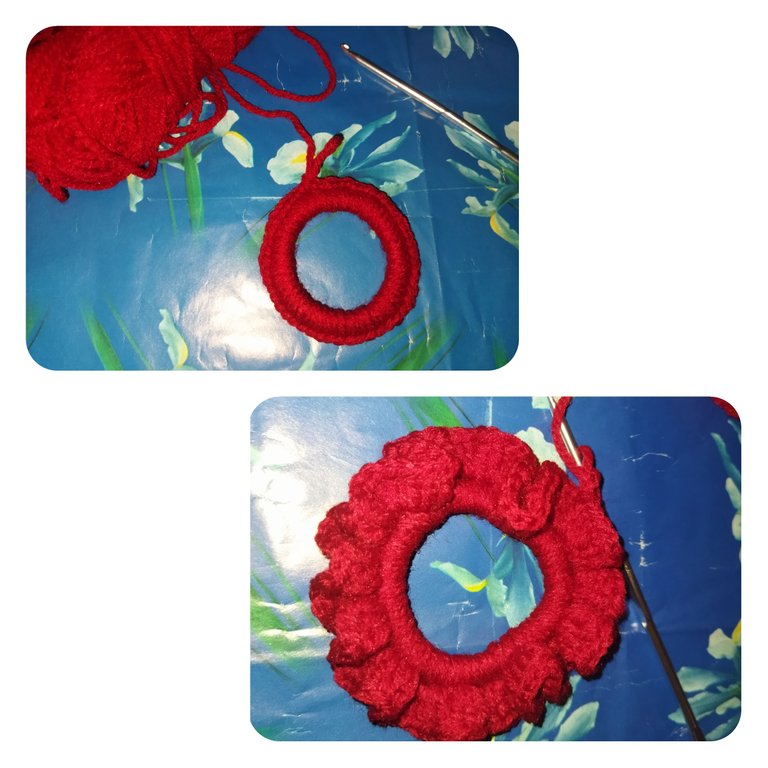 As part of the decoration I knitted two leaves also in red. I started by knitting 27 chains, formed a leaf at each end and in the center I only knit slipped stitches. Then with a piece of mustard colored yarn I knitted a few stitches through the slipped stitches.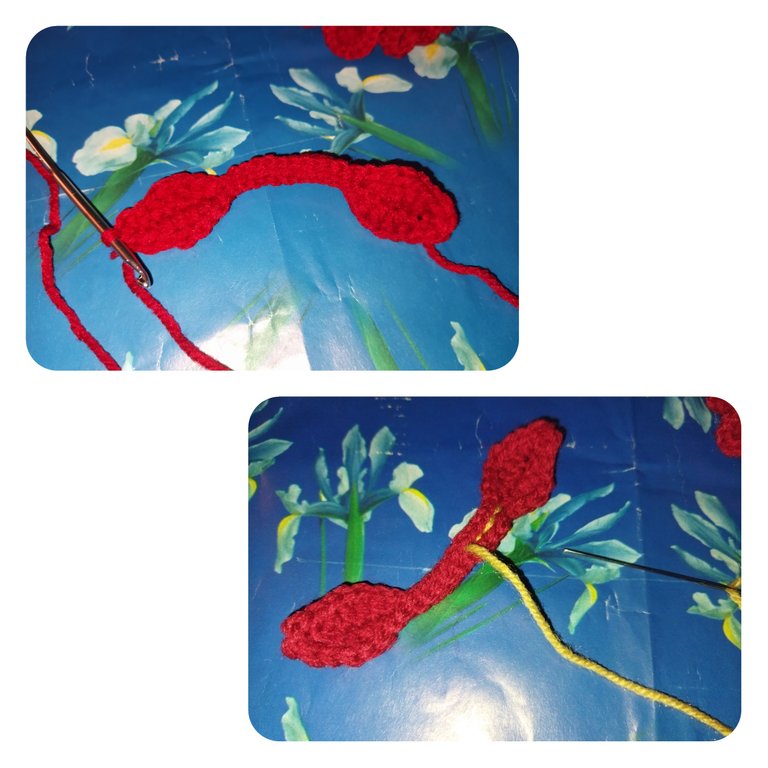 I placed these little leaves in the place where the tail is to be closed. As you can see in the picture. I sewed on the back of the leaves, closed and finished off.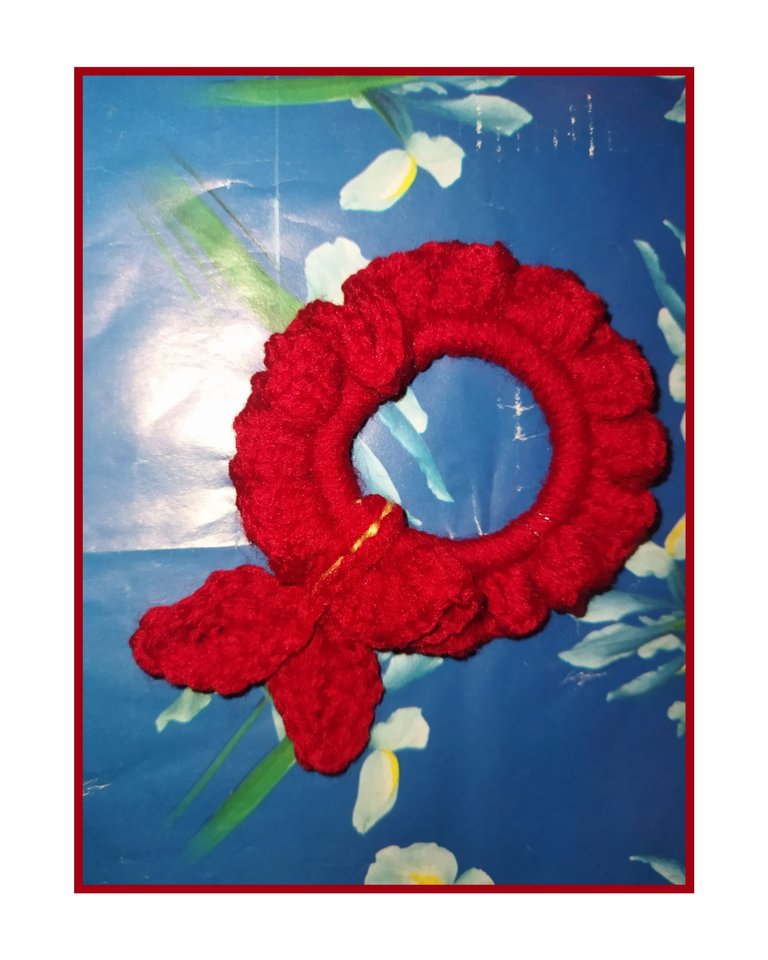 For the second pattern I used lead gray thread. I like this color very much. I chose a knitted pattern of small pompoms. I started by covering the entire garter stitch with low stitches. Even though the garter is not gray you can't see the difference in color after you put the yarn on.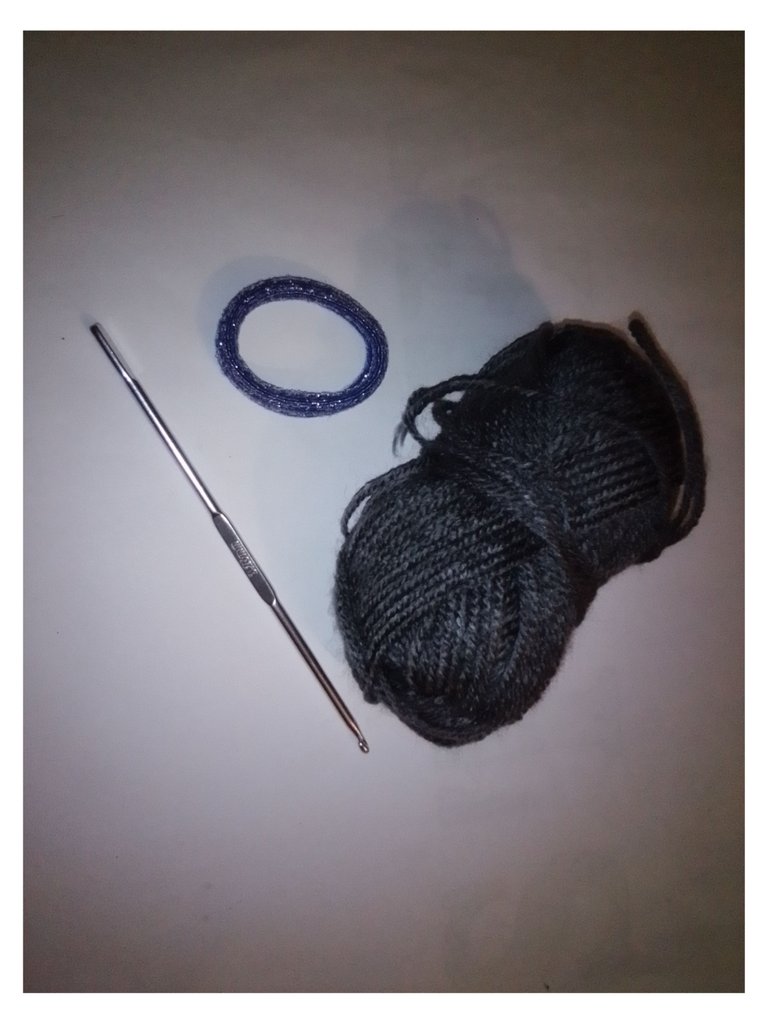 In the second round I started knitting the pompoms. The sequence of stitches is as follows:
I picked up four chains, marked chain four. I knit three chains and in the marked chain I picked up four high stitches without closing. I closed the five high stitches together, made a chain, went up with three chains and in the chain where these three stitches are born I picked up four closed high stitches together.
Right there I knit a chain and went back to the stitch where I started the first group of five high stitches, I knit a slip stitch. I picked up with another chain and closed the pompom with a slip stitch.
I knit three chains again and knit a slip stitch in the second low stitch following the base.
From there the same sequence is followed to make all the pompoms.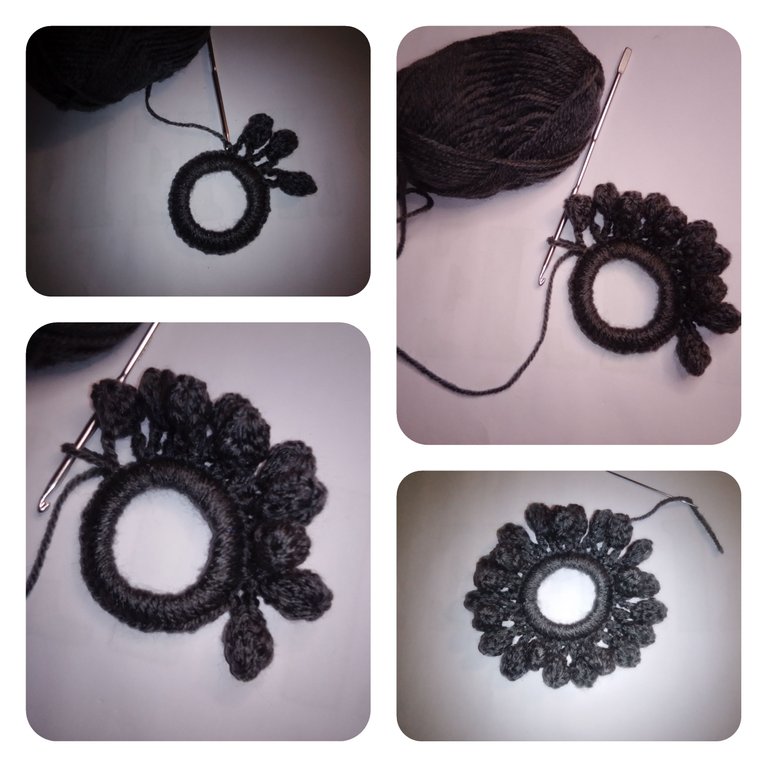 I love this tail pattern, at first I didn't quite remember how to make the pom poms. They look very cute. These tails or bun holders are used a lot to gather the hair, mostly to decorate it. It doesn't look the same to wear the garter alone as a woven pom pom pom ponytail.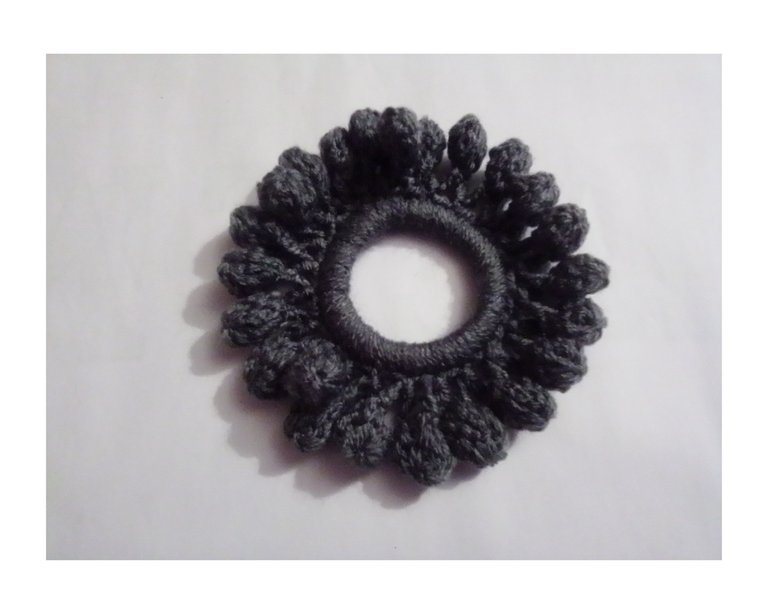 Both models are beautiful. All photos are my property. Thanks to @kattycrochet for the divider. I edited with Polish. I used DeepL translator. Thanks for your visit. See you soon.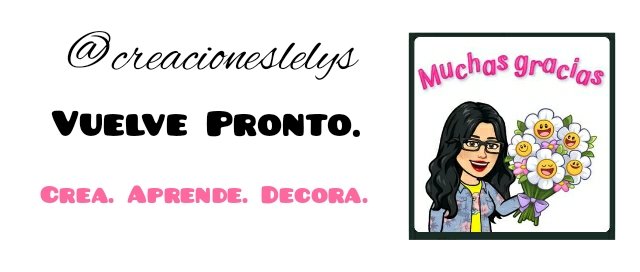 ---
---