Bracelet with beads. [ESP-ENG]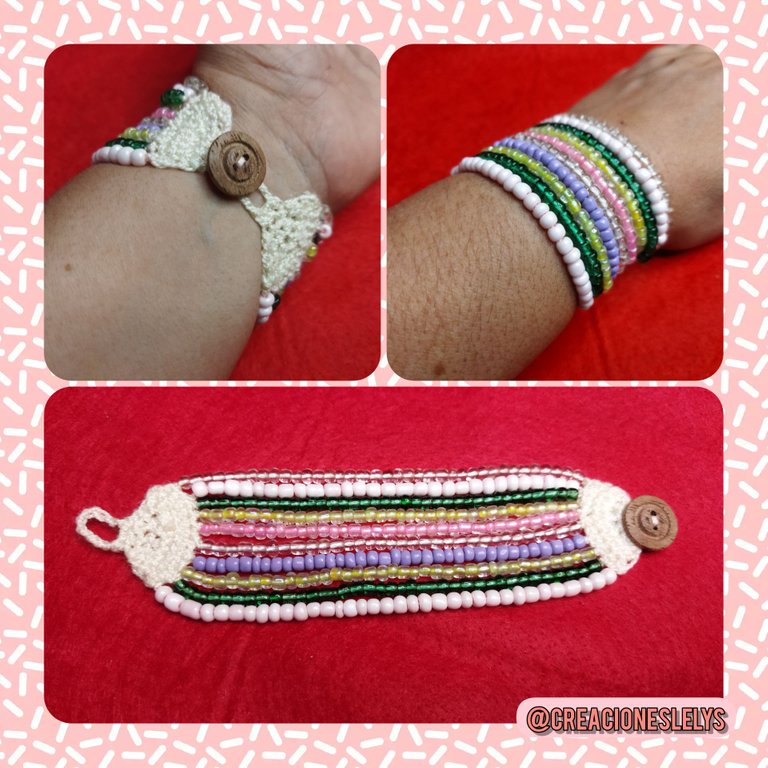 Hola. Yo soy Lelys, bienvenidos a mi blog. Deseo que estén muy bien hoy. Aprovecho para saludarles y mostrarles una pulsera que realicé ayer. He tenido unos días difíciles además de quebranto de salud. Es por ello que he estado buscando las maneras de mantener la mente distraída de muchos pensamientos y también ocuparme de lo que me gusta. Hacer esta pulsera fue muy bueno para mí porque pude darle uso a las MOSTACILLAS que me quedaban en la cajita, eran muy pocas y ya no sabía que uso darles. También aproveché la ocasión para hacer por primera vez este tipo de brazalete. ¡Quedó muy bonito!
Hi, I'm Lelys, welcome to my blog. I wish you to be very well today. I take this opportunity to say hello and show you a bracelet I made yesterday. I've had some difficult days as well as health problems. That's why I have been looking for ways to keep my mind distracted from many thoughts and also take care of what I like. Making this bracelet was very good for me because I was able to use the MOSTACILLAS I had left in the box, they were very few and I didn't know what to use them for. I also took the opportunity to make this kind of bracelet for the first time, it turned out very nice!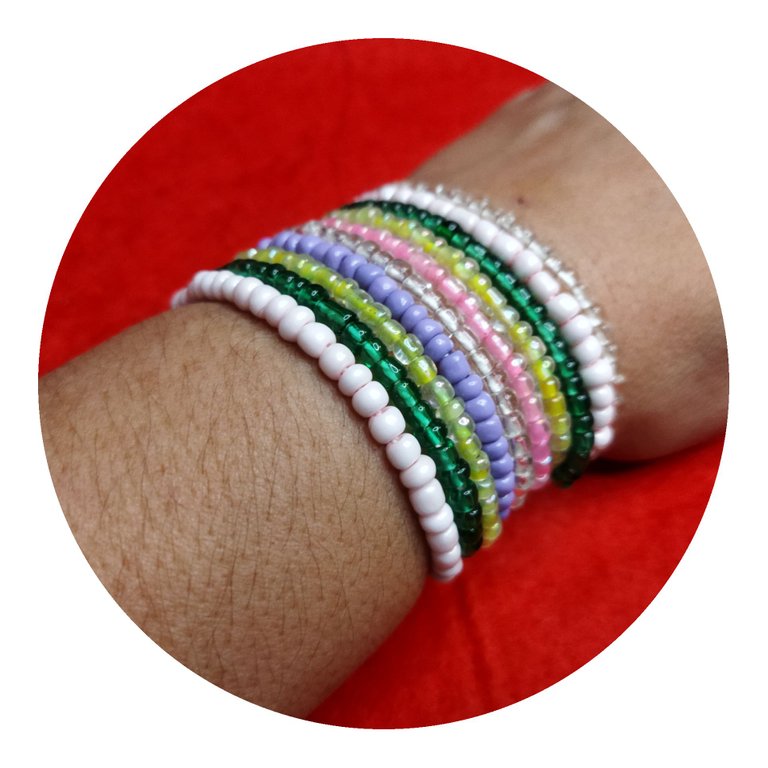 Pulsera con mostacillas.
Bracelet with beads.
Muchos de nosotros alguna vez nos hemos refugiado en el trabajo o los quehaceres cotidianos para no pensar tanto en los momentos de dificultad que se nos presentan. Yo en lo particular encuentro en las manualidades el espacio ideal para hacerlo. Elaborar este brazalete me ocupó unas tres horas más o menos. Horas en las que estuve súper feliz viendo como se iba formando la pulsera tan bonita. Como verás, se hace con muy poco material, aunque si amerita tiempo y atención.
Los materiales que utilicé son: mostacillas de variados colores, hilo de crochet, aguja de crochet de 1,60 mm, tijeras, pegamento, cinta métrica, aguja de coser, hilo de coser y un botón.
Many of us have taken refuge in our work or daily chores so as not to think so much about the difficult moments that come our way. For me in particular, I find in crafts the ideal space to do so. Making this bracelet took me about three hours more or less. Hours in which I was super happy watching how the bracelet was forming so beautiful. As you can see, it is made with very little material, although it does require time and attention.
The materials I used are: beads of different colors, crochet thread, crochet needle of 1.60 mm, scissors, glue, tape measure, sewing needle, sewing thread and a button.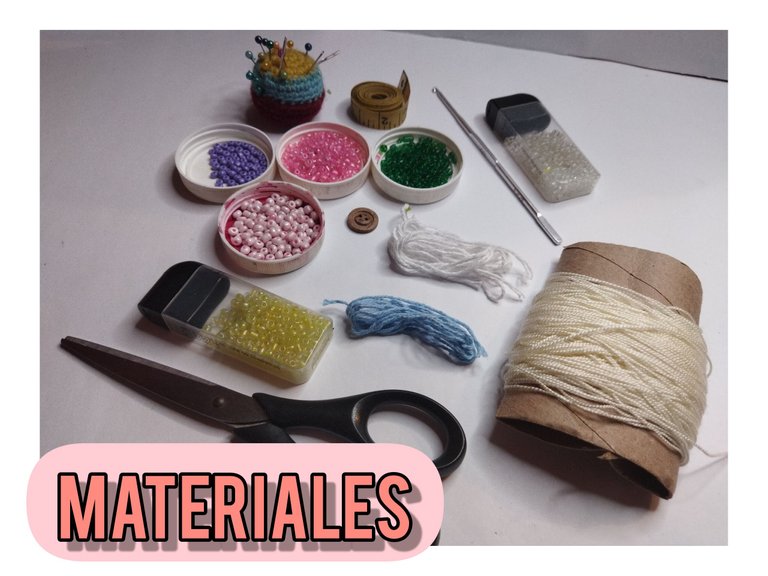 📿 Empecé tejiendo lo que servirá de cierre o seguro para la pulsera. Tejí 11 cadenas. En la siguiente vuelta tejí 10 pb. Seguidamente hice 5 disminuciones. Continué con dos vueltas de 5pb, luego con una vuelta de 1 dism-1pb-1dism y finalicé con dos vueltas de 3pb. Cerré y rematé. Realicé dos iguales. En la segunda que tejí agregué 15 cadenas en la última vuelta para hacer el ojal.
📿 I started by weaving what will serve as a clasp or lock for the bracelet. I knit 11 chains. In the next round I knit 10 sts. Next I made 5 decreases. I continued with two rounds of 5bp, then with a round of 1 dism-1pb-1dism and finished with two rounds of 3bp. I closed and finished off. I knit two of the same yarn. In the second one I knitted I added 15 chains in the last row to make the buttonhole.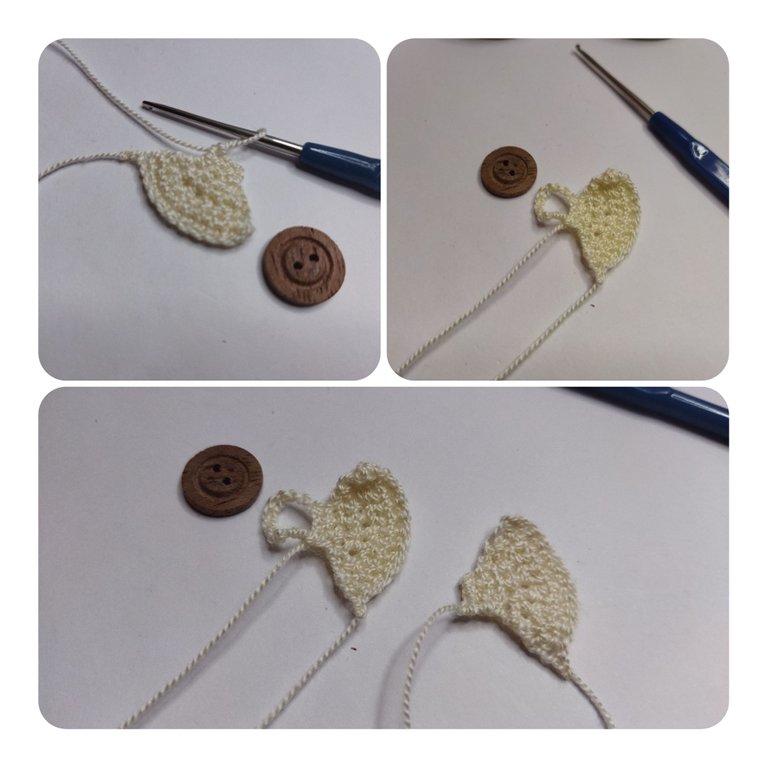 📿 El siguiente paso fue colocar en cada uno de los 10 puntos del tejido (parte ancha) cada uno de los hilos que formarán el brazalete. Para ello primero medí mi muñeca. Calculé considerando el espacio que ocuparían las dos piezas tejidas. Corté 10 hebras de 18 cm cada una. Ayudándome con el ganchillo las coloqué en los puntos, tejí un punto deslizado y además hice dos nudos para asegurarlas. Al tenerlas todas aseguradas coloqué todos los sobrantes de hilo hacia el revés del tejido, eché pegamento y allí las pegué. Las hebras más largas las corté.
📿 The next step was to place in each of the 10 stitches of the fabric (wide part) each of the threads that will form the bracelet. To do this I first measured my wrist. I calculated considering the space that the two woven pieces would occupy. I cut 10 strands of 18 cm each. Helping me with the crochet hook I placed them in the stitches, knitted a slipped stitch and also made two knots to secure them. When I had them all secured, I placed all the excess yarn towards the back of the fabric, applied glue and glued them there. I cut the longer strands.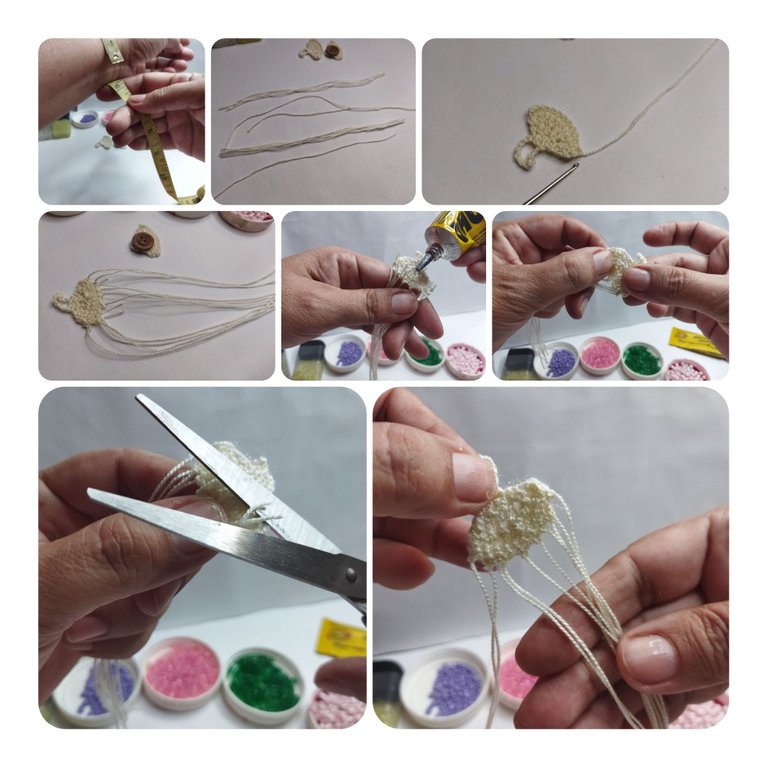 📿 Una vez que secaron todos los hilos comencé a meter las mostacillas en la primera hebra. Fueron 35 creo, inmediatamente pasé el resto del hilo por el primer punto del otro tejido, realicé dos nudos y continué el mismo proceso con cada una de las demás hebras hasta completar las diez. Al terminar ubiqué todos los sobrantes de hilo al revés del tejido, eché pegamento y esperé que secara.
📿 Once all the threads were dry I began to put the beads in the first strand. There were 35 I think, I immediately passed the rest of the thread through the first stitch of the other fabric, made two knots and continued the same process with each of the other strands until completing the ten. When I finished, I placed all the leftover yarn on the other side of the fabric, applied glue and waited for it to dry.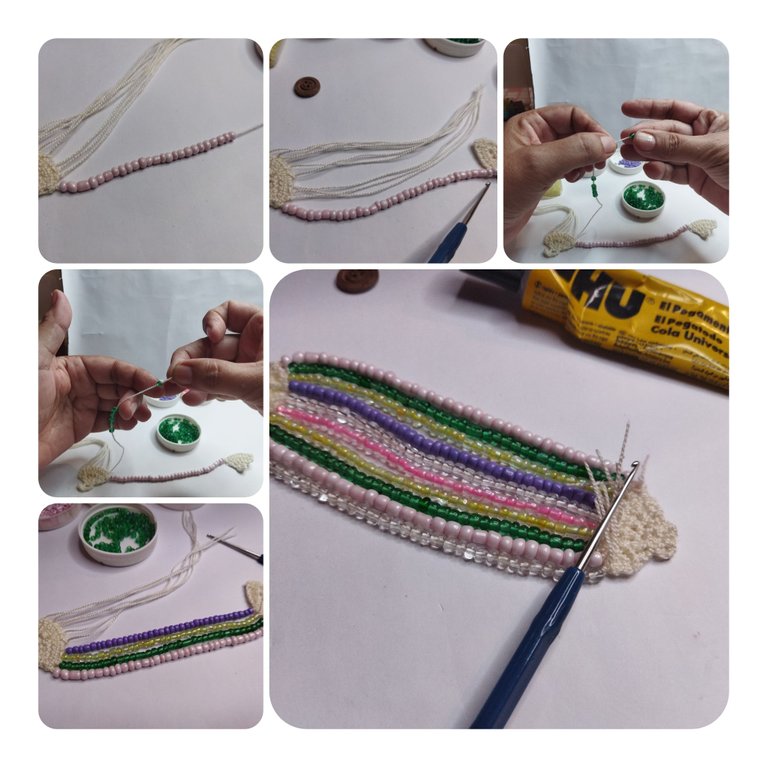 📿 Por último cosí el botón de madera en el extremo del tejido que no tiene ojal.
📿 Finally I sewed the wooden button on the end of the fabric that does not have a buttonhole.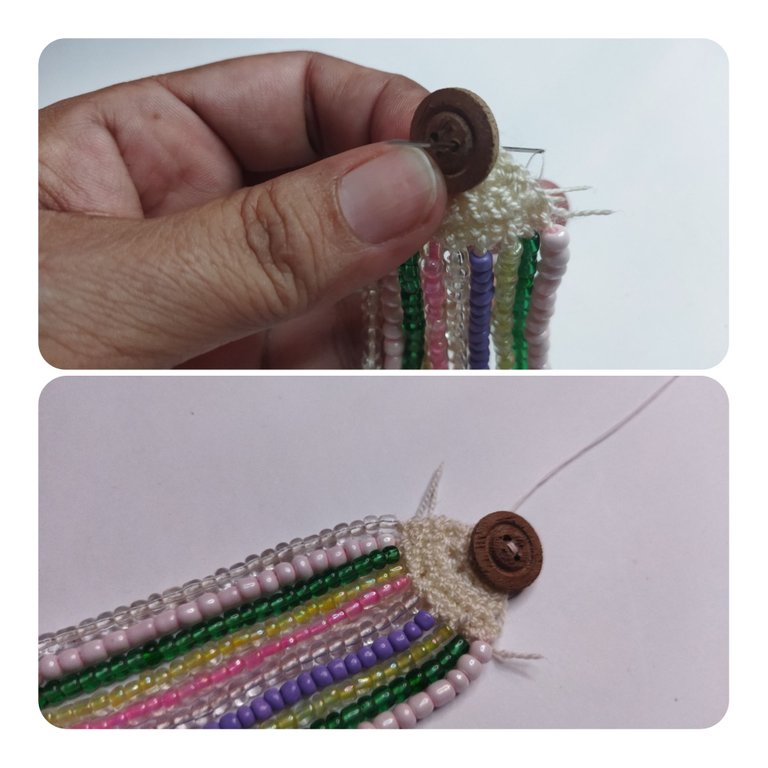 📿 Así se ve el brazalete por el derecho y el revés.
📿 This is what the bracelet looks like from the right and back.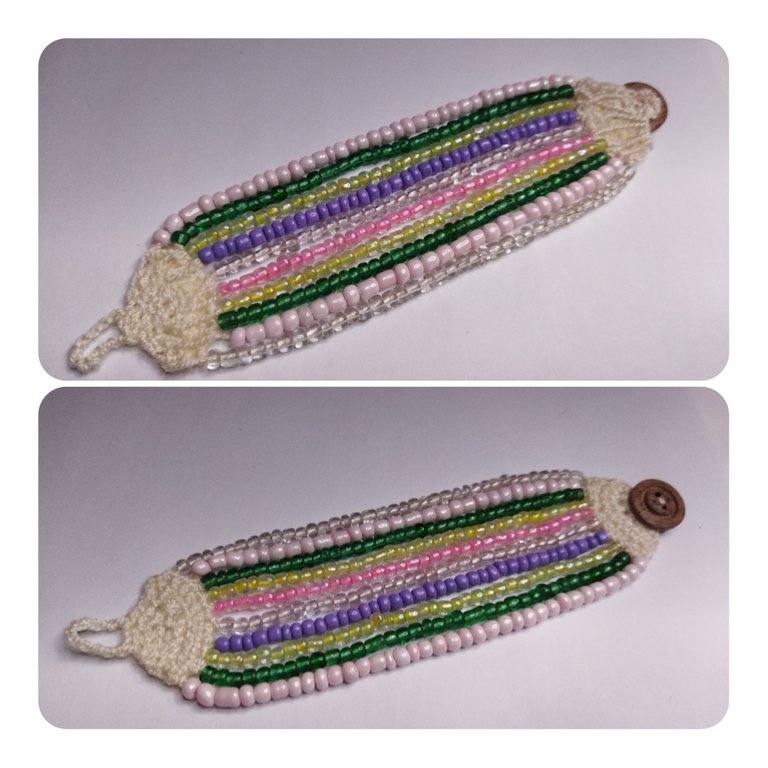 Estoy encantada con el resultado. Se siente muy cómodo en mi brazo. Aunque me quedó ajustada se ve bien y no aprieta. Si deseas hacerla te recomiendo dejar unos centímetros más adicionales en cada una de las hebras donde metas las mostacillas.
I am delighted with the result. It feels very comfortable on my arm. Although it was tight, it looks good and does not tighten. If you want to make it I recommend leaving a few extra inches on each of the strands where you put the beads.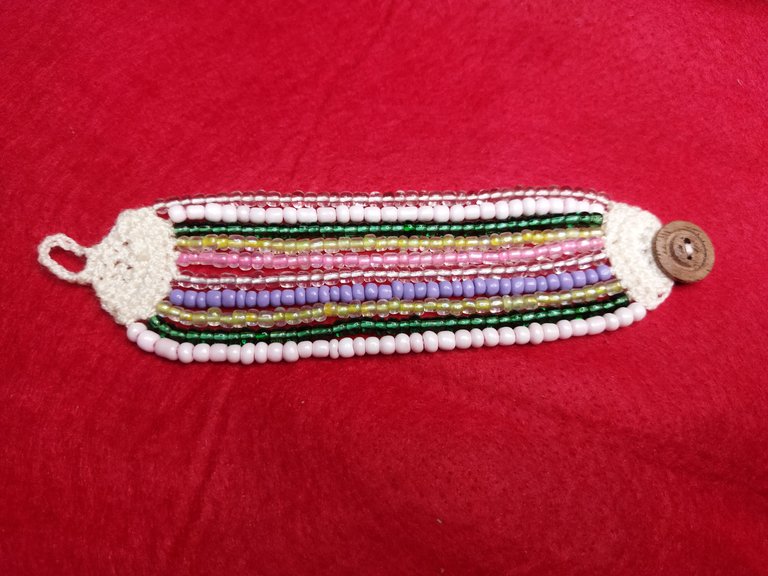 Muchas gracias por la visita. Todas las fotos son de mi propiedad. Edité con Inshot. Usé el traductor de Deelp. Hasta la próxima.
Thank you very much for your visit. All photos are my property. I edited with Inshot. I used Deelp translator. See you next time.

---
---