Cómo tejer a FLORK. Un meme de las redes sociales. 🤭 How to knit FLORK - a social media meme.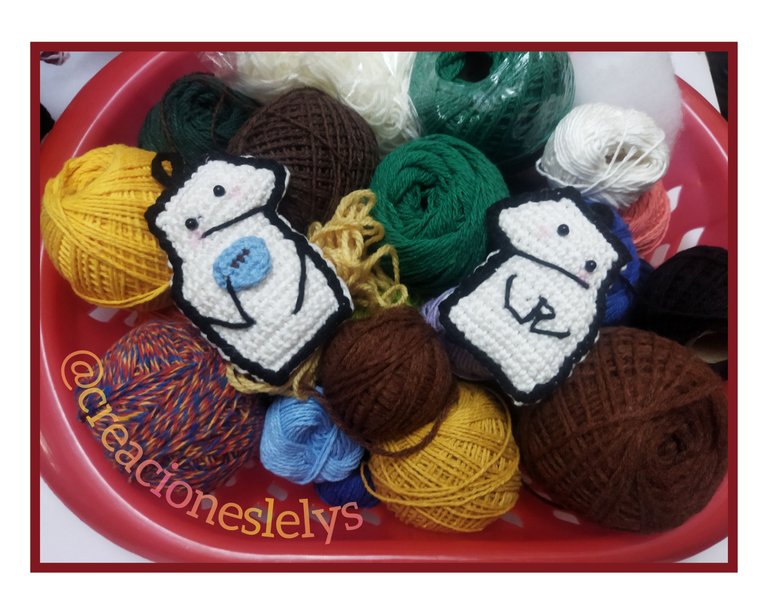 Hola. Espero que tengan un lindo día y que esta semana sea de alegría para ustedes. Por aquí seguimos con los preparativos para el compartir de cumpleaños de Sofía. Ella es mi nieta, es contemporánea con mi tiempo de actividad en HIVE, gracias a Dios el 14 de diciembre ella cumplirá 4 años, pero la reunión la haremos el sábado 17 ya que en día de semana es complicado para que asistan las personas que trabajan. Luego de ello ya estaré más desocupada para dedicarme a la planificación, organización y elaboración de las hallacas. Estoy ansiosa porque ese día llegue.
Mientras tanto aprovecho los ratos libres para seguir creando. En esta ocasión tejí un meme muy popular en las redes. En realidad yo no los uso porque como no tengo internet ilimitado me conformo con enviar mensajes escritos y algunas que otras fotografías. Pero sé que la mayoría usa los memes, stickers y emoticones para expresarse.
Hello, I hope you are having a nice day and that this week will be a joyful one for you. Here we continue with the preparations for Sofia's birthday sharing. She is my granddaughter, she is contemporary with my time of activity in HIVE, thank God on December 14 she will be 4 years old, but the meeting will be held on Saturday 17th since it is complicated for people who work on weekdays to attend. After that I will be more free to dedicate myself to the planning, organization and elaboration of the hallacas. I am anxious for that day to come.
In the meantime I take advantage of my free time to continue creating. This time I knitted a very popular meme in the networks. Actually I don't use them because as I don't have unlimited internet I am content with sending written messages and a few pictures. But I know that most people use memes, stickers and emoticons to express themselves.

Me sentí motivada a tejerlos porque mi hermana mayor con frecuencia los envía, en un chat reciente le pedí que me mostrara algunos de esos memes y me parecieron muy graciosos, no podemos negar que nuestros primeros dibujos se parecen mucho a esos memes. Vi la facilidad para tejerlos además de necesitar muy poco material. Estoy segura que querrás hacerlos, entonces déjame contarte cómo los hice.
Los materiales que usé son: hilos pabilos colores negro, blanco, marrón y azul. Aguja de crochet de 2,5 mm y 1,60 mm. Aguja lanera. Silicón frío. Algodón para rellenar (guata). Tijeras y perlas negras n°3.
I was motivated to knit them because my older sister often sends them, in a recent chat I asked her to show me some of those memes and I found them very funny, we can't deny that our first drawings are very similar to those memes. I saw how easy it was to knit them plus you need very little material. I'm sure you will want to make them, so let me tell you how I made them.
The materials I used are: black, white, brown, brown and blue wick yarns. Crochet needle of 2.5 mm and 1.60 mm. Wool needle. Cold silicone. Cotton for stuffing (wadding). Scissors and black beads n°3.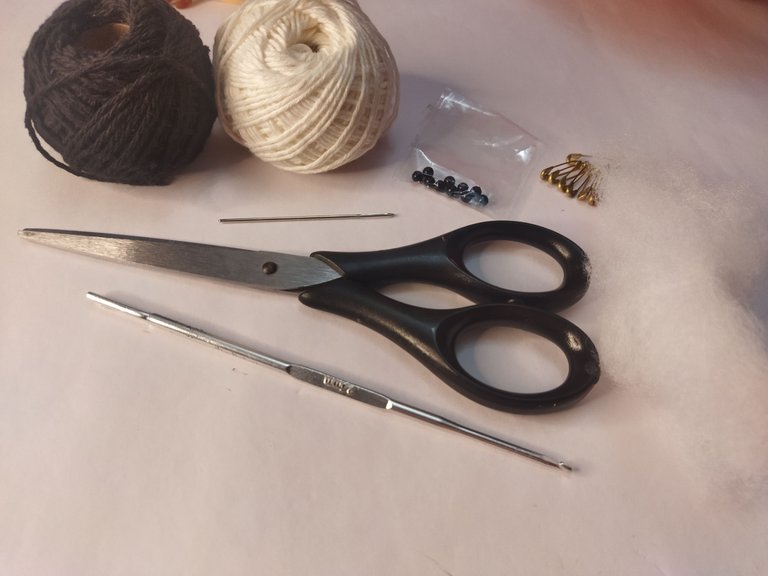 El proceso para elaborarlos es sencillo y rápido. Amerita más tiempo decidir cuál expresión harás al meme. Te sugiero que busques por la web o en las aplicaciones disponibles los paquetes para que veas cuántas expresiones hay y selecciones las que vas a recrear. Vas a divertirte mirando memes. Son graciosos de verdad.
The process to elaborate them is simple and fast. It takes more time to decide which expression to make into a meme. I suggest you look on the web or in the available applications to see how many expressions there are and select the ones you are going to recreate. You are going to have fun looking at memes. They are really funny.
Paso 1.
Teje una cadena de 13 puntos. Luego tejes 12pb.
Step 1.
Knit a chain of 13 stitches. Then knit 12 sts.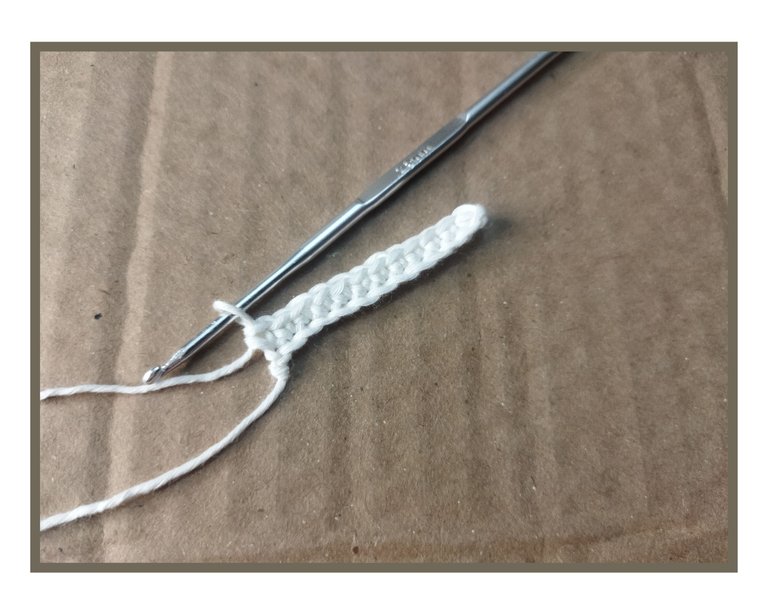 Paso 2.
Teje 9 vueltas de 12pb. Siempre antes de girar subes con 1 cadena.
Step 2.
Knit 9 rows of 12 sts. Always before you turn you go up with 1 chain.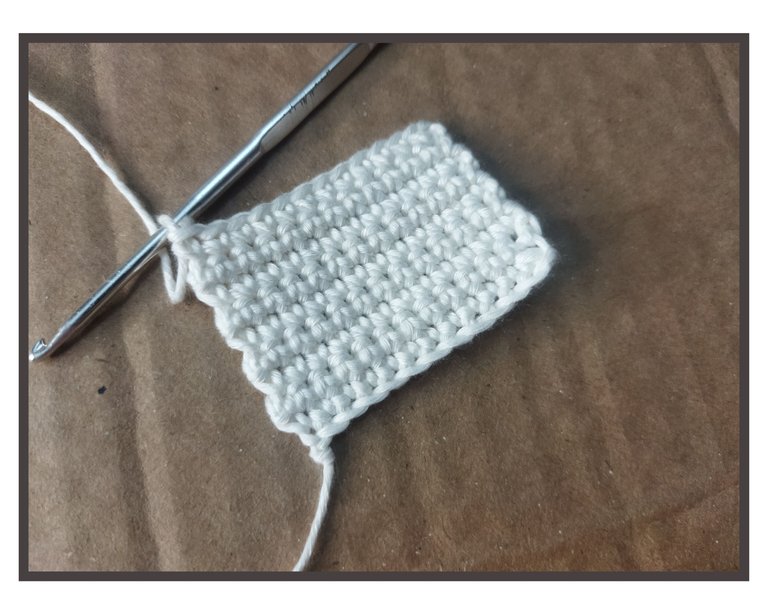 Paso 3.
Teje 12pb y luego 5 cadenas al aire. Después te devuelves tejiendo 14pb-1dism.
Step 3.
Knit 12pb and then knit 5 chains in the air. Then you go back by knitting 14pb-1dism.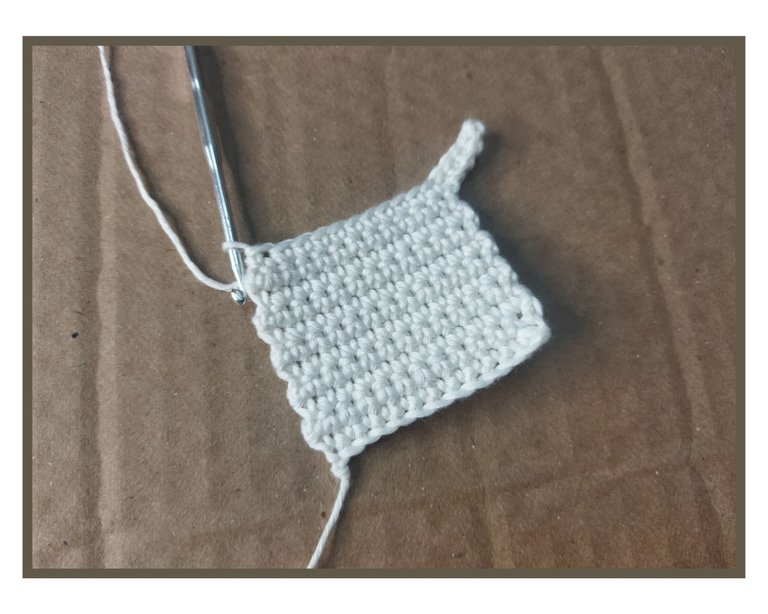 Paso 4.
Teje 1dism-13pb.
1dism-10pb-1dism.
12pb.
1dism-8pb-1dism.
10pb.
1dism-6pb-1dism.
8pb.
Cierra y remata.
Step 4.
Knit 1dism-13pb.
1dism-10pb-1dism.
12pb.
1dism-8pb-1dism.
10pb.
1dism-6pb-1dism.
8pb.
Close and finish off.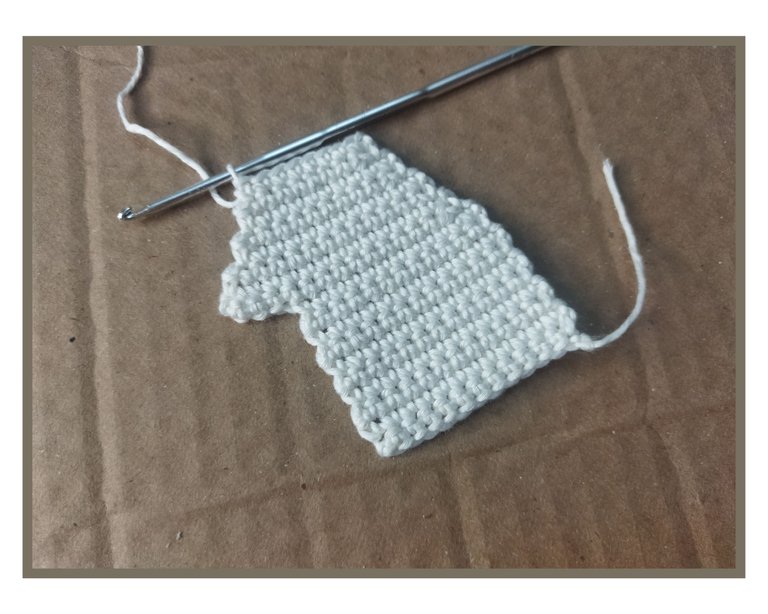 Entre las vueltas 14 y 15 coses los ojos. Yo le coloqué dos perlas negras n° 3.
Between rows 14 and 15 you sew the eyes. I placed two black beads n° 3.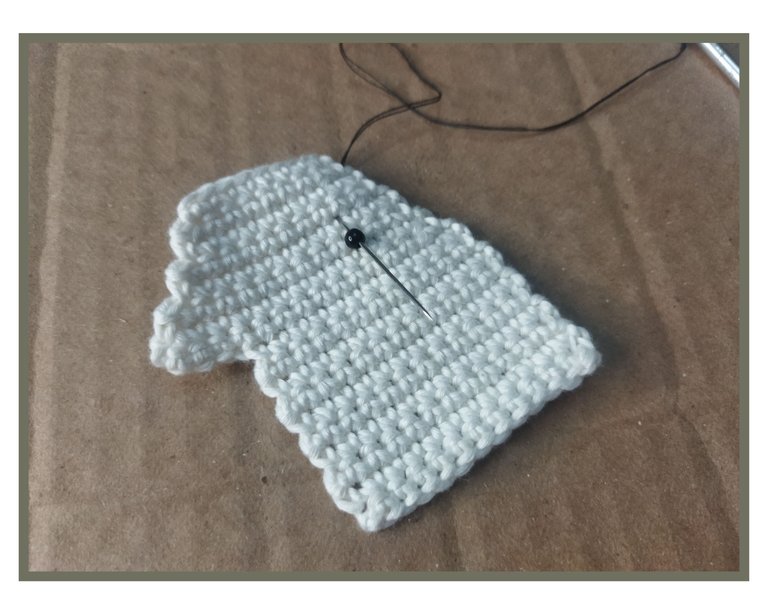 Paso 5.
Si deseas usar este meme para aplique solo debes bordar las líneas expresivas. Si vas a usarlo como llavero, como en mi caso, debes tejer otro igual siguiendo los pasos anteriores.
Step 5.
If you want to use this meme for applique, just embroider the expressive lines. If you are going to use it as a keychain, as in my case, you should knit another one just like it following the previous steps.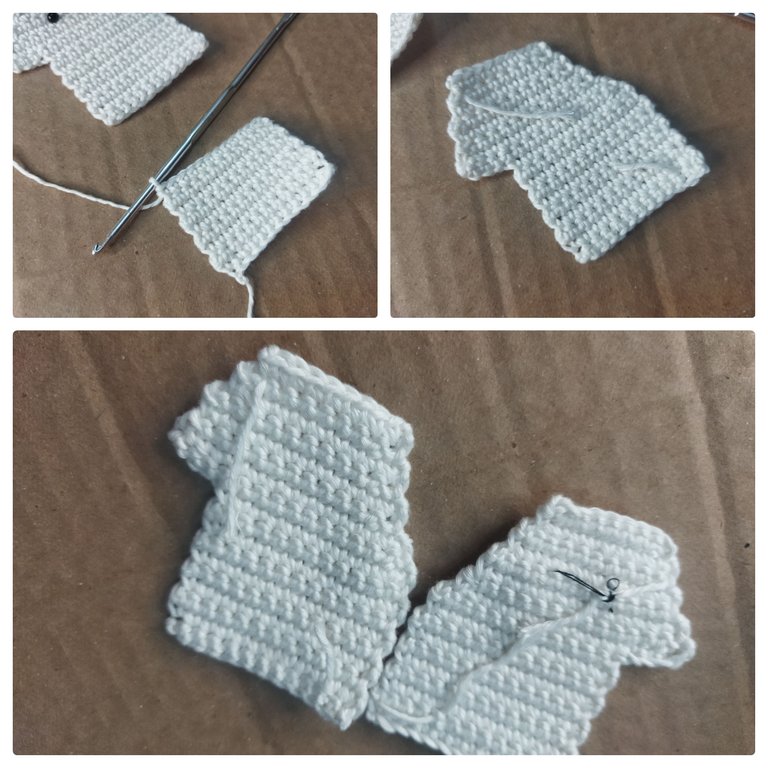 Luego se unen usando el hilo negro. Se empieza desde abajo tomando los puntos completos y tejiendo con pd. Antes de cerrar completamente se mete un poquito de relleno.
Then join using the black yarn. Start from the bottom and knit the whole stitches and knit with pd. Before closing the stitches completely, put in a little bit of stuffing.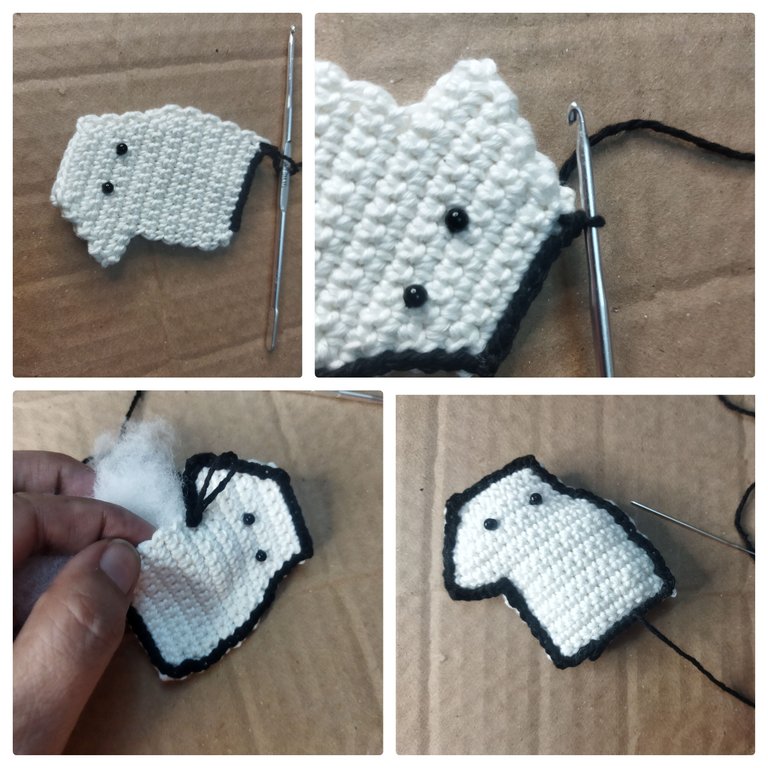 Paso 6.
Con la hebra de hilo negro sobrante se borda la boca, los brazos y el detalle expresivo elegido. Si aún queda hilo disponible lo llevamos hacia arriba de la cabeza del meme, tejemos 10 cadenas y 1pd desde donde sale la cadena, así haremos el colgante para el llavero. También puedes pintar con rubor sus mejillas. Y de esta manera ya habremos terminado.
Step 6.
With the leftover black thread we embroider the mouth, the arms and the chosen expressive detail. If there is still yarn available we bring it up to the top of the meme's head, we weave 10 strands and 1pd from where the chain comes out, so we will make the pendant for the keychain. You can also paint blush on her cheeks. And this way we are done.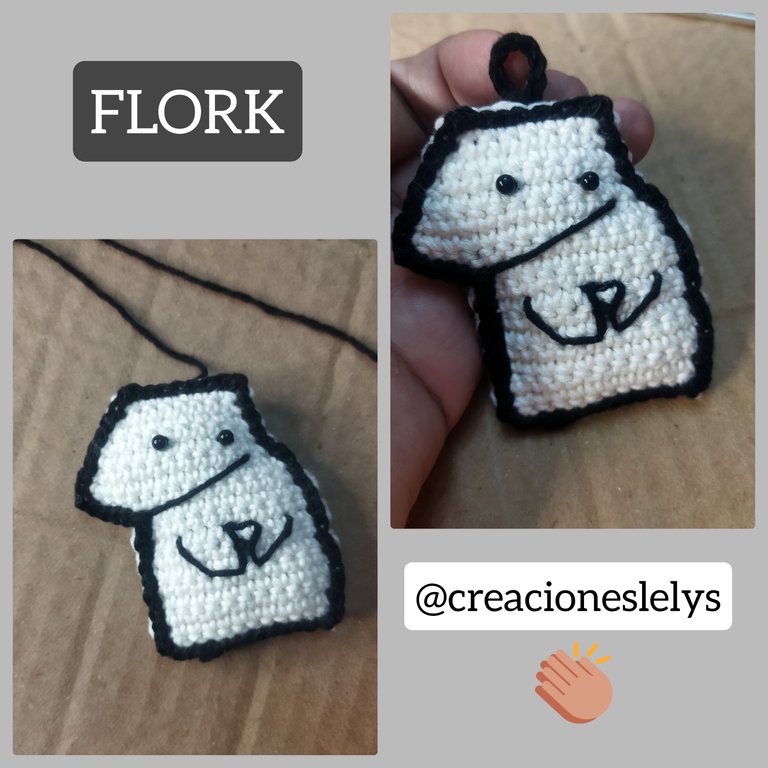 La verdad es que son muy graciosos y lindos estos memes. Lástima que en el bordado no me destaco mucho, pero allí tejí uno tomando y disfrutando una rica taza de café 🤭 ya saben que me encanta el cafecito mañanero.
El primero que verán se supone que tiene un corazón entre las manos, espero que se note un poco. Disfruté un montón haciéndolos. Casi en secreto porque no los mostré hasta haberlos terminado. El suspenso de saber si se parecen sigue siendo emocionante.
The truth is that these memes are very funny and cute. Too bad I don't stand out much in embroidery, but there I knitted one taking and enjoying a nice cup of coffee 🤭 you know I love the morning coffee.
The first one you'll see is supposed to have a heart between the hands, I hope you can tell a little bit. I enjoyed making them a lot. Almost secretly because I didn't show them until I finished them. The suspense of knowing if they look alike is still exciting.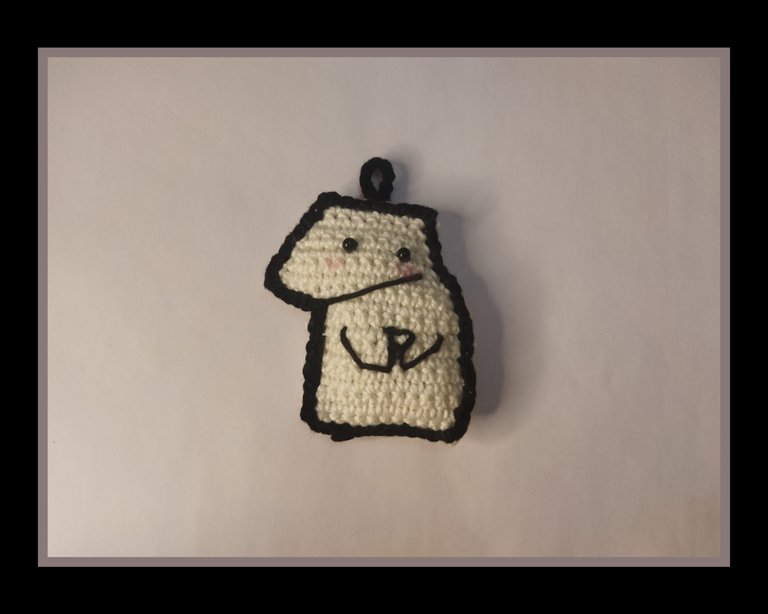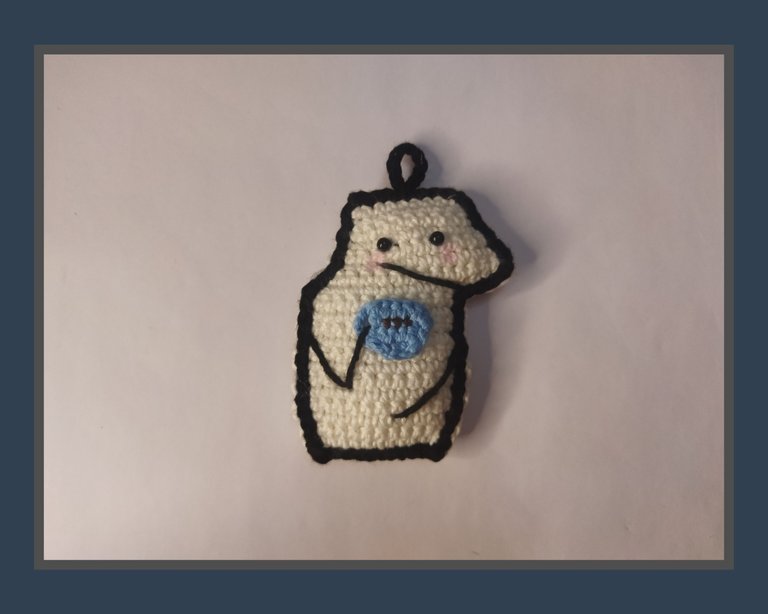 Muchísimas gracias por el apoyo. Todas las fotos son de mi propiedad. Edité con Polish. Usé el traductor de Deelp. Será hasta un nuevo proyecto de crochet. Cuidense mucho. Bendiciones.
Thank you very much for your support. All photos are my property. I edited with Polish. I used Deelp translator. It will be up to a new crochet project. Take care of yourselves. Blessings.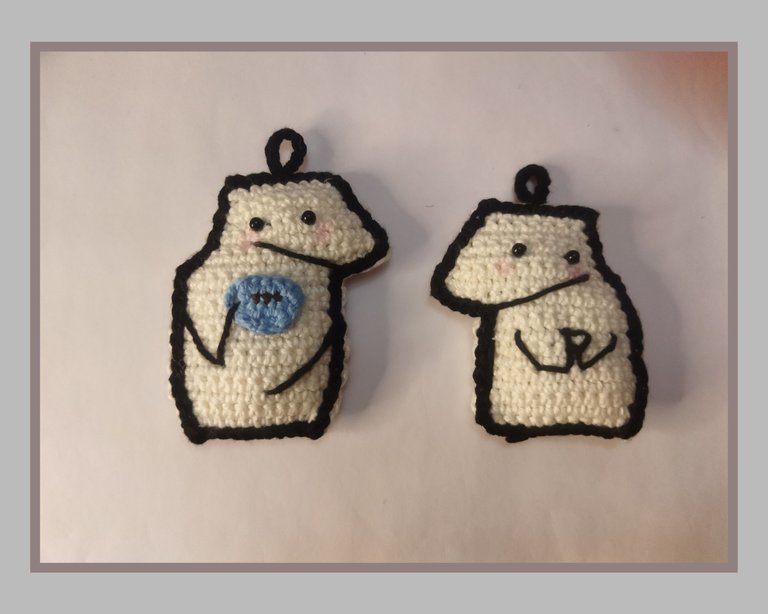 ---
---